Learning Brazilian Jiu-Jitsu in Mauritius with Academie Jaunbocus Tawfiq
From the day I met Tawfiq Jaunbocus, I decided that I wanted to train with him, and if possible, earn my blue belt in Brazilian Jiu-Jitsu through him and his school (something which I learned was more complicated than I assumed).
Before arriving in Mauritius, I had been learning Brazilian Jiu-Jitsu (which from now on I'll call Jiu-Jitsu or BJJ) since the previous year. I started in a couple of gyms in Australia (SASSOM MMA in Brisbane and Fusion Fight and Fitness in Cairns).
My goal in learning BJJ was mostly to make friends and do a new sport, after reaching a 1000 lb weightlifting total and wanting to switch it up.
But I quickly fell in love with the depth of knowledge combined with the athleticism required to do well at both Jiu-Jitsu and Muay Thai, the two sports most commonly associated with MMA. And I also loved how easy it was to get to know people through it BJJ. If you want to see how passionate, dedicated, creative, considerate, and friendly someone is without using a verbal language, try fighting with them (or maybe dancing… and the two do share a lot in common).
Every gym has its own strengths in terms of culture, coaching, facilities, and other aspects. I'll try to cover all of those here.
I'll cover
Training at AJT (Académie Jaunbocus Tawfiq) in a nutshell
Who is Tawfiq Jaunbocus and why train with him?
What it's like to train in Brazilian Jiu-Jitsu in Mauritius
Costs for training in BJJ in Mauritius
A word on other gyms
Here are my latest posts on combat sports gym reviews from around the world, vocabulary for training in other languages, and other resources. If you'd like to have me visit and see your gym, please contact me — I love visiting new places and making new friends through combat sports.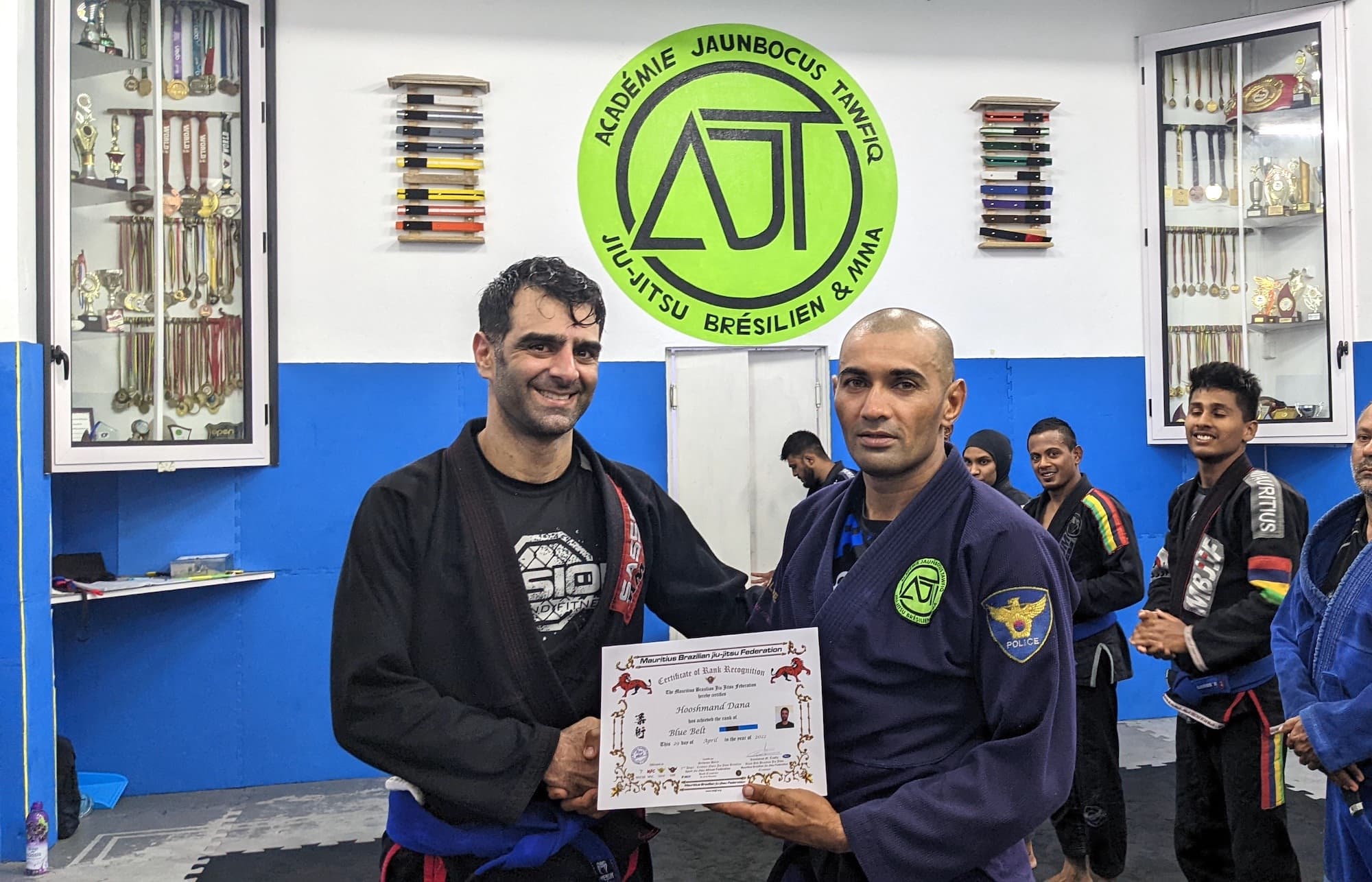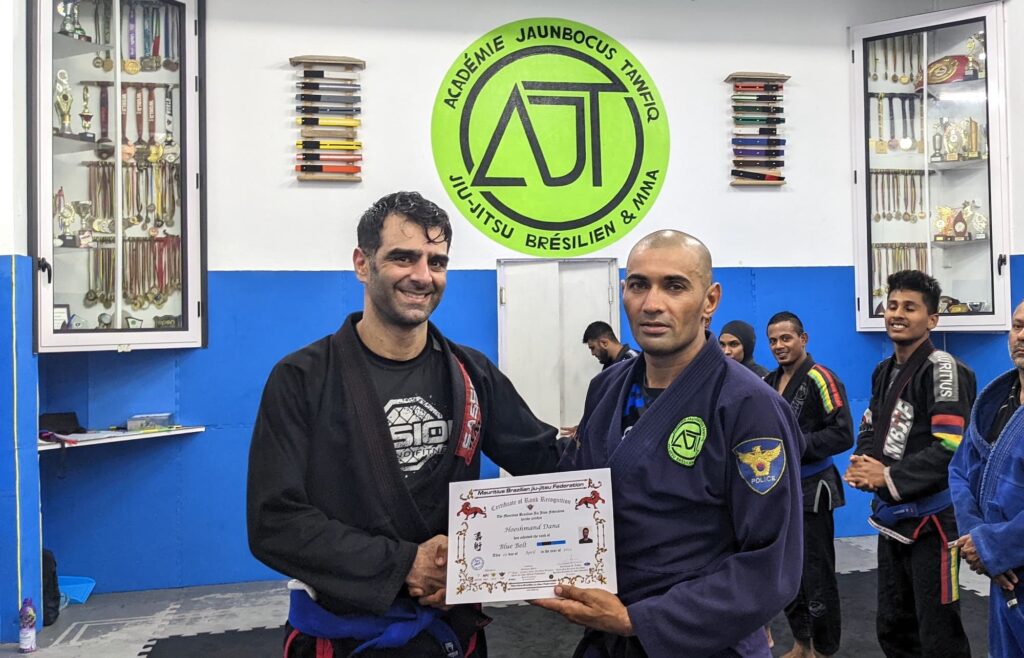 Studying Brazilian Jiu-Jitsu in Mauritius with Académie Jaunbocus Tawfiq (AJT) — In a Nutshell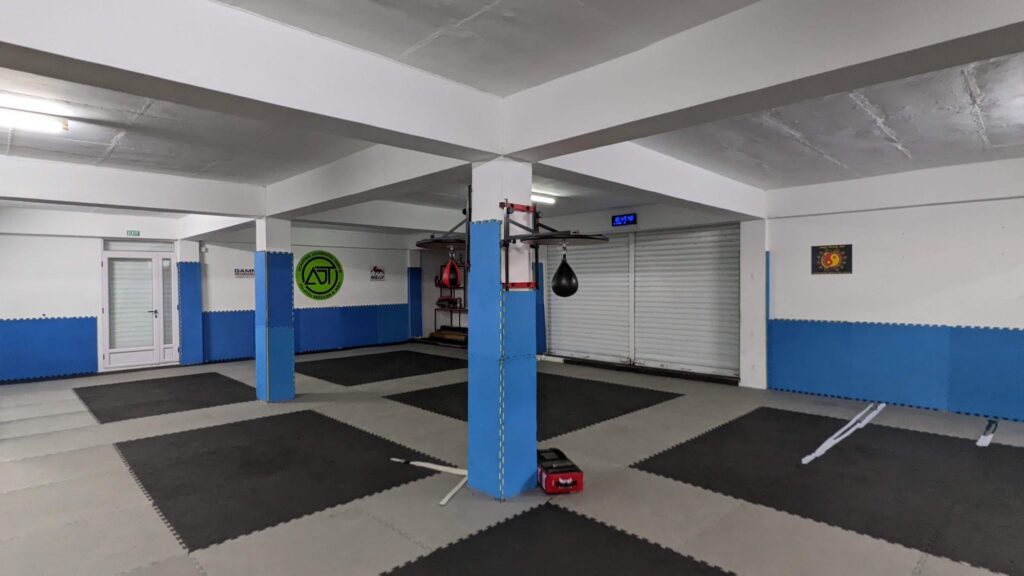 I wanted to try to get to blue belt level in BJJ in Mauritius while I was there. And as I mentioned above, I wanted it to get it through AJT.
However, I quickly learned that the grading system is quite formal in Mauritius. Many people from Europe / the US scoff at this, but it has distinct benefits in emerging markets (will discuss below). So grades are awarded through a formal grading system.
Even though there wouldn't be a formal grading until after I was to leave Mauritius, my coach managed to squeeze in a special grading (according to the formal process in which a test is ratified by a third party), and I got my blue belt on May 5, 2022. And I'm very proud to have done it through AJT.
In a nutshell, AJT was originally a Brazilian Jiu-Jitsu oriented gym. That was always their primary focus, though lately they have been expanding to MMA. However, MMA training is mostly for people who want to compete.
It's also the original BJJ gym. Tawfiq Jaunbocus was the person who brought BJJ to Mauritius, after all.
AJT is the biggest gym / network of gyms under the Mauritian Brazilian Jiu-Jitsu Federation, which is the governing body of Jiu-Jitsu. MBJJF is itself under the SBJJF, a global non-profit that aims to unite sport Jiu-Jitsu. The SBJJF body is smaller than IBJJF, but it's a non-profit with a governance structure and ethos that I like more than IBJJF's.
There are two primary locations to train at AJT in Mauritius. One is in Médine, a small town in the middle of the island, and the other is in the Vacoas-Phoenix area. Both of these gyms were a little hard to find for me, so here's a quick guide.
The Médine location is down a street in a suburban community. It's a standalone Jiu-Jitsu gym run by Mr Jaunbocus, and there's BJJ stuff all around. His family lives nearby. Here's its Google Maps location.
Unless you're from the area or live quite regionally, the Médine location is quite far from where most tourists or temporary visitors stay. It's a 35-minute drive for me in traffic, or 25 minutes on the way home late at night. On many occasions, it has taken me an hour to get there.
The Vacoas-Phoenix location (which people refer to as Mesnil) is in a martial arts / functional fitness gym that's behind a commercial street. Here's the Google Maps location for that.
The Vacoas-Phoenix location is more accessible from regional locations, though there's still a lot of traffic.
But neither of these locations is in a "tourist" area. Tourists generally stay around the coastal areas. If you're dropping in to Mauritius and just want to visit a local gym, you have to choose: do you want somewhere convenient, or do you want to go to the Jiu-Jitsu gyms in Mauritius?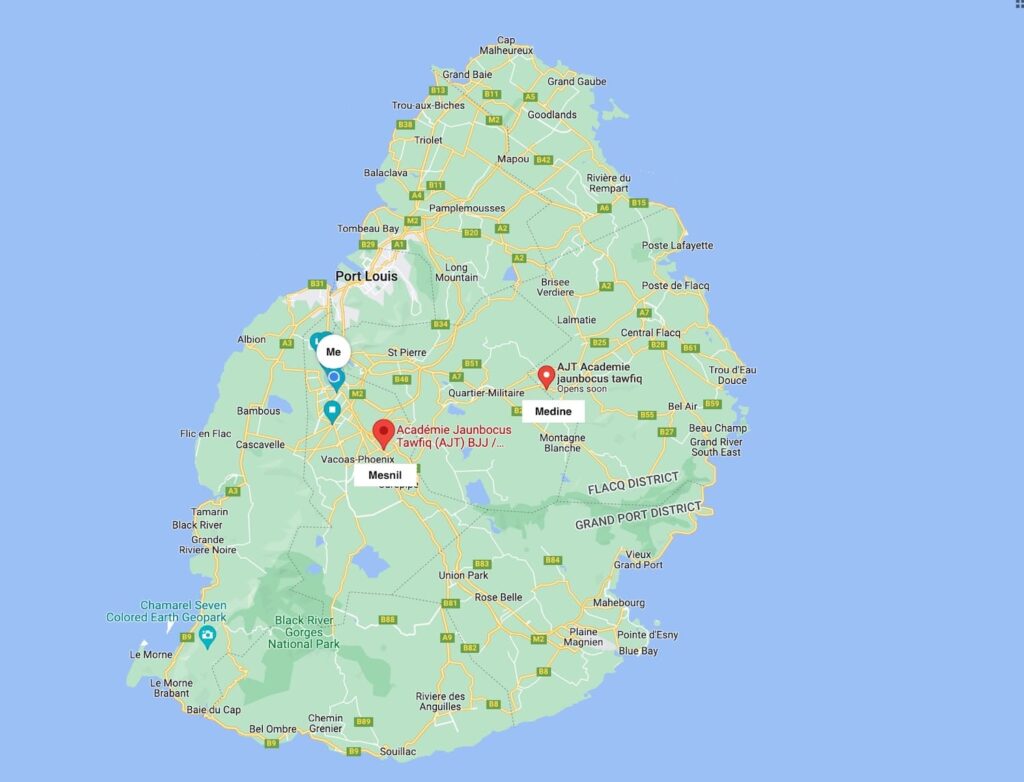 Both the AJT locations are a little more hard-core than most gyms around the world. There's no air conditioning. There are not even any ceiling fans! So, in the Mauritian tropical heat, you can expect to sweat (well, if you're like me and sweat easily). It's hard work.
And this is both good and intentional — it means that if you can roll at AJT, then you won't find it too hard to roll in an air-conditioned gym in a big city.
One thing that's unique to AJT in Mauritian BJJ gyms is that you can train there five days a week. There are four classes during the week, and an MMA-focused session on Sundays (in which there's always a small group of people with the gi on). You can also book Mr Jaunbocus for personal training.
Languages used in training BJJ in Mauritius
This is a little about Mauritius, but it applies to Brazilian Jiu-Jitsu in Mauritius.
The official language of Mauritius is English. That's the language all the websites are in. All the socials for AJT are in English, as are all the written documents. Many are comfortable writing in English.
The most common spoken language in Mauritius (and in the dojos) is Mauritian Creole. Creole is a spoken language, derived from French. While its writing system has been standardised, it's rarely written extensively, though I've seen it written in casual communication e.g., in Facebook groups, and in advertising targeted at the local population.
However, even though the official language is English, I find that people are more often more comfortable speaking French than English. It's partly because switching between French and Creole is more natural due to the overlap between the languages.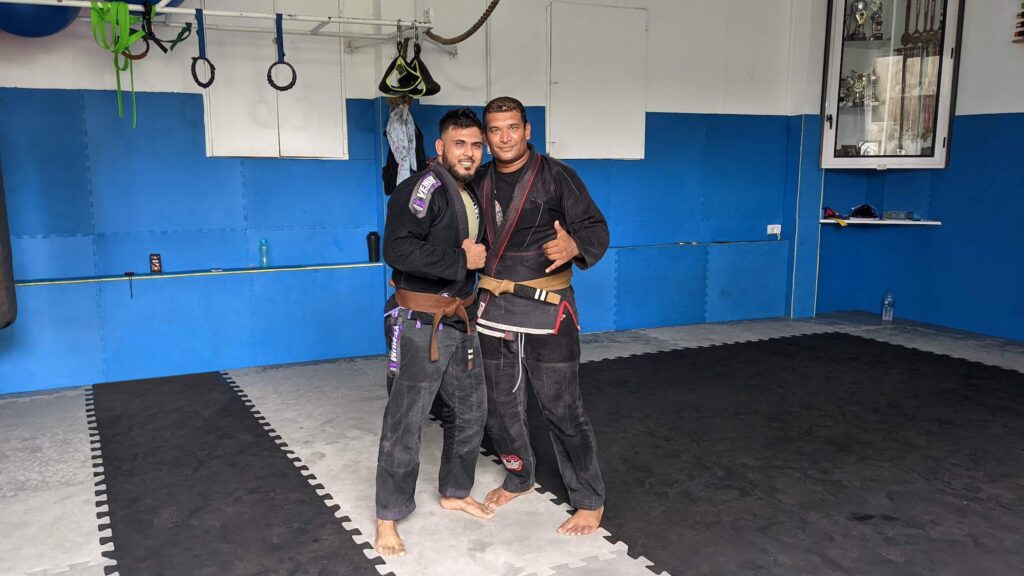 If you train in Brazilian Jiu-Jitsu in Mauritius, you'll find that the coach and all participants speak English well. I mean, people in Mauritius are fluent in English.
But when they speak to each other, or if the coach is addressing the whole class, he (or she — there are a few female coaches around Mauritius) will address everyone in Mauritian Creole.
Because Creole sounds a lot like French (similar accent, many overlapping words/concepts, though simplified structure), switching between French and Creole is much more convenient and natural for me than switching between English and Creole. But it's not people's mother tongue.
Here's another article I wrote about Mauritian Creole and the languages of Mauritius in general.
I still had to learn a few new phrases in French that I never had to use before, like ceinture blanche à quatre barrettes ("white belt with four stripes", my level at time of arrival), passage de garde, ("guard passing"), and tourner ("to roll"). Oh and "no-gi" is sans gi, although people also say "no-gi".
See here for a full French Brazilian Jiu-Jitsu vocabulary.
Sometimes the coach and participants use English terms for control positions and submissions, but sometimes French, too. So it's useful to know a few terms, e.g.
Mount position = position de montée
Americana = clé de bras – similar to the alternative English term "keylock"
North-south = nord sud (there, that's an easy one)
Scarf hold = kesa gatame (j.k., this is Japanese. But yes, they use the Japanese / Judo terms at times, just like most gyms)
That said, if you only speak English, you'll have no problem training if you have a little experience. I don't really understand Creole other than the easy French words, but I get the gist from those and then from physical demonstrations and context.
I've also seen the coach direct participants who only speak English using English. And in my private lessons, he switched to English with me. So, while like me, you might struggle a bit to participate socially if you don't speak Creole, you can totally learn Jiu-Jitsu at AJT in Mauritius. You just might have to ask for translations sometimes.
Who is Tawfiq Jaunbocus?
As I mentioned above, when I met Mr Jaunbocus, I decided "This is the coach for me." It's not just skill or competition results, but attitude — he's an upstanding person who uplifts others. This is what differentiates a coach from just a person who's good at a sport.
Tawfiq Jaunbocus (full name Tawfiq Jaunbocus Muhamad) is a BJJ competitor and coach from Mauritius and based in Mauritius. He did most of his training outside Mauritius, of course, as he was the person who brought BJJ to Mauritius in 2008.
I often like to find a good coach first and then just learn whatever the heck they want to teach. Mr Jaunbocus is one of those good coaches! (Note, I use the more formal "Mr. Jaunbocus" here as the culture is a little more formal than other places like Australia where we just call coaches by the first name once we know them well. In this gym it's common to address the coach with a formal tone of vous in French, and address them as "Coach".)
Mr Jaunbocus started in traditional Jiu-Jitsu many years ago, and then, like many other BJJ aficionados, tried Brazilian Jiu-Jitsu one day and found he was easily controlled by a blue belt. So, he put on his white belt and started dedicating himself to this art in 2008 (I can't remember the exact year).
Since then, he has trained around the world, including in Réunion (a French territory) and the USA, where he received his black belt some ten years after starting. He has also attended competitions and performed well, winning lots of medals. See Belt Checker for a bit of a history.
Mr Jaunbocus has a military background and works in a special division of the police, and this reflects in his attitude in class. He expects discipline from attendees — clean uniform, standing to order when asked, not standing around and chatting, and so on.
One thing I really appreciate about our coach is that he leads from the front. He's fit, capable, and fast-moving, even though he's of course not the youngest person in the gym (actually, he's my age!)
For example, one time he scolded everyone for standing around and chatting instead of continuing with training (there seemed to be group confusion, someone said "We have a break now" and everyone else assumed that was true). So he said "50 push-ups and 50 sit-ups!" Then he got down and did them with everyone, going faster and harder than anyone else (even me, but I had a sore shoulder, c'mon). I rarely see coaches lead from the front like that.
Another thing that's cool about AJT and the coach is the community focus.
There are always a few people who train for free as they don't have the means. I love that. He's a part of his community and he holds it up.
Another thing I like about Tawfiq Jaunbocus is that he's always running a community project. These are always changing and generally focus on the needs of the Mauritian community. It's really heart-warming.
What it's like to train BJJ in Mauritius at AJT (Classes)
Training at BJJ in Mauritius is quite unique. It's a little different to other places at which I've trained.
The class structure is the same as you'd expect in most gyms. There's a warm up, then a technical demo, then practise of the demonstrated techniques or positional sparring, and then open rolling. The balance changes in each class, but the majority of the classes are active learning.
Sometimes there's just drills, and sometimes there's just sparring — it depends a bit on what has been going on recently. The coach adapts every class to participants and recent history.
The coach will move around through the class and correct people, or tell them they're doing well.
The above is a little important to note because the class structure and contents are of a general international standard, and you might not expect that in a more remote destination like Mauritius. It's certainly not what I experienced at other BJJ gyms in Mauritius, for example.
In Mauritius, Brazilian Jiu-Jitsu is a nationally recognised sport, thanks to the work of Mr Jaunbocus. It has a formal structure, registration system, governing body, and accreditation process for belts.
The Belt Grading System in Brazilian Jiu-Jitsu in Mauritius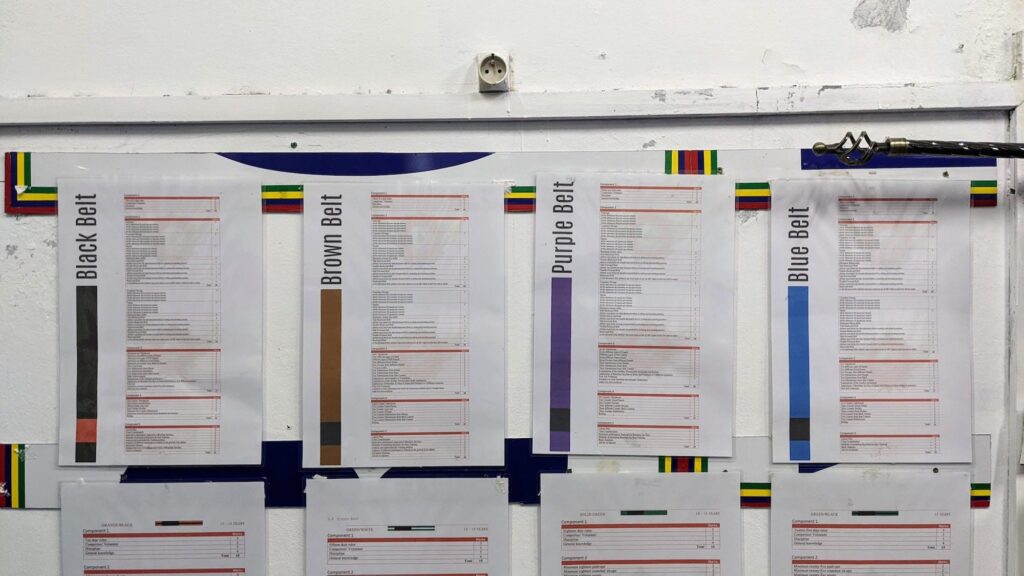 Part of the formalised structure means there are actually documented requirements for each belt, as well as a grading system. Grading happens a few times a year in Mauritius, and you can't pass to another belt by the same instructor who's instructing you!
This means, for example, that I couldn't pass from white to blue belt just under Jaunbocus Tawfiq as he's my primary instructor. A black belt from Reunion had to verify the grade, reviewing the videos and the paperwork.
In newer, emerging markets, formal grading for Brazilian Jiu-Jitsu has specific benefits. Formal grading means that
Other people of the same belt can know that everyone else has been held to a specific standard.
Nepotism and corruption are specifically avoided. (E.g., nobody can say "That person was just promoted because they're friends with the coach", or much worse, "They just bought their blue belt").
Shysters can't make up their own accreditations and bring down the reputation of the sport.
At some point the sport may become big enough to regulate itself as a community, as happens in other places.
For example, to get to blue belt, it's not sufficient that you just be able to "dominate white belts" (per the usual troll on Reddit). The promotions encompass a wide variety of things, including
Community participation as a volunteer or competitor
Attitude — discipline, dress
General knowledge — the Dojo rules, anatomy, first aid, self defence
BJJ attacks — takedowns, guard passing, submissions
BJJ defence – counters / defences / escapes
Planning lessons
Rolling is a very small component of this. The important part of rolling is that you generally display knowledge and move with tactical purpose, grace, and precision.
Challenges of learning BJJ in Mauritius
The one challenge that AJT (and BJJ in Mauritius in general) faces is that the BJJ/MMA community in Mauritius is quite small. Even though there are thousands of practitioners on the books on the island, at times it feels like just a few dozen.
This translates to a few predictable problems. Firstly, it's hard to improve to the highest international levels when you don't have a huge supply of high-level training opponents.
Many MMA practitioners actually do have a lot of experience in martial arts (e.g. wrestling or full-contact Karate), but MMA is becoming its own sport in many ways.
Of course, there are ways around this — travel, watching fight videos, and just learning as much as one can. Everyone starts from somewhere. And BJJ in Mauritius will develop its own flavour.
Secondly, it's hard to build "community" around few participants. Lively BJJ/MMA communities spring up where there are lots of gyms, frequent local competitions, visiting athletes, and so on.
Again, there definitely is an emerging community in Mauritius! It's just smaller than in most places.
Finally, there are only a few people I see who do that thing of trying "something cool I saw on YouTube". That kind of thing happens when there are lots of enthusiastic athletes. In Mauritius, the culture of obsessive MMA/BJJ nerds is in its infancy. It's growing though, of course.
Training MMA in Mauritius with AJT
MMA is a more emerging sport in Mauritius. There are competitors, and they have a mix of backgrounds including Muay Thai, boxing, and full-contact Karate, in addition of course to MMA.
There's a lot of enthusiasm among the MMA competitors, and a fierce competitive and training spirit. If you're interested in training in MMA with the local team, you'll find a great bunch of people who are fun to train with and who train hard. They're not too aggressive / macho and are helpful to newbies.
There's a real "warrior" mentality among the MMA athletes in particular. Nobody complains or groans, they just get on with the work, whatever it is.
Experienced competitors / MMA fighters would be particularly welcome to visit. The local team would enjoy training with people from abroad and getting the chance to broaden their experience. The local team does travel overseas to participate in international competitions, but being a small island means that it's rare to get too many visitors training at AJT.
If you want to train in MMA, contact AJT and say so. If you have a lot of experience, they'll probably make time for you.
BJJ Training Costs in Mauritius (including for drop-ins)
One thing I found hard to figure out before I came to Mauritius was how much it cost to train.
It varies a bit by gym, but at AJT it costs 100 Mauritian Rupees per session. He uses a per-session cost for flexibility. This is about US $2.20 at time of writing.
If you train five times a week like I do, that'll translate to around US$45 a month. That makes it one of the cheaper parts of the world in which to do training.
Other gyms quoted me between 600-1000 per month ($13-24) of training 2-3 times a week. That comes out to less cost, but also less training (and training I didn't enjoy as much).
Mr Jaunbocus prefers the 100/session system to maintain flexibility. It also means if you want to drop-in, that's your fee.
I suggest that drop-ins from more well-to-do places who are used to paying more (it's usually ~$15-20 to drop in at most gyms around the world — sometimes more!) consider paying extra as a donation, and help sponsor other students who are training for free.
Other BJJ Gyms in Mauritius
There are very few places to train BJJ in Mauritius. Really, if you want to, the AJT locations are where to go.
If you look on Google Maps, you will definitely find a few other BJJ gyms in Mauritius.
I also looked on the MBJJF (Mauritius Brazilian Jiu-Jitsu Federation) website and found the list of affiliates, then I cross-correlated these with Facebook to see which were active and Google Maps to see which were located conveniently.
I did contact a few gyms, but generally found that other gyms
Are more for beginners — early white belts, or even kids
Are run by a blue belt or a purple belt (nothing bad about that for 80-90% of training at the early levels, but it's nice to have a black belt around to show you what's up sometimes — and also to keep the other coaches in check)
Have fewer classes, e.g. only 2-3 per week. Or only one, in one case.
In the beginner-focused gyms, I found myself coaching kids on what to do. Nothing wrong with this, but I didn't even have my blue belt yet, and I still fear saying the wrong thing. I doubt I'd want to give any instruction before I'm a high-level blue belt.
There are a few other purple and brown belts who have learned mostly at AJT and now run these smaller gyms around the island. If you want to travel less, those are definitely the ones I suggest you go to!
For example, the Rose Hill club is run by a friendly guy named Javed who has been training since 2018 (six years at time of writing). As of 2022, he has a purple belt. He still trains regularly with the AJT (I gave him a ride a few times). He himself pointed me in the direction of AJT if I wanted to spend more time with upper belts.
There are a few other clubs run by AJT current students or alumni around the island. I have a few students who mentioned they're good.
I also tried Gracie Barra in Mauritius, but I didn't enjoy the first class I took. It was very crowded. There was only one brief free roll at the end. And before that I got kicked in the teeth during positional sparring (not even a roll, let alone competition), causing a chipped front tooth — argh, my bad for not putting on my mouth guard (nobody else did so I forgot). I later found out that the consensus about Gracie Barra in Mauritius is that it's not up to international standards.
I know getting kicked by a "spazzy white belt" is always a risk, but the coach is responsible for making sure the competitiveness level is appropriate, and it was not. I won't do a review of that gym because I just did the one class — but it was enough for me to not want to go back, and I heard some other bad things.
Sum up
I really enjoyed my time with Académie Jaunbocus Tawfiq and I hope to be back. Maybe as a purple belt in a couple of years.
Where next: Paris, France. See my review of my three months training in Brazilian Jiu-Jitsu at Cercle Tissier.