BJJ in Istanbul, Türkiye — Inferno Jiu Jitsu Review
For three months in 2023, I trained at Inferno Jiu Jitsu with Özdemir Kızılkan and his crack team of warriors, and had the time of my life. I wanted to put down notes for anyone thinking of training in Inferno, whether you're in Istanbul or visiting from abroad. This is my experience!
In general, I had a great time. Inferno Jiu Jitsu is a young gym but very competitive, with a high degree of ability in its members from "advanced white belt" and up.
The non-beginner classes are very focused on competition, and thus cover everything from wrestling and takedowns through to submission strategies and troubleshooting.
If you're wondering if you should train here, you're probably wondering the same things I did, like
What is the "culture" of the gym?
What are the classes like?
Is it ok if you don't speak Turkish?
What are the fees?
And where is the gym?? (It took me a couple of tries to find it!)
Immediately before Inferno, I was in Italy, where I was training at Dog Eat Dog MMA. So I was looking forward to applying a little of what I had learned.
Overview of Inferno Jiu Jitsu
Inferno Jiu Jitsu is a BJJ club based in Kadıköy, Istanbul, on the Asian side. There are very few BJJ clubs in Istanbul, but there's apparently one or two good ones on the European side, and just this one on the Asian side.
I like life on the Asian side — it's more local and vibrant, and way less touristy — and so I looked for a gym in what seemed to be the coolest area, Kadıköy. I chose well. This is definitely the most fun part of Istanbul, and definitely the best gym on this side!
Özdemir (see his Instagram) is a BJJ black belt. He opened this gym in 2022, and many students from his former gym where he was training came over.
Inferno Jiu Jitsu is located in the East Side Sport Centre, which is in a residential complex of towers. It was a little hard to find, so I've included a quick guide below. (Having travelled a lot, I've learned to go 30 minutes early to gyms the first time, as they're rarely easy to find for non-locals.)
East Side Sport Centre looks at first like a regular weightlifting gym, but around the back there's a martial arts area. It's also where there's a boxing ring where a few ex-pros give boxing and Muay Thai coaching.
Culture at Inferno Jiu Jitsu
The culture at Inferno is that of a modern competitive no-gi gym. It's informal and friendly. But it's very competitive.
The only thing that at Inferno that seems at all "traditional" is lining up by belt rank at the beginning and end of every class.
But it lacks the formality that many Jiu Jitsu gyms have. For example, you don't bow entering and exiting the mat, there is no rule for who you can or cannot ask to roll, and so on.
The local guys tend to address the coach as "hocam" (pronounced "hoj-am"), a Turkish term of respect for a teacher that means "my teacher". That's not a rule, but it's a cultural norm. Some people call him by his first name, Özdemir (I did once, and it's fine, but it honestly just felt weird), and I call him "coach".
Of course, the typical rules of formality apply at Inferno. You don't just walk up to a black belt and ask them to roll apropos of nothing if you don't know them. I mean, they'd be cool with it, but the polite thing to do is to be polite about it.
Similarly, there's an informal rule of gender at Inferno. Yes, men and women roll together, but it's typically ones that know each other, and as a man I don't walk up to women and ask them to roll if we don't know each other. This is just standard gym etiquette that one picks up around the world. Again, general rules of politeness and respect apply.
The Level at Inferno — High!
The first thing I noticed about Inferno Jiu Jitsu is that this is a competitor gym. While I was there, a regional competition was held, and Inferno became one of the top ranked schools in Turkey in the process. Loads of medals came home.
At Inferno, people themselves are competitive. The white belts go hard, and don't tap quickly.
I'm not a competitor. If someone gets me in a solid leg lock, I'll tap before it hurts. Calf slicers suck! But with others, I feel like they wait for the joint pain or are on the verge of things going dark from a strangulation to tap. That said, I've never seen someone go to sleep during training — which is a good sign (things should never go that far, unless by accident).
People are nice and generally respectful at Inferno, but I can safely say that if you're a white belt or even blue belt hobbyist from most gyms and just do BJJ for fun or to keep fit, then you're going to get crushed, like I did. I had to step up my game quickly.
Another aspect of it being a competitor gym is that there's a regular cycle of doing takedowns. I find that in many gyms I've been to in the west, we don't do takedowns unless the coach is very young, or if there's a competition coming up. It's generally acceptable to learn how to do guard pulling — even in no-gi.
Not at Inferno. A bunch of the guys have done wrestling before, and some others have done judo, and it shows. I end up on the floor quickly. I only have a few takedowns in my arsenal, find single-legs very difficult, and generally end up in side control and having to try to wrest my way out of a bad situation.
Also, bear in mind that roughly half the cohort of people at Inferno are around 20 years old. The rest are like me, in their 30s+, with a couple of older ones. If you're older, learn to pick people's ages, and expect those younger guys to have gas tanks!
So, this isn't a gym where belts are handed out like participation certificates. I find a bit of a correlation between people who've won at least regional competition and people who get promoted. It's not a requirement, but it does seem to go hand in hand.
That said — yes, you can go to Inferno as a beginner. There are beginner classes. Once you have six-twelve months under your belt, you can go to the more advanced classes.
Language Spoken
This is Türkiye (formerly known as Turkey, formerly as the Byzantine Empire, etc.) so the language is Turkish. That said:
The coach speaks English excellently, and makes a point of speaking English during coaching if he thinks you might not get it in Turkish. (I noticed over time he stopped translating for me… I guess he figured out that I was understanding more and more!)
All the students speak at least some English, and many of them speak it excellently. Nobody doesn't understand English. This is reflective of the general high calibre of the students, plus the fact that BJJ is an international sport.
Roughly 1/3 of the class is overseas people (either Turks of overseas origin, or other people like me), who either primarily speak English or speak it excellently.
Nonetheless, I enjoy language-learning (hello, it's what this blog is about) so I learned some basic Turkish useful for at least understanding BJJ instructions in Turkish. This included the following words and phrases.
English
Turkish
Welcome!
(Response)
Hoş geldin!
(Hoş bolduk)
Hello
Merhaba
Let's start
Hadi başlayalım
Everyone, pair up
Herkes eşleştirilsin.
You start
Sen başla
Five rounds
Besh "round"
Everybody look
Herkes baksın
Last week / This week
Geçen hafta / Bu hafta
Coach! (lit: "my teacher", a term of respect)
Hocam!
Partner
Partner
Opponent
Rakip
Be careful
Dikkat olmak (or just "dikkat")
Slowly/gently, please
Yavaşça lütfen
Nice!
Güzel!
It hurts
Ağrıyor
One second
Bir saniye
One minute
Bir dakika
Drink water
Su içsin
Let's roll.
Hadi roll yapacağız!
Last round!
Son round!
It's finished.
Bitti.
Thank you very much
Teşekkür ederim
Sorry / excuse me! (when bumping into someone)
[Çok] pardon!
Congrats!
Tebrikler!
Goodnight, everyone! (when leaving)
Herkes iyi akşamlar!
See you later
Görüşürüz
Hip(s)
Kalça(lar)
Arm(s)
Kol (lar)
Neck
Boyun
Head
Kafa
Foot
Ayak
Knee(s)
Diz(ler)
Inside
İçeride
Outside
Dışarıda.
Up
Yukarı
Down
Aşağı
On the floor
Yerde
In the air
Havada
Like this
Böyle
Turkish useful vocab for BJJ
You do have to know the basics of Turkish grammar (see my guide) to understand how to use these phrases. For example
"Keep your knees on the inside" = "Dizlerinizi içeride tutun."
"Put your head on the floor" = "Kafanızı yere koyun"
But I found that the nice thing about Turkish being an agglutinative language is that it's easy to pick up particles and understand what's going on. If I hear "kalça" (hip), I know it's about my hip, without having to understand the particles that give it plurality and possession.
The best news is that there are loads of loan words in Turkish. Closed guard is closed guard, open guard is open guard, arm bar is arm bar… etc. In this sense it's like Korean (see my Korean BJJ vocabulary from my time there, if you're interested.)
Finding Inferno Jiu Jitsu — Where Is it??
It took me a little while and asking a few questions to figure out how to get in — so I'm putting this guide down and sharing this map, eblow.
Firstly, Inferno Jiu Jitsu is in Kadıköy on the Asian side of Istanbul. If you're on the European side, it'll take a while to get there, and you might want to check out one of the other local options.
Here is Inferno Jiu Jitsu's location on Google Maps. I usually went there walking, but there are a number of bus lines that get there, and it's about a 15 minute walk from the Söğütlüçeşme train station.
Here's an image of how to get to Inferno below. I would advise aiming to get to the Google Maps location (the gate of the complex) at least 20 minutes early on the first day, as you still have to walk inside, make your way through to the lockers, and get changed (and it's good to be early on the first day).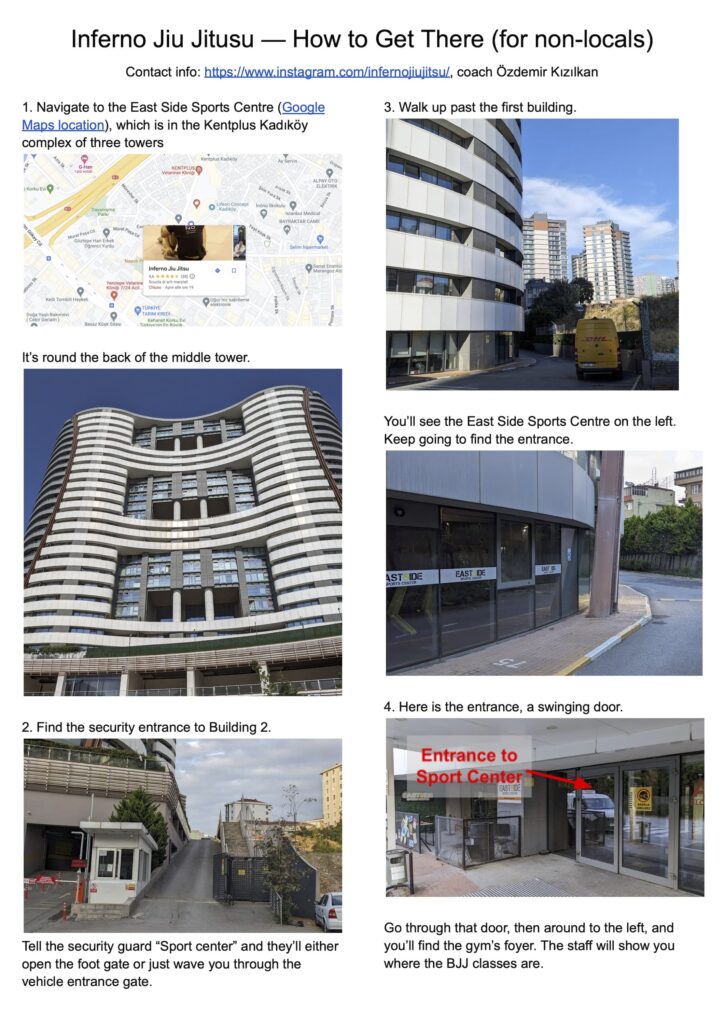 To get in to Inferno, you have to:
Go to the security entrance (a big black gate)
Go to the security guard and say you wan to go to the "Sport centre" (just say "Sport Centre"). They'll open the gate for you.
Walk past the first building, past the central courtyard, and you'll see the gym on the left. But there's no main entrance on the outside.
Go through the automatic door (into the apartment block atrium), turn left, and the gym entrance is in there.
Hopefully, that'll help you find it.
Schedule
Inferno Jiu Jitsu has classes six days a week, only in the evening.
Monday and Thursday at 6pm there's a gi class that's 1-hour long.
Tuesday, Wednesday and Friday there's a no-gi class that's 1.5 hours long. Friday sometimes goes a bit over.
On Saturday there's open mat that's at 11am. It's mostly no-gi, though some do gi then, as well.
There are beginner classes too, typically before the no-gi classes on Tuesday and Thursday. This makes those later sessions busier, as some people come to both.
Plus, during the day, the coach is available for private training (subject to availability). His rates are around US$30 for a class.
It's great to have classes six days a week, and so much no-gi, but I do miss being able to train during the day — a luxury of larger cities, where there's more demand.
Facilities
The mats at Inferno are in tip-top shape and always clean. There's room for around seven sparring pairs. On busy nights there are around 30 people in a class, so with eight five-minute rounds of rolling, it's easy to get 4-5 rounds in (people get tired and peace out).
There's no air conditioning, but they open the windows in summer… it gets a bit warm (I got there at the tail end of summer).
Aside from that, there is a shower and change room with lockers. The showers are individual cubicle style, not a prison- European-style shower block is was common in France and Italy. What a relief!
Fees
Fees typically change a lot in Türkiye in Turkish Liras due to inflation. But while I was there, I paid on average US$50 per month.
What's next?
After Istanbul, I headed to Orange County, California, to continue training at 10th Planet Jiu Jitsu in Fullerton.