The Ultimate Valle de Cocora Hiking Guide
The surreal landscapes of Valle de Cocora ("Cocora Valley") lie at the heart of Colombia's zona cafetera (the "coffee axis"). The area is a UNESCO World Heritage site.
During our time living in Colombia learning how to dance Colombian salsa, we were lucky enough to visit this unique part of the country. It was one of our favorite areas in Colombia for the calm atmosphere and natural beauty. The adorable nearby town of Salento added to the magic of Valle de Cocora.
You may also be interested in our Travel Guide to Salento Colombia.
Cocora Valley is located in Salento in the Quindío, Colombia. It's known for being the home of the tallest wax palm trees in the world — measuring almost 200 feet high (and which are actually the national tree of Colombia). Valle de Cocora is the perfect getaway for nature lovers and people who enjoy unique landscapes.
This post may contain affiliate links. Please see our disclosure policy for details.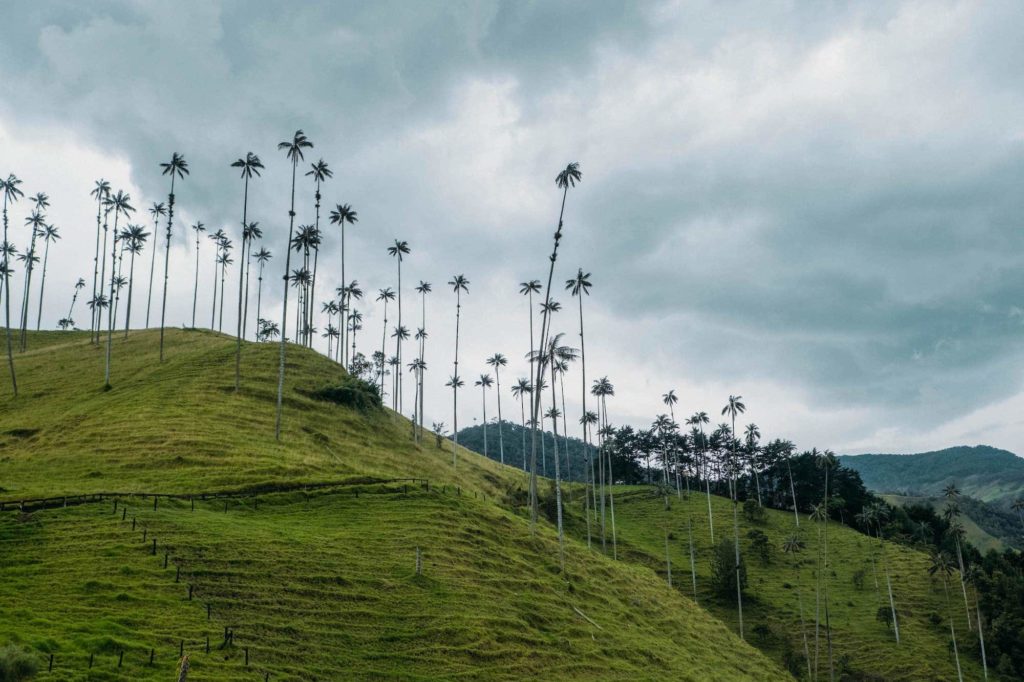 Read on for everything you need to know about hiking the Cocora Valley.
How to get to Valle de Cocora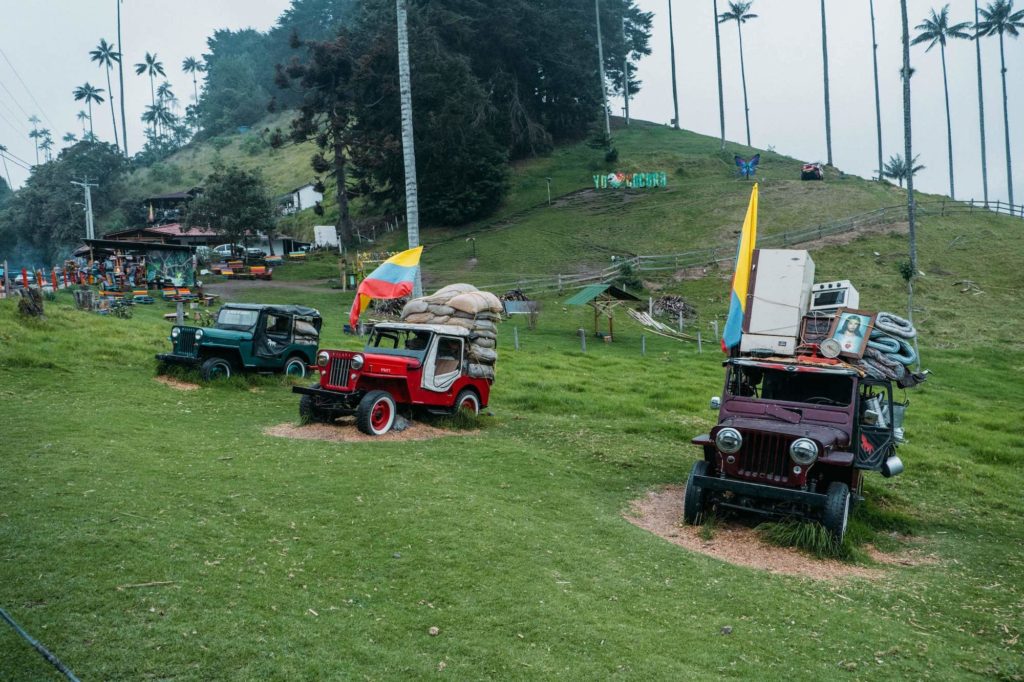 To get to Valle de Cocora, you first need to get to Salento. From Salento, there are Willys (like Jeeps… they have an overlapping history) that will take you to the Valley.
Medellín to Valle de Cocora by Bus
If you're new to traveling around Colombia, you'll soon discover that getting around Colombia is best done by bus. The buses are safe, relatively easy to navigate and go just about everywhere.
Transit time: 6-7 hours
Cost: $49,000 COP
There are direct buses from Medellín to Salento. It usually takes between 6 and 7, depending on traffic. Tickets are sold at the Terminal del Sur in Medellín. There are many bus operators in the terminal, so it's best to ask a station worker for the "Flota Occidental" office. Purchase a direct ticket to Salento.
Bogotá to Valle de Cocora by Bus
Unfortunately, there aren't any direct routes to Salento from Bogotá. Fortunately, there is only one transfer and it is pretty straight forward!
Transit time: 8-10 hours
Cost: 39,000 COP to 49,000 COP (Total)
The bus times vary more from Bogotá to Salento due to the distance being further, the trip involving more transfers, and there being heavier traffic in Bogotá.
Travelling from Bogotá, you will need to transfer bus in either Armenia or Pereira. Armenia has more connections and the buses leave with more frequency, so we recommend making the Armenia connection. You can purchase tickets at Terminal de Transporte Salitre. Expreso Palmira, Velotax and Fronteras buses all go to Armenia and Pereira.
From Armenia, you'll need to purchase tickets to Salento. The time from Armenia to Salento is about 1 hour.
How to get from Salento to Valle de Cocora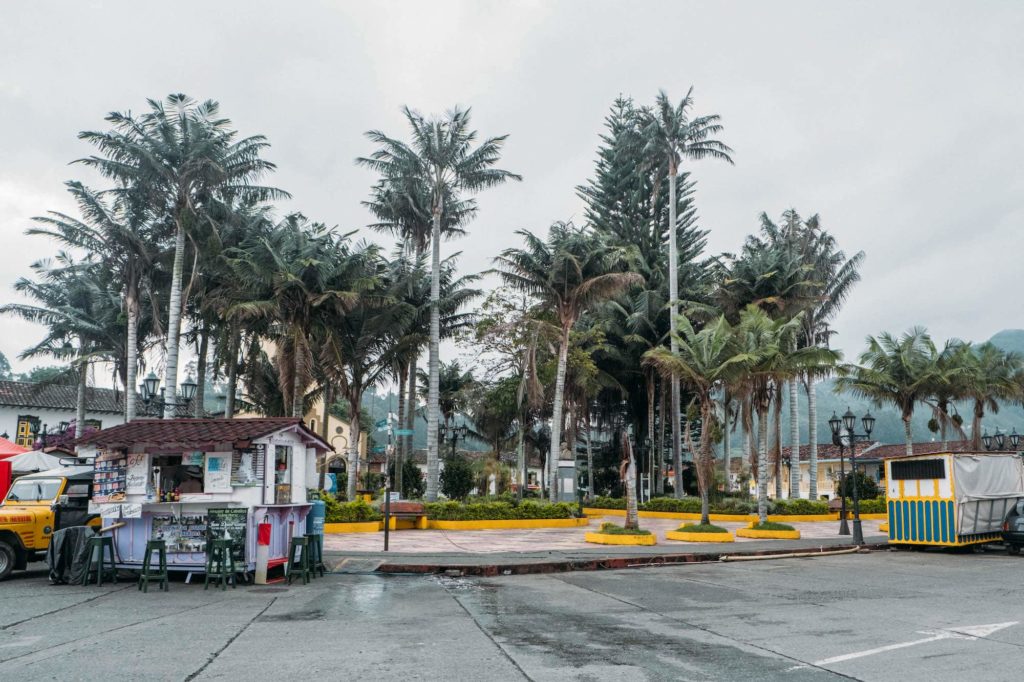 Now that you've made it to Salento, you just need to take one of the Willys (Jeep-like four-wheel-drives) in the Plaza de Bolivar. There is a small information booth with costs and info on other places Willys go. The departure times start at 6:30 am every day, and they leave every hour and as soon as the cars are full — or close to full. The timetables to Salento are shown below.
Cost: 4,000 COP pp one way, 8,000 COP pp (round trip)
Salento -> Valle de Cocora
First departure time: 6:30 am
Final departure time: 5:30 pm
Valle de Cocora -> Salento
First departure time: 7:30 am
Final departure time: 6:30 pm
Valle de Cocora Hiking Trail Routes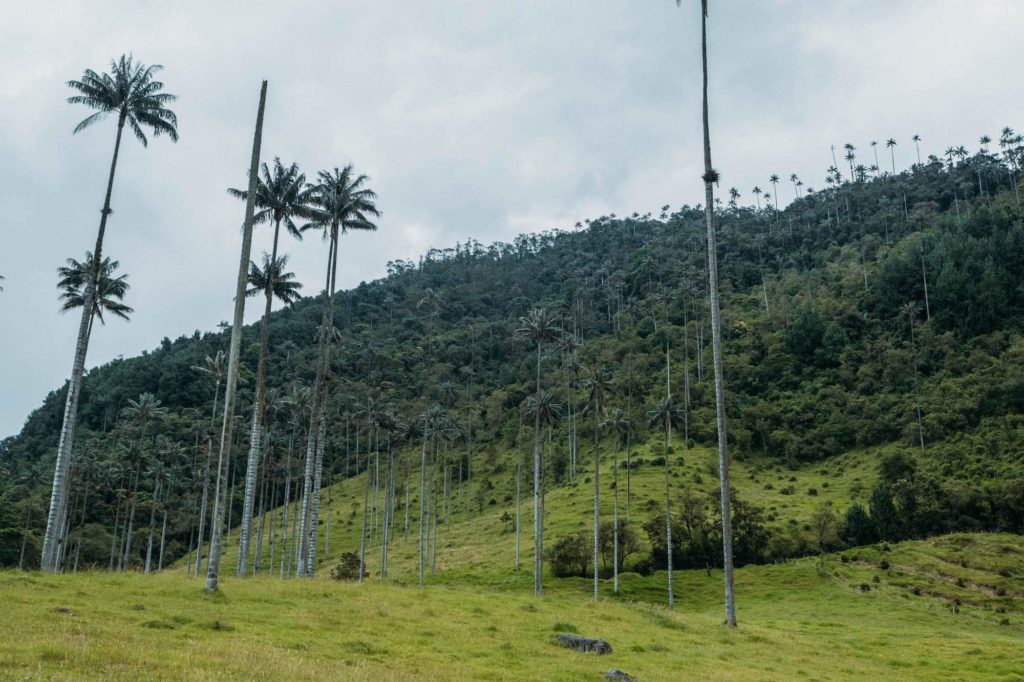 Valle de Cocora Hike Key Facts:
Distance: 9.3 miles / 15 km
Time: 4-6 hours
Elevation Gain: 760 m
Cost: $7,000 COP per person – $3,000 COP on entry, $4,000 COP on exit
There is one main hiking trail in Valle de Cocora. The path is well marked and it is very easy to do without a guide. It is a 9.3 mile / 15 km loop. The full hike takes about five hours to complete. It's quite a long hike, so you should be in relatively good physical health. The hike itself is not too difficult, though there are certain parts where the inclines are steep.
The admission fee to the Valle de Cocora is $7,000 COP total
Though there is really only one trail, there are three ways in which you can tackle this hike. There is a) a short route (just part of the loop with the main attractions), b) a counter-clockwise option, and c) a clock-wise option.
The Shortest Route around Valle de Cocora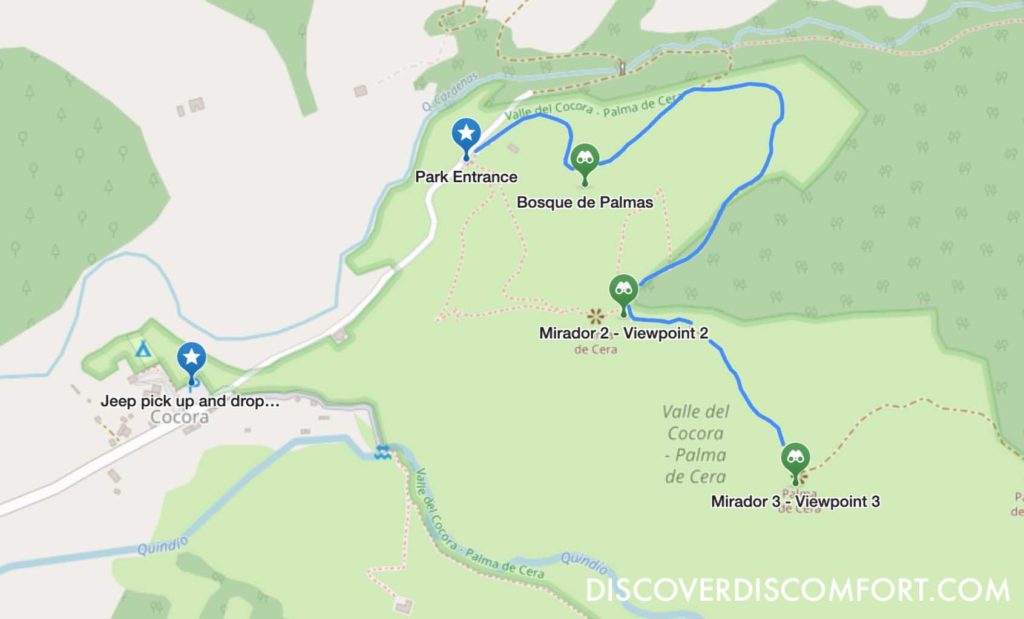 Length: 2.2 miles / 3.6 km round trip
Time: 40 mins
The shortest hike option is a there-and-back trail. It takes you to the main quintessential Valle de Cocora views. This hike is best for those who are limited on time or are unable to walk for long periods of time. The total length is about 2.2 miles / 3.6 km. The length of time is an estimate — it depends on how much you want to explore, relax, and take photos.
The short route takes you along the first part of the loop, starting from the main entrance. Even before beginning the hike, you'll see towering palm trees all around you.
Along the short route, you'll see the Bosque de Palmas, or the Forest of Palms, with hundreds of towering wax palms. Hiking further up, you'll see two lovely viewpoints with views of the Cocora Valley.
There are also tours available to this hike. Check availability here.
Full Loop – Counterclockwise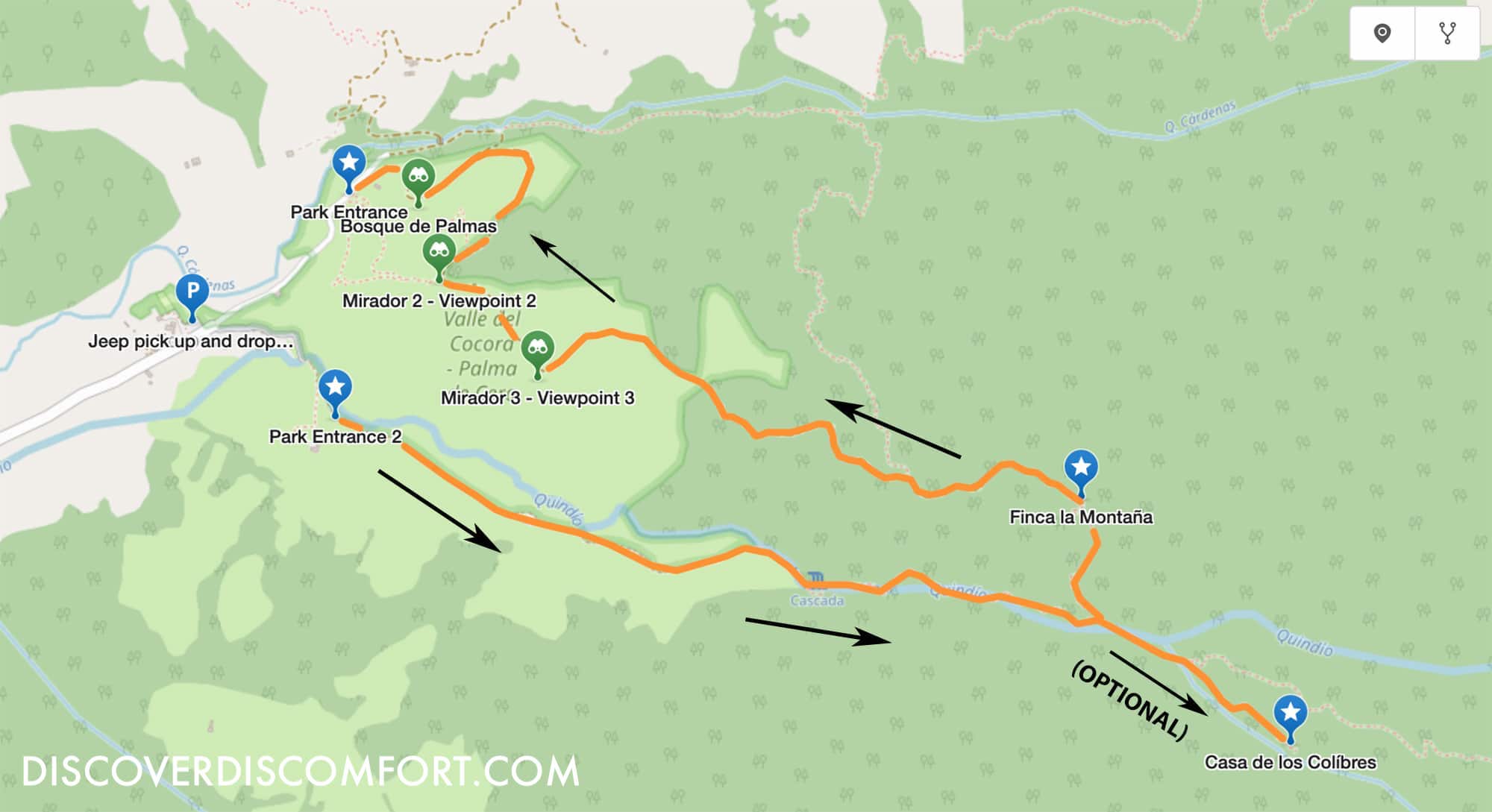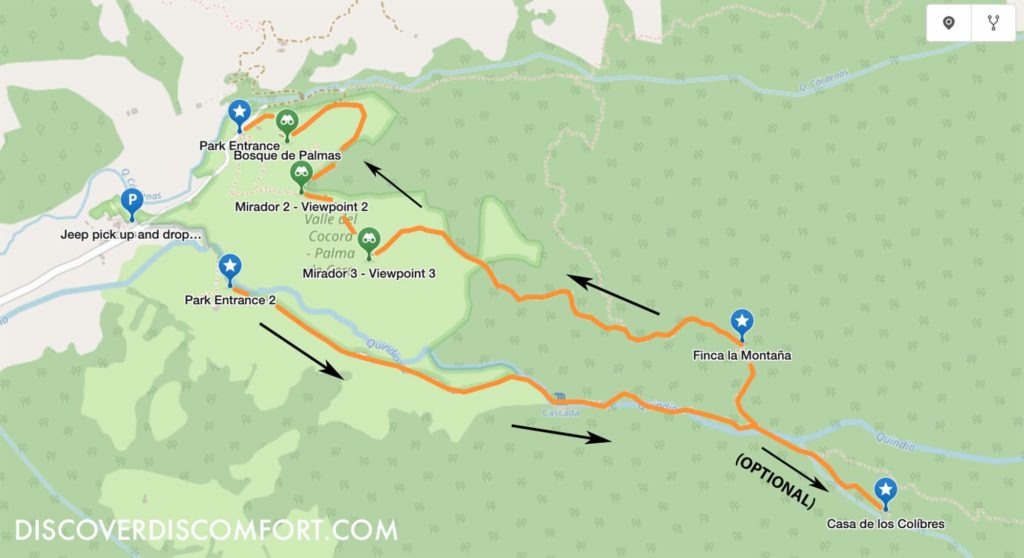 Distance: 9.3 miles / 15 km
Time: 4-6 hours
If you do have more time, and want more of a hike, the full loop is a must-do! This was an absolutely gorgeous and very diverse hike with so much to see.
Tours are also available for this hike. Check availability here.
Differences between the full loop and the short route
With the full loop, you see everything in the short route, and also go through shaded forests, streams, and cross some beautiful hanging bridges. This route also has a detour to La Casa de Los Colibrís. This is a hummingbird sanctuary that costs $5,000 to enter. A drink is included in the entrance fee. They also provide lunch and other small meals.
You can either do the full loop clockwise or counterclockwise. The counterclockwise option is the one most people opt for.
Benefits of going counterclockwise
The benefits of going counterclockwise are mostly to do with minimizing strain on your knees. The slope is pretty gradual from the wax palms to the Finca la Montaña, which is the highest point.
The descent going counterclockwise becomes very steep after the Finca la Montaña, so going down this way can be more uncomfortable.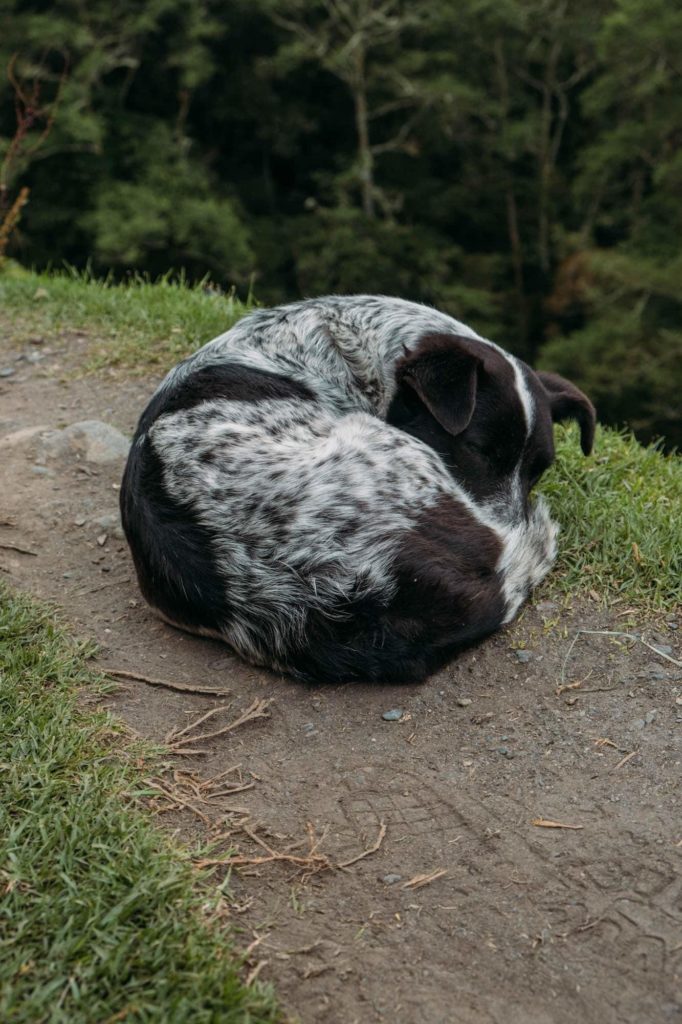 For people with bad knees it is easier to go counterclockwise and go up the steep steps up to Finca la Montaña, and then take an easier gradual descent for the rest of the hike.
The additional benefit of going counterclockwise is that you get to save the best for last. Ending the hike going through the Forest of Palms is really satisfying!
Tips for hiking the counterclockwise route
We were actually trying to go counter-clockwise because of other advice we read about but got misguided and the entrance isn't that obvious. The coordinates of the entrance are 4.635175, -75.482857.
On my map screenshot below, it's "Park Entrance 2". Enter those coordinates into Google Maps or your preferred maps app, so you don't make the same mistake we did!
I recommend getting the maps.me app on your phone. It has a lot more landmarks and trail routes than Google Maps. You can also download map areas and access them offline.
Full Loop — Clockwise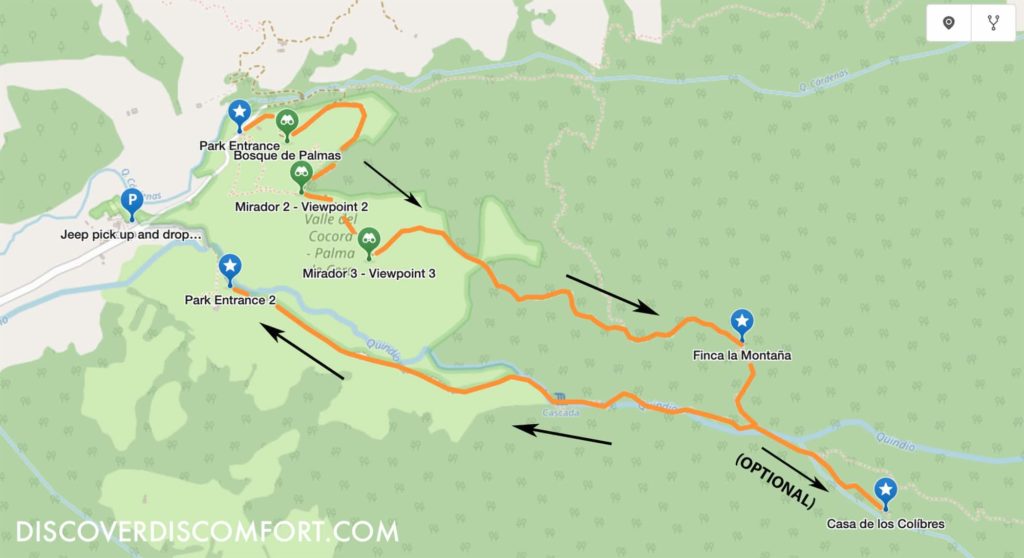 As you might have guessed, the clockwise route is exactly the same, but you just go the other way. This is the route we actually ended up going. This is the official main entrance.
The clockwise entrance is well-marked and it looks a bit more official so it's easy to find. This is the same starting point as the shortest route. The coordinates for this entrance is 4.642099, -75.482379.
Personally, I didn't find that going down was too steep, and my knees were ok. I actually liked that the ascent was gradual going up because it wasn't very tiring and I preferred that we were taking the steep way down because for me, going down steps is less strenuous than going up.
However, I would have preferred saving the wax palms for last because I really love the feeling of "earning" a view and delayed gratification. So overall, I'd still recommend going counter-clockwise.
Tips for a stress-free Valle de Cocora Trip
Download the offline maps in maps.me. This is the best map that has all of the train details. Google Maps doesn't display any of the trail lines, unfortunately.
Do the counter-clockwise route.
Don't start too late. This is a popular trail so you'll avoid crowds by starting earlier.
Check the weather conditions. This part of Colombia gets a lot of rain, so check if there are certain times of day that are raining and try to plan around that.
Bring the right shoes. During the wet season, the paths will be very muddy. So either bring tall hiking boots or shoes you don't mind getting super muddy and wet.
Spend a day or two in Salento. I ended up being one of our favorite towns in Colombia. Check out our guide on what to do in Salento to learn more.
Valle de Cocora Packing List
Waterproof Hiking Boots
A good pair of waterproof hiking boots will serve you well during this hike. Rainy season is especially muddy, so you'll be thankful to have a solid pair of boots to keep your feet dry.
As I mentioned, this hike has some steep sections. Lightweight hiking poles will reduce long term damage.
The weather in Valle de Cocora is unpredictable. A good rain jacket is a must-have during the hike.
It feels strange to put sunblock right after a rain jacket – but the weather really is that unpredictable!
Being a longer hike, you'll want a lightweight day pack to carry all of your essentials. We like this Teton pack because it has a convenient built in hydration bladder.
Valle de Cocora is a photographer's dream! Our camera of choice is the Fujifilm X-T30. It takes beautiful photos while still being lightweight.
Last, but not least, bring plenty of snacks to keep up your energy. Kind bars are one of the things I miss the most from the states. The cranberry macadamia ones are the best.
Where to stay
Glamping Lumbre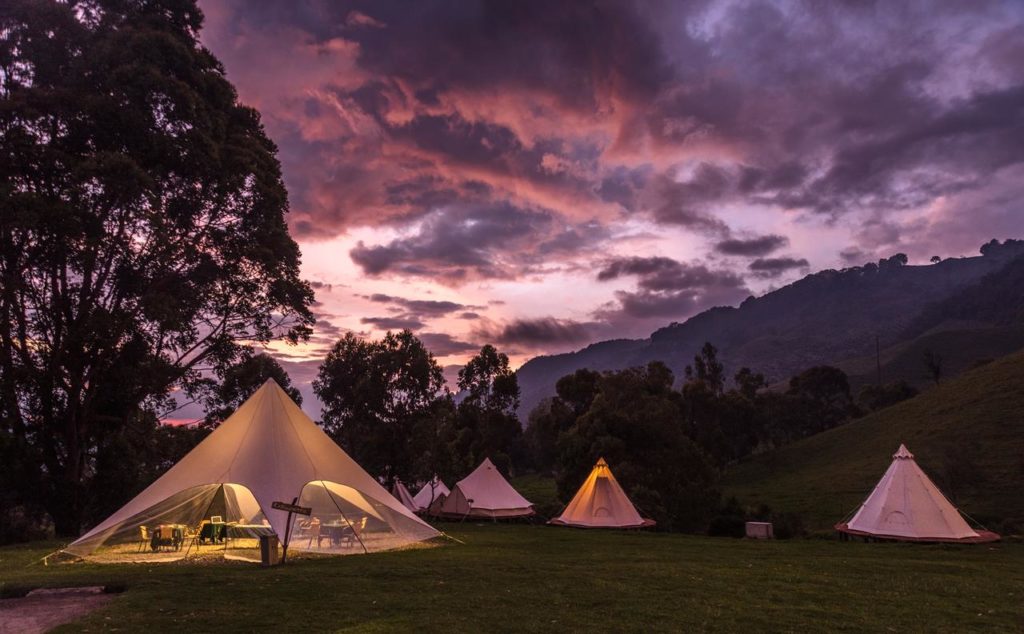 Glamping Lumbre is a luxurious camping experience in the middle nature. It brings all of the amenities of a luxurious hotel to the serenity of camping under the stars.
Truthfully, I've always wanted to go glamping for the longest time. But in the States, glamping is extremely expensive with rates from $300 to $1,000+ USD per night. I could never justify the cost. Fortunately, everything is more affordable in Colombia, so I was excited to finally be able to experience this.
Staying at Glamping Lumbre was everything I hoped it would be and more. We had one of the best nights sleep here. Here were some highlights: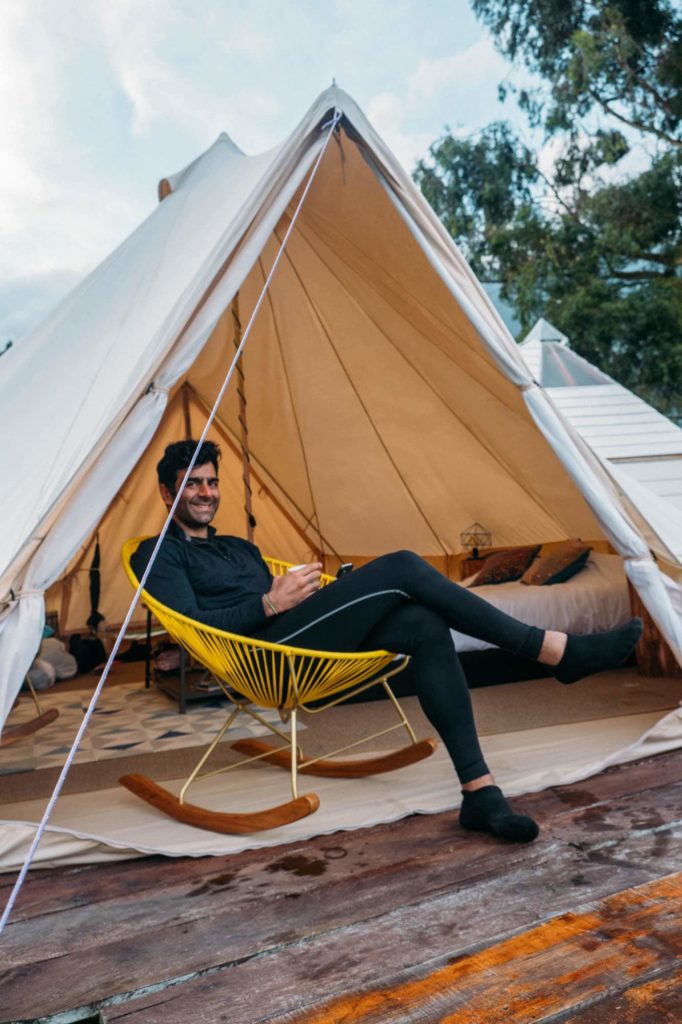 Very comfortable bed
Private hammock/balcony
Large private bathroom
Tasty snacks refilled every morning
Cozy decor
Delicious breakfast
Private waterfall you can hike to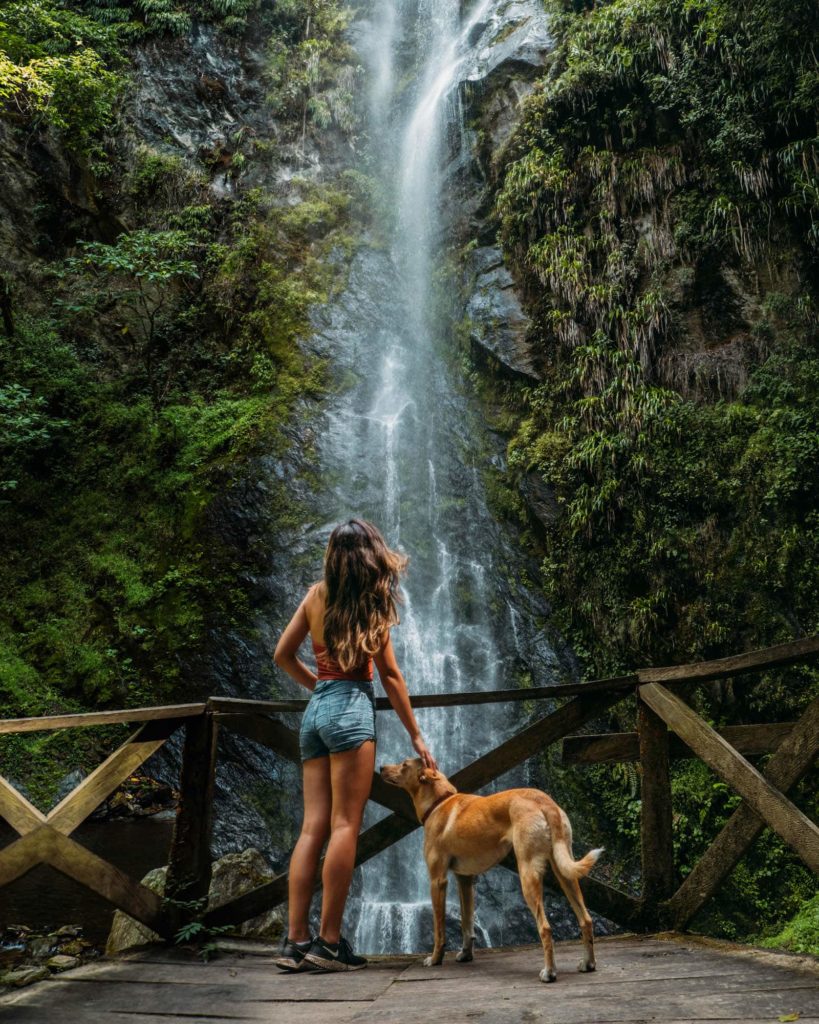 They have a private waterfall just behind the property that you can hike to. The neighboring farm's dog, Sol frequency visits the camp. She greeted us each morning at our tent and even led us to the waterfall. It was such a memorable way to end our trip.
Tips for getting to Glamping Lumbre
Glamping Lumbre is a little more than halfway from Salento to Cocora Valley. You can take the same Willys that take you to Cocora Valley and pay a bit less.
There are a few ways to get to Valle de Cocora from the camp.
Walk – the camp is only a 30-minute walk from the camp.
Flag down a Willys that's on the way to the Valley. Depending on the time of day, they come every 20 minutes or so. But the cars can be full, so you may have to wait a while until there's a one with space.
If you're really time-constrained and don't want to walk, the camp can also arrange transportation for you.