What to do in Salento Colombia – The Ultimate Salento Travel Guide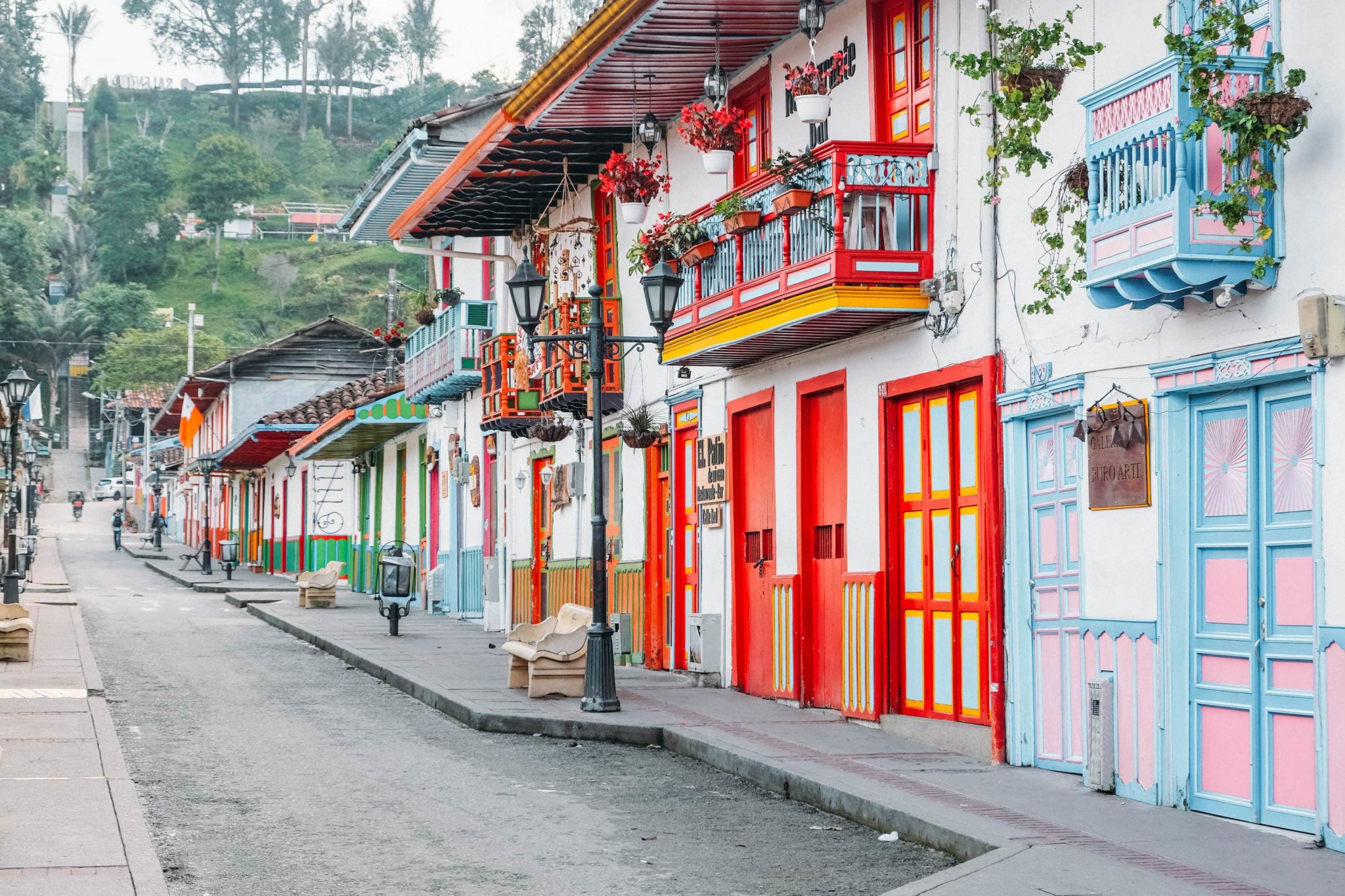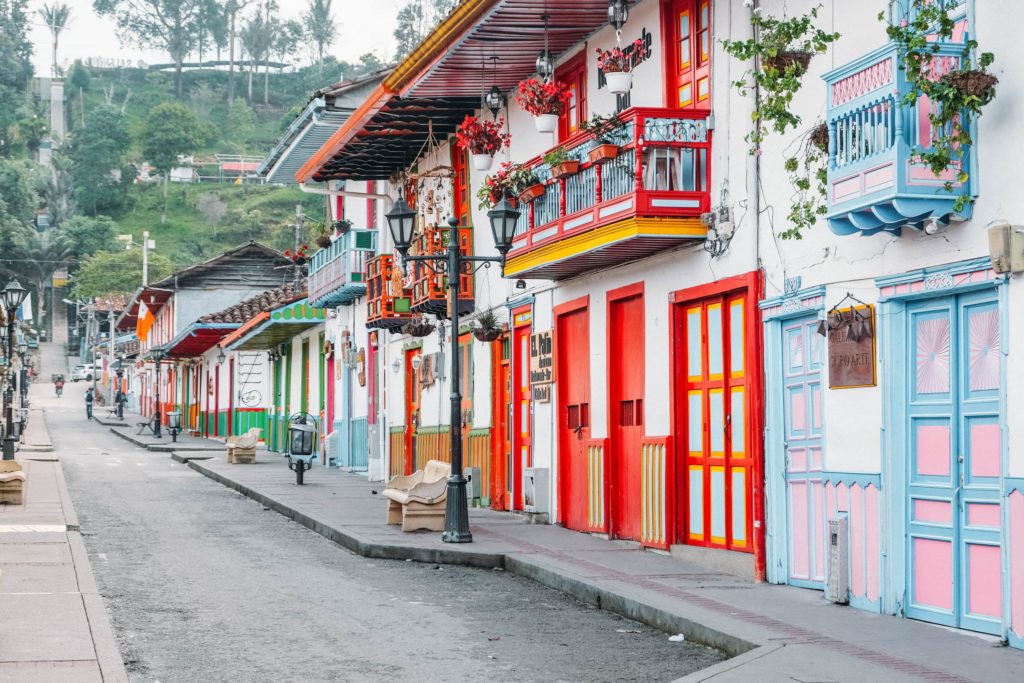 The gorgeous city of Salento Colombia is a town on the coffee axis in the Quindío department. It's famous for its small-town charm, coffee farms, colorful colonial houses, and the natural wonder of the Cocora Valley.
We had been living in Colombia for a couple of months, spending most of our time in bigger cities like Medellín, so Salento was the perfect escape. If you're lucky to have the opportunity to make a visit, you'll get everything from waterfalls, jungles, surreal landscapes to rich Colombian food and coffee.
Related: Want to really impress the locals? Try out some phrases of Colombian Slang!
Become a Discoverer
Join our email list and we'll let you know when we publish awesome new content.
This post may contain affiliate links. Please see our disclosure policy for details.
Things to do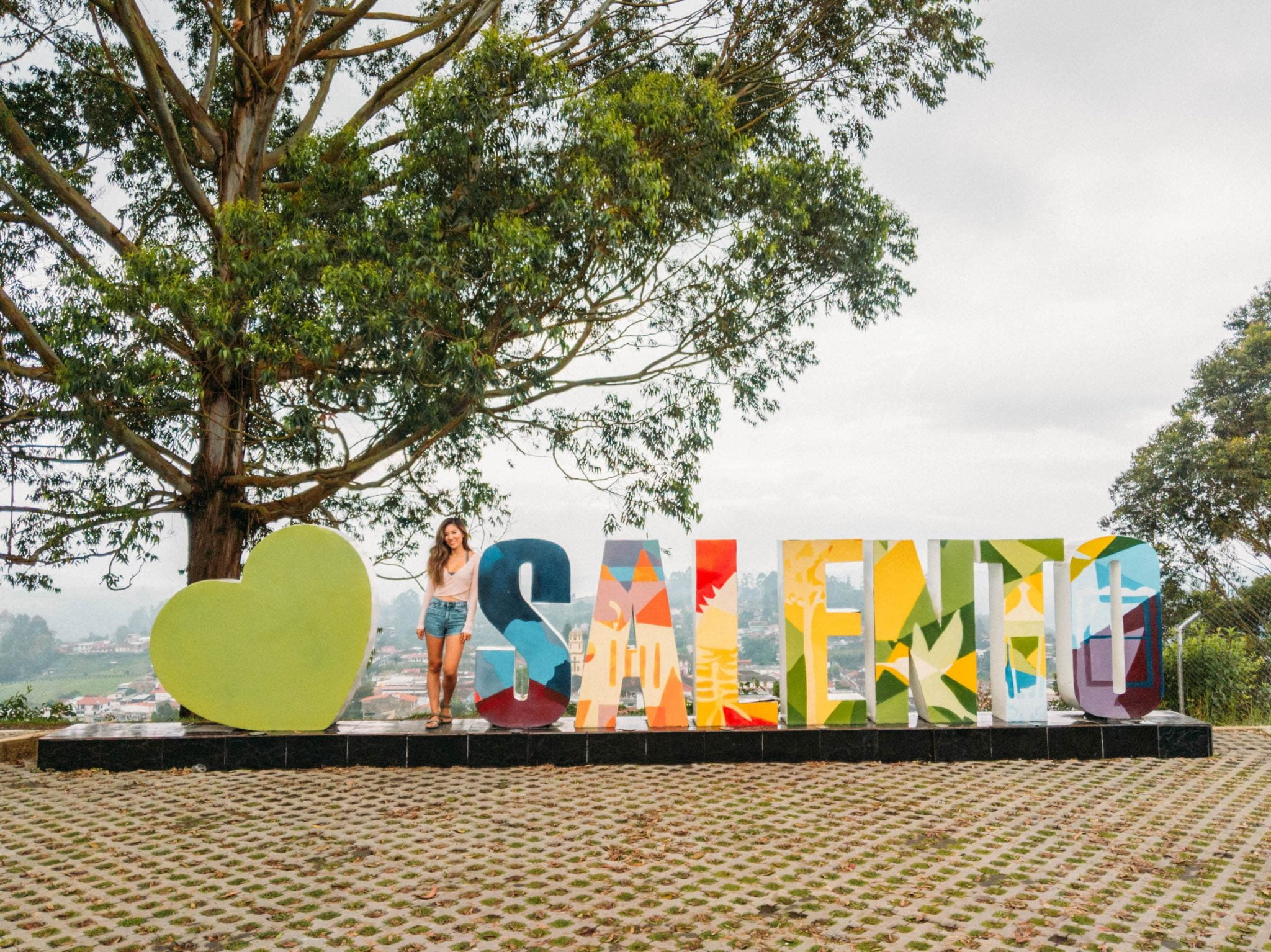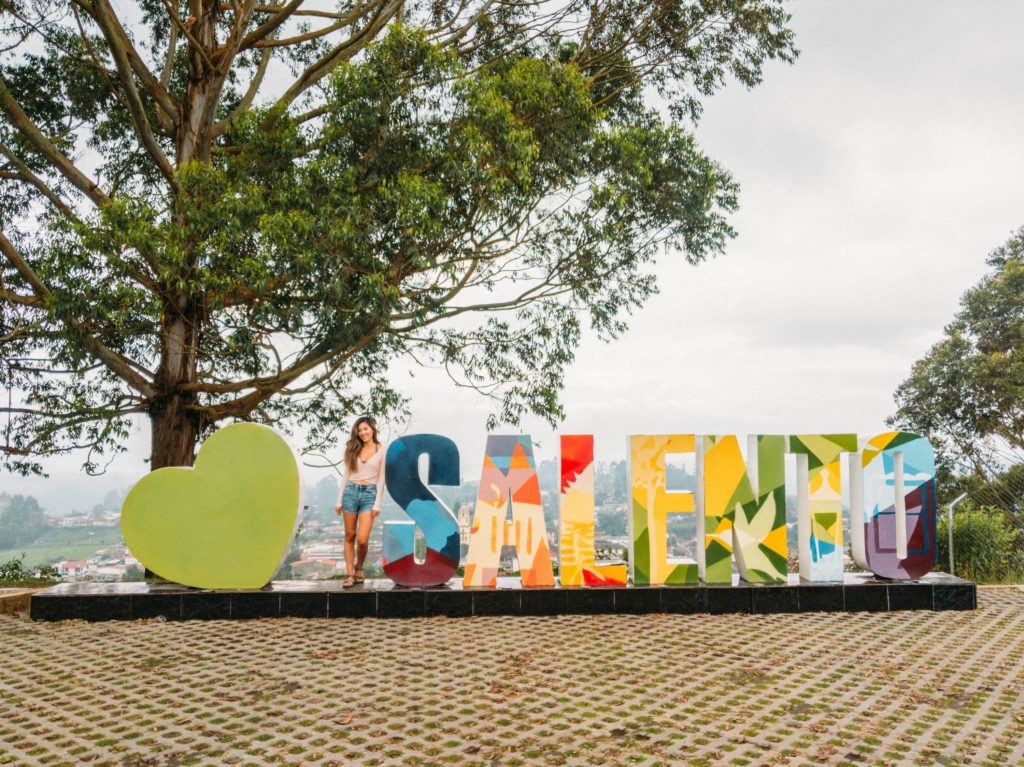 Salento is perfect for a long weekend or a 3-4 day trip. The best thing about Salento was its laid-back vibe.
It's very relaxing to just leisurely be present and enjoy everything that Salento has to offer. Here are some of the best things to do in Salento.
Stroll through Calle Real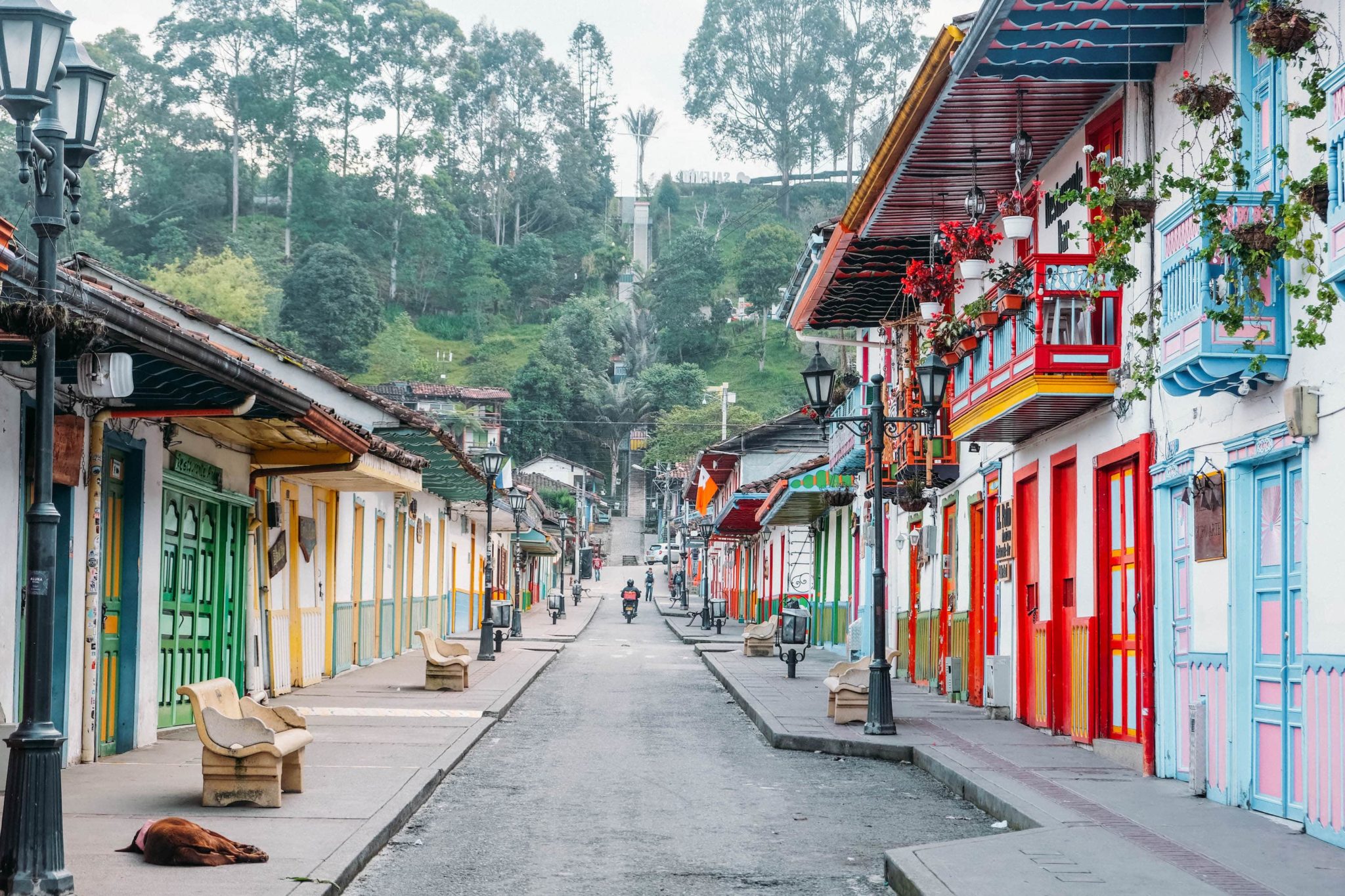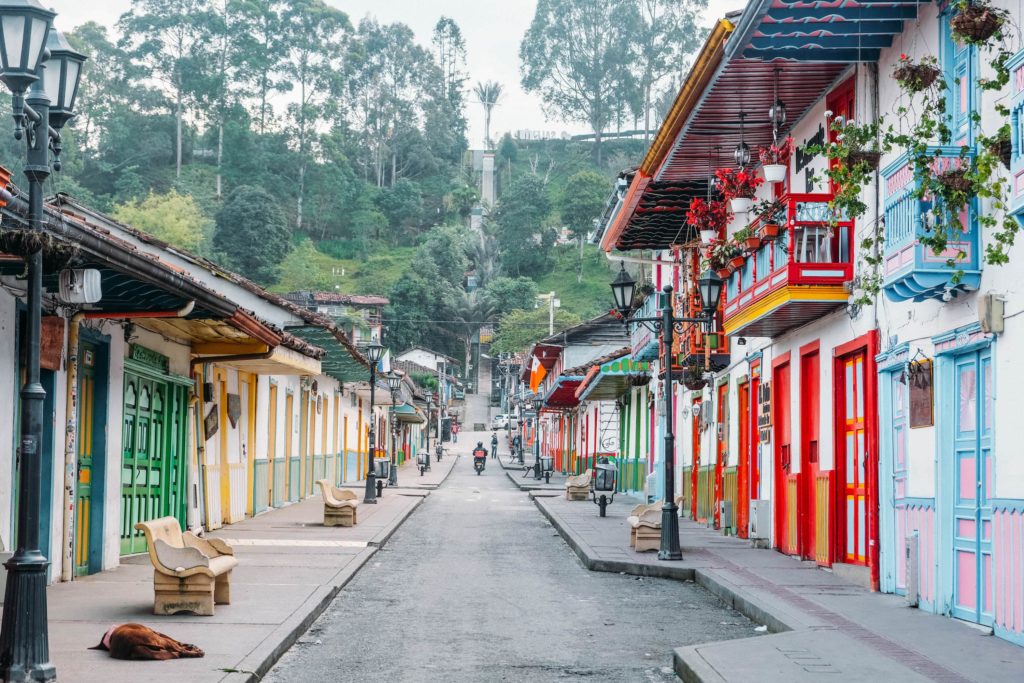 Spend the morning or afternoon exploring the adorable town of Salento. You'll quickly see why it was one of our favorite towns in Colombia. The Calle Real, Carrera 5, is one of the most colorful streets.
Spend some time admiring the beautiful colors of the building facades. There are also many cafes, shops and restaurants you can browse through.
People watch at Plaza de Bolivar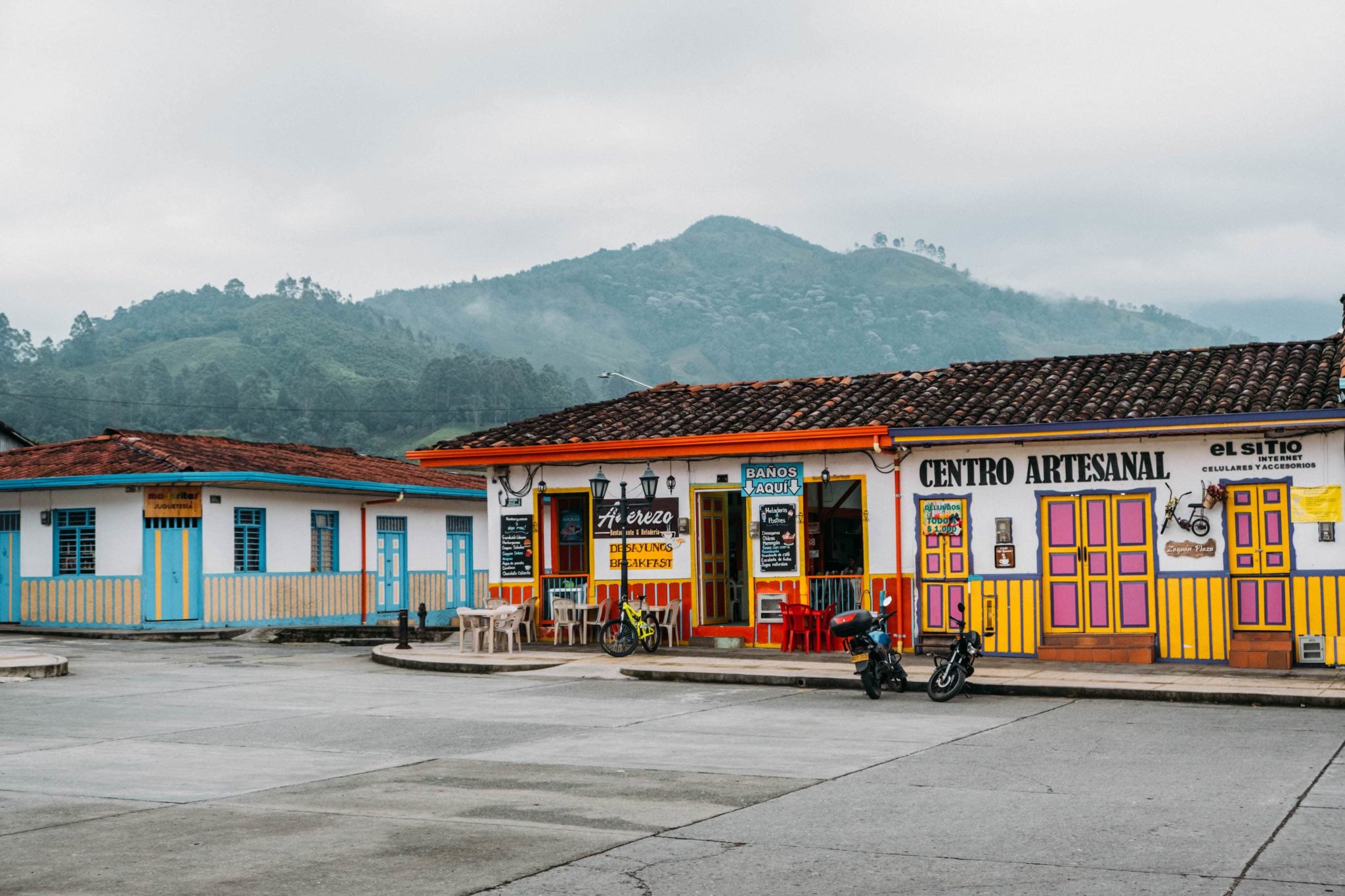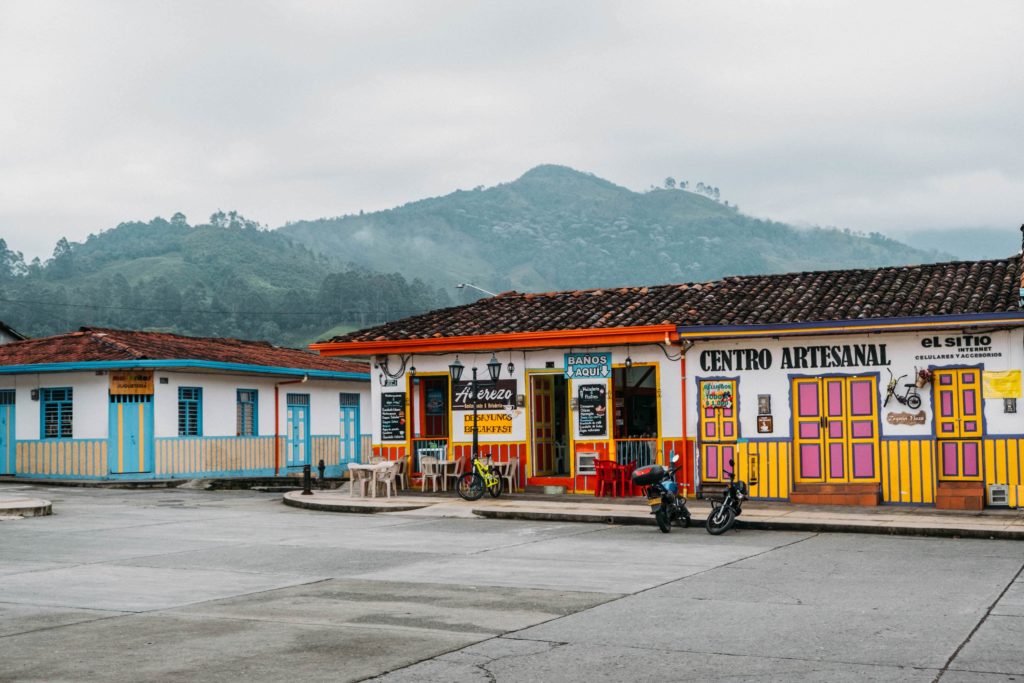 Plaza de Bolivar is the main square in town. This is a great place to grab some juice or ice cream and sit on one of the park benches and people watch.
In Plaza de Bolivar you'll also see the main church, Iglesia Nuestra Señora del Carmen (Our Lady Carmen). During the day, there are several food stalls, selling amazing local foods and fresh juices.
Try Trucha al Ajillo con Patacon or Garlic Trout with Patacon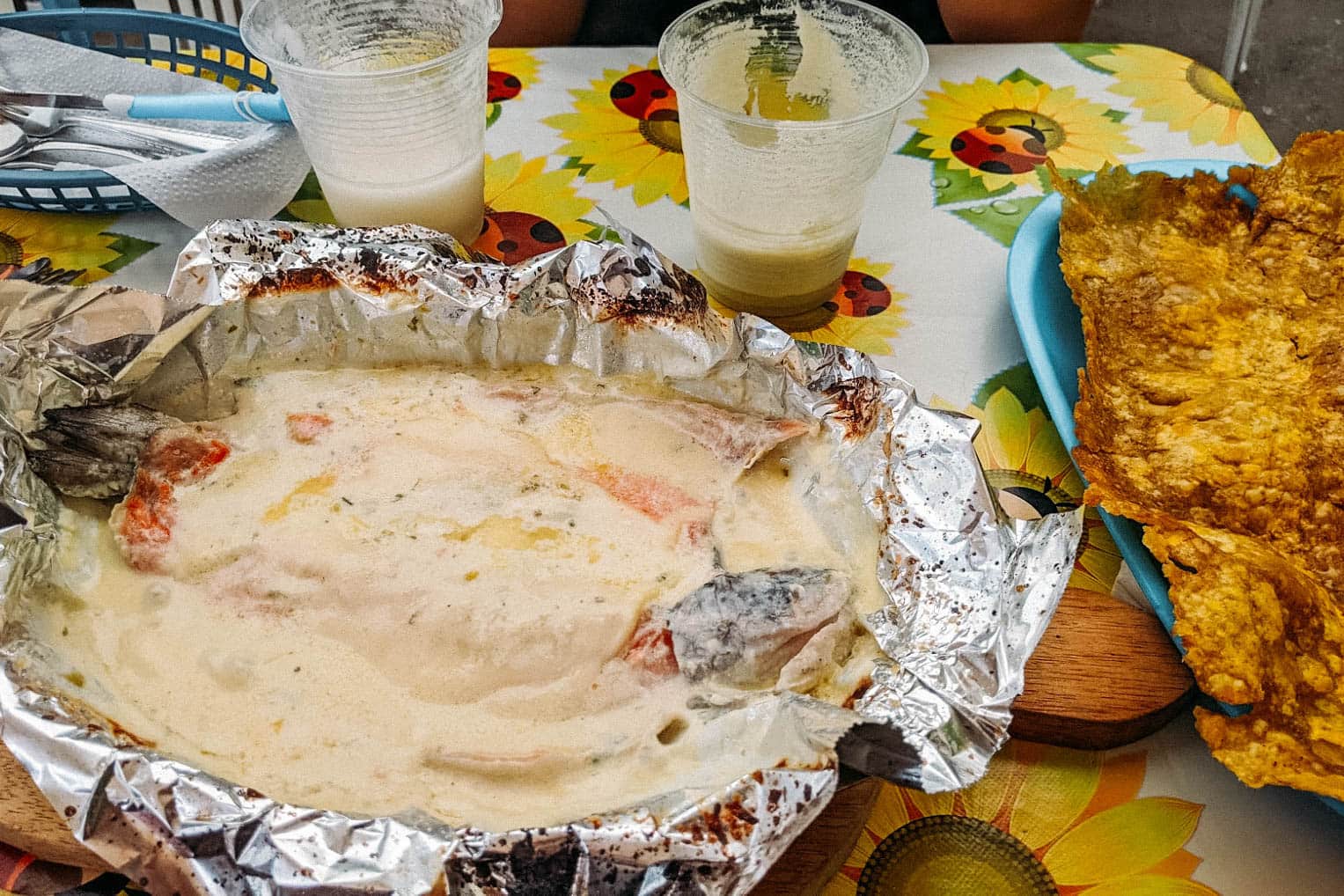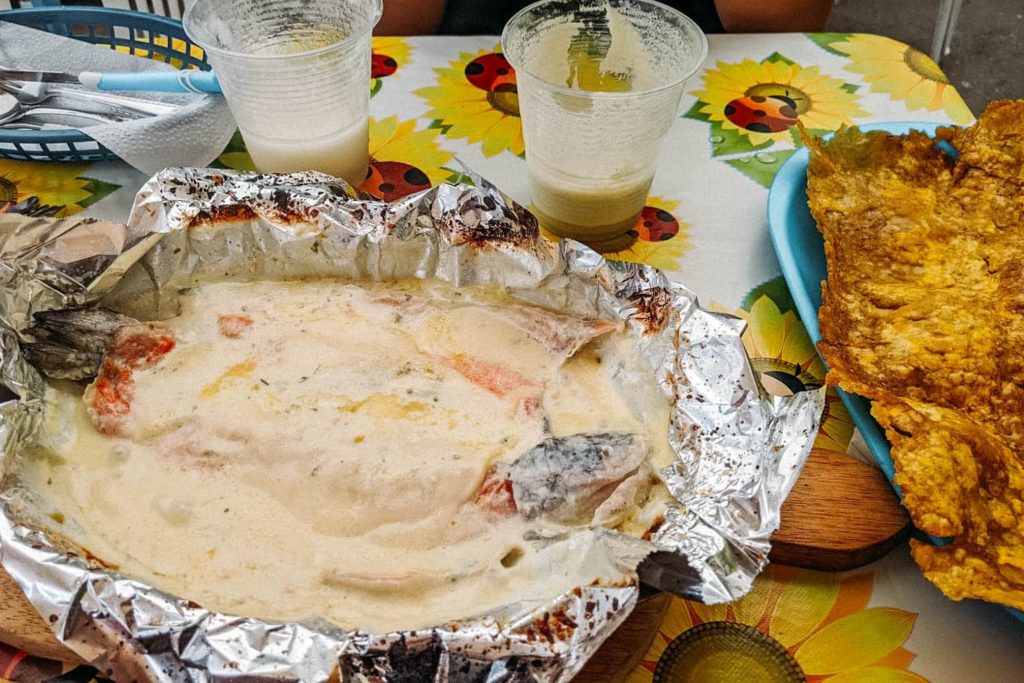 For garlic lovers, the Trucha al Ajillo is a MUST! Even if you aren't a huge fan, I'm willing to bet you'd still love it.
This dish is a specialty in the Quindio region because the trout is caught fresh along the Quindío river. You'll find it offered in most restaurants in Salento.
The trout comes fried or grilled, with delicious creamy garlic sauce. It's served with a patacón. Patacones are fried flat plantains, but the patacones in are really different than ones I've tried other places in the world and in other parts of Colombia.
The patacones in Colombia are huge, very thin, fried, and insanely crispy. This was one of my favorite things to try in Colombia.
Related: How to order Colombia's Menú del Día
Hike Valle de Cocora (Cocora Valley)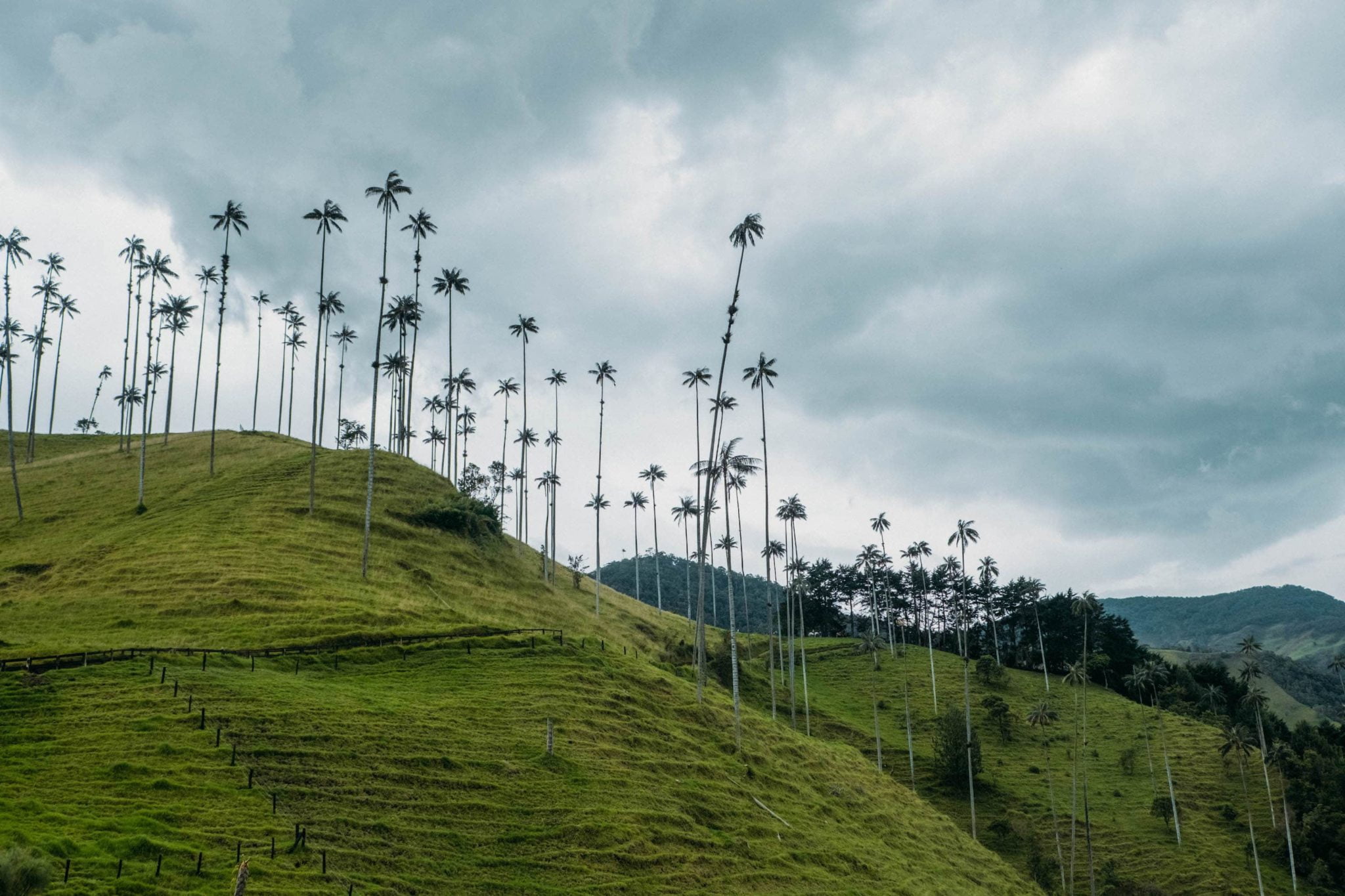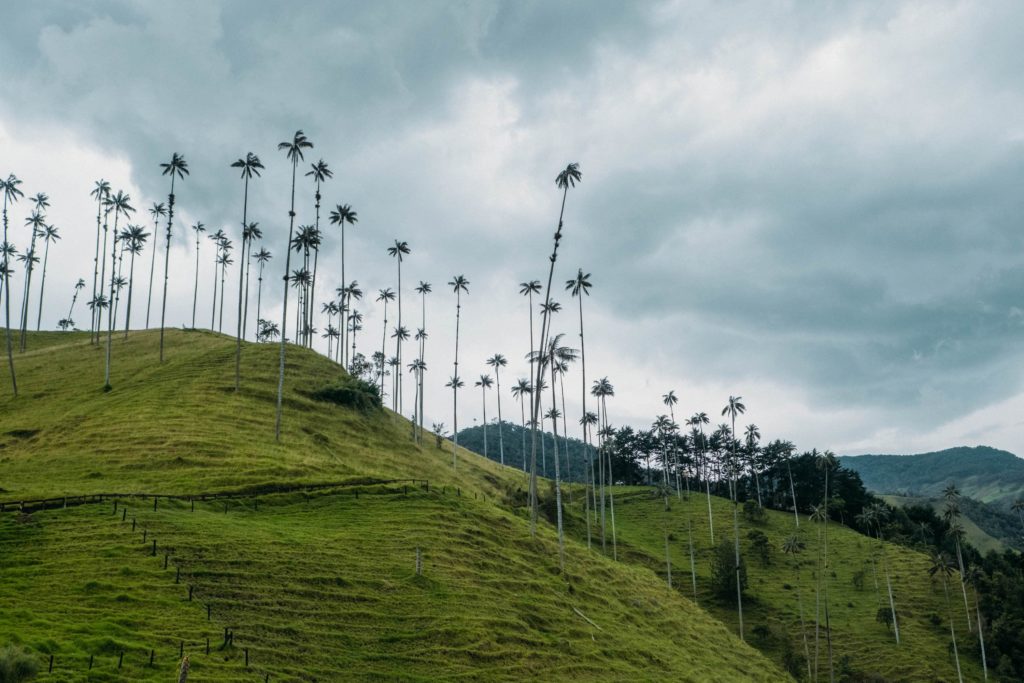 If you do one thing in Salento, you must hike Valle de Cocora. This is what put Salento on the radar for us. Valle de Cocora was what I had been looking forward to the most when I was planning trips around Colombia.
Check out our detailed guide Valle de Cocora hiking guide.
Salento is about 15 km or a 30-minute drive from Cocora Valley. It's known to be one of the most beautiful landscapes in Colombia. There is one loop hike in the park that takes about 4-5 hours to complete.
The hike has a little bit of everything. There are several gorgeous viewpoints along the way, most notably the wax palms forests, where you'll see the famous tall wax palms that can grow up to 200 feet tall. There are also bridges and crossings, rainforests, and a hummingbird reserve.
Check out prices of a full day tour to Cocora Valley – Includes coffee tour.
Spend a night glamping under the stars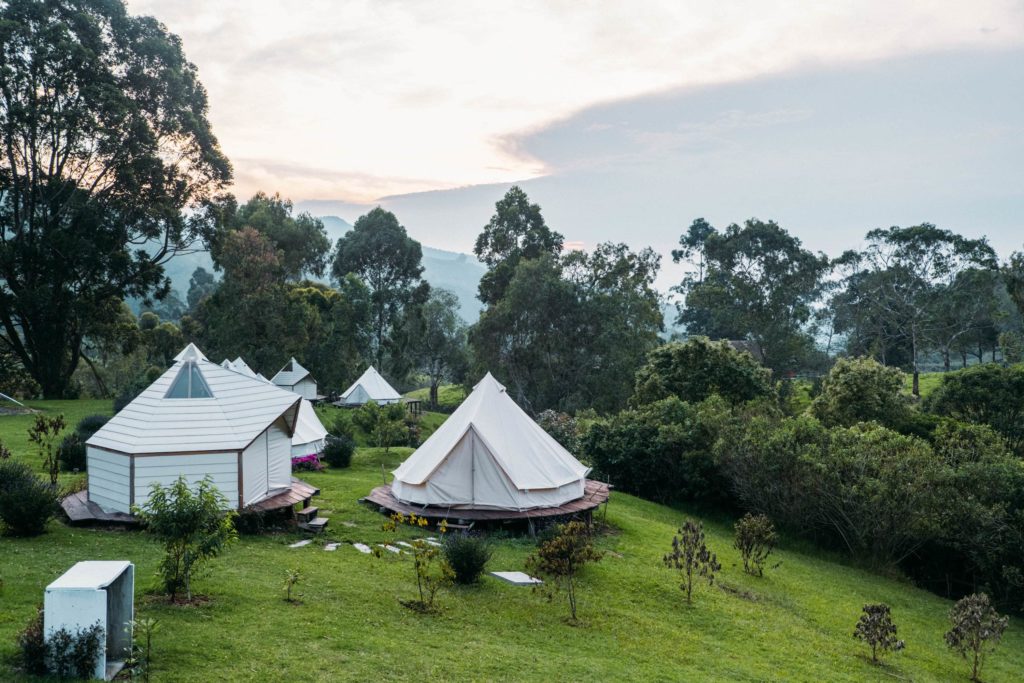 From time to time, we like to stay someplace a bit unique other than the usual hotel or hostel. I was excited to find there were a couple really wonderful "glamping" spots in Salento Colombia. The two best ones are Glamping Lumbre and Montana Glamping.
Glamping gives you the unique experience of being one in nature, near beautiful landscapes, and with all the luxuries of a hotel. We decided to go with Glamping Lumbre and it really rounded out our perfect weekend in Salento.
Watch the sunset at Mirador Alto de la Cruz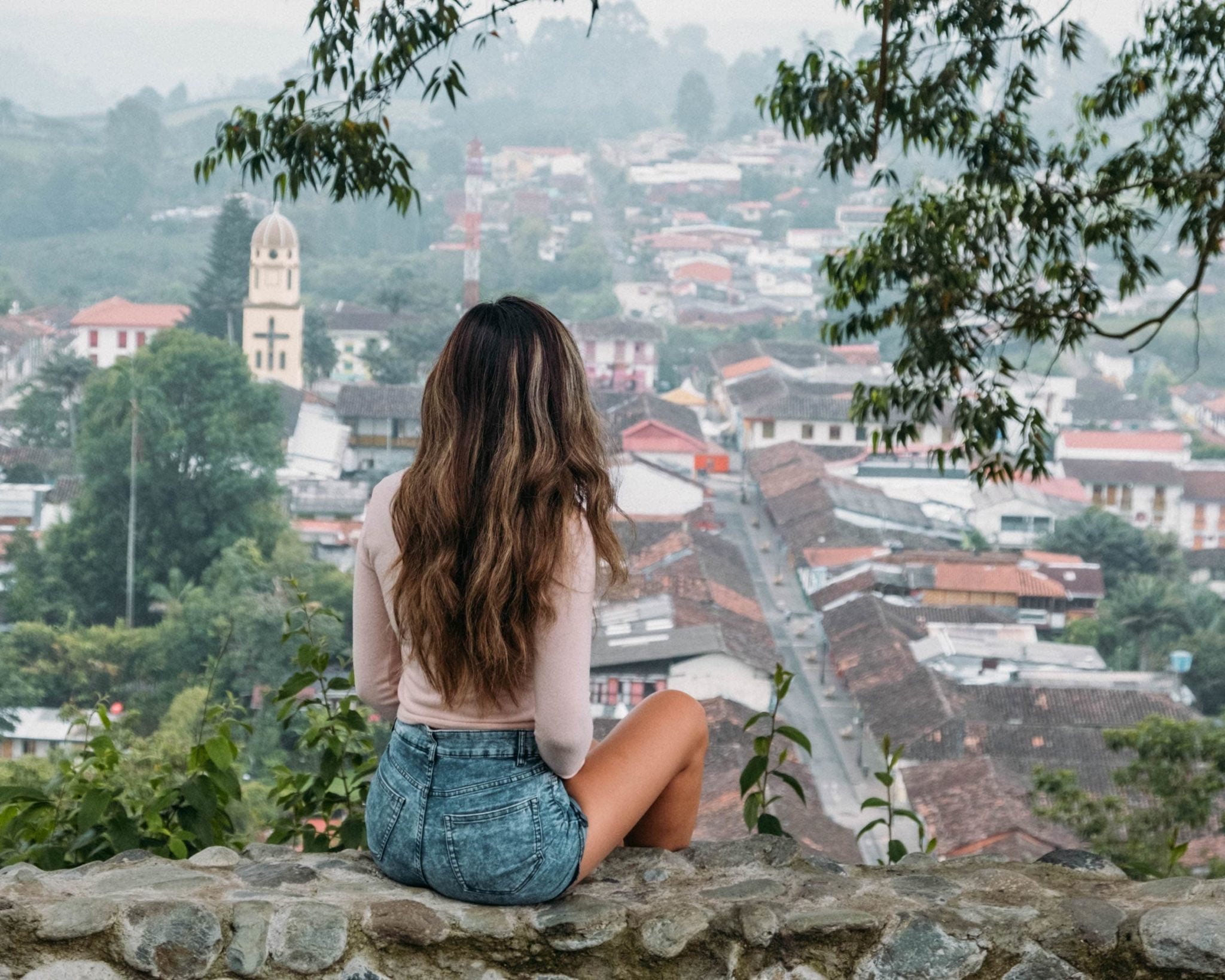 At the end of the Calle Real, there are a flight of steps leading to the Mirador Alto de la Cruz. It's about a 200 step climb so it may get your heartrate up, but the view is well worth it! The reward is the perfect view of the main street and the town of Salento. On a clear day, it's a great place to watch the sunset.
Walk to Mirador de Salento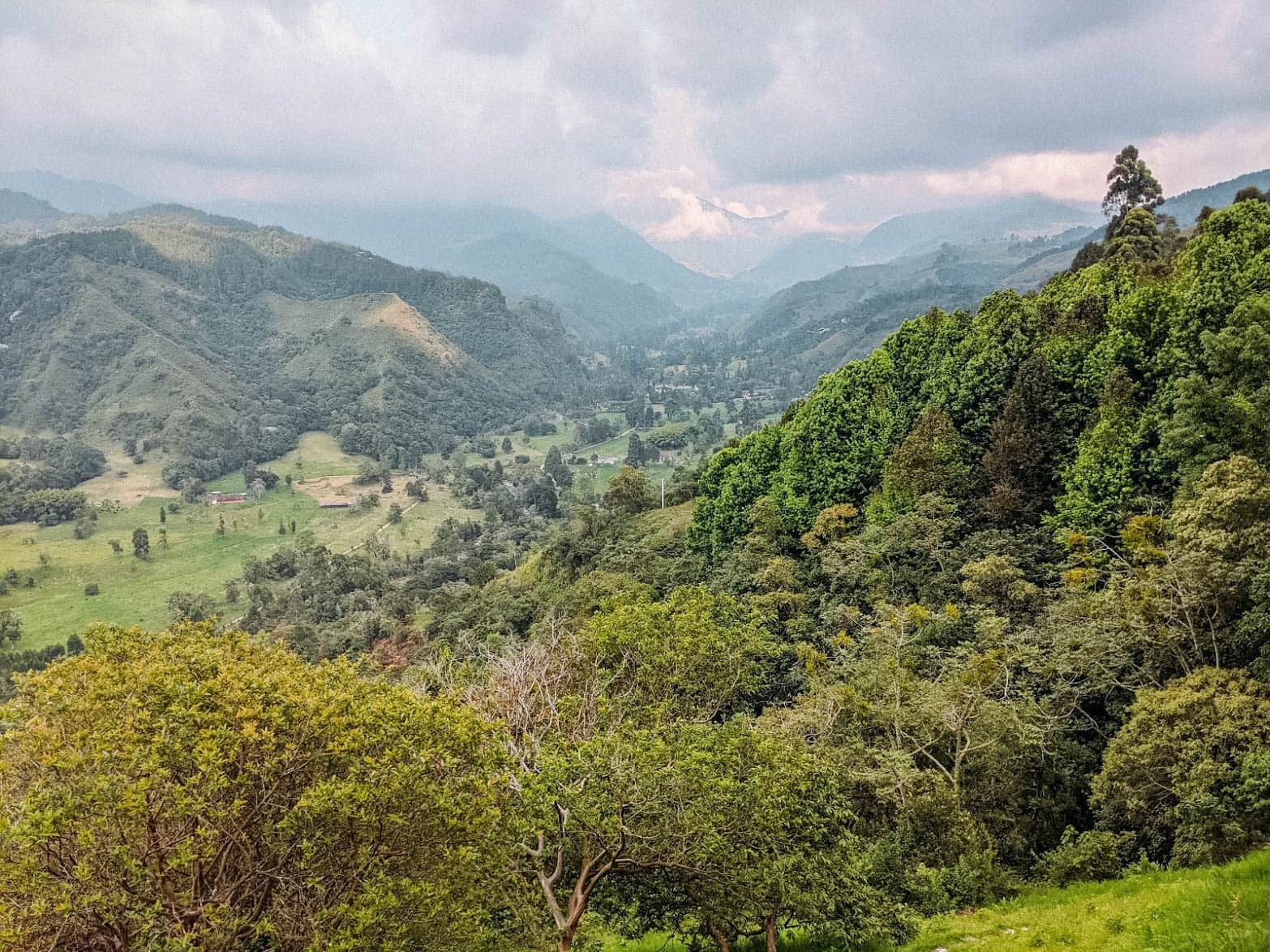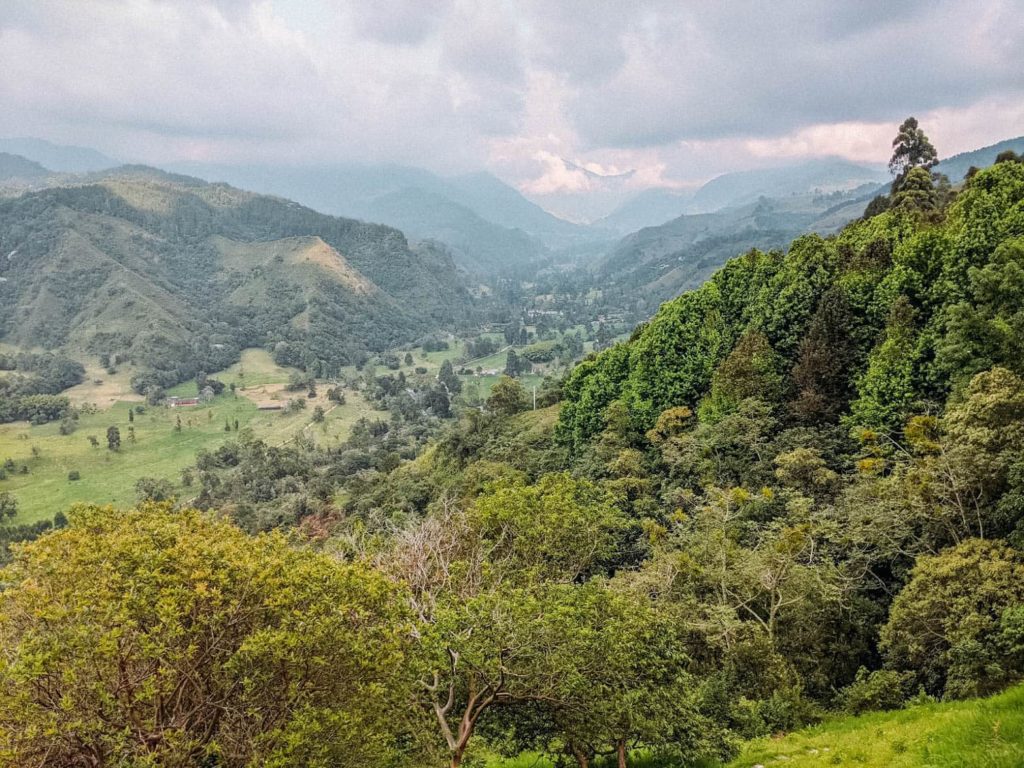 The Mirador de Salento is not as well known but is still stunning. It's on Carrera 4, on the same side of town as Mirador Alto de la Cruz. It requires a bit of walking up a steep hill. There is a viewing deck, with a beautiful view of mountains and valleys.
Visit a Coffee Farm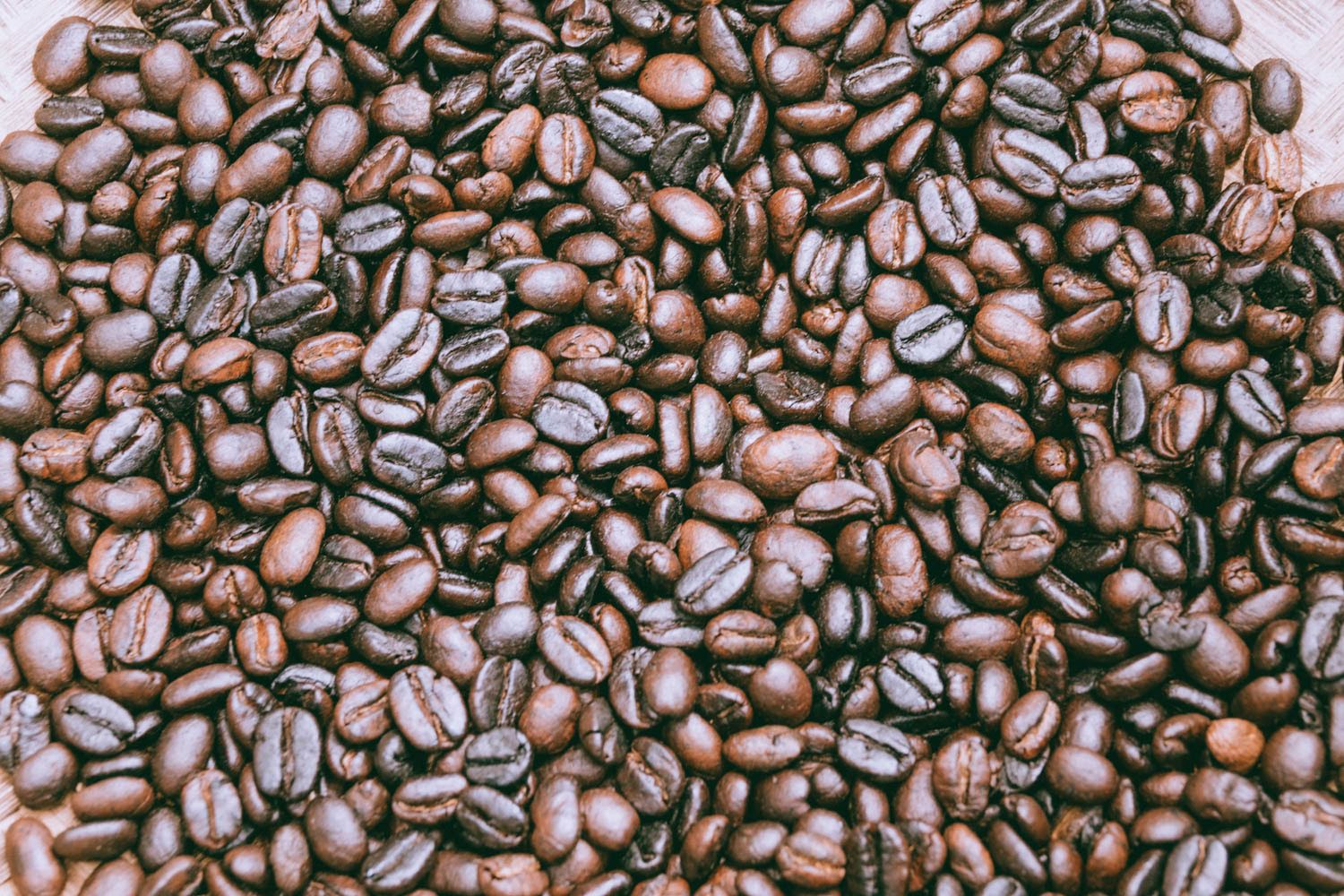 Colombia is a huge producer of the finest coffee exported all around the world and Salento is at the heart of the Zona Cafetera (Coffee Region). A visit to a coffee farm is a great way to support the locals and get a taste of some rich, fresh Colombian coffee.
There are several high quality farms and tours in the area. You can get info from your hotel, from the Plaza Bolivar, or book a coffee tour in advance.
Go Horseback riding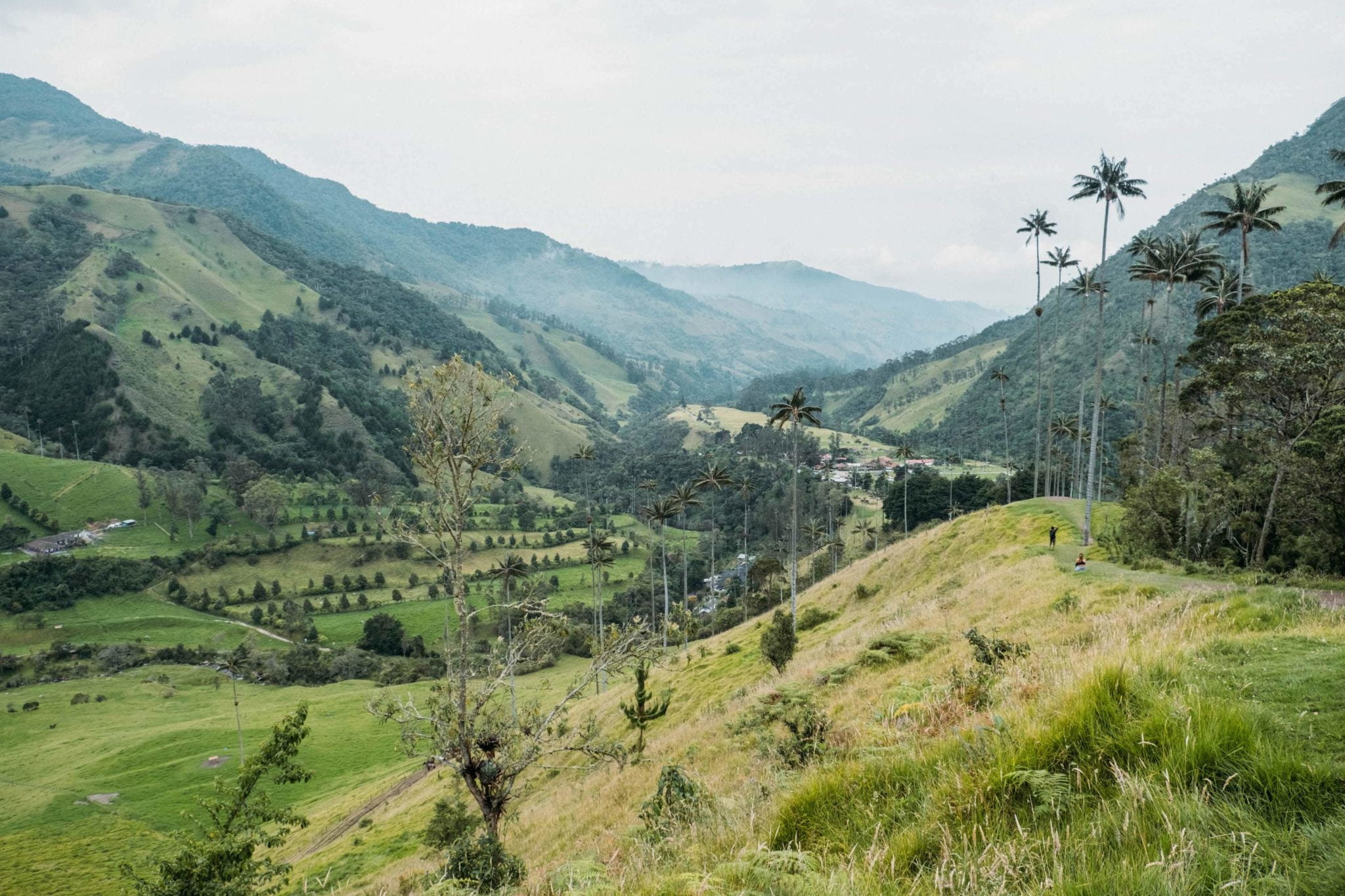 There are also horseback riding tours that operate in the area. They take you to breathtaking views of the Andes and through coffee and banana plantations. This is a fantastic way to see more of the beautiful nature surrounding Salento. Check horseback tour prices here.
Play Tejo at Cancha De Tejo Los Amigos
Try your hand at the ancient Colombian game of Tejo. The game originated with native Colombian aboriginals so Tejo is a big source of national pride in the region. It consists of of a throwing disc on a clay surface, with small triangles filled with gunpowder. Upon contact, there's an explosion. It reminds of cornhole… but with gunpowder.
Swim in Cascada Santa Rita
Hike over to the Santa Rita waterfall. It is a 2-hour walk through mountains, forests. There's even an old abandoned railroad. The entry to the hike is $5,000 COP pp. Upon reaching the waterfall feel free to jump in and be refreshed by the cool water.
There's also a lovely natural pool near by you can lounge in as well. There's also camping available in this area and is a great option for those who want to enjoy nature in its purest form.
Visit Filandia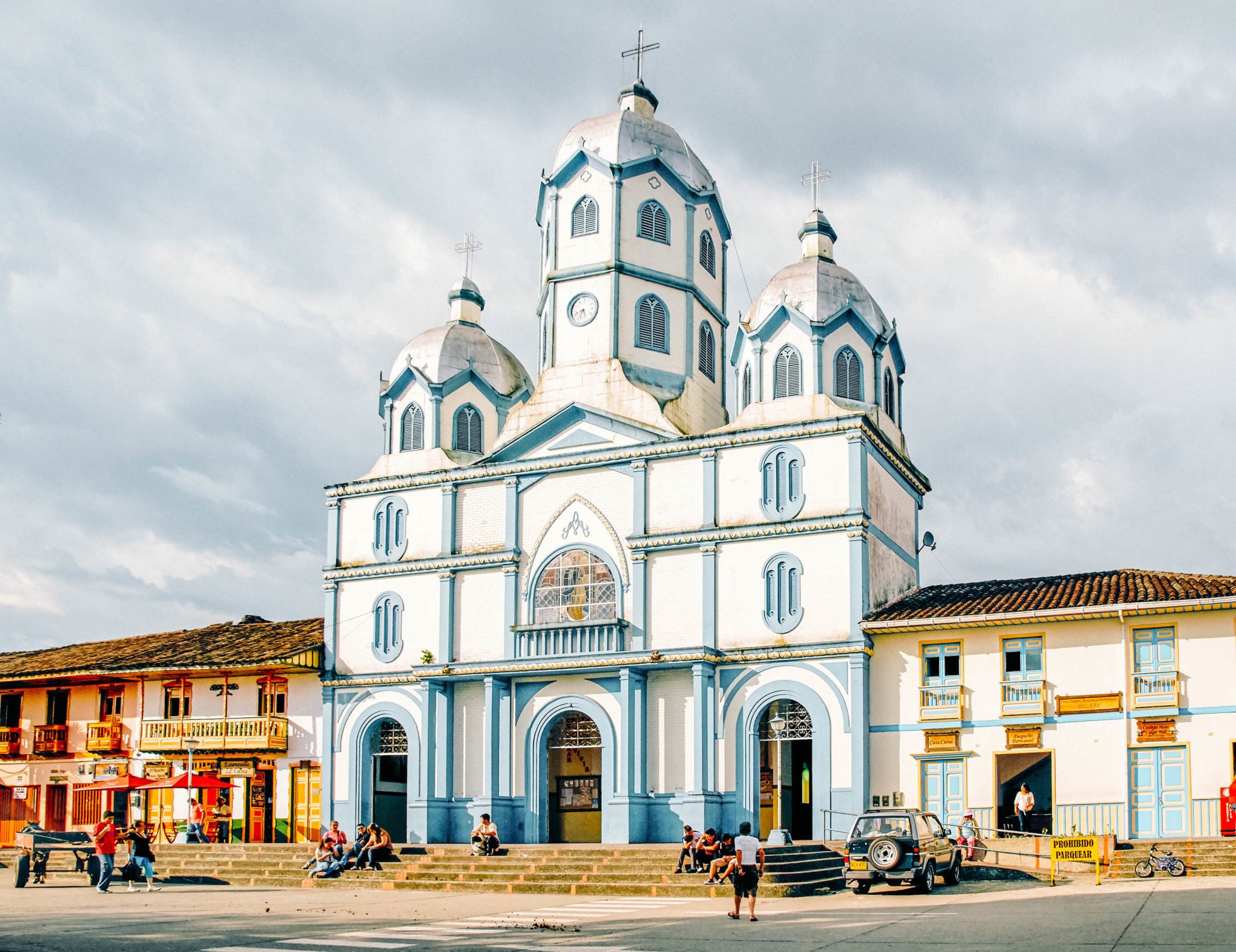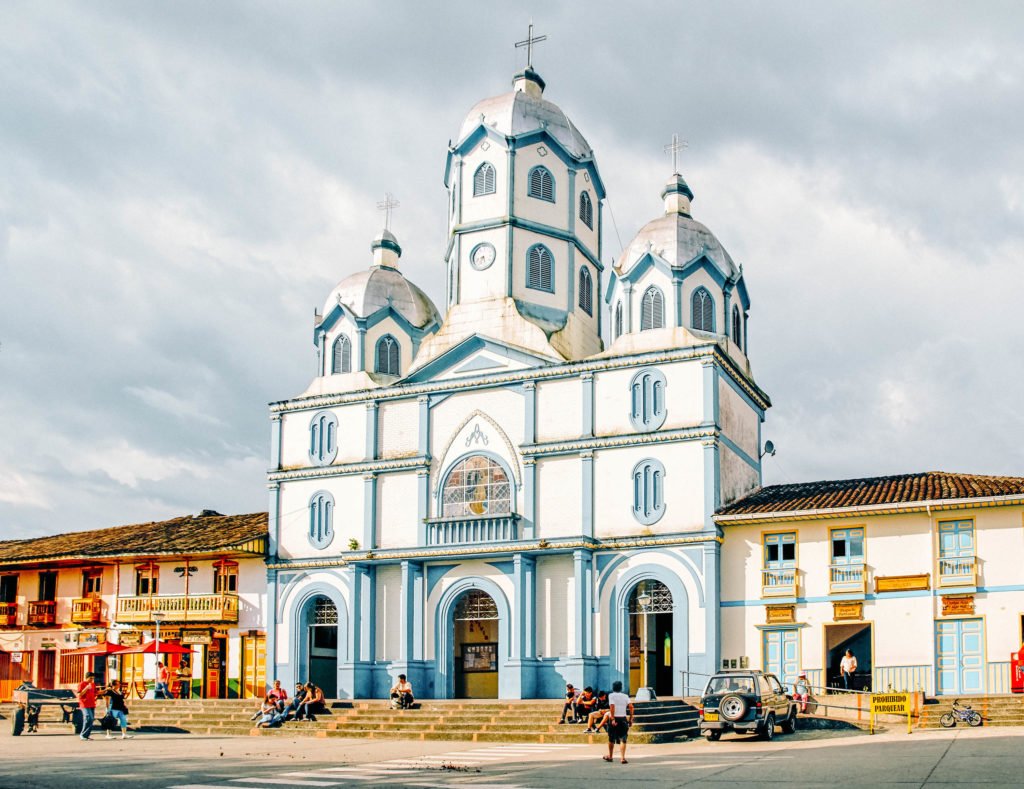 Filandia is a beautiful old colonial town is a short 40 minute drive from Salento. The vibe is really similar to Salento, but without the tourists. Here the views of the Colombia's Coffee Axis are really stunning. It's also home to the restaurant Helena Adentro is famous for being the best in Quindio. =
We also found the cafes here to be of higher quality compared to Salento. If you have a free afternoon, Filandia is definitely worth a visit! The Willy jeeps will take you to town and there are tours you can take to take you to Filandia and Pereira. Check prices here.
Best time to visit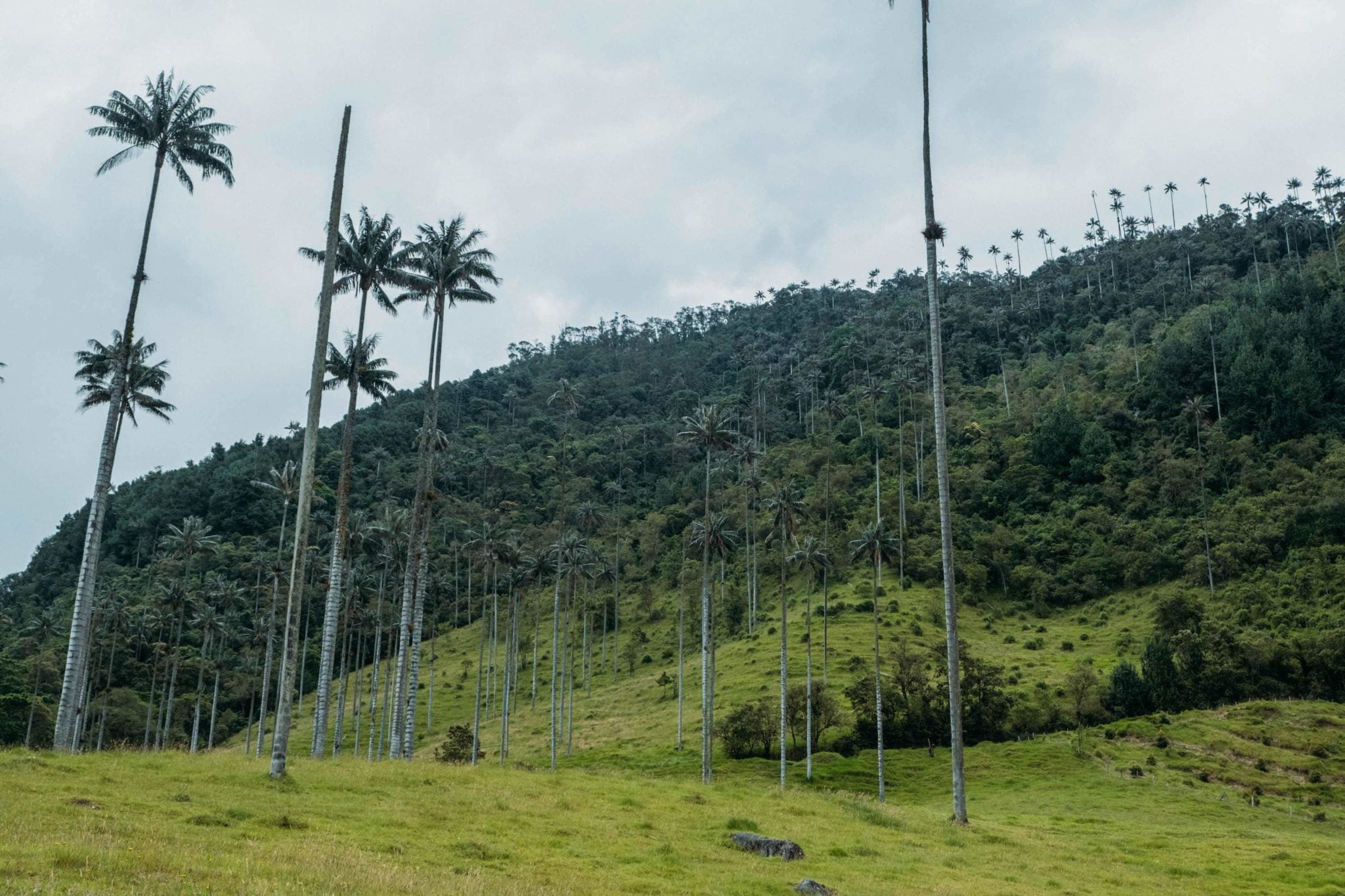 The climate in Salento Colombia is what makes it a prime location for growing coffee. The temperature is pretty stable throughout the year – ranging from a cool 18 °C – 21 °C (65 °F – 70 °F). While the temperature is always quite mild, you will need to watch out for the rainy season, as that could ruin plans especially if Valle de Cocora is in your itinerary.
The best time to visit Salento is February, August, and September. This is the sweet spot for good weather, less rain without the big high season crowds.
The wet and rainy months are March – May and October – December. Dry season is January – February and June – September. Anytime in dry season is also a wonderful time to visit weather-wise, but if you don't enjoy crowds, you may want to avoid high season.
The high season / peak tourist season is December – January and May – July. This is a popular vacation time where you can see the highest amount of local and foreign tourists. You may need to reserve hotels and tours ahead of time, and prices will be more expensive. Arguably, December and May are the worst months to visit because it's peak tourist season and also the weather is poor.
How to get to Salento Colombia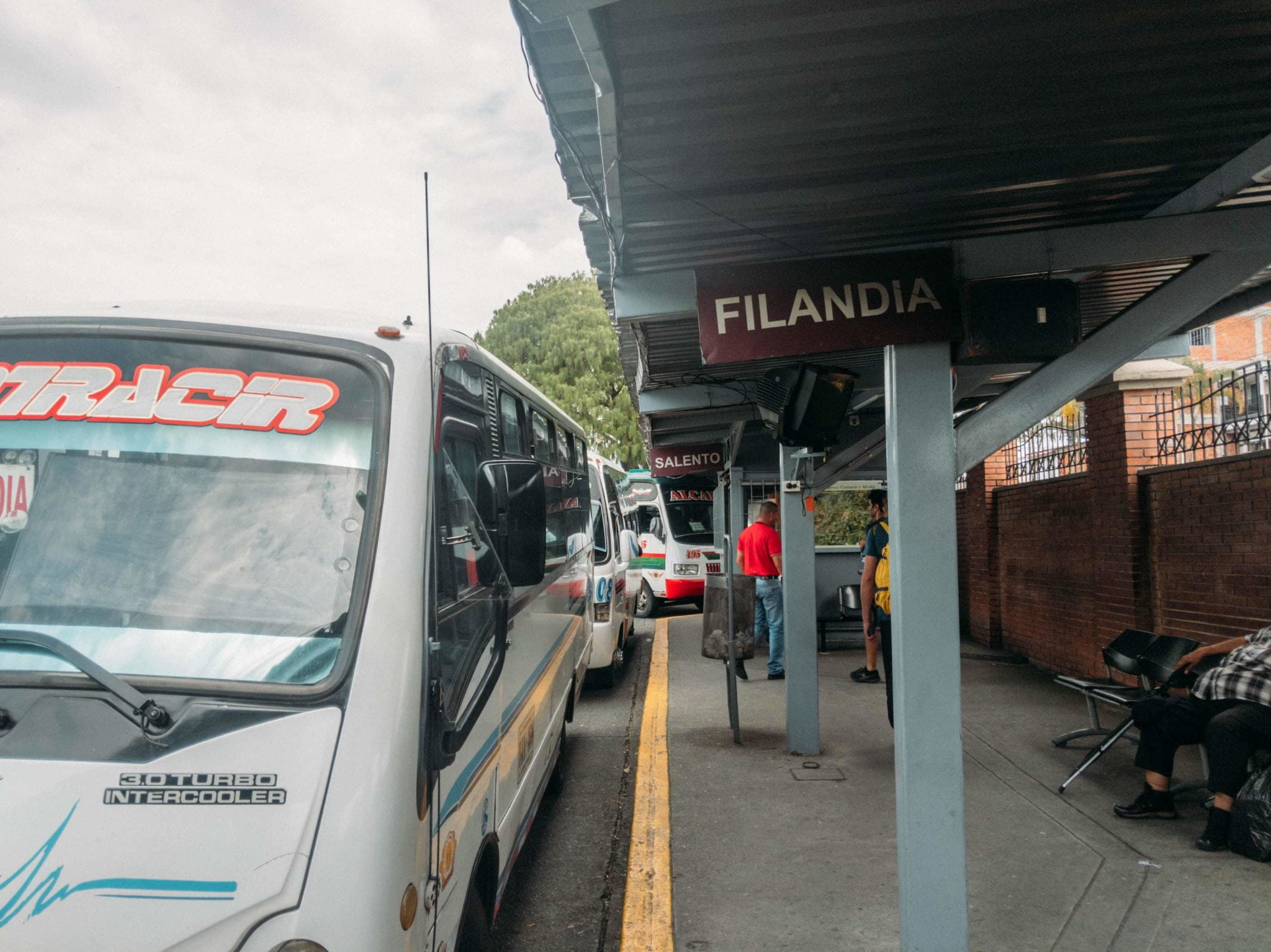 The cheapest way to get to Salento is by bus. The buses in Colombia are well run, safe, and one of the best ways of getting around Colombia.
How to get the bus from Medellin to Salento
Transit time: 6-7 hours
Cost: COP 49,000
The direct bus to Salento takes about 6 hours. You can buy tickets at the Terminal del Sur in Medellin. At the terminal, visit the Fota Occidental ticket office and buy a direct ticket to Salento.
How to get the bus from Bogota to Salento
Unfortunately there aren't any direct routes to Salento from Bogota. Fortunately, there is only one transfer and it is pretty straight forward!
Transit time: 8-10 hours
Cost: 39,000 COP to 49,000 COP (Total)
The bus times varies more from Bogota to Salento due to a longer distance, transfers, and heavier traffic in Bogota. You will need to transfer in either Armenia or Pereira. Armenia has more connections, and leaves with more frequency, so we recommend making the Armenia connection. You can purchase tickets at Terminal de transporte Salitre. Expreso Palmira, Velotax and Fronteras buses all go to Armenia and Pereira.
From Armenia you'll need to purchase tickets to Salento. The time from Armenia to Salento is about 1 hour.
Getting around in Salento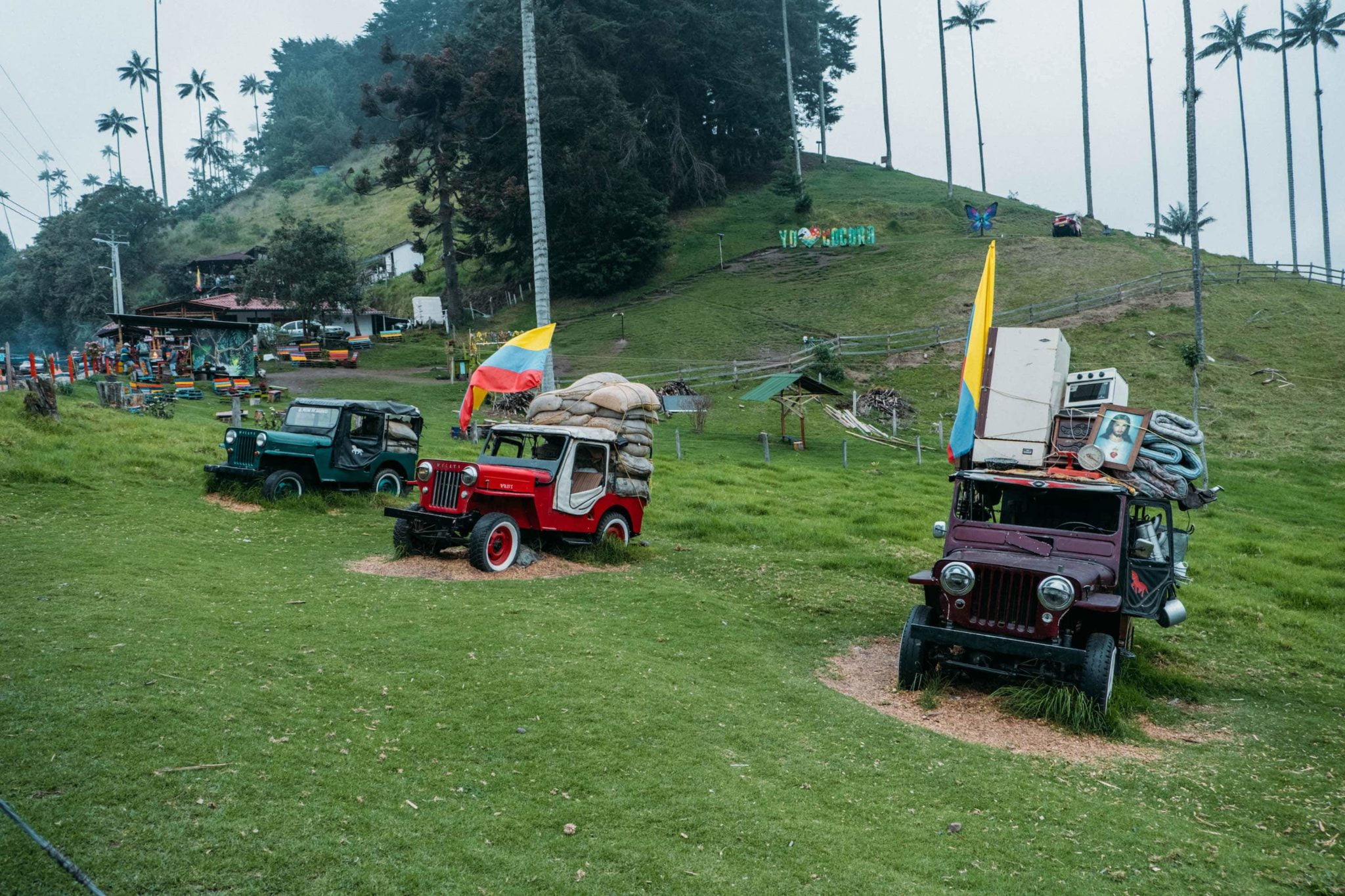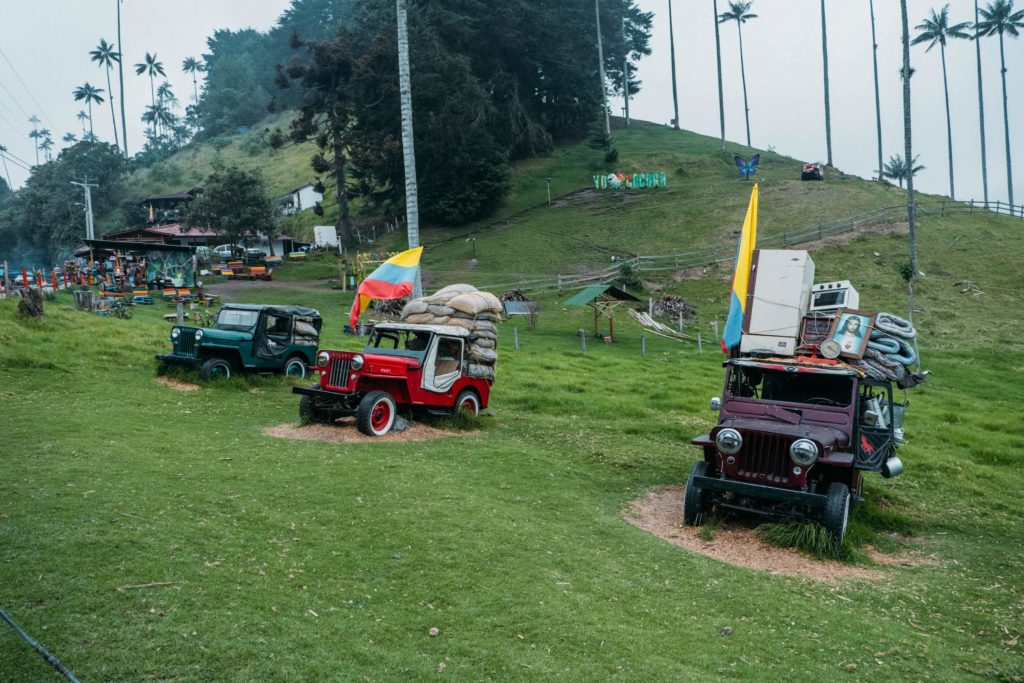 Salento is a very small town, so the best way to explore the town is on foot! You can basically get from one end to the other in just 15 minutes.
If you're heading outside of town, there are colorful Jeeps, referred to locally as Willys that will take you to Cocora Valley, Filandia, and the Coffee Farms. Willys are shared taxis.
Willy costs and departure times
The Willys prices are fixed and clearly displayed at the small info booth in the town square. There are time tables listed, but they they essentially leave when the car is full. Note the costs are only the cost of the taxis / transportation. There are additional costs for park fees, or coffee tours, etc…
Valle de Cocora
Cost: 4,000 COP pp one way, 8,000 COP pp (round trip)
Salento -> Valle de Cocora
First departure time: 6:30 am
Final departure time: 5:30 pm
Valle de Cocora -> Salento
First departure time: 7:30 am
Final departure time: 6:30 pm
Fincas Cafeteras (Coffee Farms)
Cost: 3,000 COP pp one way, 6,000 COP pp round trip
Salento -> Coffee Farms
First departure time: 8:00 am
Final departure time: 5:00pm
Coffee Farms -> Salento
First departure time: 8:40 am
Final departure time: 5:40 pm
Filandia
Cost: 6,500 COP pp one way, 13,000 COP pp round trip
Salento -> Filandia
First departure time: 8:40 am
Final departure time: 6:10pm
Filandia -> Salento
First departure time: 8:40 am
Final departure time: 6:10 pm
Where to stay
Budget
Hospedaje Vista Hermosa Salento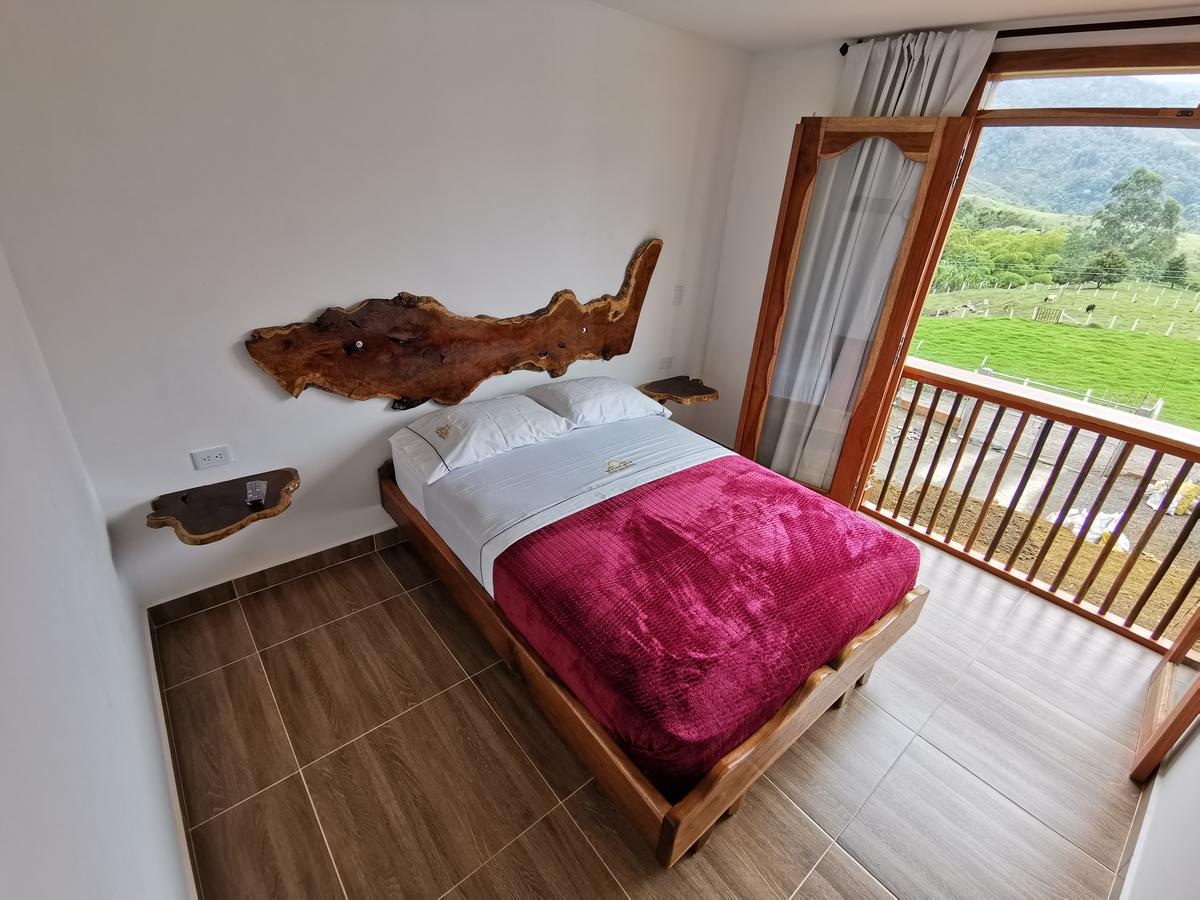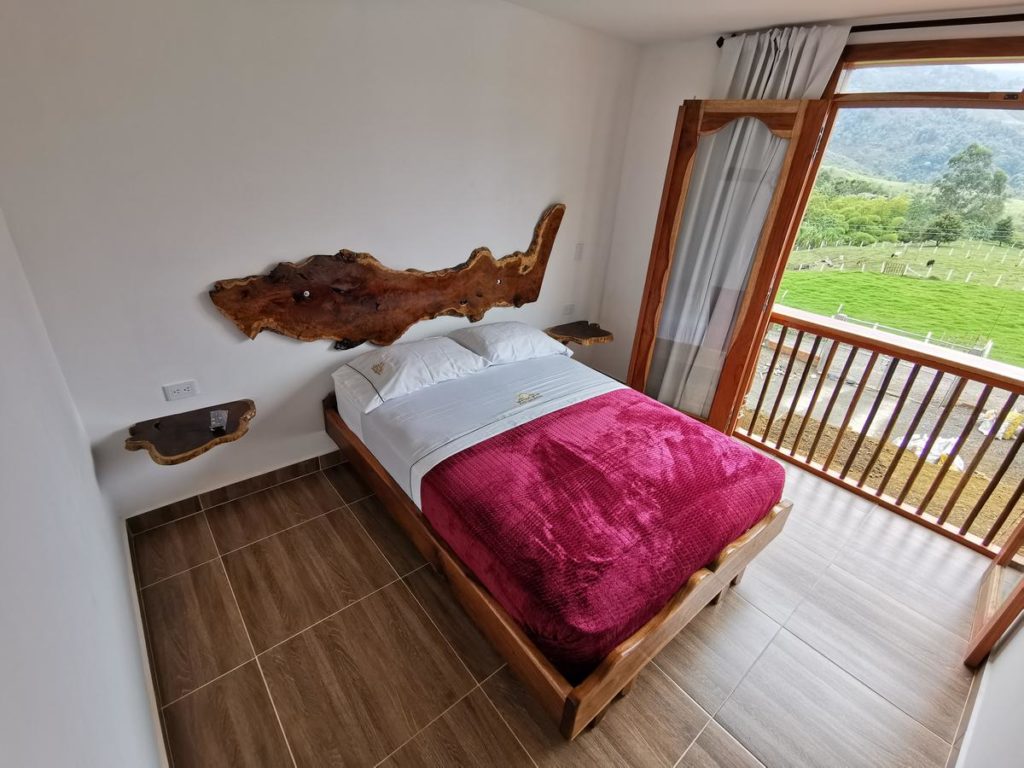 Hospedaje Vista Hermosa Salento is one of the best value stays you'll find in Colombia. It's located on the edge of the city center, so you have all the benefits of being within walking distance to everything without the noise. As the name Vista Hermosa (beautiful view) suggests, the other benefit of being on the edge of the city is having beautiful views of the mountains and green hills.
This hostel has everything a budget traveler could hope for and more – hot showers, a comfortable bed, free wifi, and a great breakfast meal every morning.
Mid-range
Hotel El Mirador del Cocora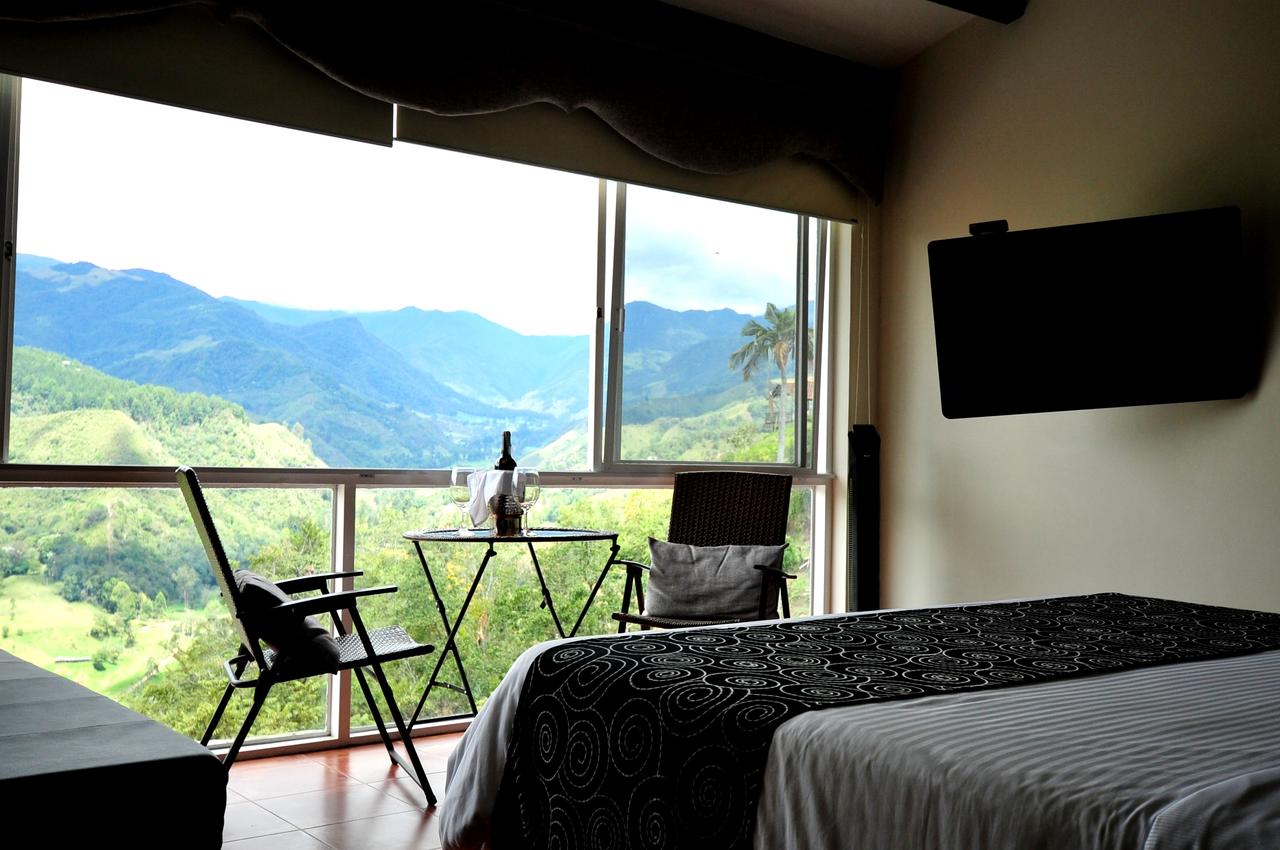 Located just 500 meters from the main square, the Hotel El Mirador del Cocora is on a higher point in town, allowing for the most stunning mountain views in Salento. If you've been to the Mirador de Salento, you'll notice the view looks really familiar. The Mirador de Salento is just a 5 minute walk from this hotel, so you do essentially have the same gorgeous views from your room. Breakfast is also served on a beautiful terrace with unobstructed views of the valley.
Coffee Tree Boutique Hostel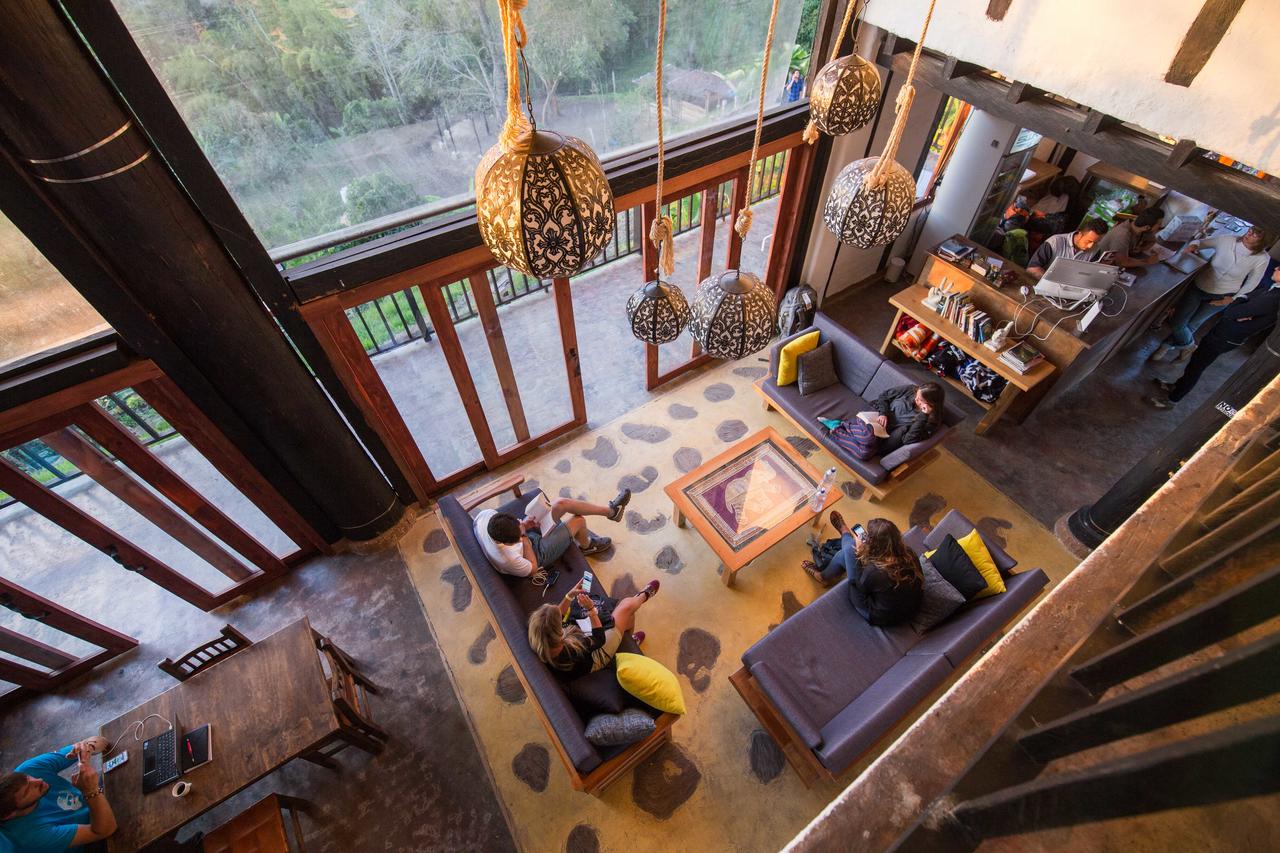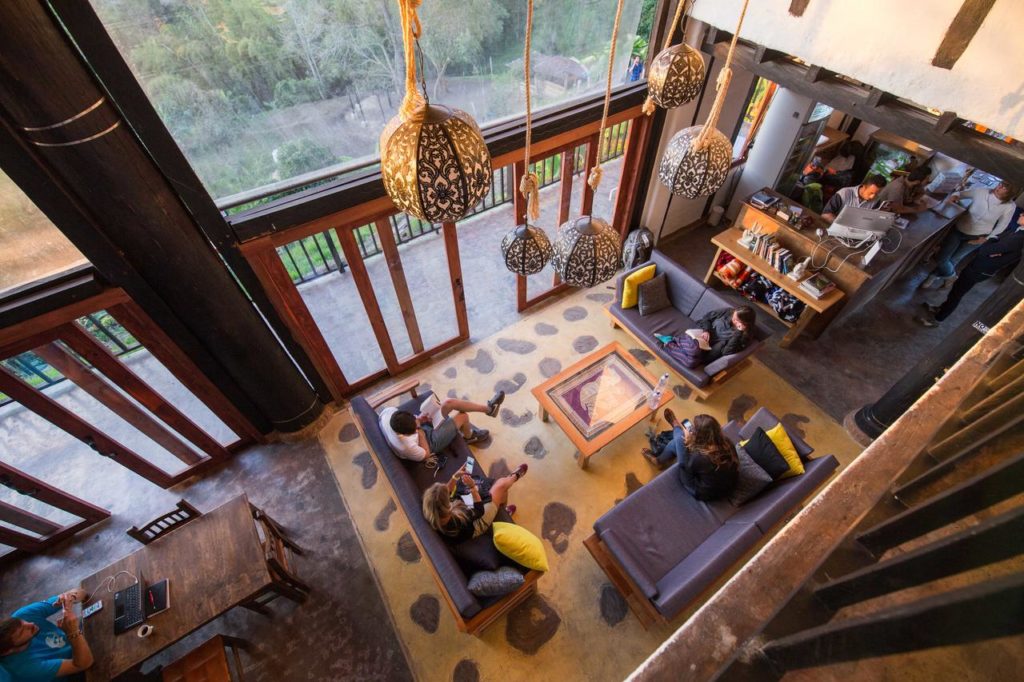 This special unique hostel has a unique and stylish common and lounge area, garden, and free wifi and gives off welcoming and relaxing atmosphere. This is a great place to stay for people looking to socialize. The common area is particularly welcoming and they offer free yoga throughout the week. This hostel also has great views of the mountains. They also offer an excellent free breakfast (three different options), free tea and coffee.
Luxury
Glamping Lumbre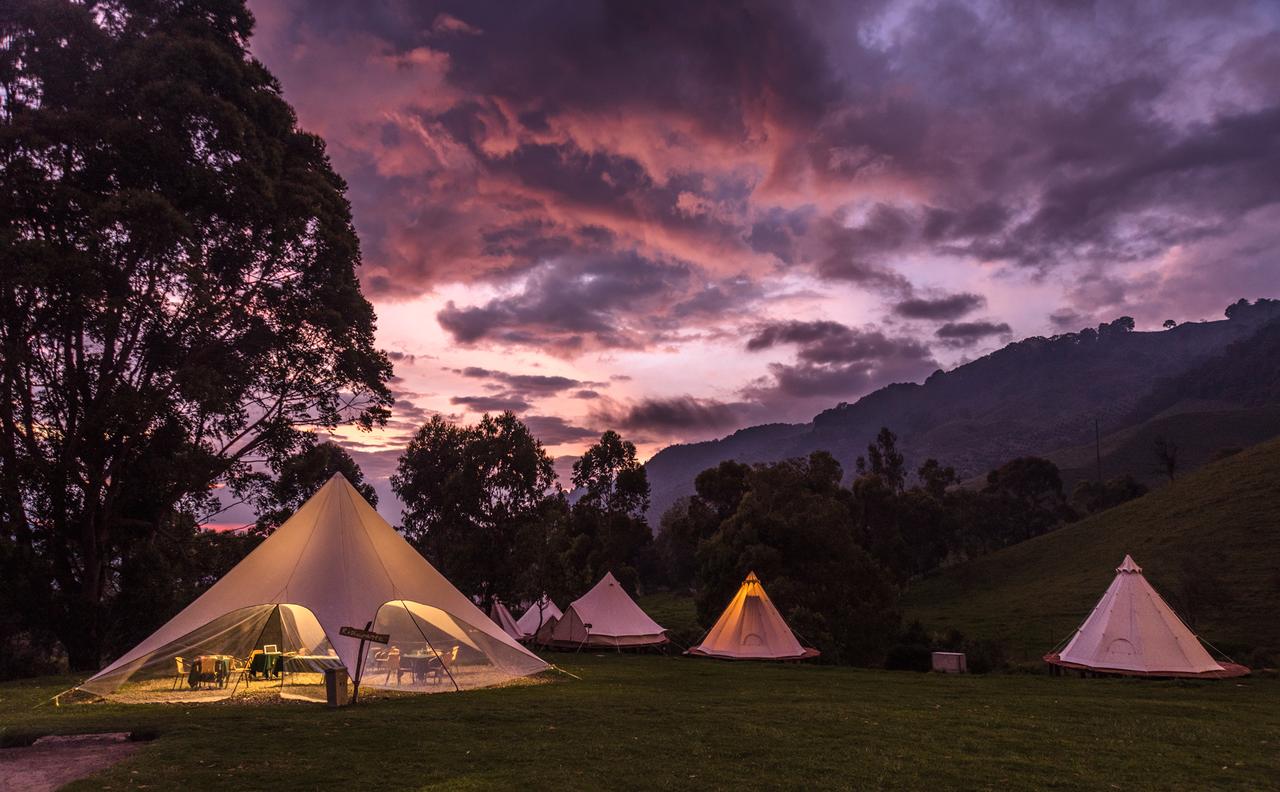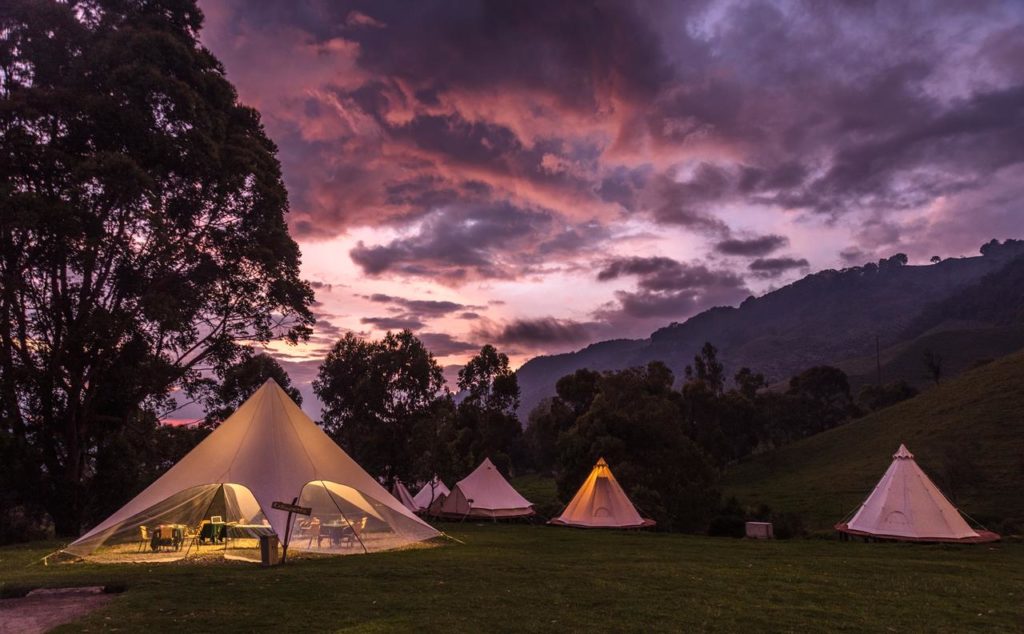 If you truly want to be removed from the city and fully enjoy nature, Glamping Lumbre might be your perfect stay in Salento. We stayed in the city for one night and stayed two nights in Glamping Lumbre. This gave us the best of both worlds.
They are located about 20 minutes from the Salento city center and it's about a 30 minute walk to Cocora Valley. We loved being away from everything, sleeping under the stars, and waking up to the sounds of birds. The beds were very comfortable and the bathrooms were really spacious. They also had a basket of snacks refilled everyday and the breakfast was healthy and delicious. There is also a private waterfall that is a short hike from the campsite.