Tech Worker, Will Work for Vegan Food
Serendipity brought us to Sinai.
Or so would say the Bedouin, big believers in fate, and the main inhabitants of a village called Nuweiba, on the Red Sea. Belief in fate is seductive, and in the brief time we've been here, it began to seduce us too.
Over the last two weeks, Jo and I have been living in the untrammelled paradise of a sandy beach managed by Habiba Community. The most surprising part is how we came to stay here and what we're doing.
This is what it looks like. I just peeked out my front door and grabbed this photo to prove it.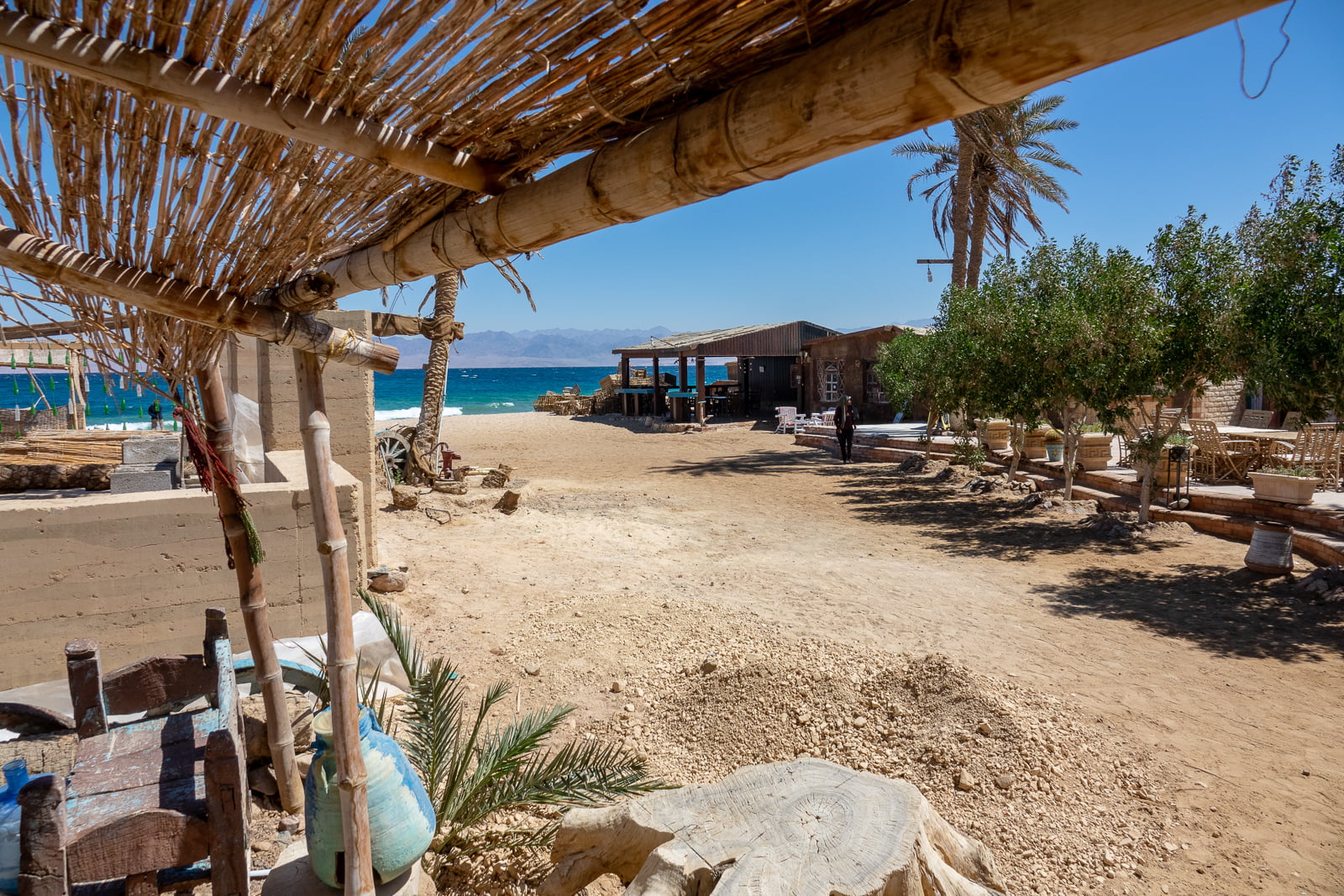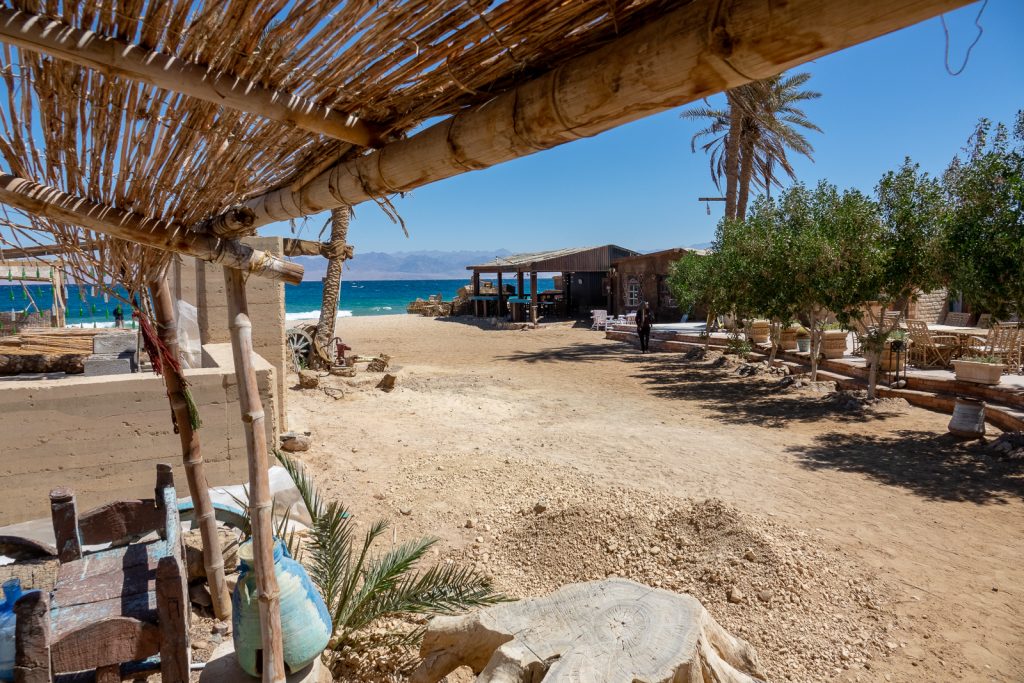 We fall asleep to the gentle sound of waves and wake up in paradise every day. But it won't last forever, even though our hosts want us to stay in exchange for our services.
How did we get here? And why on earth would we leave?
Let's backtrack a moment.
Leaving Cairo, to understand other aspects of Egypt
We left Cairo in late February. Living in Cairo was eye-opening. The craziness of the city and learning about the evolving struggle of the people was a necessary education. (See what we wrote about it in Things We Didn't Know about Living in Cairo.)
We considered our options of where to move next to see more of Egypt to further understand the country (and get away from the traffic). Top contenders were Alexandria, Aswan and Dahab.
Alexandria is the ancient capital and sits on the Mediterranean. It has a milder climate, is cheaper than Cairo and is quieter, and is a great place to live according to people from there. I was intrigued by it, but it wasn't strikingly different enough for us to want to go there for a month. It sounds like "Cairo Lite".
Aswan is at the very bottom end of "Upper Egypt", a confusing name for the region in English for us because it's lower on the map. In Arabic, "Upper Egypt" is known as الصعيد ("aS-Sa'eed") so I don't know where the name "Upper Egypt" came from. Maybe if your map is upside-down.
Update: several of our you have told us it's because it's "up" the Nile. Thanks… None of the Egyptians we had asked knew! Maybe because they know it by the Arabic name.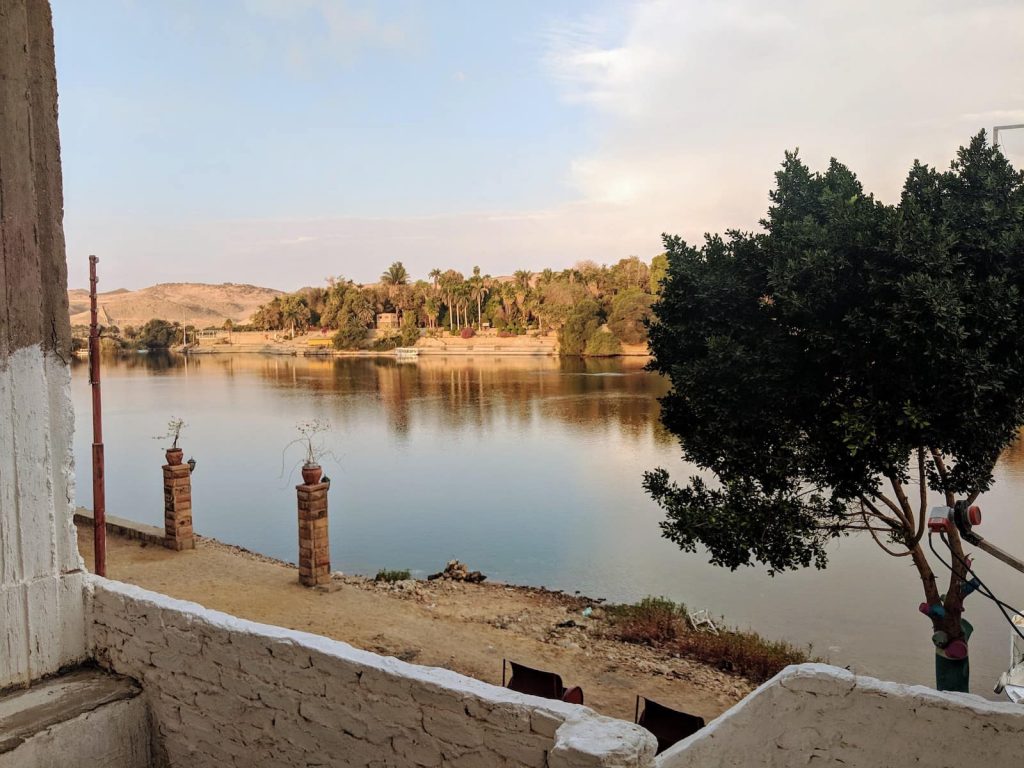 Aswan is beautiful, from the few days we spent there. The Nile in Aswan is clean, visibly so. Accommodation and food are cheap. The Saeedi people are known as being down to earth and easy to talk to. The city is less touristy. Prices are lower. And the Arabic in Upper Egypt has its own flavour, with slightly different pronunciation, closer to Standard Arabic, and with unique local words.
Aswan is also closer to our hearts because it was where a TV drama we became engrossed in, "The Secret of the Nile", was based. (By the way, if you're into period dramas — emphasis on drama — check it out on Netflix.)
But Dahab got our attention. A few people spontaneously told us to go there, including a blogger friend, a friend from Cairo and randoms via Jo's Instagram.
We looked it up and this is what we found out:
Dahab used to be a Bedouin camp, basically a hippy retreat in the 80s, but now has been gentrified and there are restaurants and local facilities
The climate is perfect all the time
People like to have bonfires on the beach (we weren't sure what this meant)
The name means "gold" in Arabic
Some people think it's boring, but there's a lot you can do (both news to us)
Honestly, it was hard to figure out much more. So we checked prices, realised it's cheap, and off we went.
On Dahab
Many people who have stayed in Dahab for years originally intended to go for a week or two.
One look at the photo above and you can understand why.
That said, Dahab is a bit weird. But we grew to love it within a couple of days.
Firstly, it is packed with expats, which sometimes just made us feel like foreigners. Our neighbours were German. There were Russians in our tiny street. Both these families had lived there for ages and didn't speak Arabic.
This panicked me. Oh no, I was in Ubud, Byron Bay or any other super-expensive hangout for hippie foreigners! This wasn't "local"!
This is an in-depth article on what it feels like to be a foreigner in Egypt, Africa and China.
My fears were unjustified. Within a couple of days we adjusted to local, slower life and found something magical: we actually got to know the local people around us. I saw shopkeepers and people living nearby all the time, and would speak to them in longer conversations than I ever got to do in Cairo. People have time in Dahab.
And how "local" you are depends a lot on what part of town you stay in. We stayed fairly central, but 15 minutes away there were much more local areas which we didn't know about. Culturally those areas were like Cairo, but way slower and with crystal-clean air. The only traffic sounds were from drivers beeping gently to offer us unlicensed taxi services. (Note, I don't know why Egyptians abbreviate "Taxi" to "Tax". Actually, I do need help with the latter…)
If you just want to visit Dahab, think of it as Ubud (Bali) at 1/4 the price, but coastal. Decent accommodation is about $20/night for a full Airbnb unit, and much less if you're long-term (like $100-200 a month). Food is about 50% more expensive than Cairo, but that still means a meal for two is only about 200 LE, or $10. Local groceries are still negligibly cheap for foreigners with Dollars, Pounds or Euros.
The local expat community, who we mostly avoided, is split into a few groups, like the "free-divers", the "yogis" and the "kite surfers". If that's not enough, you can also ride ATVs in sand dunes, visit the lagoons on camel back, scuba dive or visit a place known to be the most dangerous diving spot in the world, the Blue Hole. (Just go there and snorkel, though. Seriously, many have died.)
Or, you can just chill, hang out with friends and live. Which is mostly what we did.
We stayed in Dahab for three weeks and loved it. We loved how there were goats on our street. We loved seeing the blue sky and gorgeous water every single day. We could have stayed for much longer.
But then we saw Nuweiba and the Habiba community, and it was time to live the "big smoke" of that one-camel town.
On Habiba and Nuweiba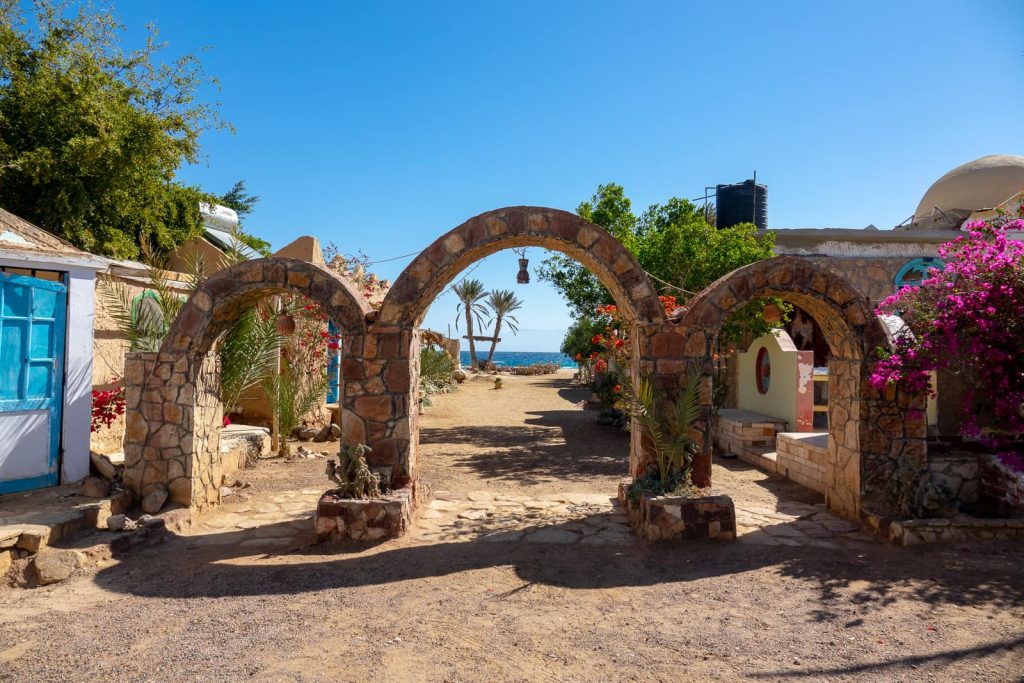 Some friends we made in Dahab (in the first few days… it's that kind of place), Gamal and Abdallah, brought us to Habiba. We had no idea what we were in for, but they had a car and invited us to go "visit a farm" so we did it.
Habiba: Organic Desert Farming and Cultural Education
Habiba is a community centered around an organic farm whose mission is to discover new ways of conducting desert organic farming and to train its staff people to go off and begin their own farms, thus promoting food security for Egyptians (especially the Bedouin) and to slowly re-green the desert.
Secondarily, the owners of Habiba love seeing culture sharing between the local Bedouin and the foreigners who come and work. Habiba employs some staff, has other local staff working in exchange for room and board (and a stipend), and houses volunteers from everywhere. They believe it's important for locals to not see visitors as just tourist dollars, and for visitors to not see locals as just a curiosity.
The owners, Maged and Lorena, are a couple who have been staying in the area for over 20 years. Maged is Egyptian but studied and lived in Italy, where he met Lorena, who happily moved to Egypt after laying eyes on it the first time. She speaks Egyptian Arabic and has a LOT of stories if you manage to get them from her!
Ultimately, Maged and Lorena want Habiba to become a center for studying sustainable living in desert ecosystems. Habiba has already pioneered many organic desert farming practices, and encourages people who work there to innovate and experiment. Maged and Lorena enjoy it when foreign researchers to visit, share knowledge and take desert farming practises away to other arid climates. Visitors from overseas also share ideas on how re-greening the desert can help with global climate change, and share expert knowledge on sustainable agriculture, water conservation and animal care.
"Please help with the website"
We came with almost no arrangement other than "we'd like to come for two weeks". This seemed fine. On day one and two, we helped with odd jobs and thought maybe we'd help with the organic farm. But along the way, Maged realised we're dab hands with technology, so we changed course and started helping with online marketing. It started with figuring out how to make their website rank in search for the right keywords. But it evolved into analysing their sales pipeline, their P&L, their marketing funnel and looking at management structures more generally.
All this in exchange for room and board. But what room. Did you see the pics above? And the board is great too!
There are two meals a day, a generous breakfast and dinner. It's usually vegetarian, made with organic vegetables from the farm. You know how people older than you claim tomatoes don't taste like they used to when they were young? Well, these tomatoes taste like the kind of tomatoes that in the future we'll say the tomatoes of the future do not taste like. We'd say it now, too.
The surprising challenge of submission
But despite the beach, the people and the tomatoes, one surprising challenge for us has been giving in to the natural flow.
For example, we have no choice as to what food is served. Appointments are vague ("let's go a bit later"). A nearby person might ask us to do something, like climb a mountain to take his picture, or to visit and pick up some local bread we ordered.
But it's OK. We're relaxing, and conscious we have a long way to go. Because the owners, who have been here for decades, still describe the Bedouin as being the ultimate examples of people who believe in fate and "don't mind what happens".
There's a great peace that has descended on us here that in part comes from the relaxed rhythm, but in part comes from knowing we're contributing to something noble.
Around this, we get to mix with people who we see every day and gradually build friendships. We're learning more about the Bedouin (see below).
One of the most difficult points was when owners asked us to consider staying for six months as managers of Habiba and "run the place" and systematise everything. We considered it. Strongly. But with great regret we said 'no'. If our goal was to work somewhere where we felt we could be productive in a beautiful part of the world and eat vegan food, we'd take it. We were touched to be asked — it was a huge sign of trust that they placed in us quite quickly. But we have more to do, and it's inevitable that situations like this will arise.
On the Bedouin, a bunch of bad-asses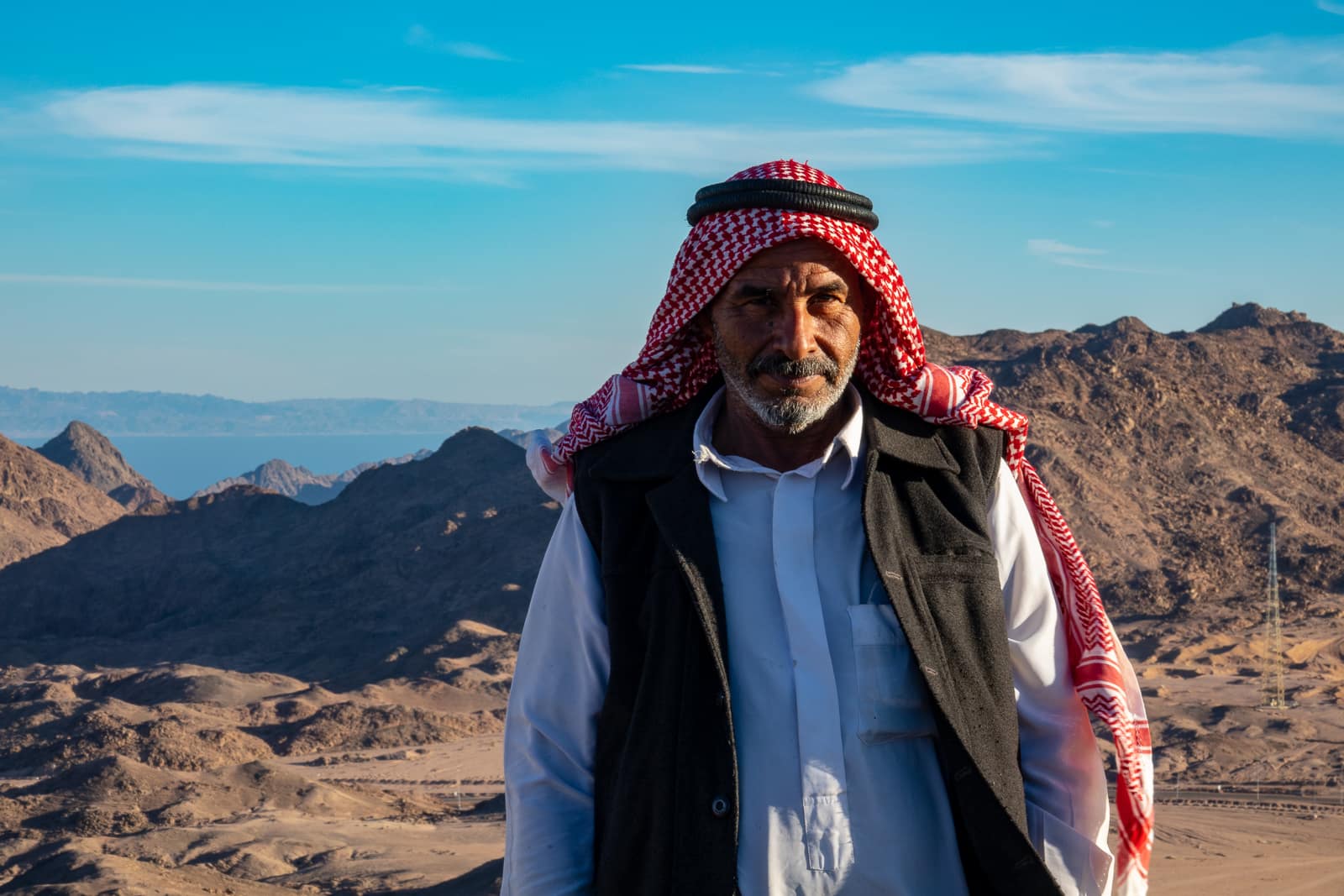 One of the coolest parts about Habiba and Nuweiba has been interacting with and making friends with the Bedouin, something that was a huge source of curiosity for us.
Most tourists only meet the Bedouin by paying for some guided tour. It's a huge blessing to be able to have normal conversations over things like a meal or a shared trip, even if I understand at most 40% of the conversation (due to our obviously still intermediate level, the mix of styles of Arabic and the Bedouin accent).
Before coming to Egypt, we knew little about the Bedouin. Many in Egypt know little about the Bedouin, in fact.
Here's what we've learned.
Firstly, the Bedouin are a bunch of badasses. Alternate descriptions we've heard of the Bedouin are "super cool" or "extremely chill". But to us, they're simply the most badass people we've ever met.
The Bedouin are extremely "DGAF", in San Francisco terms; pardon the abbreviated curse word. The Bedouin are an unconquered group of nomadic tribes who live in the Middle East. Not conquered by Islam or by any country. They used to roam a lot more, but mostly stay in the same place these days. They're Bedouin first, then Muslim, then Egyptian (if they live in Egypt), even if they don't see any conflict between any of those. Even Islam is secondary to local customs and laws, although over time they've become harmonious.
For the Egyptian Government to achieve anything in Sinai, it must have the buy-in of the Bedouin groups. For anyone living in Sinai to do anything, they have to stay on the good side of the Bedouin.
But the best part is that staying on the good side of the Bedouin is really a pleasant experience, not just something you do as a necessity. The Bedouin are warm, fair and friendly. They like to talk to many different kinds of people. They tend to speak a lot of languages, historically because of roaming and trade, but also because of an ongoing desire to befriend many. I've heard Bedouin speaking great English, French and Hebrew, and this is in addition to several flavours of Arabic, including of course Egyptian.
The Bedouin we've met and heard about also have a deep mystical side, fatalistic almost. "What will be will be" (or more literally, "whatever God has willed will be") is a common refrain. This extends to every aspect of life. Fate brings strangers into each other's lives, and fate separates them. Fate brings food and animals, and sometimes animals that eat the food.
This belief in fate is infectious. It definitely affects the proprietors of Habiba, who speak often of the "law of attraction" and the belief in creating structures for fate to fall in their favour; for example by inviting people from many walks of life to come and stay at Habiba.
That's what made it so challenging to say "no" to them. It was fate that brought us here, in many ways, even though we put ourselves in the way of fate by coming so far.
It breaks our hearts just thinking about it.
What's next?
We'll be in Tel Aviv for a month, where I'll do a small consulting contract. I'll also brush up my Hebrew. Jo is going to take care of some business aspects of our life, systematising the most time-consuming parts. After that, Africa for the next phase of Discover Discomfort — Swahili! We'll visit some friends in Malawi and then start with Swahili in Tanzania.