Ultimate Guide to Luxor Egypt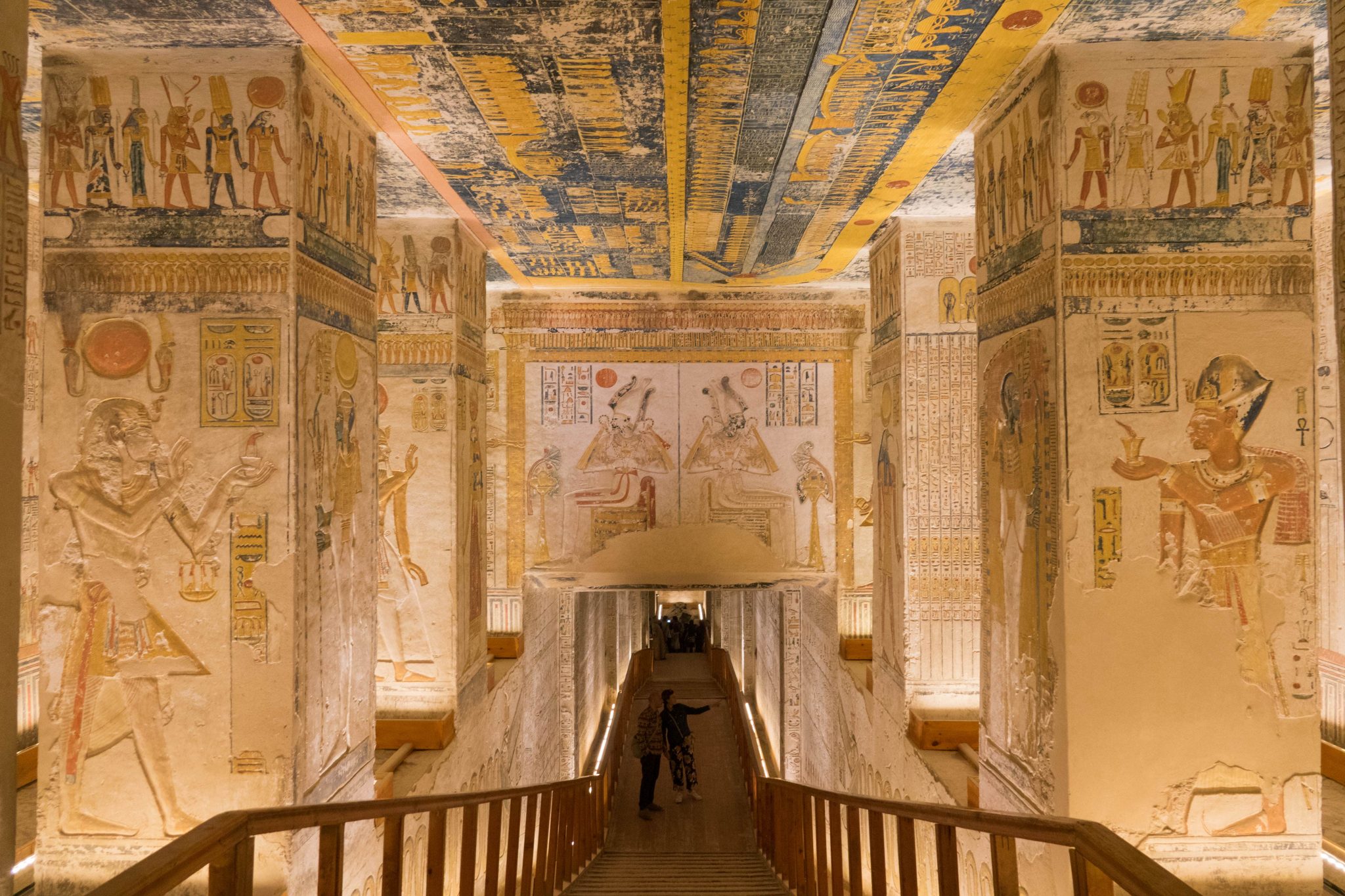 This post may contain Affiliate links. We earn a commission (at no cost to you) if you make a purchase. We would never recommend anything we don't personally love, and the income goes to keeping this site updated and free for everyone.
Luxor (الأقصر, usually pronounced luksoor) is often described as being a museum unto itself. There are so many sites to see it can be overwhelming. Drivers will point them out constantly. Even if they don't, you'll see ancient buildings and obelisks all over the city without even trying.
With all that history around you, and the inevitably limited time, it's important to know what to see for the best experience. We put together a lot of research and spent days looking through the best sites and have put together this guide to save you as much time and money as possible.
Note on prices: Ticket prices have been steadily increasing, sometimes increasing month to month. The prices listed are as of February 2019. Please let us know if you've noticed prices have increased so we can update the rates.
General tips and things to watch out for
Vendors are aggressive: To set some expectations, we found Luxor taxis and carriage drivers to be very aggressive compared to those in Cairo. This is nothing to make you concerned, but this is just something to mentally be prepared for, especially as you leave the train station.
Bargain hard: Especially with Taxis. We found that people's starting prices here were much higher than in Cairo. We also had to haggle much harder to get a good price. If the price isn't right, say no and move to the next driver, as there are many more drivers than there are tourists. Yes they'll keep following you. You can ignore them. You're not being rude. It's just business (and they take it that way).
Temple Guards and fake "Guides": When visiting the temples

,

if you are without a guide, there will be men who seem like guides who will try to show you around or take you to places that are generally off limits. They may be guards (e.g. armed, in uniform, and also working as guards), or may be random strangers who look like they belong there. After they help you, they may ask for a tip. Our experience has been that if they try to take a photo of someplace that is closed off, or show you somewhere unusual, they will usually ask for money after. But they may just be showing you around on a slow day and not ask for anything. If you feel they've heightened your experience, you can feel free to tip them, 5LE-10LE is fine (we see some people giving them one euro or US dollar, which is a nice windfall). In most cases, we just said 'la shokran' ("no thank you" in Arabic) because we wanted to be left alone. We heard from some Egyptian friends that a lot of the time, they don't actually work for the temple, and are just there to try to earn money from tourists. Egyptians can enter very cheaply.
Brief background on Luxor
In ancient Egyptian times, Luxor was once known as Thebes, the ancient capital of Upper Egypt. It was the city of the Sun God, Amun-Ra. The temple Karnak, near Luxor, was built for Amun-Ra and was the most important temple in all of Egypt. Thebes was the religious capital of Egypt for thousands of years and has maintained spiritual significance even through Roman and Christian rule. You might find it useful to look up a bunch of place names and history on Luxor on Wikipedia. If for no other reason, so when someone tells you something, you'll recognise the name. There were lots of Pharaohs and it's hard to keep track!
Getting around Luxor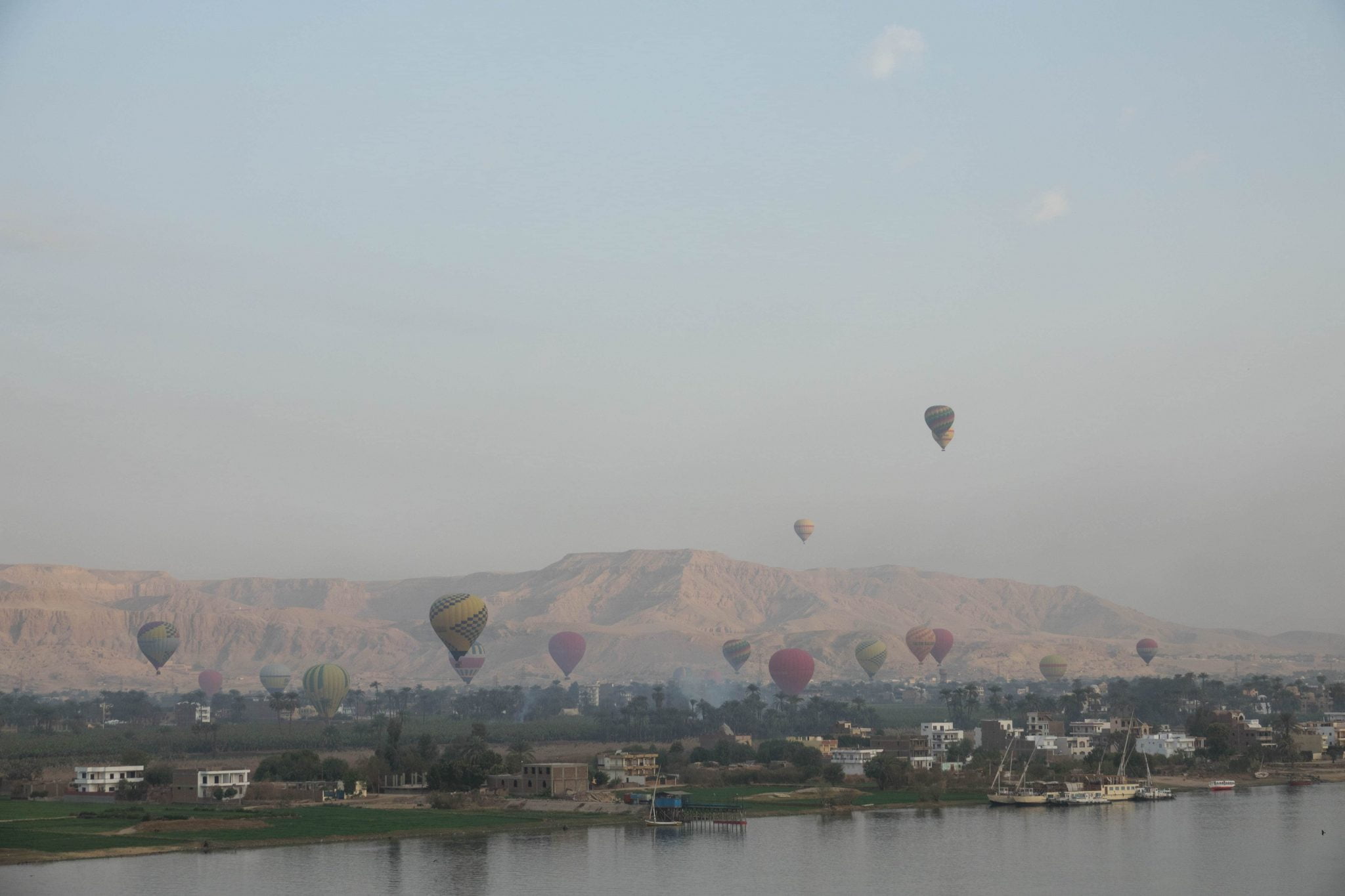 East Bank
Most hotels are located in the East Bank. The best way to get around East Bank is by taxi. You can ask your hotel to help arrange one for you but they'll likely charge a bit more. We opted to get a taxi ourselves to negotiate a better rate. You should aim to get a rate of about 100-150LE for the whole day. Luxor Temple is usually within walking distance, if you're staying in the East Bank.
West Bank
If you're staying in the East bank, you have two ways of getting to the West Bank.
Take the Ferry, which costs 10LE. You can then hire a taxi for the day on the other side. You can also rent a bicycle to get around. Keep in mind the that Luxor can get extremely hot and it might be tough to bike around in the heat.

Hire a taxi from your hotel in East Bank. The Taxi will cross a bridge that is further south. We opted to hire a taxi and were picked up from our hotel in East Bank. We negotiated a rate of 250LE ($14 USD) for the day. Your hotel can also help you arrange for a taxi for the day but the rate may be a bit higher. There are minibuses and tours that will be cheaper, but we wanted to have to flexibility and not be with crowds of people the entire time.
Best things to do in Luxor
Luxor is divided by the Nile River and there are points of interest on both the East Bank and the West Bank. Each side is very distinct. The Egyptians were deeply connected to the cycles of the sun. Life giving temples are in the East, to represent the rising sun, and the West Bank represented the end of the day and therefore the end of life. This where you'll find tombs and mortuary temples. On the East Bank the main attractions are the Luxor Temple and Karnak. The West Bank has many more archaeological sites, so you will likely end up spending more time exploring the West Bank. I would recommend 1 day in Luxor Temple and a day or two exploring West Bank.
East Bank
Luxor Temple
Construction of Luxor Temple started in 1392 BC and was completed by Tutankhamun in 1335 BC. Luxor Temple represented the rejuvenation of kingship. For thousands of years this beautiful temple was buried under rubble and stores and homes were even built on top of it. It was finally excavated in the 1800s. If you've ever been to Place de la Concorde in Paris, you have seen a piece of Luxor Temple without realizing it. At the gate entrance is a large granite obelisk. There was originally two of them, but the other of the pair was given to France as a gift.
Tips for visiting: Go early in the morning if you want to avoid the crowds. For a truly special experience, go during sunset as the lighting is just perfect and stay to watch the temple light up. The temple is located at the center of the city, and it is usually within walking distance of most accommodation options.
Entrance Fee: 60 LE
Karnak
Karnak was the most well-known center of worship in Egypt during the New Kingdom, dedicated to Amun-Ra. Even 3,000 years later, its grandeur is still obvious. The first thing you'll notice when arriving is that this place is HUGE! Make sure to leave at least 2-3 hours to see all of the different temples within Karnak, especially the magnificent columns in Hypostyle Hall.
Tips for visiting: Fortunately because the temple is so large, crowds aren't a big issue. However, Karnak must be seen at sunrise. The glow of the columns in Hypostyle Hall as the sun rises is unmissable.
Entrance Fee: 150LE
West Bank
Valley of Kings
Valley of the Kings was one of the standouts to our trip in Egypt. The Valley holds 63 royal tombs of the greatest Pharaohs to rule Egypt. It was built for Pharaohs in the new kingdom from 1500 – 1100 BCE. Many tombs were raided of their treasures long ago, but the beautiful colorful inscriptions preserved for thousands of years makes this a remarkable sight to see in person. I gets extremely hot and stuffy inside the tomb, so make sure you're wearing light, breathable clothing. Also make sure to bring plenty of water.
Tips for visiting Valley of the Kings
Buying tickets
The ticket purchase process is a little confusing. You'll need to go to three separate windows for your purchases.
Ticket window 1: General Tickets
The General entrance ticket includes entrance to 3 tombs.

Cost: 160LE
Ticket window 2: Photo Pass and special tombs
Extra fee for special tombs: There are three tombs that require an extra fee.

Seti I: 1000LE (photography not permitted)
Tutankhamun: 250LE (photography not permitted)
Ramses V & VI: 100LE (photography ok!)

Photo Pass: In the past, no photos were permitted inside, but they recently started allowing photos with the purchase of a photo pass. I would highly recommend getting one if you're interested in taking any photos. The guards are extremely strict and constantly ask to see your permit if they so much as see your phone in your hand. We saw a guard even confiscate a phone and he refused to accept any argument, apology, on-the-spot photo pass purchase or bribes to give it back. The people just had to leave at that point.

Note that the Photo Pass allows you to take photos in 3 temples total. Even if you purchase an extra ticket to Ramses V & VI you will only be able to take photos in 3 tombs, so make sure to plan accordingly

and choose which tombs to visit.
Cost: 300LE
Ticket window 3: Tram ticket
There is small fee to take the tram from the ticket window to the tombs. We didn't get asked for our tickets, but have heard they do check from time to time.

Cost: 4LE
Which Tombs should you visit in Valley of the Kings?
Here are the tombs we decided to see based on what we saw online
Ramses IV
Ramses VI
Nerenptah
Mortuary Temple of Hatshepsut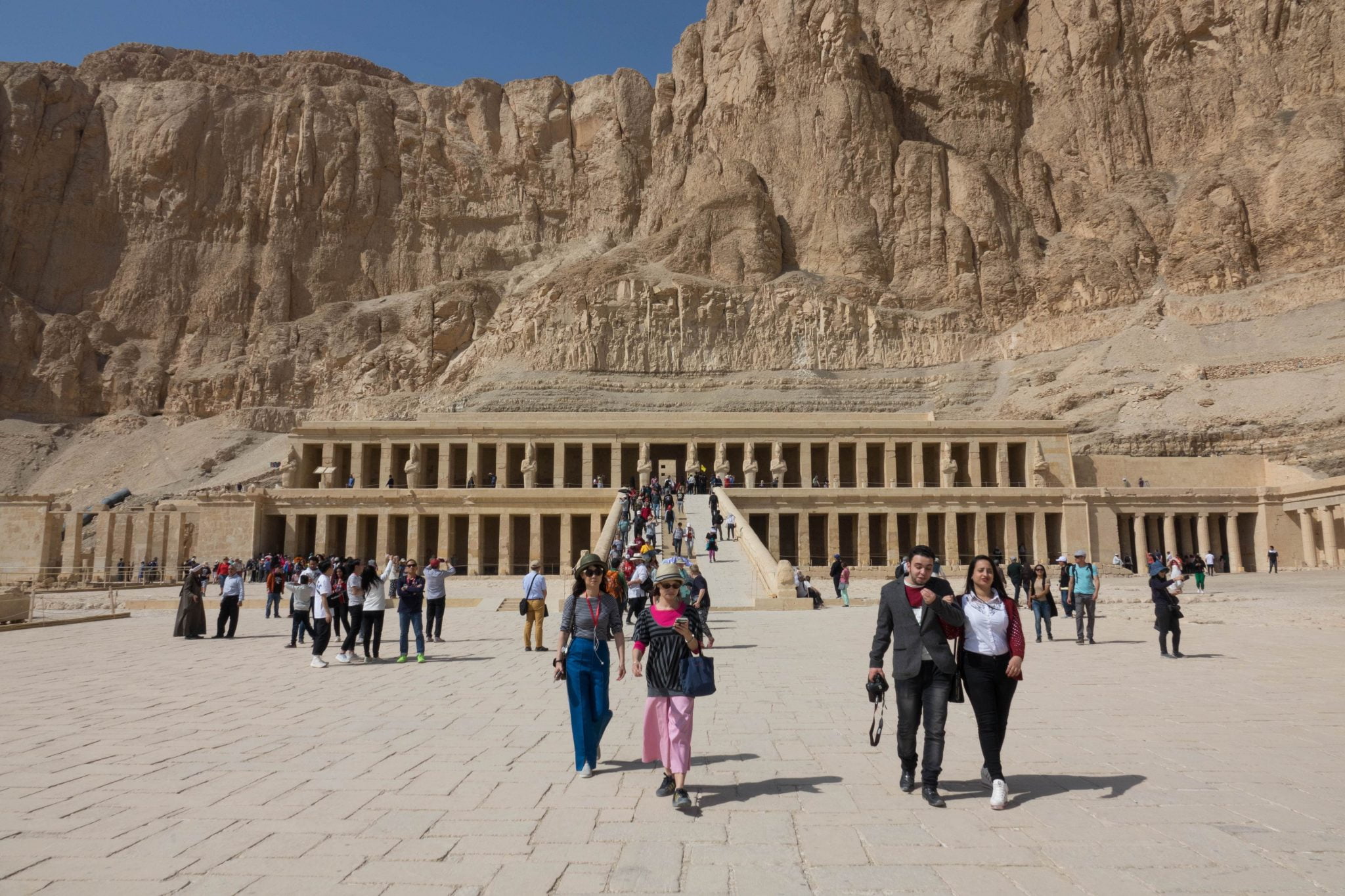 This temple is not only beautiful, but should be on your must-visit list because of the historical significance of Queen Pharaoh Hatshepsut. When her husband Thutmose II died, she broke with tradition and became the Pharaoh despite Thutmose II having a son by another wife. Her time as ruler was known to be the most prosperous and peaceful in Egypt's history. During her reign, Egypt saw increased trade and a vibrant economy. Unfortunately, the temple was defaced by her stepson after Hatshepsut's death, as he made an effort to erase any existence of Hatshepsut and took credit for her accomplishments.
Tips for visiting: Get here early! The temple is rather small, but very popular and can get extremely crowded. This temple is also located in one of the hottest places in Egypt, so by arriving early you can avoid the heat.
Entrance Fee: 100LE
Seti Temple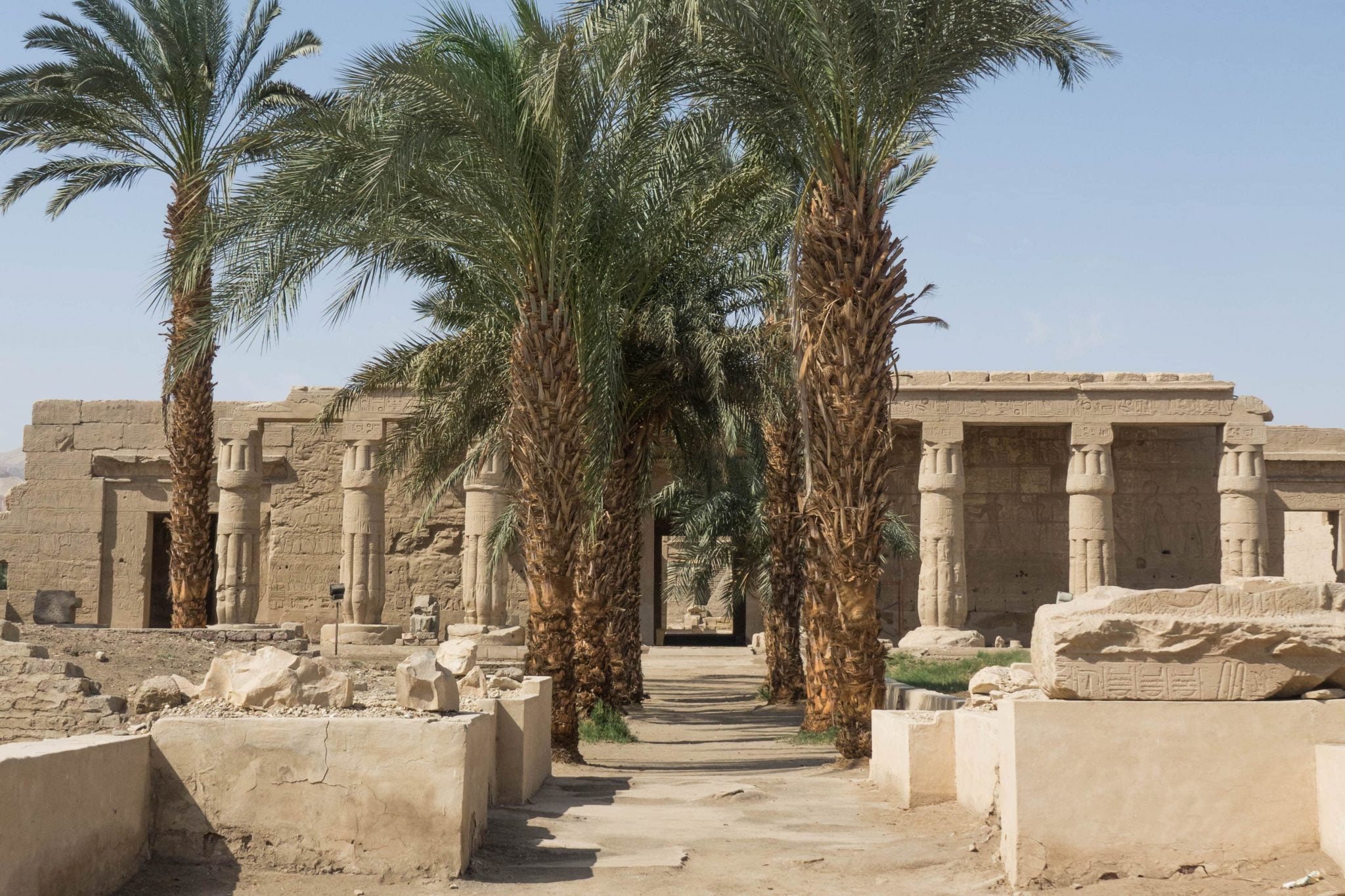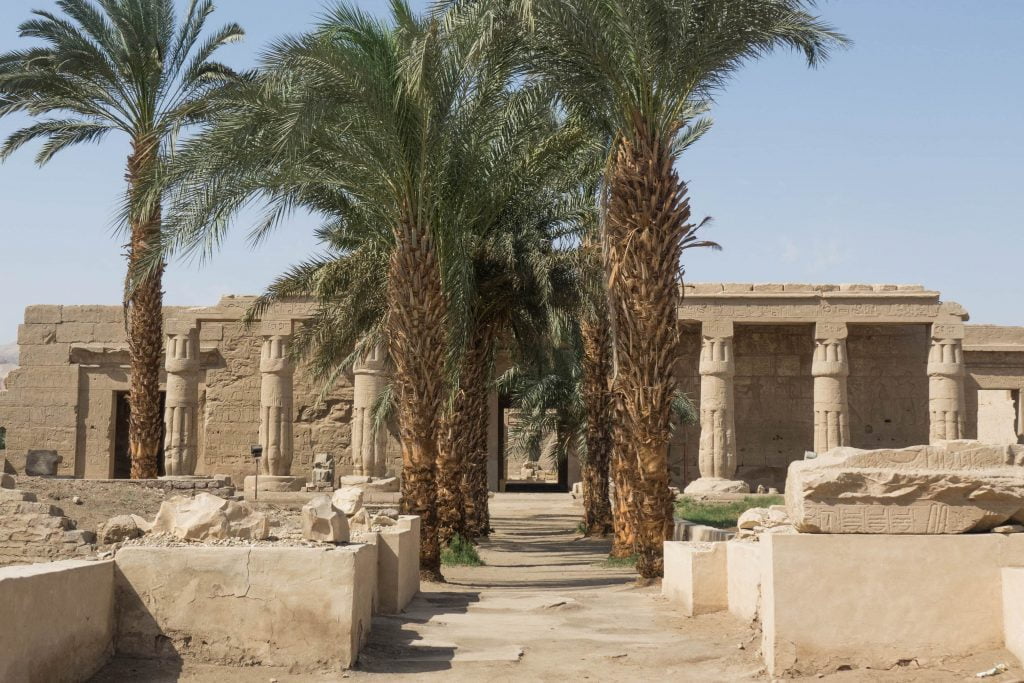 Seti Temple was built by Seti I. He was the father of the great Ramses II and created the famous Hypostyle Hall in Karnak. This temple is less well known and tour operators generally skip it, despite it being in a beautiful location lined with lovely palms. You'll likely be the only ones here and you'll be able to explore this temple in peace.
Tips for visiting: You will need to purchase tickets at a ticket office in the West Bank. Your driver will know the location. If you're traveling independently, the ticket location is near Ticket Office Valley of the Nobles.
Entrance Fee: 60LE
Medinet Habu Temple
Habu Temple is the Funerary Temple of Ramses III. Before Ramses built his magnificent temple, Hapshesut and Thutmosis III built smaller temples for the god Amun which still exist. Habu Temple is known for being the vivid and well preserved hieroglyphs.
Tips for visiting: Save this temple for later in the afternoon, near sunset when the light is soft.
Entrance fee: 80LE
Getting to Luxor from Cairo
Spoiler alert: We took the train to Luxor, but if we could do it again, we'd choose flying. Because the train smelled like a really dirty toilet.
By Train
Traveling by train is probably the most common way to get to Luxor from Cairo. The main reason is that the government train is incredibly cheap. Train tickets are about 200LE ($11 USD) for first class tickets. There are a few options to travel by train. There isn't much scenery to see by the train in Egypt. Firstly, if you go overnight, it'll be night time and you can't see anything! Secondly, even during the day, it's mostly just fields and small towns. Elsewhere in the world there are many beautiful train rides over gorgeous landscapes, but this isn't one of them. It's just standard rural scenery and towns in various states of disrepair.
Purchasing tickets
Government Train
To get the government train, you'll need to purchase tickets on the website (https://enr.gov.eg/ticketing/). Make sure to select first class tickets. As a foreigner you won't be able to purchase day tickets at the counter of the train station. Also make sure to reserve seats at least 12 hours in advance. Our experience was that the online ticket system didn't make times available if it was less than 12 hours in advance. If you were unable to book tickets for any reason, you can purchase tickets on the train. We had to do this when going from Luxor to Aswan because of the timing issue we experienced when trying to book the ticket online. While its was nice to have this option this means that you don't actually have an assigned seat. This meant that we had to change seats quite a bit as there was no way to know which seat was actually vacant.
To be very honest, our experience on the government night train was a bit of a nightmare. There was constant smoking and there was a VERY strong smell of urine the entire 10 hour ride. The smell made me feel sick. When I saw the bathroom floor I understood why the entire car smelled so bad: the floor was drenched. The doors kept being left open, too. We're not soft; we've camped a lot, and used national park toilets at the end of the day in the summer when tourists have all had a go. This was worse. Not everyone has this experience, mind you. It depends a bit on your seat, how busy it is, the season and whether the doors close properly, but you have to decide whether you want to take a chance.
However, we took the train again when traveling from Luxor to Aswan and it was a completely different experience. The car was very clean, there was no smoke and the car didn't smell at all. It's possible we just had a bad experience and I suspect we may have been on the second class train the first time.
Overnight Sleeper Train
There is also an overnight sleeper train that is privately run. You can reserve tickets directly on their website. It is much more expensive than the government train, currently $110 USD, but the ride comes with food and is much more comfortable. You get a cabin that converts to a bed in the evening. In my opinion this is probably the worst option because it so much more expensive than the government train, more expensive than flying, and still takes about 8-9 hours of travel. One word: we heard that the bathrooms in the overnight sleeper train are in similar states of disrepair to government trains. See Watania Sleeping Trains for more info.
By Plane
There are planes flying to Luxor from Cairo Daily. It's a one hour flight and tickets are about 800LE ($42 USD). In retrospect, I think the best option would have been flying but we wanted to have the train experience, just so we could tell you not to bother with it!
Getting around Luxor
Taxi: The best way to get around Luxor is by taxi. As mentioned at the start of the post, you'll need to bargain hard. This is the most expensive option but is the most convenient.
Walking: If you're staying in East Bank, many restaurants will be within walking distance.
Bicycle: When touring around West bank, this is a great option. Many hostels will rent bicycles. However, the weather in Luxor can regularly be upwards of 100 degrees F (or 40 degrees C) so you should check the weather before deciding the sight see with a bike.
Where to stay – East Bank vs West Bank
Both the East Bank and the West Bank have their advantages and disadvantages.
East Bank
We decided to stay in the East Bank because of the convenience. The East Bank is the center of the city. There are far more options in terms of hotels, hostels, grocery stores and restaurants. It's very convenient to find whatever you need and you'll easily be able to access Luxor Temple. Cons are that you'll be regularly hassled by taxi drivers and carriages as there is a large tourist population.
Hotel picks in East Bank
Budget
Bob Marley Peace Hotel Luxor – A great, affordable and well-known hostel in Luxor. Walkable to the Luxor Temple, the Nile river, and many restaurants.
Midrange
George Sonestra Hotel – This is where we stayed. There were amazing views of the Nile and an excellent pool. The staff went above and beyond to make you feel welcome. However, note that wifi is not included and is 200LE ($10USD per day, per device, with limited data usage). There is free wifi in the lobby. It's quite slow, but is good if you just need it to check email and do a few simple tasks.
Luxury
Winter Palace Hotel – Beautiful colonial era historic hotel. Centrally located and next to the Nile River.
West Bank
In the West bank, your options for restaurants, hotels, and shops are much more limited. Restaurants are also more expensive. However this is offset by the fact that accommodation will be much cheaper. It's also slightly more inconvenient as you'll need to take a ferry to get to the East Bank. However the cost to cross is very reasonable – 10LE ($.50 USD). A benefit of the West Bank is that it is much more peaceful and scenic and you're less likely to be hassled when walking around the West Bank. You'll have much more convenient access to the dozens of sites on this side, so this could be a good option if you're interested in exploring more of the West Bank and don't mind paying a bit more for day-to-day expenses.
Hotel picks in West Bank
Budget
Al Salam Camp: Accessible to many sites in West Bank. Great for people who want to mingle with other travellers.
Midrange
Cleopatra Hotel Luxor: Beautiful views of the Nile river with a rooftop restaurant. Great value for the price.
Villa Diletta Luxor: Lovely villa in walking distance of a store and the ferry.