Arabic & Middle Eastern Restaurants in Paris
Camembert and wine are nice… but sometimes you just want the best kebab (or felafel) that the City of Lights can offer. These were our favourite Arabic and Middle Eastern Restaurants in Paris.
Paris, like London, New York, and many other global cities, is a hotbed of multiculturalism.
So much so that race and immigration are, unfortunately, becoming very politicised issues. This is nothing new, neither globally, nor in France. But it's a little reminder that there's more to France than cheese, wine and cured ham. There's also kebab, dumplings, rice, felafel, and tajines!
There are lots of reasons to eat non-traditionally French food in Paris.
Firstly, it's delicious. The high-quality French produce plus outstanding chefs who immigrate to Paris make the food world-class.
Secondly, it's cheap. Paris gets expensive!
Thirdly, you get to support peoples indirectly, like the Kurds, in a not very effective but definitely extremely delicious way.
But more important than anything else, by eating a kebab, you're saying this is Paris. This is France. If you want evidence, look at who are eating kebabs. They're French people. This is what French people do.
So we decided to spend our week in Paris eating nothing but the best ethnic food we could find. This is what we found.
General caution: A lot of French eateries are closed on Sunday. It drives me crazy. But before I rant about it, suffice it to say you should make sure where you're going is open.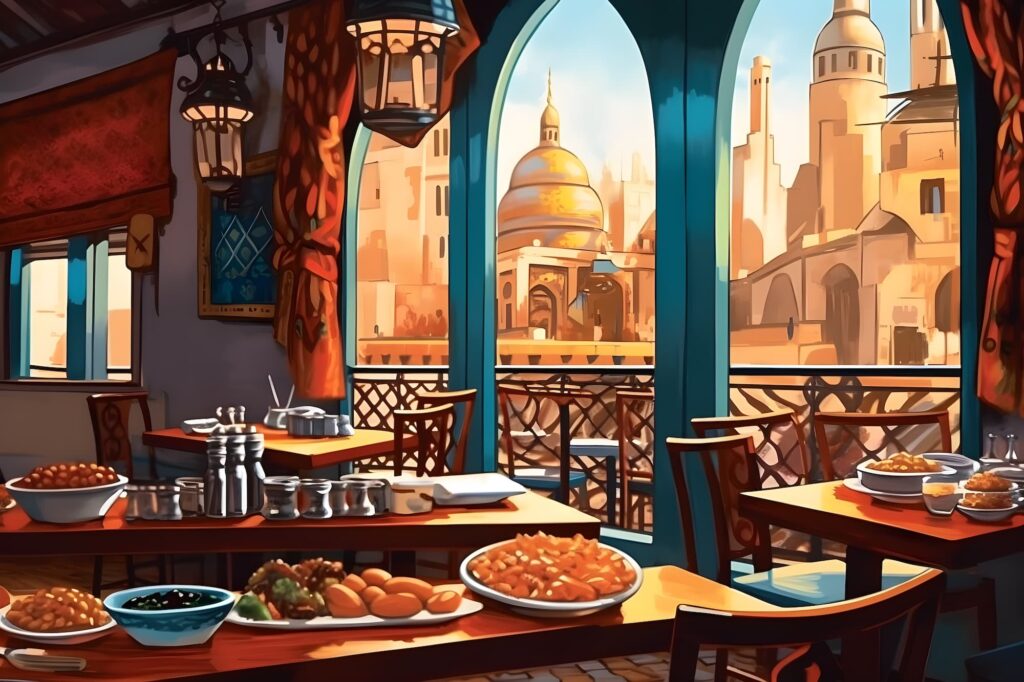 The Best Kebab in Paris: Urfa Dürüm
4.5 (1,601)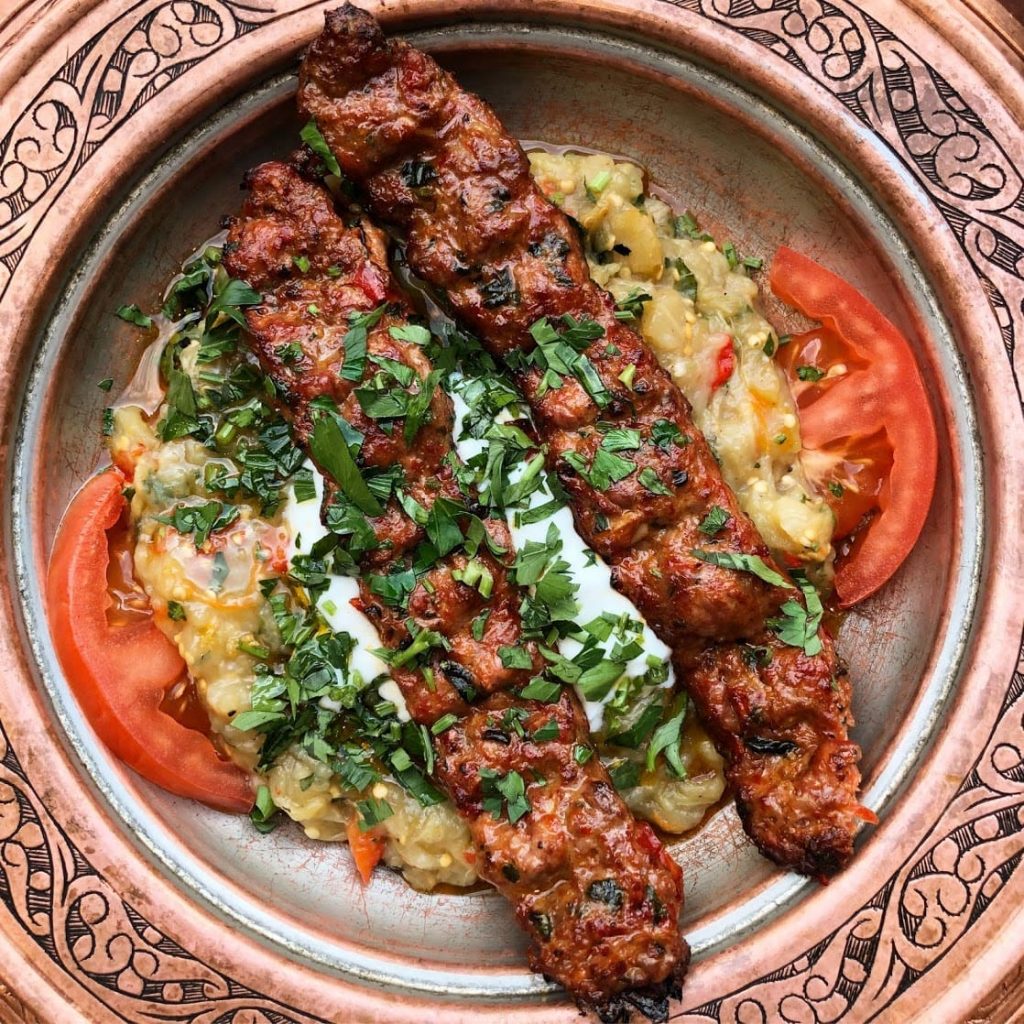 This was our final meal in Paris, and definitely the best.
There's a simple recipe to the kebabs at Urfa Dürüm: fresh bread and fresh kebabs. Yes, fresh bread: they have an oven on-site that's cranking them out, and your sandwich will be made with bread straight out of the oven!
This is a very small place with seating for around 15, mostly in tables of two. They serve a few varieties of kebab sandwich, drinks, and a yoghurty beverage that helps the kebab go down.
Even though it's quite busy there's rarely more than a 5-minute wait to order or a 15-minute wait for your food.
What to order: Get the minced meat kebabs ("viande hachée"). It sounds cheap, but it's the most classic, traditional style of kebab from the region — and in my opinion, the tastiest. You won't go wrong with it, even if you try something else another time. It's also the cheapest at 7 Euros.
Where: 10ième, 58 Rue du Faubourg Saint-Denis, Paris. If it's your first time visiting this street, have a look around before or afterwards — you'll probably come back for more food truck-style treats.
When to go: Open every day from late morning.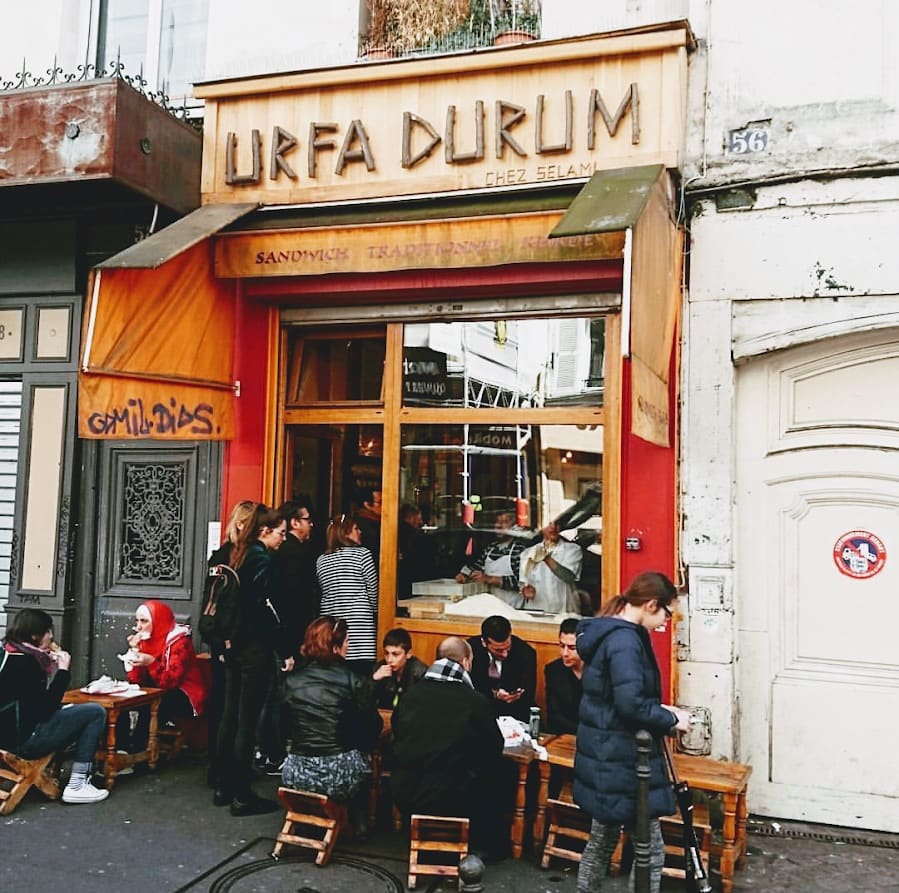 The Best Felafel (or Shawerma) in Paris: L'As du Fallafel (… or others, nearby)
4.3 (7,162)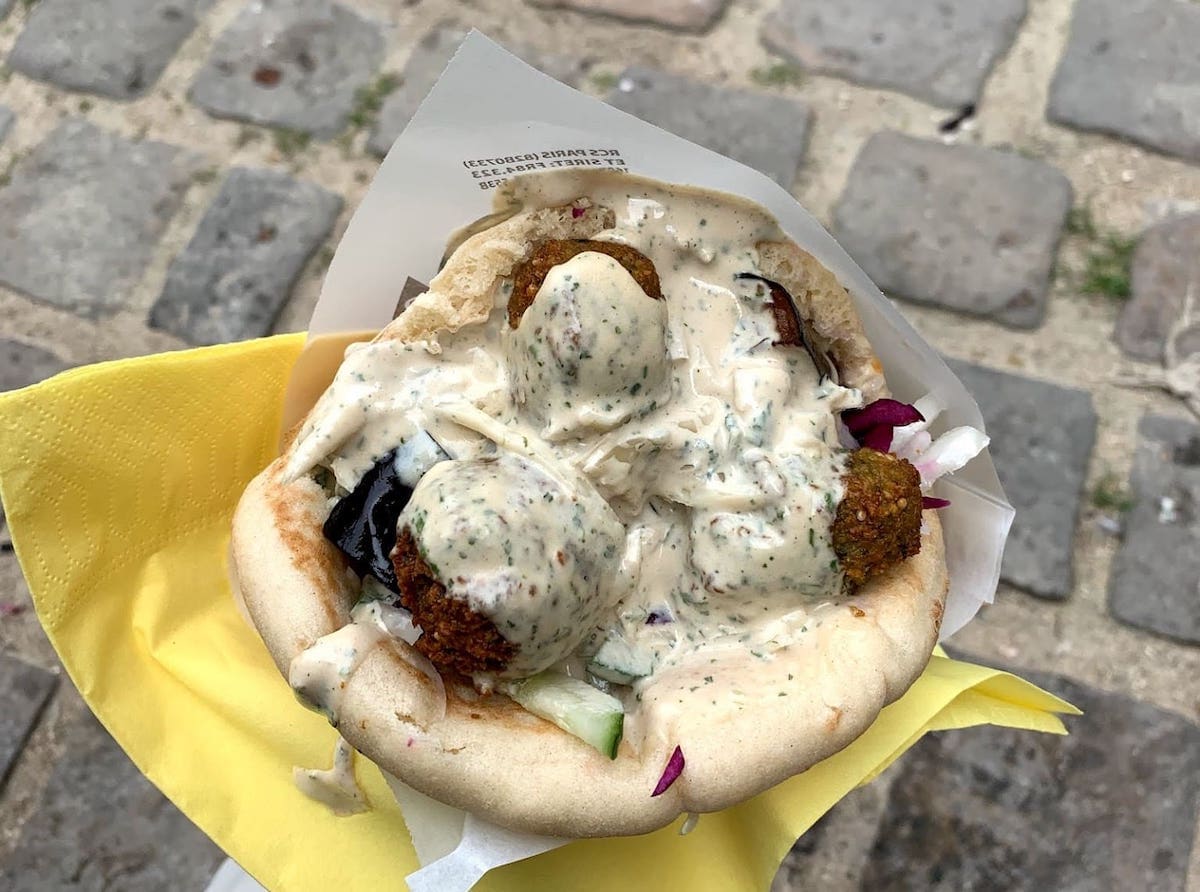 There are quite a few felafel restaurants in Paris. But the one with the longest lines (and thus the longest FOMO if you don't go) is L'As du Fallafel.
It's cheaper if you get take-out rather than dining in — quite a bit cheaper. And the line is shorter. Also, you eat the meal pretty quickly, so it's not a place to luxuriate inside anyway.
There's a lot on the menu, but just get the felafel sandwich! If you must have meat, the shawerma would be the second priority on the list. But even as omnivores we thought the felafel was better tasting (we had one of each).
An honest tip though — all the felafel eateries in the area are JUST as good, even though they're much less popular. They're all also the same price.
What to order: The felafel sandwich, preferably take-away.
Where: 34 rue des Rosiers, 4ième arrondissement
When to go: Open from noon most days. BUT closed for Shabbat, i.e. from 4pm Friday until 6:30pm Saturday. Closed on Sunday altogether.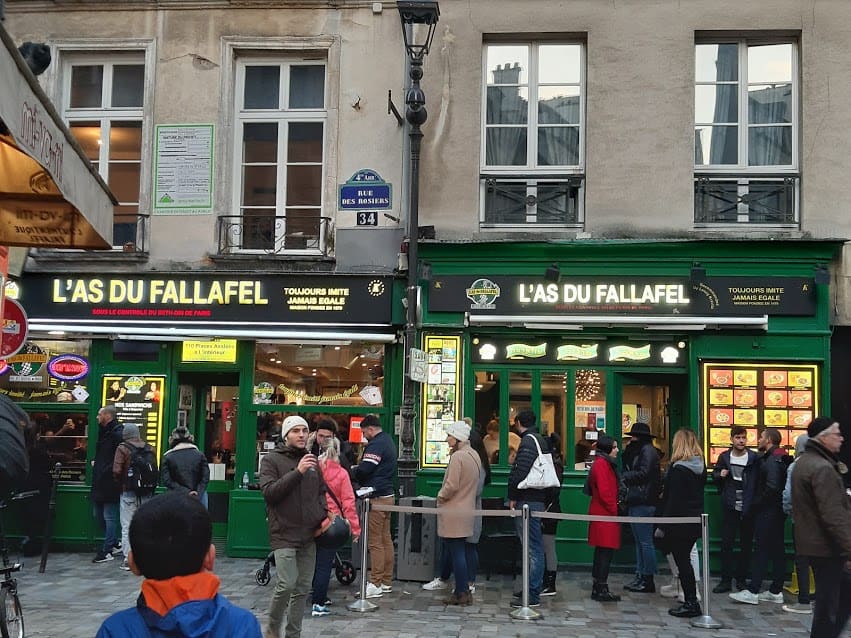 The Best Lebanese Food in Paris: Chez le Libanais
4.4 (1,100)
A really good — if somewhat expensive — place for a shawerma in Paris.
Chez le Libanais gets really busy and is popular with locals and tourists alike. There's a take-out counter across the road in case you'd rather not wait as long.
There are many Lebanese who've settled in Paris, especially during the Lebanese Civil War 1975 to 1990, which displaced hundreds of thousands (and killed nearly as many). Lebanon used to be under the French mandate, which means that many of its population (particularly the educated) are bilingual. This means there's a strong Lebanese migrant community in France and lots of tourism.
Like at Urfa Durum, the team at Chez Le Libanais make their own bread fresh. It's why you need to get a wrap.
What to order: Get any of the wraps, particularly the Chicken Shawarma or the Falafel.
Where: 36 Rue Saint-André des Arts, 6ième arrondissement
When: Open every day (including Sunday) for lunch 12-2:45pm and dinner, 7-11pm
The Best Moroccan Restaurant in Paris: Chez Younice
4.5 (453)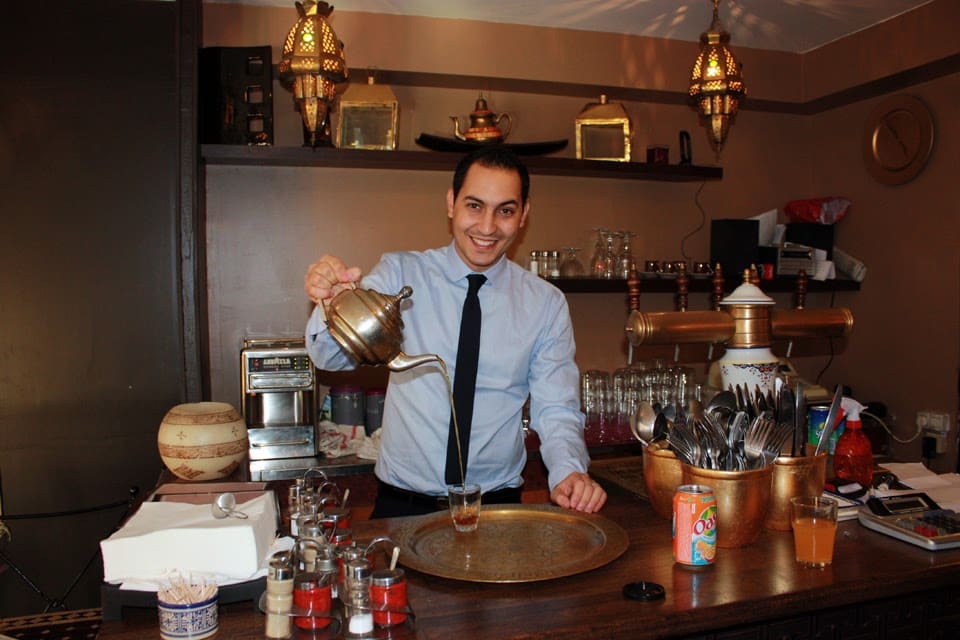 A really local-feeling Moroccan restaurant, which is why it's our pick among the offerings of Paris.
Moroccans are mostly bilingual (particularly the young and educated) which is one reason why there is a lot of migration and a large Moroccan cultural presence in France — particularly in the larger cities.
There are a few options for Moroccan and other North African food in Paris, but Chez Younice is one of the best!
No alcohol in this restaurant, but mint tea is on the house.
What to order: Get a Tajine — classic North African cuisine. The Tajine Poulet (chicken tajine) is one of the most popular dishes there. Lamb cous cous is also a good choice.
Where: 13 Rue d'Avron, 20ième arrondissement
When: Open for dinner Monday-Saturday (7-11pm), and lunch Tuesday to Saturday (12pm-2:30pm). Closed Sunday.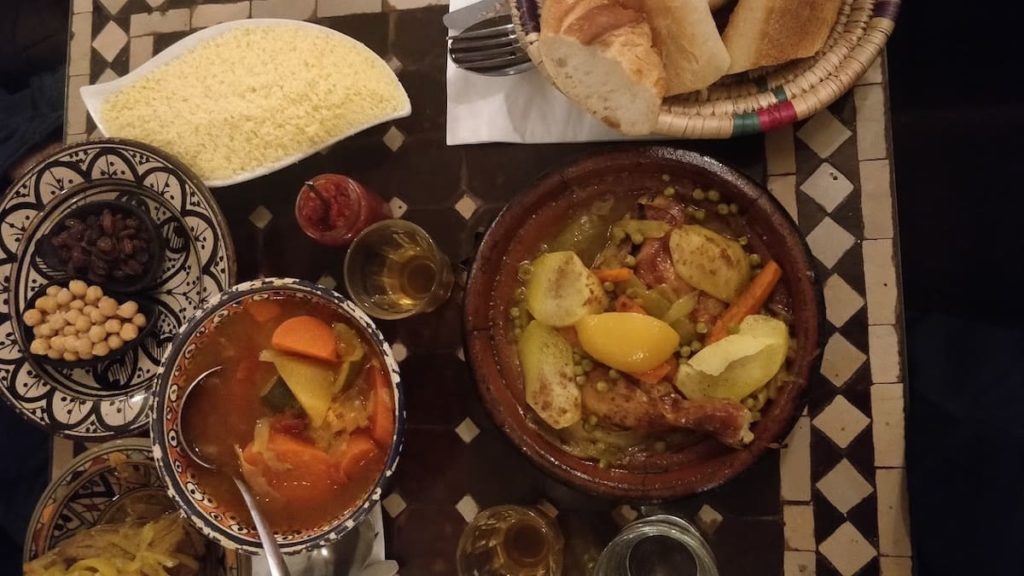 The Best Afghan Food in Paris: Buzkashi
4.8 (338)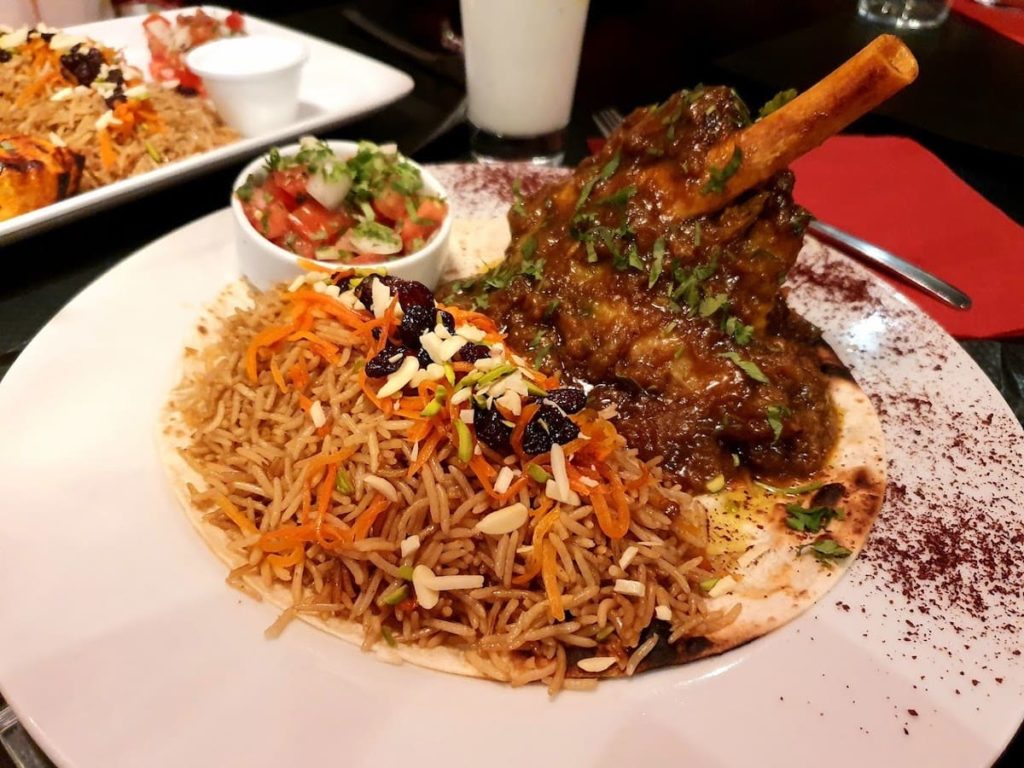 Afghan food doesn't get anywhere near the marketing it deserves. It's fragrant, rich, and loved by everyone who tries it.
The best place to try Afghan food in Paris is Buzkashi. It's a family-style restaurant where they put a lot of attention into every guest and every dish made. They're kind, make their food quickly (a lot of Afghan food is partially prepped earlier — you can't get that melt-in-your-mouth lamb entirely on demand!), and make it DELICIOUSLY.
Where: 7 Rue des Dames, 17ième arrondissement.
What to get: Lamb and rice. Get some doghe, a yoghurt drink, to wash it down. (You may not love the yoghurt drink, but it's definitely what they drink in Kabul.)
When to go: BOOK AHEAD. Buzkashi gets busy. Call them on +33 9 53 41 92 30. They're open every evening but Sunday from 7pm.
The Best Persian Food in Paris: Restaurant Norouz
4.5 (161)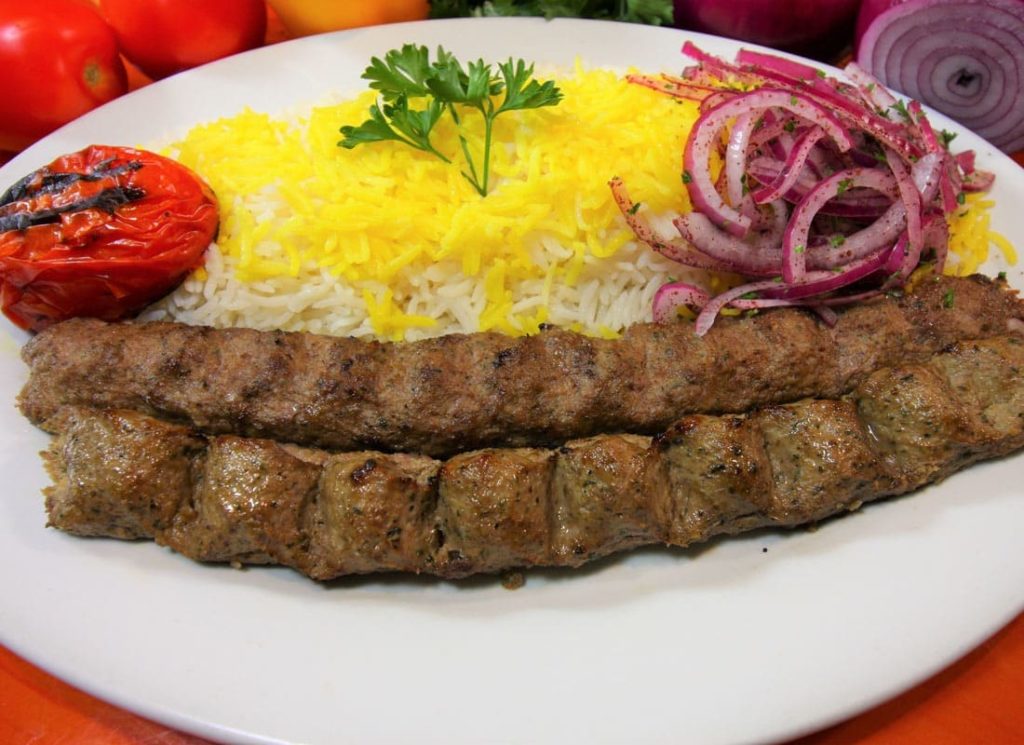 Did I mention I'm Persian? Hence my mission to reclaim my culture via mastering the Persian language… but also through Persian food.
There are a lot of options for Persian food in Paris and they're all pretty good! But the further out you get, the more "home-style" the food becomes. Norouz is quite a home-style place. The food, service, and ambience are all just really local feeling. While some of the other Persian restaurants in Paris cater to tourists and large groups — there are even some chains — Norouz still has that local eatery vibe.
It's a little far out, but that's where you need to go to get authentic food.
What to order: Order kabab koubideh (a minced lamb skewer) with rice as a minimum. If you're feeling fancy, try their sabzi polo (herbed rice) and salmon.
Where: 48 Rue du Dessous des Berges, 13ième arrondissement
When: Mon-Wed open only for lunch, 12-3pm. Thu-Sat also open for dinner, 7:30-11pm. Closed Sundays.