The Best Persian Learning Resources
These are the best Persian learning resources to learn Persian online for free (or at most, for a small fee).
Iran and most of the world don't currently get along. But that shouldn't stop you from learning Persian, to connect with some of the kindest people in the world who live in a beautiful country that many rave about after visiting. And in the process, you'll learn a truly beautiful language!
Persian is my mother tongue, as I was raised in a Persian family in Australia. So I do have some bias in thinking it's beautiful.
But I didn't automatically learn Persian fluently as a child — it was hard work on the part of my parents, and myself later in life.
If you're wondering whether it's "Farsi" or "Persian" — the official English name for the language is Persian, but sometimes I see it written as Farsi.

You can use the word "Persian" to refer to the language or the people who live in Iran (and neighbouring countries, and the diaspora), but the word "Farsi" only refers to the language. Because of this, it can be clearer to say "Farsi" to someone who knows both words.

However, I prefer to call it Persian generally — just as I call French "French" when speaking English and not "Français".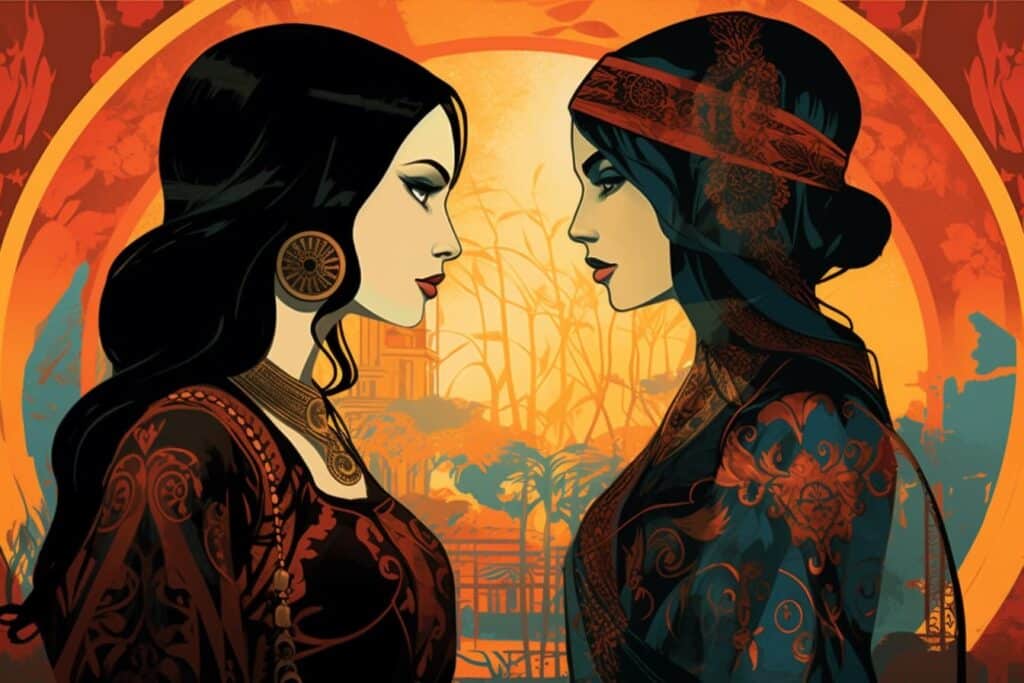 Because it's technically not possible for me to visit Iran again (for many reasons), I have to do my best to study Persian outside Iran. I also explored all the best places to study Persian outside Iran.
For the many millions of American passport holders who also want to learn more about a country to bridge the cultural chasm, learning Persian is a great way of connecting with people that so many travellers describe as the friendliest people in the world (example 1, example 2, example 3 etc.), and opening your minds.
Americans can't travel to Iran without an escort who's present 100% of the time, so learning remotely is many people's best chance.
So that said, here are my favourite resources I've found for studying or improving Persian from the comfort of your home.
| | | | | |
| --- | --- | --- | --- | --- |
| | | | | |
| | Game-changing language tutoring platform | | App aimed at developing listening and speaking skills | Colloquial Persian self-study book is available as an eBook or physical book, and all the audio is online. |
| | | | | |
| | | | | |
Quick Summary of The Best Persian Learning Resources
Without all the details, this is what we recommend to learn Persian online.
The best self-teaching Persian book: Colloquial Persian. It is an excellent and easy book to use, affordably priced, available as an eBook or physical book, and all the audio is online.
To find experienced teachers to speak with and book time with them without all the fuss of finding time with language partners, or going to schools: italki. Great teachers become our friends; we learn so much more than language.
To practise a ton of sentences from a sentence bank: Glossika. Listening and repeating is awesome!
The best resource for learning conversational Persian: Chai and Conversation.
Check out a few free websites, by enterprising self-publishers, as well as foundations
Look up words/sentences in the Persian Learner's Dictionary
Use Anki for spaced repetition flashcards. Any serious language learner uses Anki. It's free. Here's our guide to getting started with it.
More detail on all this below.
The Best Spoken Persian Self-teaching Book: Colloquial Persian
Sale
We normally suggest anyone starting to learn a new language start with a good self-teaching book. It's just a much more effective way than learning via apps, clicking randomly through websites, and so on.
There are a few good resources for Persian, but we recommend Colloquial Persian for one main reason: it teaches colloquial, spoken Persian! Specifically, it teaches the Tehrani accent, which is by far the most common form of spoken Persian.
There are some important differences between the way people speak Persian and the way it's written. If you learn written Persian, you'll sound correct but bookish when speaking to people. They'll understand it, though.
On the other hand, you won't understand what they're saying at all unless you learn to "translate" (following a few simple rules).
See this overview of the differences between colloquial and written Persian.
We generally suggest you learn colloquial Persian because it's easy to transition to formal Persian anyway, and you get off to a better start because you can watch TV shows, listen to music, speak to people, etc.
The book Colloquial Persian does teach you to read and write, but it provides pronunciation guides in Latin script. Even though you should learn to write Persian (and it's not hard), it's faster if you don't have to parse it out.
Oh and finally – this book is available as a Kindle eBook, and you can download the audio for free from Routledge's website. No more CDs! ("What's a CD?" you cry? They're the thing that replaced audio cassettes.)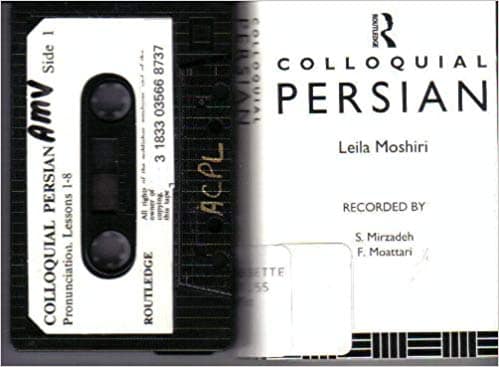 Best place to find Persian Tutors Online: italki (free $5 credit)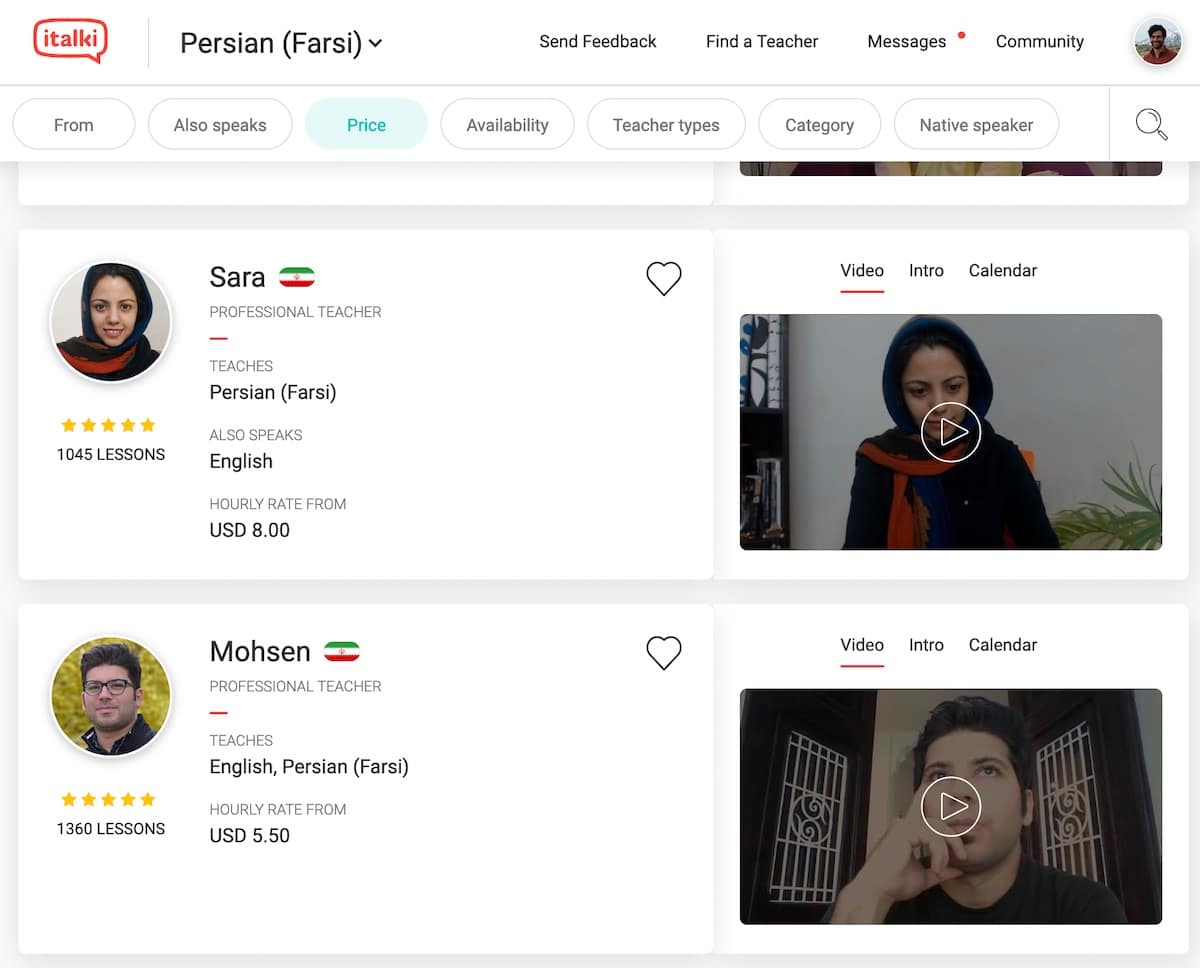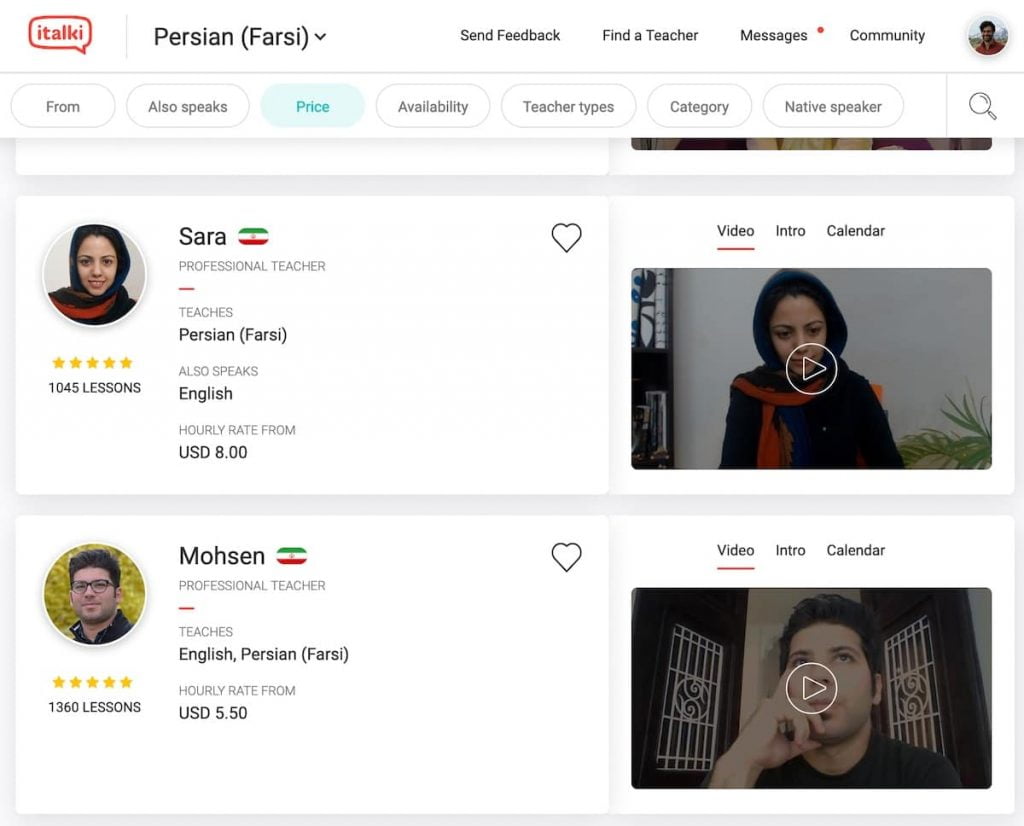 We've tried a few ways of finding tutors online, and still like italki the best. (We also occasionally have in-person tutors, but generally prefer the convenience and easy quality control of online teachers.)
And yes, there are lots of teachers online, ranging from $4 to 8 for teachers with many hundreds of reviews.
We go into detail in our full review of italki, but in a nutshell, here's what we like about it:
italki is much more convenient and flexible than a language school. You learn from your own house, without travelling.
italki is similarly priced (or often cheaper) to schools and casual tutors.
It's much easier to find a good teacher through italki than by asking around, checking some people out, then making time for them to come over, and figuring out how to pay. You just find a well-regarded teacher with lots of reviews and a face you like, book a time and pay.
Teachers want to impress you, so you keep booking lessons.
It's much less awkward to stop using a teacher. Sometimes in real life we find teachers we don't like. Within a few minutes you know they talk too much or have a bad style, or (in some cases) are awkwardly slightly racist or sexist. In real life, it's annoying and time-wasting. On italki, we've never had any unpleasant teachers, just some we don't click with. And with those, we just don't book another lesson.
And best of all… our best teachers become our friends, people I'm glad to have spoken to, and know well. We even meet some in real life if we're lucky.
Sign up here for free credit for your first lesson (with your first purchase).
Get $5 in italki credits — enough for a trial class!
Get a tutor online for as little as $4/lesson from italki with $5 in credits after your first purchase of $20 of credits.
Lessons are usually $5-15 (or more, but don't spend more than that). Note, the cheaper teachers can be great, and more expensive ones aren't necessarily better.
If you want more info on how to get the most out of italki read our complete review of italki here.
Memorise Persian Sentences with a sentence bank: Glossika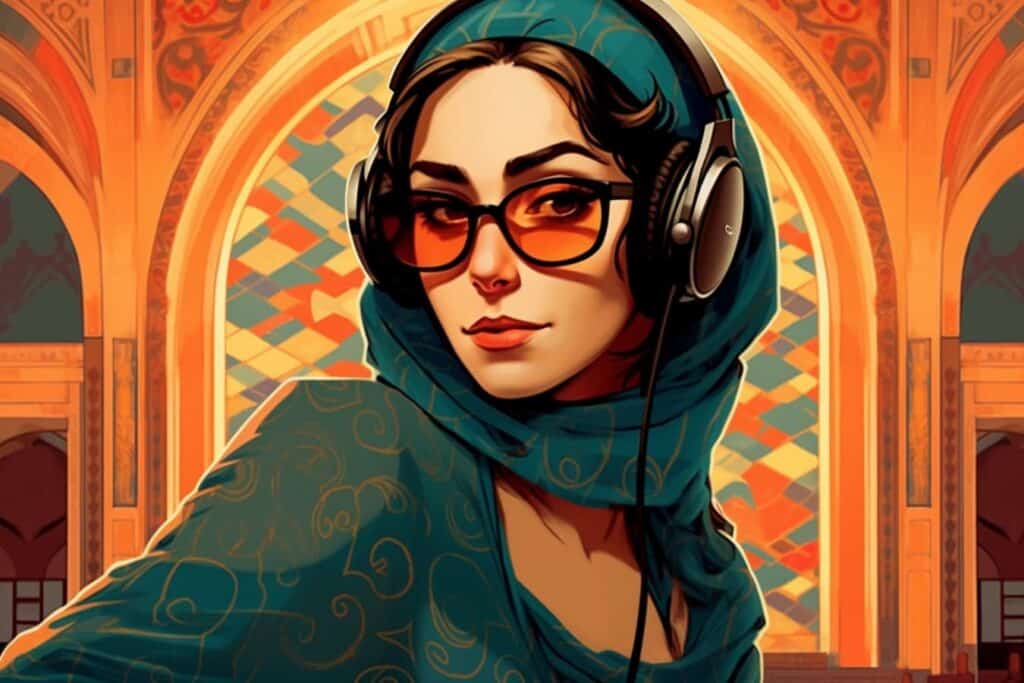 We also like walking around and muttering sentences to ourselves!
Sometimes we make our own sentences as I did with Swahili and with Hebrew (this is me speaking after learning sentences for a month). But a really convenient system is to use Glossika.
Try Glossika for a Week for Free
Try Glossika's method of teaching language through thousands of sample sentences. Learn languages by sentences spoken by native speakers in over 60 languages.
Glossika is a pre-built sentence bank, with spaced repetition built-in. It's kind of like swimming in a river… you won't remember everything, but over time, you start hearing patterns in the things you hear, and you learn it.
Still, I did write a guide to getting the most out of Glossika. The key is to listen and learn actively.
Sign up for a 7-day free trial here, and see if you like it. Please use the trial to actively listen and see how effective it can be. I still remember sentences from Glossika better than from any other source.
Dictionary: FarsiDic + Forvo (for pronunciation)
A great dictionary is a critical part of any language-learning journey.
Bing and Google Translate both don't have phonetic guides or of course example sentences.
I really like FarsiDic. It's the oldest, and still the best, online Persian dictionary. It has example sentences… but no pronunciation guides! For that, try Forvo.
Some awesome free Persian websites
As I went searching for answers to various things about Persian online, I found a number of resources that were really helpful.
I actually found more resources than I had for Egyptian Arabic!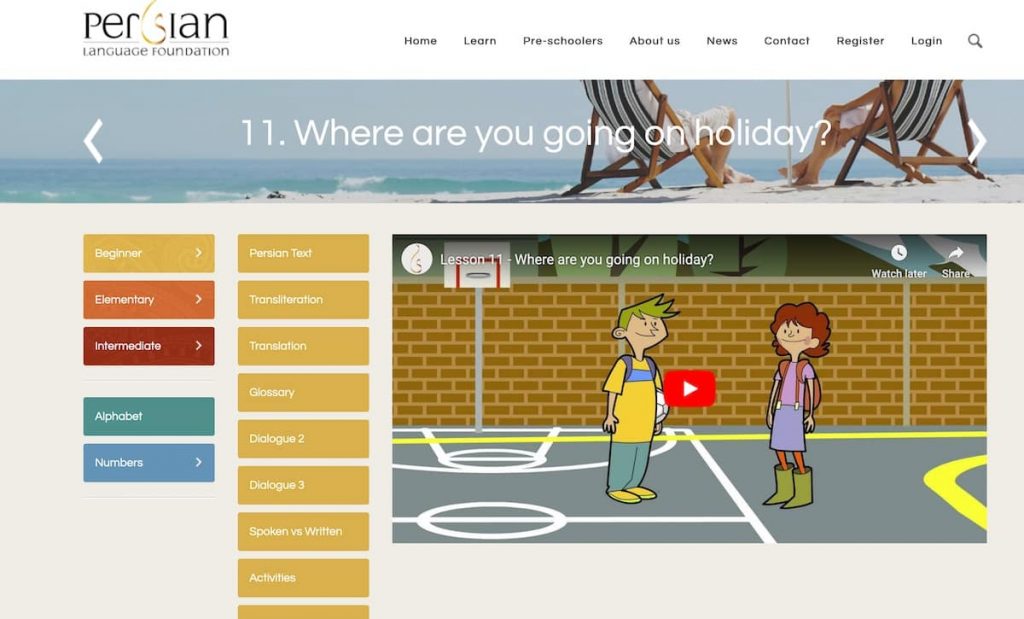 You don't really need any other websites — just use this one!
The Persian Language Foundation has hundreds of lessons, all with videos, multiple dialogues, translation/transliteration, and activities!
It starts at a very basic level with greetings and full transliteration in the early sections. There's even a whole section on Persian for Pre-schoolers, in case you want to help your child learn Persian with more age-appropriate material! And it goes all the way up to "intermediate", which is quite advanced (including discussions of poetry)… beyond that and you should just go get a job in Tehran.
The level of formality is somewhere between colloquial and formal. It's a nice balance. For example a sentence it uses to say "Maybe I'll go to a restaurant" is written "شاید به رستوران بروم", which is formal, but another sentence, "Are you Daryush's sister?" is translated as " شُما خواهر داریوش هَستین؟", which is colloquially conjugated.
The best part is that these materials are free. The website is supported by a few big-name universities in the UK, including SOAS and the University of Cambridge.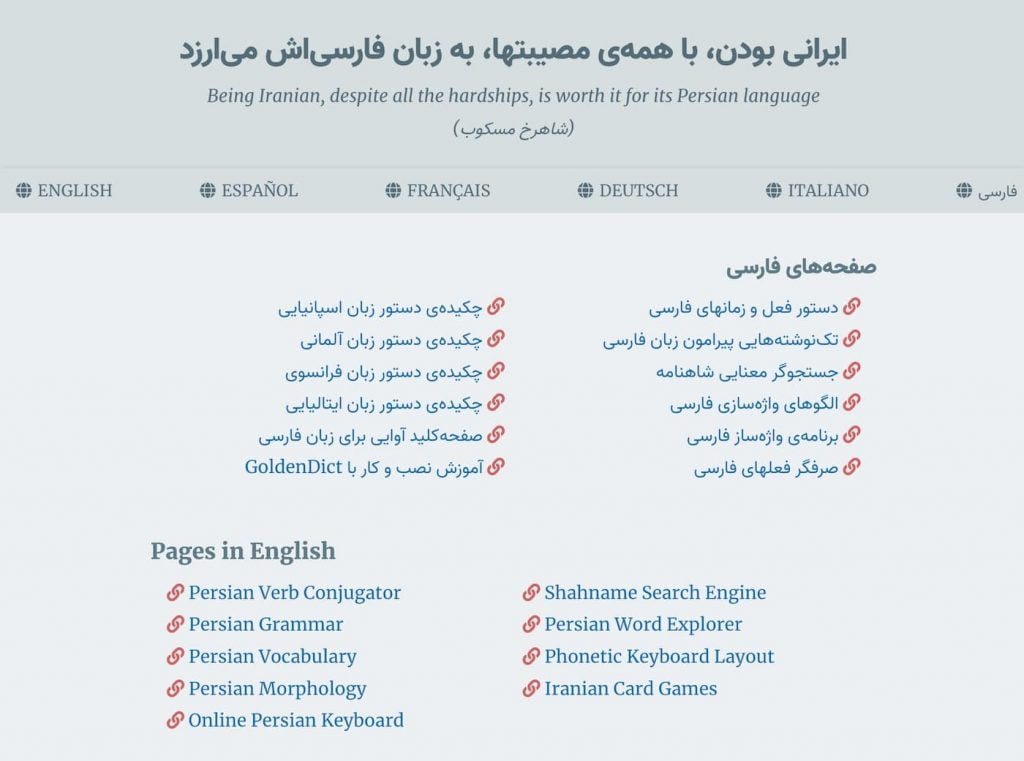 Mr Jahanshiri has put together an excellent website with a bunch of resources including a really comprehensive guide to grammar and pronunciation, as well as long vocabulary lists in a number of European languages.
You can use his site to complement your other guides/books. It's not a standalone website from which to learn Persian — just a really good reference one.
It has a straightforward, text-first design (updated in 2020) that puts the content first. He's always updating the content to make sure it's accurate and complete.
Mr Jahanshiri put in a lot of really useful information, including detailed explanations of Persian grammar and conjugation, awesome lists of Persian vocabulary, and some useful cheat sheets. Looking at some of the vocab I'm seeing words I don't know in any language.
Note it's all in "standard" Persian, so the pronunciation is a bit formal compared to resources that focus on colloquial Persian.
Nobody speaking to Persians can go long without playing card games, so it's nice he put the rules for the two most common games in there as well!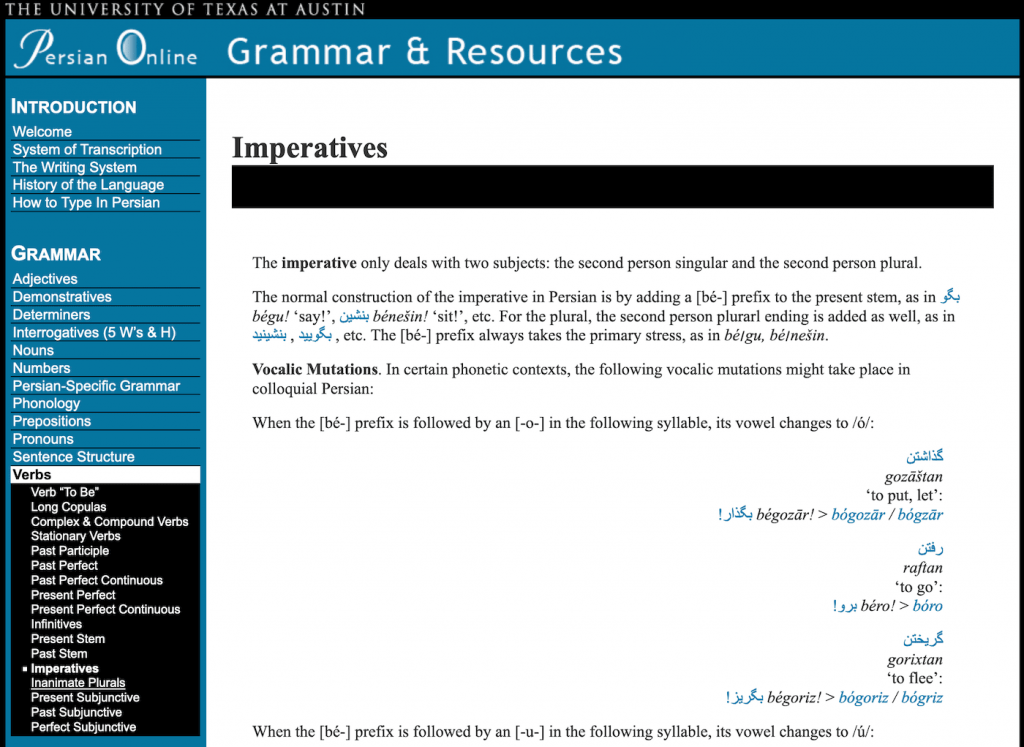 It's so cool how some universities go super deep on a language and make their content available to the public!
For Persian, that university is UT Austin.
The website is clean, rich, and detailed. And because it's from a university I really trust the content to be correct (I haven't analysed all of it, but from a cursory look, it looks good).
The content includes
Really detailed vocabulary lists
A long description of how to conjugate verbs (plus a ton of verbs)
Proverbs! These are a cornerstone of Persian.
Again, you can't learn just from this website, but it's a great reference complement to a good course.
Persian Dee (Free/donationware, colloquial Persian, grammar focus)
This is a great "free" course that focuses on colloquial Persian, teaching the grammar.
It has more than thirty lessons that are organised by grammatical concept. This is different to most courses I recommend which are organised thematically, for example by "day to day life" or "telling the time".
However, if you're struggling with a grammatical concept, then Persian Dee is a really good resource to go in-depth into one point of grammar with examples.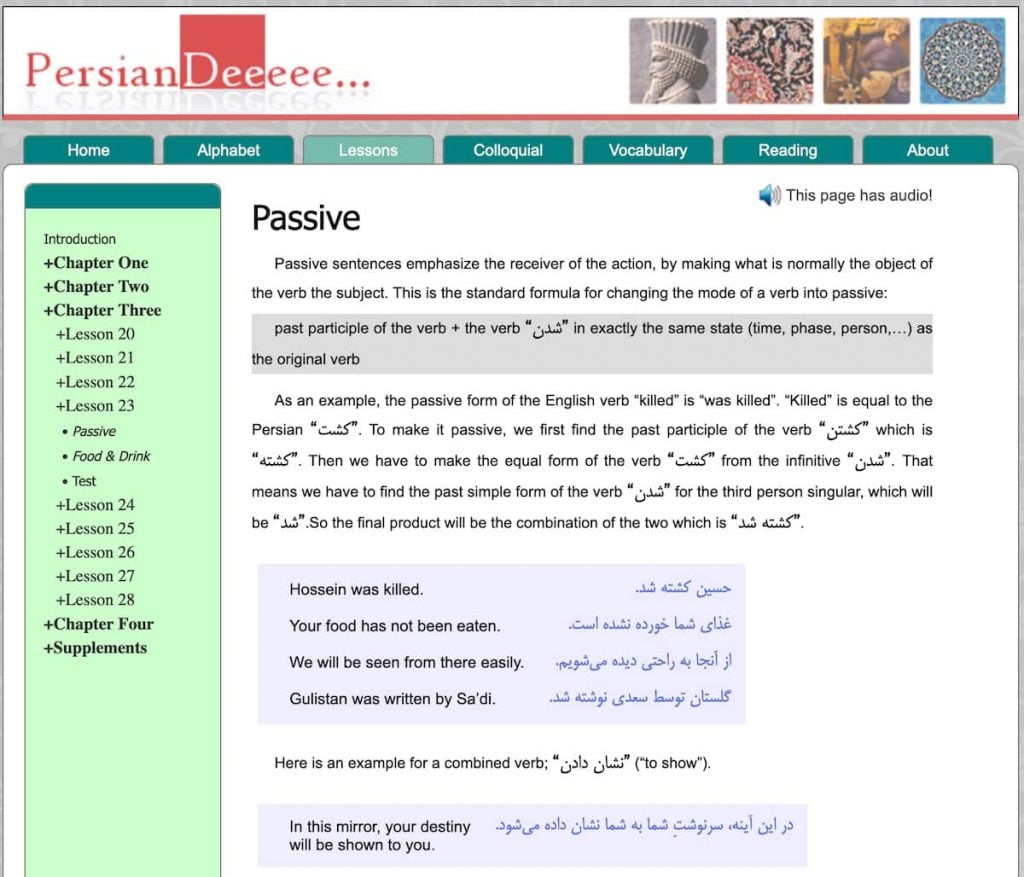 It also has a great section that explains in detail how colloquial (Tehrani) Persian differs from standard Persian, explaining (with examples!) how the verbs change, how the pronunciation is different, different particles that are used, and more.
Easy Persian (Free, Modern Persian)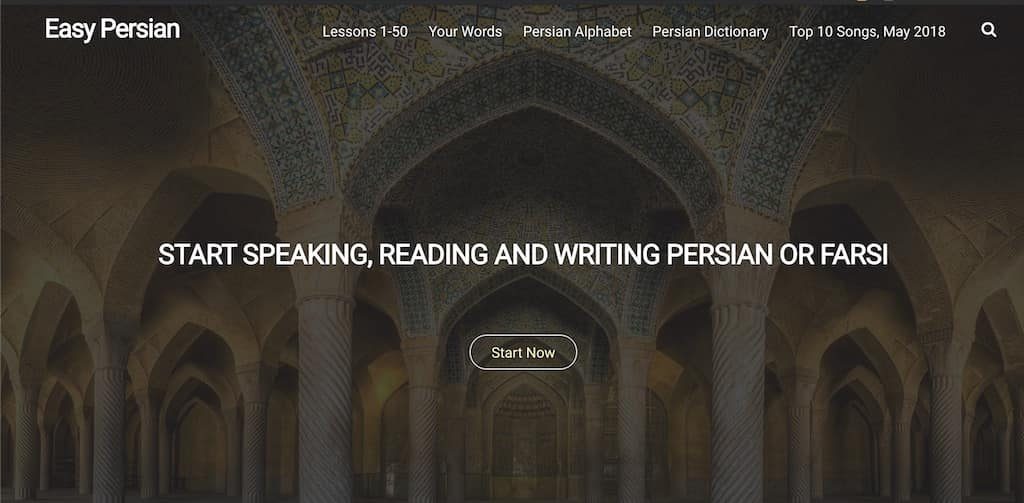 This is a really great website with extensive lessons and audio, maintained by a friendly Iranian man named Hassan. It's totally free and maintained by him alone, supported through donations.
I really like how you can send in sentences and Hassan will translate them for you! It gives it a very personal feel.
Easy Persian focuses on written Persian. As such, I think this is best for people who already speak conversational Persian and want to start reading and writing more extensively.
Chai & Conversation is a really great-looking course that a lot of people recommend. The audio is free, but to get the lesson transcripts and workbooks you have to pay $19.95 a month. They have a 30-day free trial though.
I spent a while looking through Chai & Conversation, spending time clicking through the intermediate and advanced sections. I really like it! The things I like about it are that it has an easy-to-navigate interface, great content, and a focus on colloquial, spoken Persian.
I also really like the owners of the business — very helpful and genuine people. If you want to learn more, see here for a full review of Chai & Conversation.
What to avoid – Bad resources for learning Farsi/Persian
We've tried lots of websites and different software. Here's what we don't like:
Rosetta Stone for Persian: It's not a good way to learn. It becomes like a game quickly, teaching you random words. Flashcards are more useful – use Anki!
Memrise for Persian: This isn't an efficient way to learn, past learning the basic letters.
Pimsleur Persian: This is an introductory course at best. It's so expensive, I wouldn't pay for it. I'd much prefer Glossika as mentioned above.
What do we know about learning Persian?
I speak Persian. It's my mother tongue. Despite this, it's not my most fluent language (that's English). So I've hard to use these resources to improve it.
We know a lot as language learners. Obviously not as authors or teachers. We owe everything we've learned to teachers, authors, and software makers who helped us learn quickly, so we want to share what was most effective.
I've also studied seven languages (bringing me to nine at time of writing). The total number isn't important; it's the journey that I love and want to share with others.
A word of caution: There are other websites that just list every language resource. Or even worse, they just advertise whatever makes them money even if they don't work. (For example, Rosetta Stone makes a bunch of money. But it's no good for serious learners.) Some of those authors never even learn the language. Beware! We're sharing experiences as people who've studied the language and tried the tools as serious language learners.
A few frequently asked questions about Persian…
So is the language called Farsi or Persian?
Persian is the official language in English and is what I prefer to call it. I sometimes say "Farsi" to distinguish it from Dari or Tajiki, which are really all just varieties of Persian.
The word "Farsi" definitely refers to the language, whereas "Persian" can refer to the people. (The "Persian" people mostly live in Iran, which is the modern name for Persia.)
Some of the related forms of Persian are called Dari and Tajiki. I know what you're thinking — what's the difference between Persian as it's spoken in Iran and Afghanistan?
Who speaks Persian?
Predominantly, Iranians speak Persian.
Aside from Iranians by nationality, all the members of the massive Iranian diaspora speak Persian (to some degree). You can find Persians all over the world! There are large concentrations of them in:
Los Angeles ("Tehrangeles")
Toronto ("Tehranto")
London ("Tenrahdon"), and
Australia (… I'll come up with something)
And pretty much everywhere else.
In Afghanistan, a minority of people speak Dari, a language closely related to Iranian Persian, but with a different selection of loanwords from French, English, and Arabic. The pronunciation of some letters is closer to Modern Standard Arabic.
In Tajikistan, the Tajiki language is also related to Iranian Persian, but with lots of Russian words in it, and written in the Russian alphabet! After the USSR captured Tajikistan from Greater Iran, the country became much more isolated politically and culturally isolated, which allowed the Russian language influence to seep in.
The Parsi people of Pakistan/India mainly speak Gujarati (they migrated more than 1,300 years ago from Persia, after all). This is also true of the Parsis who migrated from the subcontinent and moved to other, distant parts of the world, like Zanzibar, who also speak Swahili or any other local language.
The Irani people of Pakistan and India — a separate, but closely related community — may speak Dari (as the Afghans do), but it's much more likely they speak Gujarati as their mother tongue and of course English, particularly in the case of younger generations.
Is Persian Hard to Learn?
I'd say Persian is about a 4/5 in difficulty for an English speaker, roughly as hard as learning Korean for an English speaker. It's easier than Arabic or Chinese, however.
Grammar: 2/5 difficulty. Grammatically, Persian is not too hard, especially spoken Persian. It's easier than French and about as hard as Hebrew. It has fewer tenses, but it clusters different forms of verbs together to express other tenses. It's a bit like how in English we say "would have" to express a conditional, rather than changing the word "have" directly (like in Spanish or French). There's no grammatical gender or noun classes.
Writing system: 3/5 difficulty. The character set is based on the Arabic alphabet, so you have to learn to read that (and read right to left!). It's not hard though (only 32 letters) and you can learn it pretty quickly. The difficulty is that if you learn to read it, you can't necessarily write it, because lots of letters make the same sound!
Vocabulary: 5/5. The vocabulary will be totally unfamiliar, unless you know a nearby regional language like Arabic or Urdu. So that's a 5/5 in difficulty.
Pronunciation: Moderately hard for English speakers without being overwhelming. It has a hard kh sound and a few letters not even found in Arabic. But you can learn it, and it's much easier than Arabic or Chinese to pronounce! I'd give this a 3/5.
But once you've gotten past the grammatical basics, the hardest part of Persian is how idiomatic and floral it gets. Proverbs, euphemisms and maxims make up a very large part of Persian, and are essential. People reference classical poetry very often, even in everyday speech. This is the hardest part that means it's a bit higher than a 3/5, and at a 4/5 level.
How similar is Persian to Arabic?
See our full Persian vs Arabic analysis here.
In general, it's easier for an Arabic speaker to learn Persian than for a native speaker of an unrelated language (or to learn Chinese), just as it's easier for an English speaker to learn German than a native speaker of an unrelated language (or than to learn Chinese).
It's totally different! Persian and Arabic are about as different as French and English, or German and English.
If you know a little about those two languages, you'll know that they mostly share an alphabet (but French has stuff like the ç and ô, and German has things like ü and ö), although they pronounce it differently.
Some words might look familiar (the German word for "water" is wasser, the French word for serviette is serviette), but sentence order, the use of verbs, and things like grammatical gender (and German case) make the languages totally incomprehensible unless you've studied them.
However, there are lots of very advanced words that are the same. Like the word "politics" is politique in French, and Politik in German.
The differences between Persian and Arabic are similar to those between English and French/German.
Persian has no grammatical gender; Arabic does
The alphabets are mostly the same, but some letters are different, and others are pronounced differently (especially as Arabic has different regional pronunciation)
The grammar is otherwise completely different, particularly in how verbs are used and how sentences are formed.
However, there's a large advanced vocabulary overlap, and some basic vocabulary overlap.
In general, this means it's easier for a Persian speaker to learn Arabic than for a non-Persian speaker, and it's easier for an Arabic speaker to learn Persian than for a non-Arabic speaker.
---
Is there something else you've used that you'd like to recommend? I'd love to hear it… drop a comment below or contact us.