Fusion Fight and Fitness Review — BJJ and Muay Thai in Cairns, Australia
This is a fairly long review of my three months at Fusion Fight and Fitness in Cairns, Queensland, Australia.
In short, I loved my time there, and highly recommend it! But I only do reviews of places I like, to be honest. (If there's a place I don't like, I stop going as soon as I don't like it. Life's too short.)
I trained at Fusion from October through December. They close over the Christmas break, but I drove 1.5 hours down from Atherton to attend an open mat.
I really liked Fusion for the high level of Brazilian Jiu-Jitsu training, the friendly environment, the friends I made, and the great culture of the club.
Here are my latest posts on combat sports gym reviews from around the world, vocabulary for training in other languages, and other resources. If you'd like to have me visit and see your gym, please contact me — I love visiting new places and making new friends through combat sports.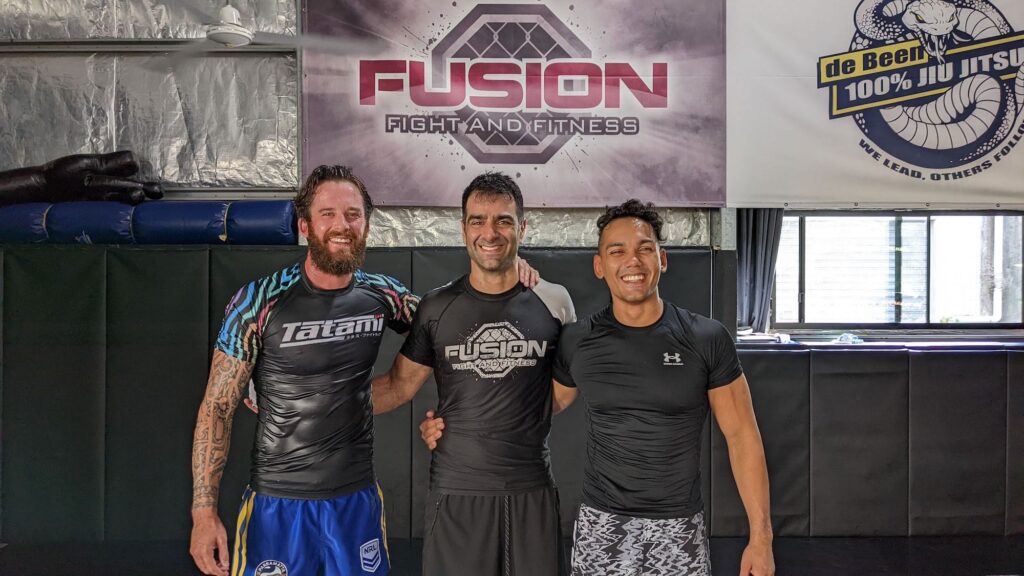 Fusion Fight and Fitness in a Nutshell
In a nutshell, Fusion Fight and Fitness is a martial arts gym / school. When I went there, you could do Brazilian Jiu-Jitsu Muay Thai. These days, they've expanded to include boxing as well as MMA.
However, even though there's both striking and grappling arts at Fusion, and while you can train in MMA, it's not a typical "MMA" gym. By this I mean that they don't focus on producing MMA competitors. When I went there, there was relatively little interplay between the Jiu Jitsu and striking sides of things (and definitely none required), whereas at MMA gyms (like Cube MMA, where I later trained) you do a bit of everything.
And even though Fusion sends out lots of competitors to regional competitions in both Jiu-Jitsu and Muay Thai, it doesn't send out people to MMA competitions (where you may do some striking, then a take down, then get a sub via a choke or lock).
The focus of Fusion is on BJJ. But it has always had really great Muay Thai and Boxing coaches. The coach who was there while I was there (Paul Hosking) has left, but the replacement seems very good too.
Fusion is owned by a couple / family, Garrett and Jeska Maunder. As of writing, Garrett's a black belt and Jeska's a purple belt.
While there are three locations, by far the largest one is in Cairns North. I know the Innisfail one is operational, but I think things are pretty quiet at the Atherton location.
Because Fusion has absorbed all the black belts of the region, there isn't much in the way of competition for Fusion. There's another gym that's no-gi / MMA gym called Xtreme Impact. But I had JUST bought my $150 kimono and wanted to put it to use, so I didn't try them out. (They also had fewer classes during the day.)
The Community at Fusion Fight and Fitness
Fusion has a microcosm of the community of Cairns.
Even though Cairns is a small town, it's an interesting blend of three kinds of culture: Friendly locals, Far North Queensland relaxedness, and transplants from other cities who tend to stay for anywhere from a few months to a few years.
The thing that struck me is that it's really easy to get to know people in Cairns, and this is reflected in Fusion. It's partly a FNQ thing. I noticed in many places I stayed, I could easily strike up conversation and talk to complete strangers for ten minutes or so. People have time. It's wonderful! We considered moving there because of this.
But another factor that makes Cairns special in the Far North is that people come and go from there — and it's really multicultural. So I met Kiwis, Pacific Islanders, South-east Asians, and of course people of other ethnic backgrounds (like me, the lone Persian) who'd moved up from Sydney or Brisbane.
Because of this diversity, dynamism, and warmth, it's really easy to make friends in Cairns. In the short time I was there, I think I made about a half dozen — which is a lot for me, a typically quiet person, in a short span of time.
All of this is present at Fusion. There wasn't a single person I met there that I couldn't chat with, or have a friendly roll or sparring session with. The attitude was always welcoming and the training environment was never crazy.
The Training Environment at Fusion
One thing I think is important to mention is the physical training environment at any martial arts gym.
Cairns is hot. Everyone knows this! Well, for about eight months of the year it's "nice", and maybe even "brisk" for one or two. But mostly, it's hot.
There are three parts of Fusion in which you can train right now.
There's a huge open mat space, under fans and with a decent breeze through the big roller doors and windows, to train. It's like an aircraft hanger, or small warehouse.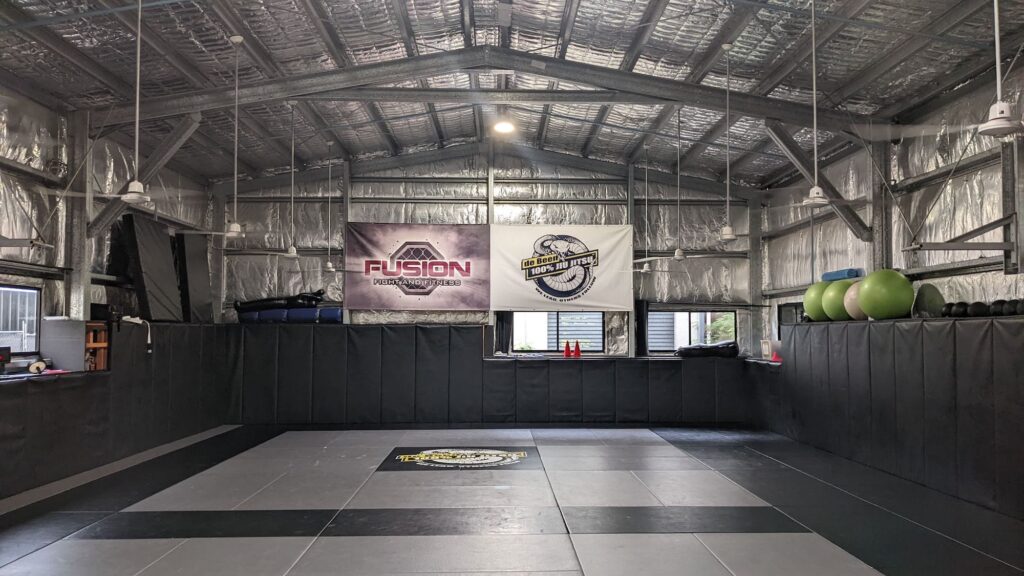 This one gets very hot in summer, even with the fans on. So while it's large, I prefer to train just very early in the morning (5:30 am) in this space.
I don't know the size but it's enough for about 10 pairs of people to roll with a comfortable amount of space around them. Maybe more if you are a little less comfortable. Suffice it to say it's one of the largest gyms I've seen.
The Muay Thai / Boxing space is smaller, with a ring, and two more areas roughly the size of a ring around it. But it's enough for the Muay Thai classes that Fusion has.
The final space is the "mezzanine". This is small, with only room for a few pairs to roll at once — it's best for positional sparring. But this area is air conditioned!
Fusion has classes at all times of day:
Early morning
Late morning
Midday sometimes
Evening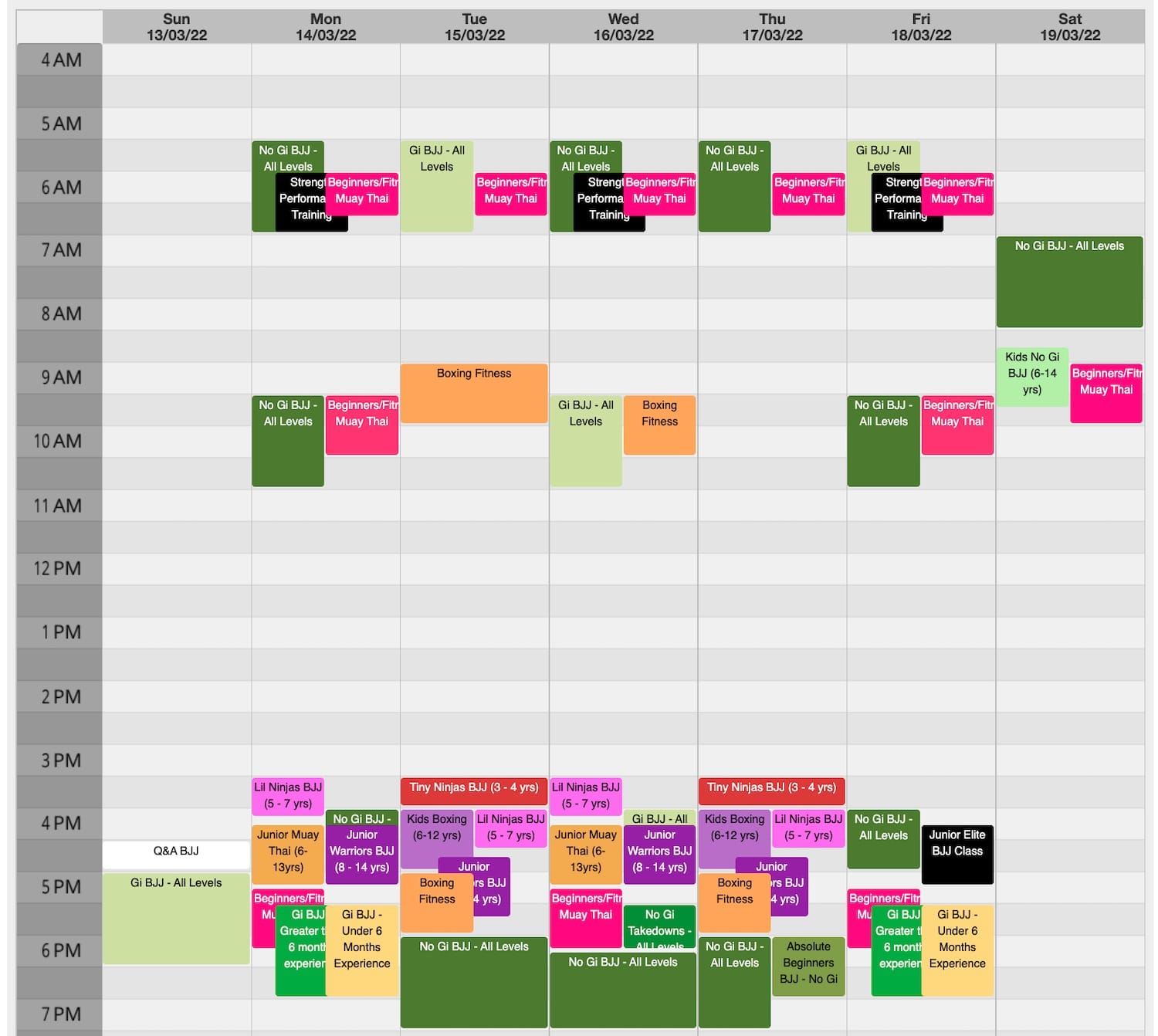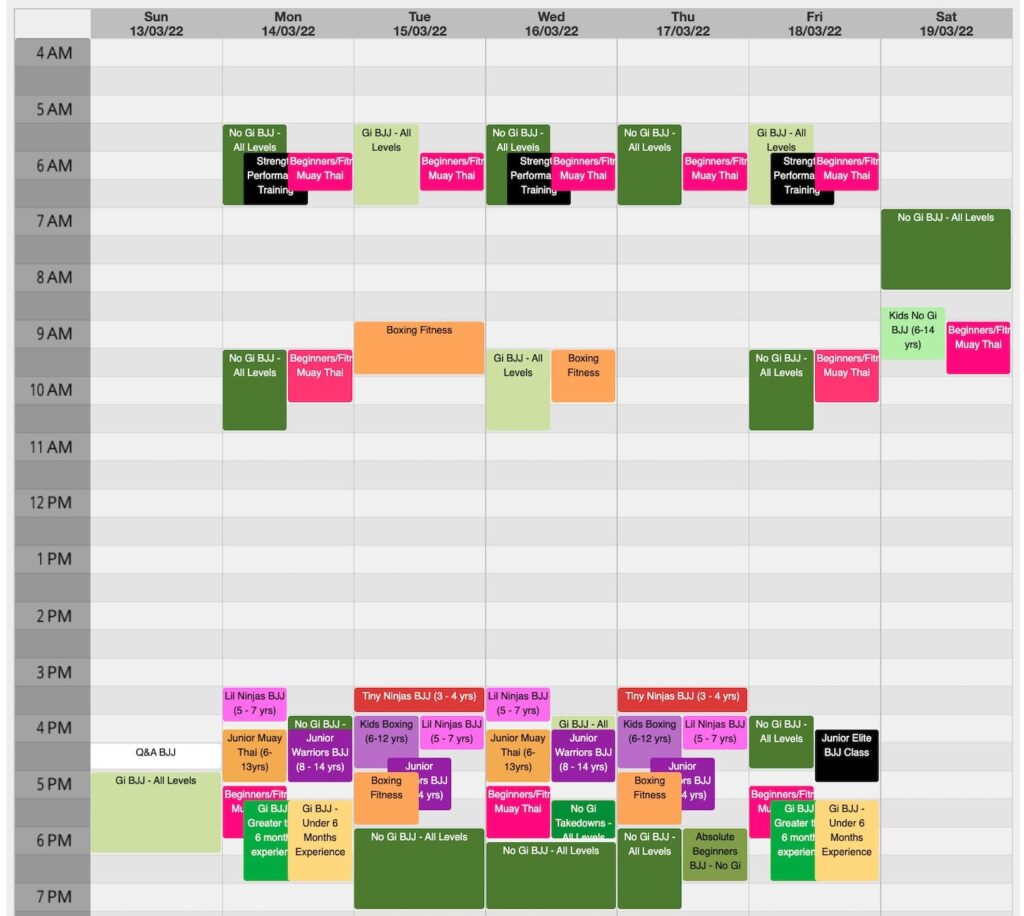 The culture of each of these classes is much as you'd expect.
Early morning has dedicated regulars who all know each other. These were my favourites!
Late morning was run by Garrett, one of the owners, who has a very direct style and a broad amount of knowledge.
Evenings were run by another coach — Vic, I think. There are more new people in the evening, and it got a bit hectic. With the heat and number of people, I found it not a good environment in which to train, and so I became a morning person (for life, I think).
Training BJJ at Fusion
The main reason I started training in Brazilian Jiu-Jitsu at Fusion was because I wanted to make friends in the region. I didn't seem to be making friends through group fitness type classes and had heard BJJ was much more social.
Enough about me. In the process of training at Fusion, I really fell in love with the sport, and came well on my way to decision to dedicate myself to BJJ for the foreseeable future.
The reason I really loved training BJJ at Fusion is simply this: They have a great community, a ton of black belts, many styles of instruction, and a lot of high-level athletes who are very down-to-earth.
Having a gym in a big city is very competitive, so new gyms have to be aggressive with promotions like free trial classes, or even free 7-day class packs like at my first gym, Sassom MMA in Brisbane, Australia.
The result of that at many big city gyms is that classes have a lot of newbies. There are pros and cons to this. The pro is that it's much less intimidating for a newbie. The con is that for those more experienced, you spend a lot more time coaching new people, and hoping they don't kick you in the face (which has happened to me, at another gym I never went back to. RIP front tooth.)
At Fusion, you can do a $50 two-week trial. Yes, it's cheap, but the $50 buy-in means that people have a certain level of dedication to martial arts. So in the three months I was there, in the classes I went to (early morning and some late morning), I was the newest person.
Like many gyms, I found I benefited most from sticking with one coach / class for a period. I got to know the coach and he got to know me and my weaknesses. Similarly, I got to know the other students and we incrementally helped each other develop.
Different coaches had different style.
My coach, Chris East, had a very athletic focus. He'd make sure we were in good physical shape — lots of drills, positional sparring, and rolling.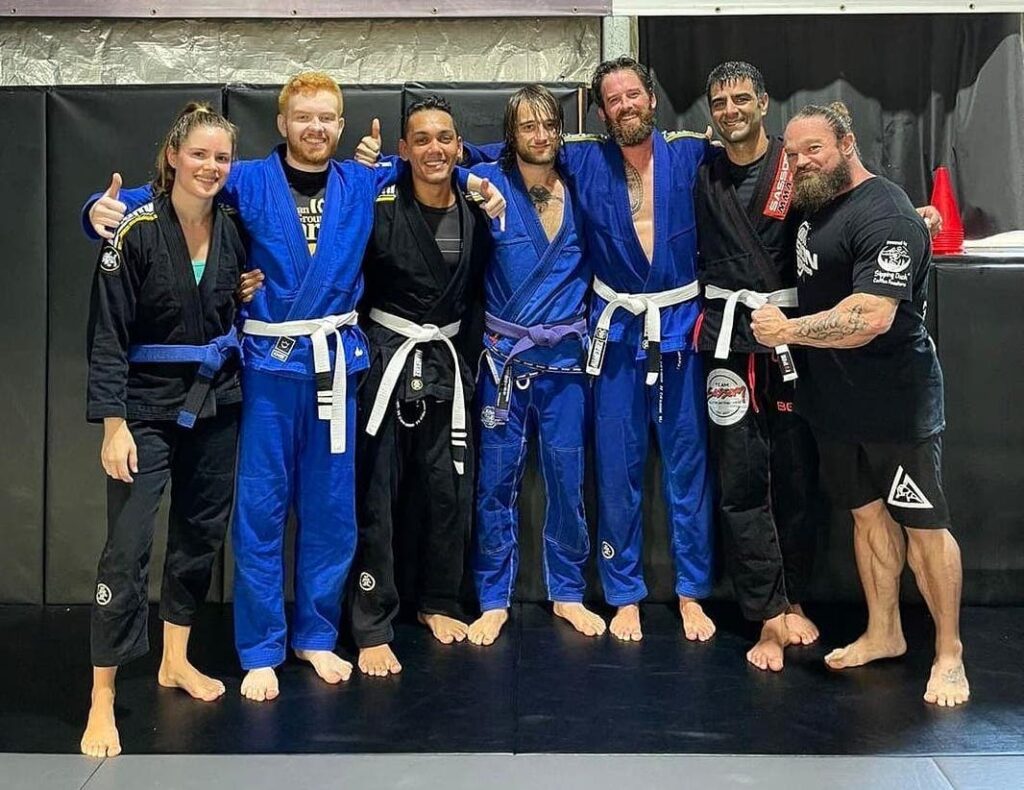 Other coaches had extreme focuses on technique, and would get us to practise one move over and over until it felt familiar.
At the early stages, you can learn something from any style. I liked Chris' style because I'd burn probably over 1000 calories in a session and could eat whatever I want. I was already fit enough so it was never too hard, but others did sit out for parts of it.
Other coaches were at times a little too cerebral for my liking. I liked them, and learned a lot from them, but I didn't feel like I was working hard and could go home and eat ice cream (I know, boo-hoo.) But they only came in as I was leaving — we didn't have a chance to have a conversation about it and adapt to each other's styles.
The final thing I want to mention is that Fusion is low on formality. For example
You don't bow in to the mat.
There's a bow-out, but it's more just a courtesy.
We don't call the coaches "professor". I did call them by first name, but some would prefer "coach".
Nobody talks about lions, sharks, etc.
No bowing to photos (some gyms do this)
There's a bit of oss but just the normal amount.
Australia is generally an informal place, and I think Fusion has this general attitude.
Fusion doesn't have formal Jiu-Jitsu "grading", either. At some point, the coaches decide that you're a blue belt or whatever. But it's formally given to you at a "shark tank" in which you roll continuously with new opponents for a full hour. It's not a grading, just a kind of gentle hazing.
I'm generally into zero formality, and the amount that Fusion has is OK with me.
Training Muay Thai at Fusion
Note: All my experience of Muay Thai at Fusion was under Paul Hosking, who has since gone on to found another studio, Pretty Top Team. If you're interested in Muay Thai or Boxing, they seem to have a great community there.
Muay Thai runs in parallel to BJJ at Fusion. They don't really intermix — students / competitors who do one usually don't do any of the other. The classes often run at the same time, anyway! (Other than in the evenings, but I prefer not to train in the evenings as it's too hot and hectic.)
This is unlike other gyms I've been to where there's one space and the classes may run one after the other. This lets people start off with Jiu-Jitsu and finish with striking, developing both skills, often under the supervision of one coach.
I did around 20 classes of Muay Thai at Fusion. In the end, I found it too time consuming to do a BJJ class, go away, and come back and do Muay Thai. If they were back-to-back, I'd have done more.
The typical class at Muay Thai depended a little on the coach and the phase in which they were teaching.
But typically, it would be something like talking about how to do a specific strike, then doing rounds of combos with those strikes.
In most classes, there's no sparring. If you're a competitor or advanced practitioner, there are sometimes specific sparring sessions. This depends on the instructor of the day.
The Muay Thai class is a little more formal than the BJJ class. Muay Thai is, after all, Thai. Some "traditional" things I've noticed at Fusion in Muay Thai that other gyms may not necessarily have include, for example:
Standing at the end with men on one side, women on the other, and bowing and saying "thank you" in Thai (kob khun krab) at the end.
The classic Thai "energy shout" of "wayy!" or "oh-wayy!!" as you launch a strike. It always adds a kind of playful energy to Muay thai
Calling things by their Thai names, e.g., the different fight styles, or calling a front push a "teep"
This is because many of the coaches and competitors at Fusion (including the head coach at the time) trained a lot in Thailand. Again, this changes as the instructors change.
Another aspect of the non-overlap between Muay Thai and BJJ in Fusion is that the culture is quite different.
I found that the culture of each part of the gym really followed the coach or coaches. The BJJ coaches are tough, and a little cerebral — as BJJ generally is. The Muay Thai crowd was a little more athletic, a bit more aggressive — again, as Muay Thai generally is.
The Fusion Muay Thai team has a lot of competitors. At the time I was there, the head coach (Paul Hosking) had an extensive competitive history. He has now opened his own gym, Pretty Muay Thai, and a lot of the Fusion coaches and students followed him there.
I don't know much about the new coach, but he seems great!
Sum up
There's some other stuff I never experienced in Fusion, like its fitness aspect. There's a coach Dan who takes people through cardio and strength stuff and I never tried it out, mostly because I was taking a break from that and focusing on my new appreciation for martial arts.
I liked my time at Fusion so much I thought "I could really live in Cairns!" Ultimately, I think life has other plans for me, but I remember my time there fondly.
After Fusion, I returned briefly to Sassom (where I started), before heading off to continue training BJJ in the tropical heat of Mauritius, in the Indian ocean, with Académie Jaunbocus Tawfiq (AJT).