Last Updated:
What to wear in Egypt as a woman traveller. A complete packing guide to visiting all of Egypt's most beautiful landmarks while respecting the local culture and feeling comfortable.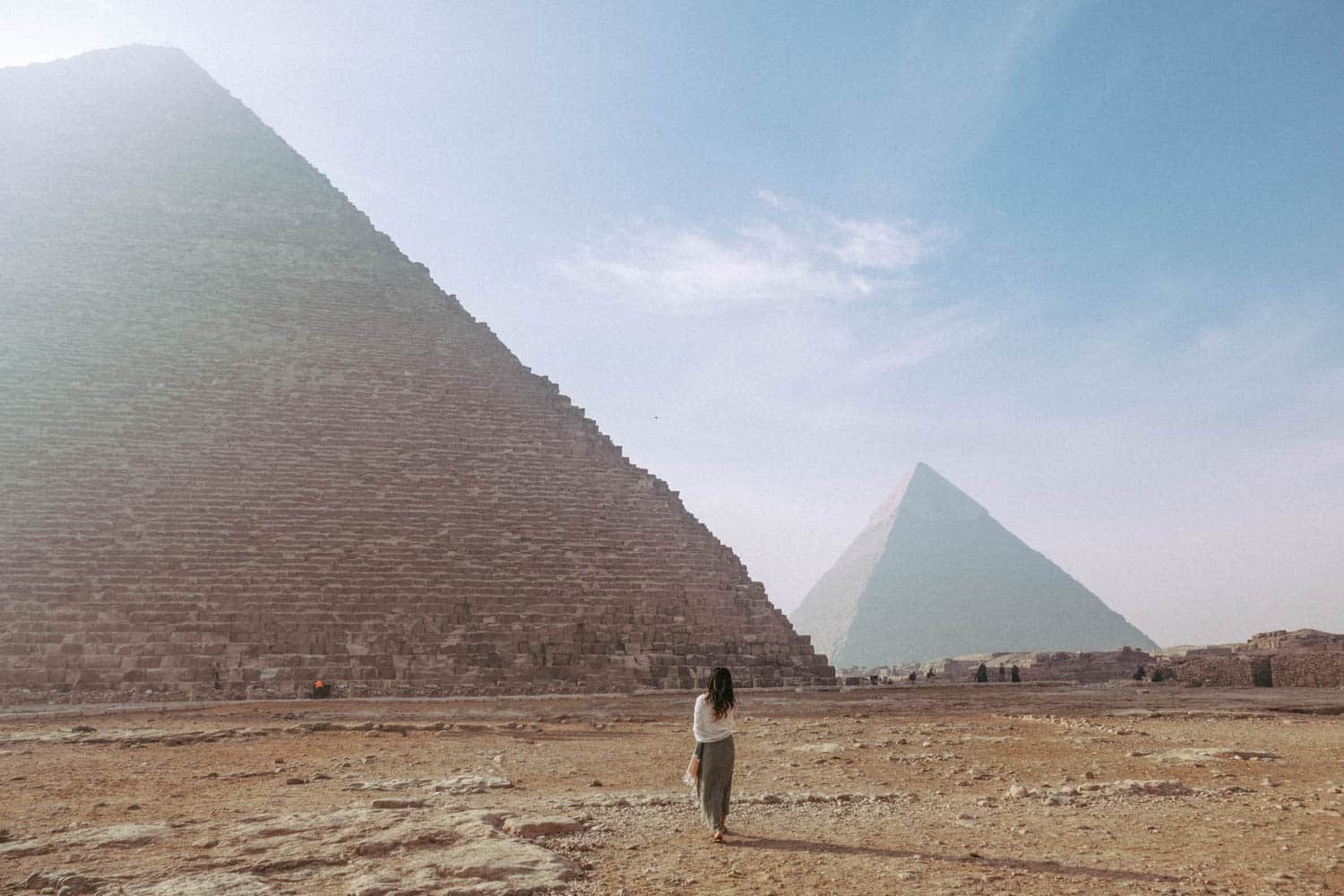 Some posts on this site contain affiliate links, meaning if you book or buy something through one of these links, I may earn a small commission (at no extra cost to you!).
Trying to figure out what to wear as a woman in a Muslim-majority country like Egypt can be tricky. There are unofficial 'dress codes' in Egypt, depending on the city and the region. Wearing something too revealing will not only attract unwanted attention, but it could also offend locals. We try our best to respect local cultures when we travel, and being conscious of clothing choices is one way of showing respect.
During our time living in and traveling around Egypt, I learned that the 'dress code' depends a lot on your environment (city centres, touristy areas, and resorts) and the time of year you'll be traveling. For example, what you would wear in Sharm El Sheikh is drastically different from what you would wear in Cairo.
Certain clothing choices I felt was conservative enough still gave me a lot of stares and unwanted attention. After several weeks in Egypt and a lot of uncomfortable moments, I've finally figured it out. Here's the comprehensive guide on what to wear as a woman traveling to Egypt!
We've also written about what you can expect as a solo woman traveling to Egypt. Read my honest observations and tips here.
Become a Discoverer.
Like this in-depth guide to travel as a woman in Egypt? Join Discover Discomfort for more.
What to wear in Egypt – Weather Tips
The first thing to keep in mind before deciding what to wear is the time of year you'll be visiting. We arrived in Cairo in January and found it to be surprisingly chilly with temps ranging from 45°F – 65°F. I debated whether I should bring my down jacket, but was glad I did.
The best times to visit Egypt is fall or spring. The weather is cooler and it's just in between the heavy tourist months of December and January. Plan to pack light, breezy fabrics such as cotton and linen are ideal. It's also a good idea to bring a jacket and layer as it can get chilly in the evenings.
Winter is also a great time to visit, but since it is peak tourist season, prices are higher and landmarks will be more crowded. It's colder than in the Fall and Spring and certain areas will experience rain. Layering is advised, and you should also have a warm sweater. As I mentioned, I found Cairo in the winter to be quite cold. I often wore leggings under my skirts and wore long sleeve shirts and a jacket.
On the other extreme, traveling to Egypt in the summer can be hot, uncomfortably hot. Average temps are 95°F and it gets even warmer in Upper Egypt (Luxor and Aswan). If you are traveling around this time, breathable, light fabrics will be essential.
Note on Ramadan: Be sure to check dates for Ramadan. During this period, landmarks and sites will be closed earlier and it will be difficult to find places to eat that are open during the day.
What to wear in city centers – Dress conservatively
The most important observation regarding what to wear in Egypt was that the higher the local to tourist ratio, the more conservative you'll need to dress. This means that in big cities like Cairo and Alexandria, where the majority of the population is Egyptian, you'll need to dress more conservatively. I would also include the city centres in Aswan and Luxor. While you can dress a little freer in the tourist sites, you should be more conscious about your attire and be covered when you're in a local area such as a restaurant or market.
Check out our Cairo guide, for tips on the best things to do in the city.
Key things to keep in mind about the 'dress code' in the city:
Cover your shoulders and wear skirts past the knees.
Avoid tight-fitting clothing, clothing that is too revealing (esp cleavage), and shorts.
Short sleeve t-shirts are fine. Skinny jeans are ok as well. I saw many Egyptian women wearing these.
You won't offend anyone if you don't cover your hair, but this will take attention away from you.
As far as shoes, I'd advise wearing close-toed shoes. The streets are dusty, many parts of the city have a lot of trash and there are sometimes questionable wet puddles. When I went sightseeing and took photos, I would usually wear walking shoes and pack sandals to change into when it was time to take photos.
Recommended packing clothes:
Maxi Dresses
Maxi Skirts
Cardigans
Scarves
Loose Jumpsuits
Shop similar looks:
What to wear at historical sites – Less conservative, but mindful
In popular tourist destinations like the Pyramids, Karnak Temple, the Valley of the Kings and Karnak in Luxor, the majority of the population is tourists, so the dress code is more relaxed. Tank tops are acceptable, especially during the summer. However, I'd still recommend carrying a scarf with you in the temples, sticking to longer skirts and avoiding short shorts. You'll still attract unwanted attention. Locals will also feel uncomfortable and you may possibly offend them if wearing something too short even in these heavy tourist locations.
For footwear, it depends on how much walking you'll be doing and your comfort level. I had extremely comfortable sandals that were broken in so I ended up wearing those on the majority of my sight-seeing trips. The historical sites are cleaner, so I didn't feel the need to wear close toed shoes. But keep in mind that Egypt is very sandy, so you should wear shoes you don't mind getting dirty, or are easy to clean.
Check out our Luxor Guide to see the best temples in Egypt
Recommended Sandals
I swear by these Teva sandals! They are seriously most comfortable sandals I've ever worn. I was so thankful to have them after the thousands of steps I put in walking around Egypt.
Recommended packing clothes (similar items as above, but you can swap out a cardigan for a scarf).
Maxi Dresses
Maxi Skirts
Scarves
Loose Jumpsuits
Sandals
Shop similar looks:
What to wear in beach towns and resorts – Whatever you feel comfortable in!
Beach Towns and Resort areas like Dahab, Hurghada, and Sharm El Sheik are predominantly inhabited by tourists and ex-pats, so you can dress in whatever you like, especially when you are in hotel or resort areas. We spent a lot of time in Dahab, and it was common to see women in shorts, crop tops, tank tops. For swimwear, bikinis are very common. When you leave the resort to go into town, you should cover up a bit more, but wearing shorts is acceptable.
Recommended packing clothes