Visit Petra without a Tour – A Comprehensive Guide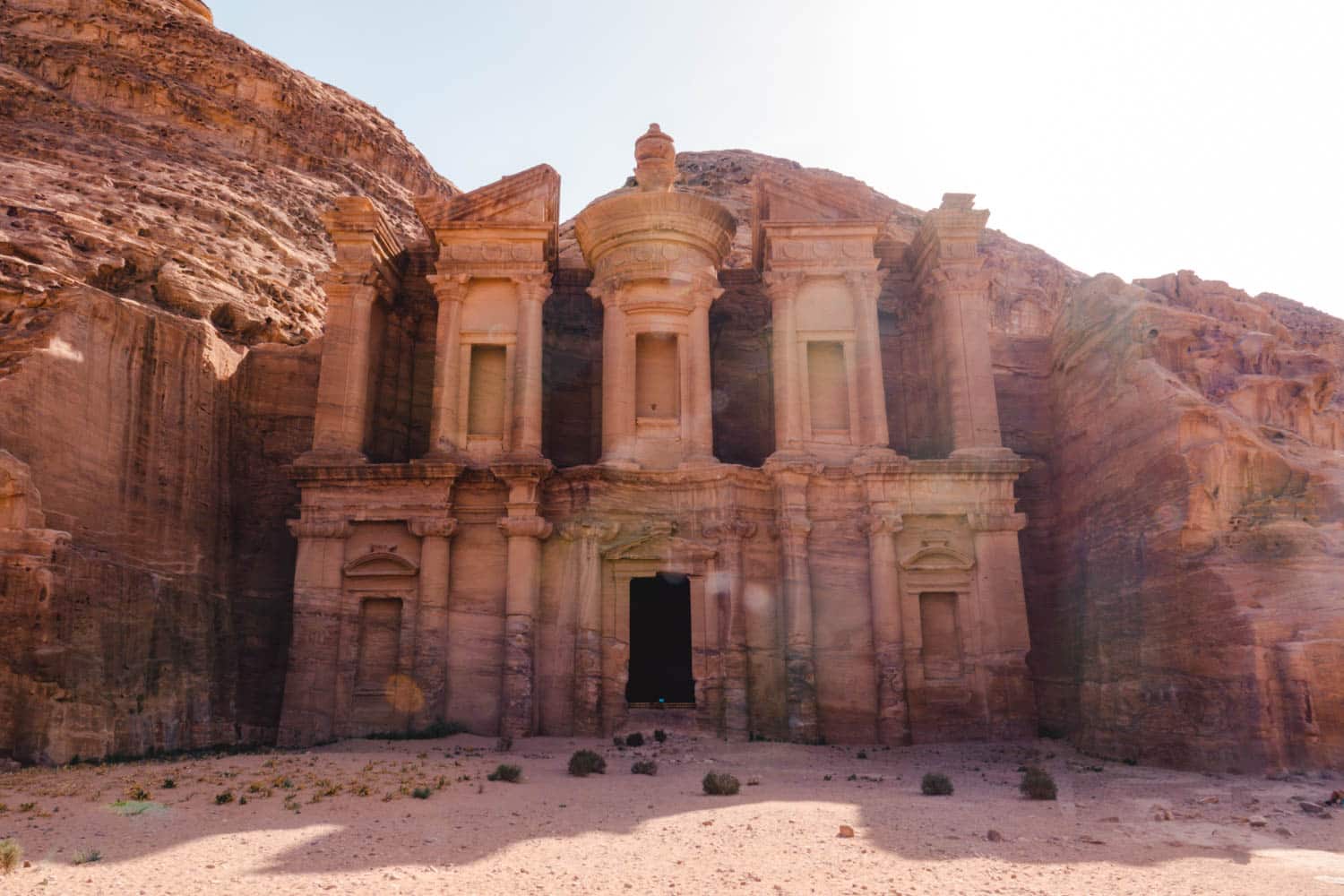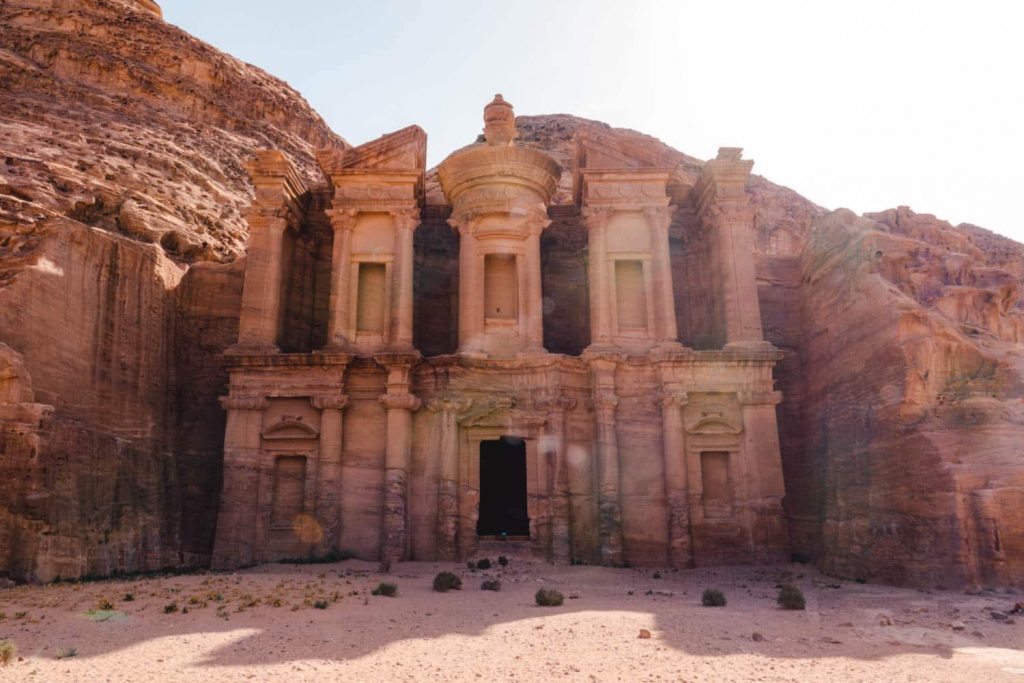 If you're a fan of archaeology, then visiting Petra in Jordan should be your #2 priority in visiting the Middle East. (After Luxor in Egypt!)
Few places have so many thousands of years of history, are so well-preserved, and are still continuously inhabited by locals.
This is our guide for getting the best out of Petra without paying for a sometimes expensive (and annoying, if you don't pick the right one) guide. We stayed for months in the Middle East learning Arabic and definitely will be back to learn more kinds of Arabic.
And if you really want a guide — we've got a great recommendation. All the sites, all the fun, none of the hard selling.
This post may contain Affiliate links. We earn a commission (at no cost to you) if you make a purchase. We would never recommend anything we don't personally love, and the income goes to keeping this site updated and free for everyone.
In this guide…
A brief history of Petra
What sites you must visit in Petra
What to wear in Petra (particularly as a woman) to respect local customs
How to get to Petra (either self-guided, or with a tour operator)
Petra entrance fees (and how to save on fees with a pass)
How much time you need to see Petra (stay more than a day!)
---
Want more guides on cultural immersion, language learning, and travel? Sign up to our email list. "Only good things, never bad things", that's our work-in-progress motto.
---
History of Petra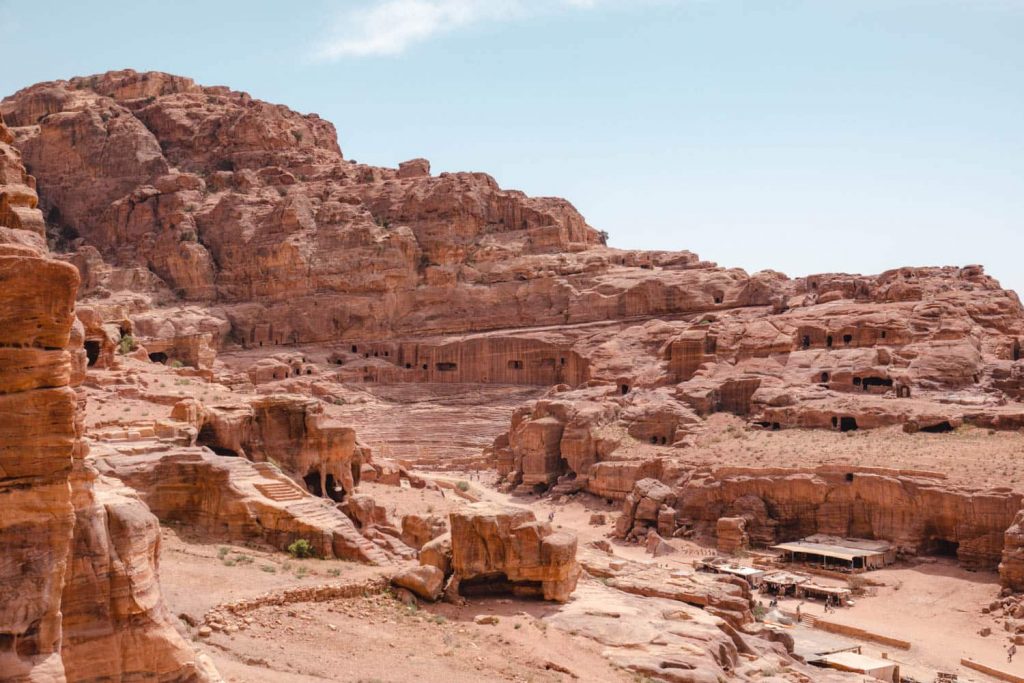 Petra is often called the Rose City. When you visit this UNESCO Heritage Site, or see photos, you quickly realize how it got this name. The city is carved into smooth red and pink sandstone cliffs that subtly change colors throughout the day.
The other nickname I was fascinated by was "The Lost City of Petra". How did it get this mystical name?
Petra was built by the Nabataens, a nomadic Arab tribe, who lived in this area over two thousand years ago. Because of it's ideal location to trading routes, it was once a major trading hub and thrived in the first century BC. It enjoyed independence for 200 years until the Roman Empire took control over it. It was later taken over by the Byzantine Empire and the city slowly fell into obscurity. Over the years, Petra became something of a myth and legend to the West, until in 1812 it was finally rediscovered by geographer Johann Ludwig Burckhardt. He was the first European to visit Petra.
According to archeologists, only about 15% of the city has been uncovered with 85% still being underground. It's believed that Petra is far larger than is visible today.
What Sites to visit in Petra
Before coming to Petra, I had no idea how huge it was. I was pleasantly surprised that Petra is so much more than the Treasury! At the same time, it made me feel pretty overwhelmed with so many options as we only had two days, but wanted to see as much as we could. These are the sites that you absolutely can't miss.
The Siq
The Treasury
The Monastery
The Royal Tombs
For an in depth guide on each of the hikes, check out our Petra Hiking Guide.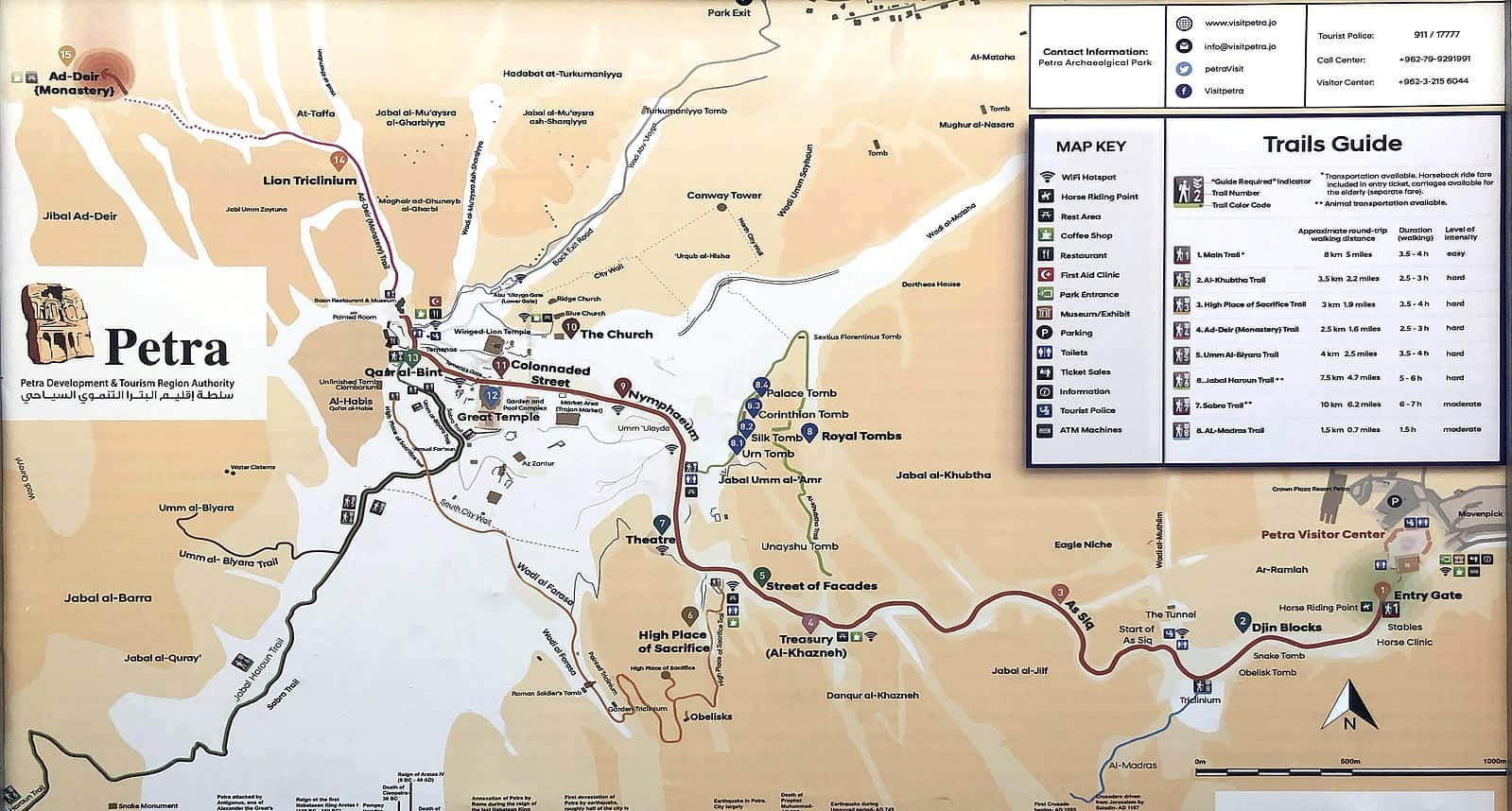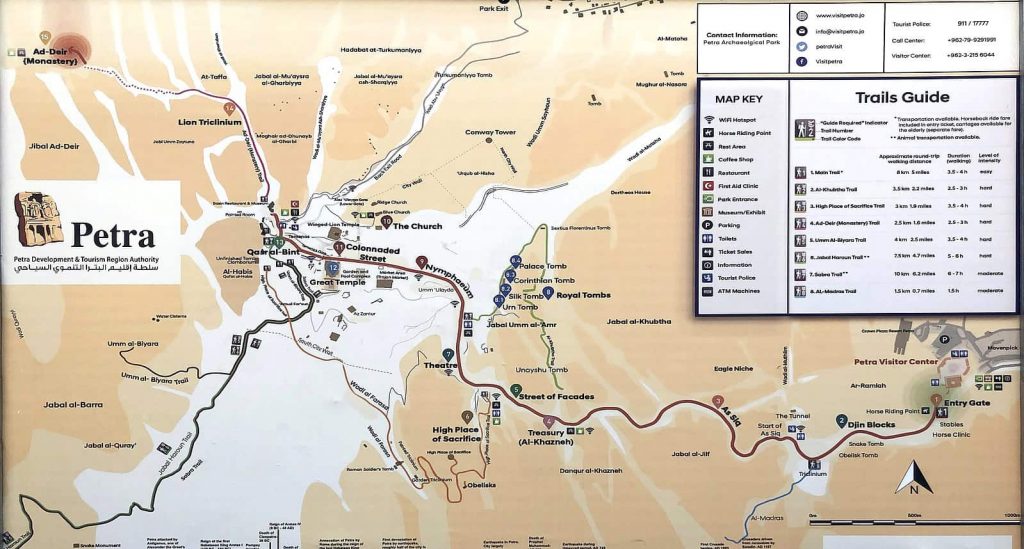 The Siq (Al-Siq)
The Siq trail in Petra

The Siq trail in Petra
Fortunately, you quite literally can't miss the Siq, the trail that is the only way to get into the main archaeological sites of Petra. The Siq is a narrow, winding, natural canyon of beautiful layered rock. It reminded me quite a bit of some of the desert landscapes in the United States Southwest, but it was grandiosity made it very unique.
The Treasury (Al-Khazneh)
The Treasury in Petra

The Treasury in Petra
Immediately after the Siq, you'll reach the Treasury. Walking through the winding corners of the Siq, you'll be filled with suspense, wondering if the next corner will be the one to reveal the Treasury. The Treasury is often what people picture when they think of Petra.
Why is it called "The Treasury"? Simple: because it looks like a modern-day treasury building. In reality, we don't know what the purpose of the site was, and the purpose of the Treasury is still debated today. There is some evidence it may have been a memorial for royalty or a temple.
There are two viewpoints of the Treasury:
Al-Khubtha Trail – This trail is about 2-3 hours round trip and can be done independently. There is no charge.
Guided ascent from the Treasury – This is about 30 minute round trip hike and is a bit of a precarious hike. You will need a Bedouin guide to take you. The cost depends on your negotiation skills, but it should be around 20 JD (30 USD).
The Monastery (Ad Deir)
The Monastery in Petra, image one

The Monastery in Petra, image two
The other jewel of Petra is the Monastery. It was called the Monastery because there are crosses carved inside, which signals that it may have functioned as a church in Byzantine times. The carved facade is similar to that of the Treasury, but it is larger in both width and height. It's much more difficult to get to than the Treasury. The hike involves about 800 steps to reach, but it's absolutely worth the effort. The Monastery can be reached by following the Main Trail then taking the Ad-Deir Trail. It takes about 5 hours round trip.
Alternatively, if you're not much of a walker, you can hire a taxi to drive you to the back entrance. From there, it's about a 30-45 minute walk to the Monastery.
The Royal Tombs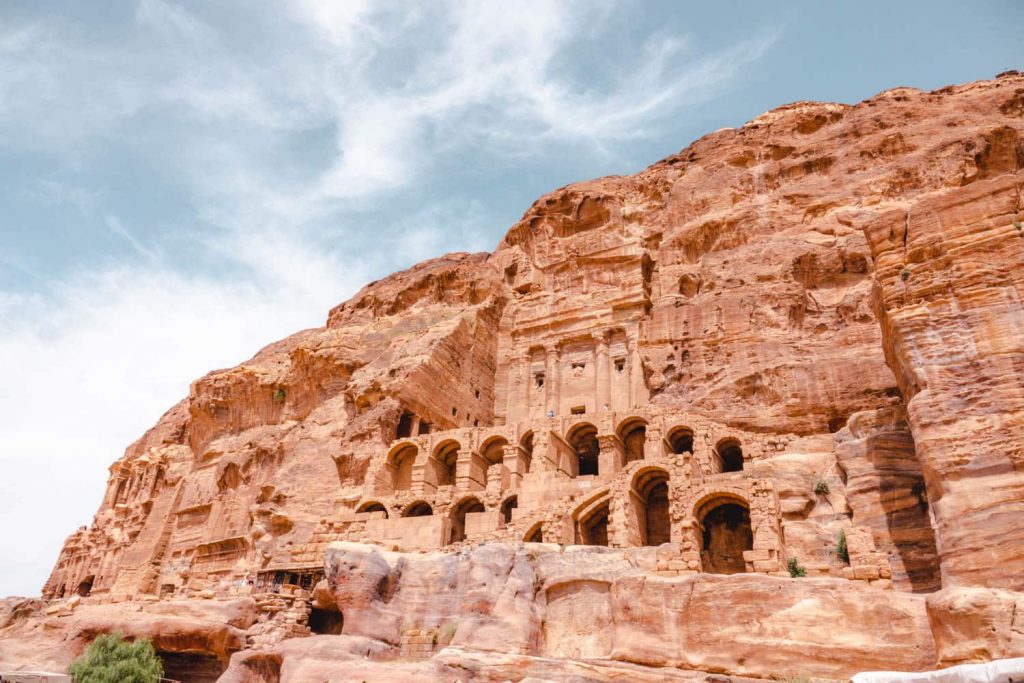 The Royal Tombs were perhaps one of my favorite sites. I hadn't read about or seen many photos of them before visiting and was completely blown away by the scale. There are four tombs that make up the Royal Tombs. They are the Urn Tomb, the Corinthian Tomb, the Silk Tomb, and the Corinthian Tomb. . The Royal Tombs can be found on the Al-Khubtha Trail.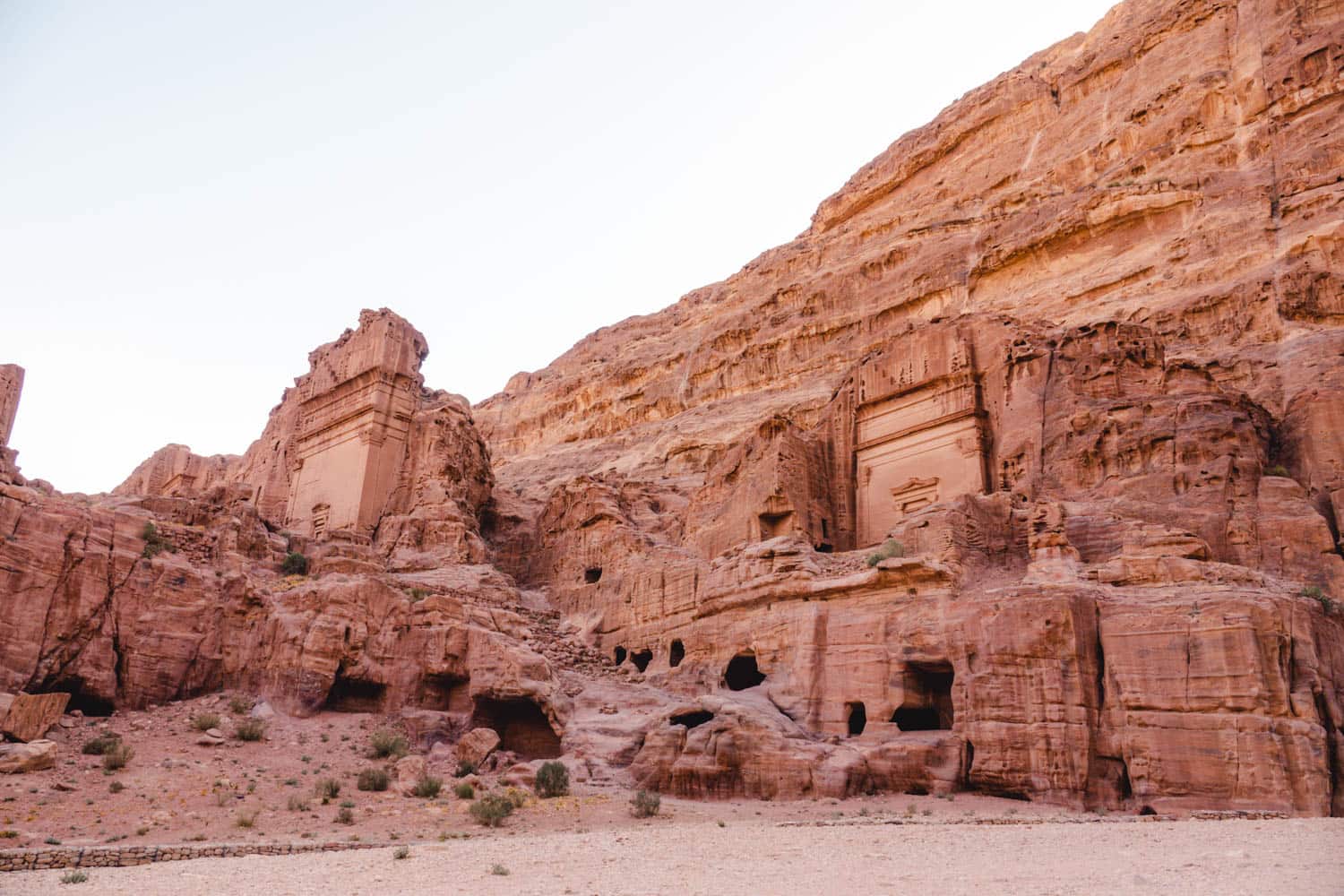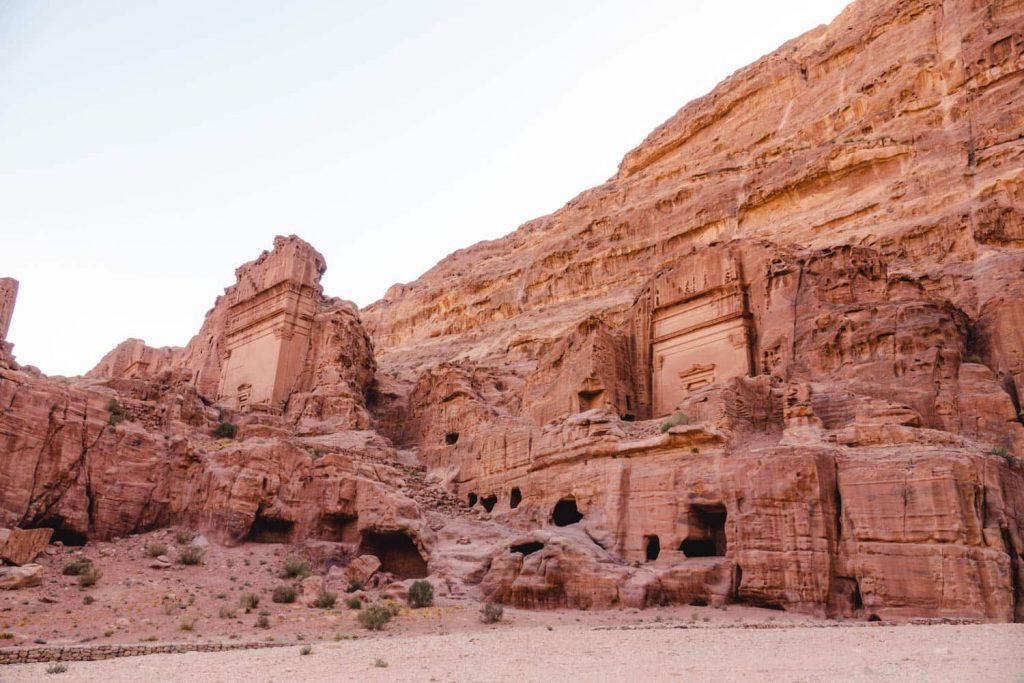 How to get to Petra
You have a number of options to get to Petra, depending on where you're coming from.
The easiest way to get to Petra… get a guide!
You definitely don't need a tour operator to get to Petra, and that's what we're trying to show here. But if you're coming from a neighboring country, logistics and visas can get complicated. In this case, taking a tour is the most straightforward way of visiting Petra. And our favorite tour operator is Get Your Guide.
If you're in a country near Jordan, Get Your Guide has a relationships with Jordan's Tourism Board, and will be able to coordinate visas and logistics.
Dana and I try to travel independently as much as possible to save on costs. Fortunately, we found travel within Jordan to be quite simple.
The two most popular places to travel to Petra from is Amman and Aqaba.
How to get to Petra from Amman
Travel by Bus: We found Jordan's Jett bus to be extremely pleasant. They pick you up in Amman and drop you off right at the Visitor Center in Petra. Busses leave once a day at 6:30am and takes 4-5 hours to reach Petra. A round trip ticket costs Jett 22 JD ($32 USD). The return bus is at 4pm every day. I would recommend buying tickets online, as same day tickets aren't guaranteed especially during high season.
Rent a Car: If you need more flexibility or are traveling in a small group, the other option is renting a car. Car rentals start from $30 USD per day. Depending on the number of days you're traveling, splitting the cost could be more cost effective option. This is also the better choice if you're planning on going to Wadi Rum, as the Jett does not go there. Traveling to Petra by car takes about 3 hours.
How to get to Petra from Aqaba
Travel by Bus: Unfortunately there is no longer Jett service from Aqaba to Petra, but there are local minibuses that go there. It is not as luxurious as Jett, but it a lot more affordable and costs 3 JD. The bus leaves from the public bus station at the market in the center of town. It takes about 3 hours to get to Petra by bus.
Rent a Car: The Car rental situation in Amman is similar to rental options in Aqaba. Car rentals start from $30 USD per day. The drive from Aqaba to Petra is about 1.5 hours.
Take a Taxi: The distance from Aqaba to Petra is much shorter, so taking a taxi might be worth it. A one way trip from Aqaba to Petra should be about 40 JD ($56 USD).
What is the Petra Entrance Fee?
The entrance fee structure is designed to incentivize you to stay more than one day at Petra. The cost to stay one day is 50 JD (~$70 USD), and the prices increase 5 JD with every additional day. See table below:
| | | |
| --- | --- | --- |
| # of Days | Total Cost | Price per Day |
| One Day | 50 JD ($70 USD) | 50 JD ($70 USD) |
| Two Days | 55 JD ($78 USD) | 27.5 JD ($39 USD) |
| Three Days | 60 JD ($85 USD) | 20 JD ($29 USD) |
The office accepts both cash and credit card. You should also have your ID with you. We were not asked for ours, but our hotel recommended we take it.
If you know you're going to be visiting a lot of other attractions in Jordan or staying less than 3 days in Jordan, I'd recommend buying a Jordan Pass before arriving to Jordan. Buying the pass gives you access to all of the major Jordan attractions such as the Amman Citadel, Petra, and Wadi Rum. I specifically stress BEFORE arriving to Jordan because the Jordan Pass also covers the cost of your visa and it needs to be purchased before getting into the country.
If you're staying less than 3 nights in Jordan and visiting Petra, you should definitely buy the Jordan pass because you'll save 20 JD. The example below is for a 1 day Petra Entrance fee.
| | |
| --- | --- |
| Visa cost for staying less than 3 nights | 40 JD |
| One day Petra entrance fee | 50 JD |
Total fees WITHOUT Jordan Pass: 90 JD
Cost of Jordan Wanderer Pass: 70 JD
If you stay more than 3 nights, then the cost of the Visa is only 10 JD and decision to buy the pass will depend on the number of other attractions you'll visit.
What to wear in Petra
Something to keep in mind is that Jordan is a conservative country and the Bedouins who live there are Muslim. At the same time, Petra is HOT! We were there in Spring, which is much cooler than Summer, but we still felt like we were melting. It was around 85°F (30°C), but the desert sun makes it feel like it's 100°F. The dress code in Petra for women is not as strict as most places in Jordan, but it's still important to be respectful of local customs. This means avoiding booty shorts and short skirts.
To keep cool and still be appropriate, you should have breezy and loose fabrics. I wore a tank top, but covered up with a light-weight scarf which had the added benefit of shielding me from the sun. It seemed like longer shorts are OK.
Since you'll be walking all day, make sure to bring comfortable shoes and that they're worn in.
Walking shoe recommendations for women: Teva Sandals | Merrell Hiking Shoe
Walking shoe recommendation for men: Keen Hiking Shoe
Where to stay in Petra
Because of the allure of Petra, several hotels have popped up to fill the rising demand. We were glad we chose a hotel that was very close to the Visitor Center. After hours of hiking, every step back to the hotel feels heavier and heavier, so proximity was key!
There are also several hotel options that are a short drive from the Visitor Center, but as we didn't have a car and didn't want to pay for a taxi every time, we opted to choose a hotel that was in walking distance.
The following recommendations are ideal if you'll be hiking all day and don't have your own vehicle.
Budget
My Home Petra: This hotel is a 15 minute walk from the Visitor Center, and one of the cheaper options in Petra. Breakfast is also included! They also have an option to pack a box lunch, which is helpful as they don't sell any food in Petra.
Midrange
Esperanza Petra: Esperanza is only a 5 minute walk from the Visitor Center. It also includes a great breakfast that was really filling. I was thankful that they started the breakfast as early as 5:00 am to accommodate people who wanted to get to Petra before the crowds (but check! it may vary by time of year). There's a great buffet restaurant and a corner store too next door.
Luxury
Movenpick Resort Petra: The resort is in one of the most ideal locations, just outside the Visitor Center. Like many beautiful strategically located Movenpick resorts, it's beautiful and well-equipped. Here you have just about anything you might need after a big hike — like an outdoor pool!
How many days do you need in Petra
Because Petra is so large, you could really spend days hiking and exploring. If you're just interested in seeing the main sites (the Treasury and the Monastery), you can easily do that in a day.
If you want to see some of the incredible Treasury view points as well as the Monastery, I'd recommend staying at least two days. The hikes can be exhausting and it may be too tiring to pack into one day.
If you stay two days or more, you'll also have some time to explore some lesser known areas other than the main archaeological sites. Personally, these discoveries were the highlights! Like every tourist shop will constantly remind you, you'll get to feel like Indiana Jones.
---
Got any more questions? Drop a comment below or contact us and we'll add your question and answer here.