Complete Guide to Buying a 4×4 Ute and Camper in Australia
Buying a 4×4 ute and camper to do the "Lap of Australia" that lets you go off the beaten path — our complete guide to what you need, specs, and models, plus what to avoid.
Over the last few weeks we've been researching heavily what 4×4 camper set up to buy so we can travel around Australia, with the goal of seeing a lot of nature and also visiting local Aboriginal communities (when travel there is permitted) as part of "Going Home".
A lot of people travel around Australia doing the "vanlife" thing in a standard van, like the venerable Toyota Hiace.
The problem with using a van — or indeed most vehicles — is that they're two-wheel drive only. Using a 2WD vehicle does let you do the lap of Australia but will not let you go onto many of the lumpy and sometimes muddy roads. For that, you need a 4WD (or 4×4, whatever you want to call it).
What we ruled out
We can't tow a caravan. Caravans are comfortable and good for families. But if you're towing a caravan it means you won't be able to enter some of the more remote regions in Cape York or Arnhem land.
We don't want to tow a camper trailer. There are some really slick camper trailers out there that are 4×4 ready — rugged and ready for going off-road. But it gets tiresome setting up camp every day for months. Those are better suited for two-four week trips.
For this reason, we began to target slide-on campers that go on top of a utility tray.
But the question of "what 4×4 ute to buy" if you're trying to travel economically is a difficult one. Which models are reliable? Which have all the features you want? Which ones are the easiest to repair in a pinch? That's everything we set out to find out
Note: We're learning as we're going along. We have more to learn! This is based on extended research and talking to owners and mechanics, but it's ongoing. If you have anything to add, please tell us.
What features do you want in a 4×4 ute?
To travel around Australia means going over long boring straights as well as winding dirt roads and sometimes muddy 4×4 tracks. There also are occasional river crossings where you can't get out of your car because of crocodiles.
It gets hot and humid, and at times cold and damp.
Understanding these conditions, here's what we realised are the key features we'd want in a 4×4 ute we'd use for camping.
A single-cab or extra-cab chassis/utility. These come in many names — sometimes it's a single-cab chassis, sometimes it's an extra-cab ute. A single cab means there are just seats for the driver and passenger (and a bit in the middle). Extra cab gives a tiny bench seat behind, suitable for storage, small children, or a dog. Dual cab is more suitable for a family or if you are towing a trailer (which we ruled out).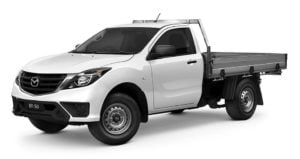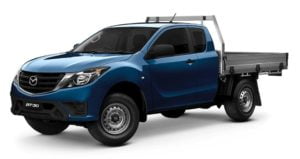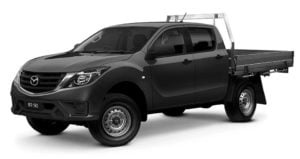 A cab chassis build (with a tray), not a pickup. A cab chassis has a bare back or a worker's tray on it. A pickup has a tub and that would be redundant for most cases. If you're towing a caravan or will make do with a smaller camper, then a pickup would be fine… it's just not ideal.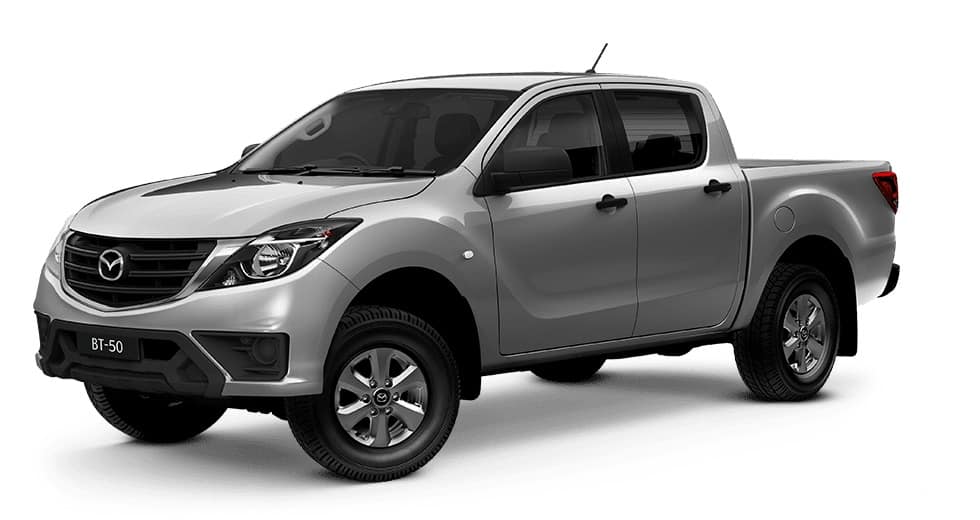 Air conditioning. It gets hot up north in the dry season and hot down south in summer. Working, reliable A/C is a must-have.
Cruise control. Having cruise control has lots of benefits. It lets you keep an unwieldy vehicle at a decent speed. It reduces fatigue because you have one less thing to monitor. And it will avoid you getting speeding tickets — speeding cameras and police in Australia are very aggressive.
Four-wheel drive (4WD, AWD). You absolutely need this, this is what this article is about!
Diesel fuel. Diesel is more economical and environmentally friendly, and diesel engines are more torquey (can pull more load). Most of the 4WD utes are diesel anyway.
Manual transmission. Manual is less likely to fail, cheaper to repair, is about 10% more economical, and isn't hard to learn to drive. (Fuel economy isn't just about dollars — if we're towing a home around, it behoves us to try to be environmentally friendly where we can.)
High GVM (Gross Vehicle Weight): You'll hear a lot of specs including tare weight, dry weight, and GVM. You basically need a 4×4 ute that has high enough GVM to carry passengers and a fully-loaded slide-on camper and anything else that sits on the back (e.g. a motorcycle).
Semi off-road tyres. You'll need these to get through mud. (You can fit these afterwards).
A bull bar (called a "roo bar" in Australia). You might hit an animal. Tragic, but don't let it strand you. (You can fit these afterwards)
In America, these kinds of vehicles are called "trucks". In Australia, they're called "utes" which is short for "utility vehicles".
Caution: you don't just want any ute. See below on "what to avoid".
What to Watch For When Buying a Used 4×4 Ute
I'll do a bigger post on "what to look out for when buying a 4×4 ute" later. But here's a start.
This is a big question as a lot can go wrong with them! And it's a bit different to buying any old car because a ding or two doesn't matter, but bad suspension or drivetrain can kill a deal.
Unless you're experienced at buying used work vehicles, get a professional inspection done. A competent inspector will take a good hour to do a thorough job and will cost about $100-150.
It's well worth it because they'll help you avoid buying a total lemon, and with a decent purchase, they'll help you negotiate down the price — saving a lot more than $150 in the process.
I personally know one person who'll help me inspect any 4×4 ute I buy in the Sunshine Coast area, but I suggest you contact mechanics that specialise in safety certificates (or "roadworthy certificates") and ask if they'll also do full inspections. They have to be licensed mechanics to do either.
Just a few things that you might get on a motorcycle that passes a safety certificate but which wouldn't pass a pre-purchase inspection:
Bad clutch — you'd only see this from driving it. It'll slip in high gear that you don't notice in low gear.
Warped discs — you'd only notice this from driving it and braking. The safety certificate test just checks that there's enough pad left on the brakes
Old tyres – the safety certificate test just measures tread depth. But if the tyres are 10 years old (from disuse) then you might be stuck with a bad tyre in the middle of nowhere. (here's a quick guide I wrote on my other blog on reading tyre codes)
Dodgy charging system — if it starts, it'll pass the safety certificate test. But if the alternator is shot or the battery is old
Faulty ABS unit (hard to test)
Faulty air conditioner, cruise control, other engine parts (you might think it's fine but it may not be!)
There are a few things to check for:
High mileage. The question of "how many kilometres is too many?" is a big one. In general, you should aim for less than 125,000 km.* The simple reason for this is that you can put 25-50,000 km on the truck, and as long as you keep it in good condition, you'll be able to sell it without too many issues.
Rust. Many 4×4 vehicles are taken to places like Phillip Island and other places where they'll get splashed with salt water. Saltwater that isn't washed off will cause rust.
No service history. Trucks can last forever if they're served well. Unfortunately, they might not be. Make sure you know the scheduled maintenance intervals and what's necessary, including changing the alternator and timing belt recently. If your alternator belt goes in the middle of nowhere, you get no charge. And if your timing belt dies, you break your engine.
* Note: Consistent service is at times more important than mileage. But I consider mileage as kind of a "vanity metric" — it's important when you're selling it.
What models 4×4 ute should you get for a slide-on camper?
There are a few models of 4×4 ute that fit the bill. Here they are.
Because you can't get some features in every year, I've done a bit of research to see what years you should buy.
Toyota Hilux 4×4 7th Gen, 2009-2014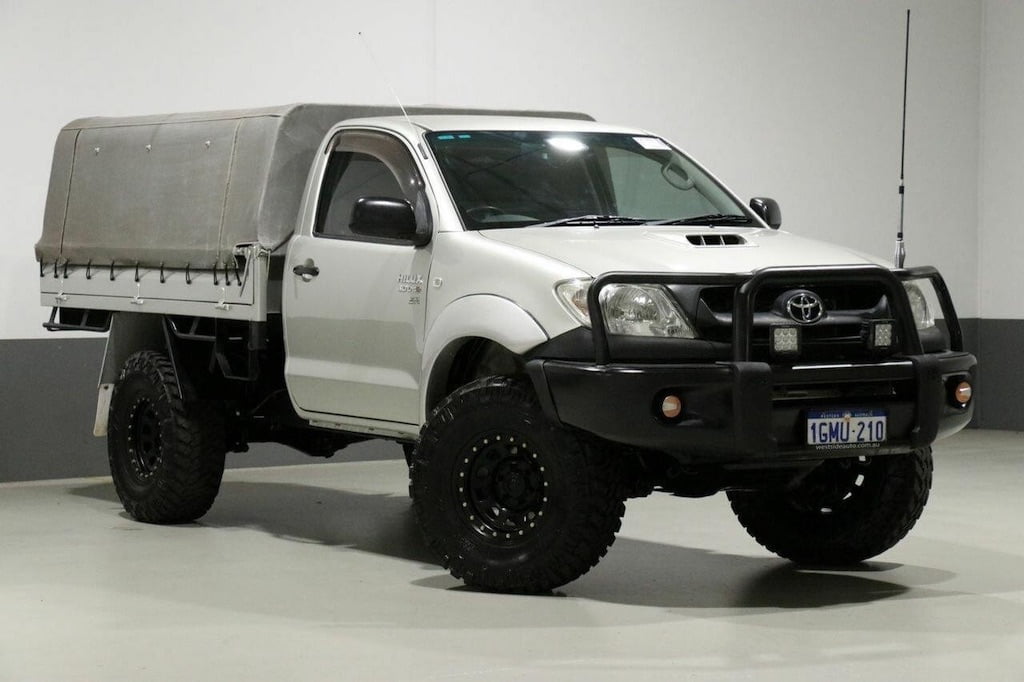 The best — and still vaguely affordable — 4×4 ute you can get for towing a camper (or putting on a slide-on camper) is the Hilux.
You can also get a much more expensive Landcruiser in utility format but it'll cost a lot more.
The 7th generation Hilux stayed fundamentally the same internally since 2004, which means you can pick up an older model (with reasonable kilometres) and be sure to find the engine parts as needed. However, like other vehicles in this guide, get a 2009+ manual Hilux so that you can get cruise control.
You can, of course, get a 2014+ 8th generation, but it'll cost you a lot more and the depreciation will be higher.
Toyotas carry what one mechanic told me is the "Toyota Premium". Yes, they're a high-quality vehicle that rarely breaks down, and is easy to repair with many affordable parts, and for that people end up paying more.
On the plus side, a Hilux 4×4 ute is going to hold its value well. If you buy one that has done 100,000 km, then put 25,000 km on it, you'll likely sell it for not far from the same price — provided you service and clean it regularly.
For a 2010-12 model with under 150,000 km and the features you want, you can expect to pay $25-30,000.
Mitsubishi Triton 2009-2014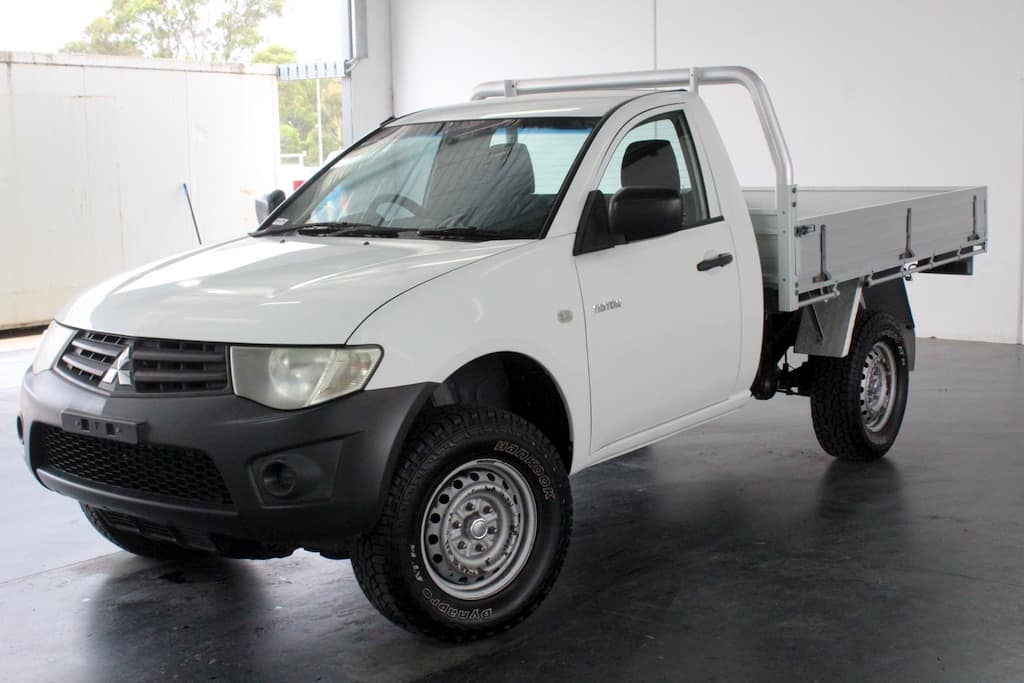 This KA/KB from 2005 model was the same in this year range, similar to the Toyota Hilux. But it was only in 2009 that cruise control became available.
Mechanics like the Triton because it's a reliable machine for which it's easy to find parts and is easy to repair (when needed), but which doesn't carry the "Toyota Premium".
For a good example with the features needed for long-distance travel, you'll spend around A$18-20,000.
Mitsubishi released an all-new Triton in 2015, which means the prices for those are higher. But the 2009-2014 range is still great and has a plethora of parts available.
Mazda BT-50 2011-2019+ OR Ford Ranger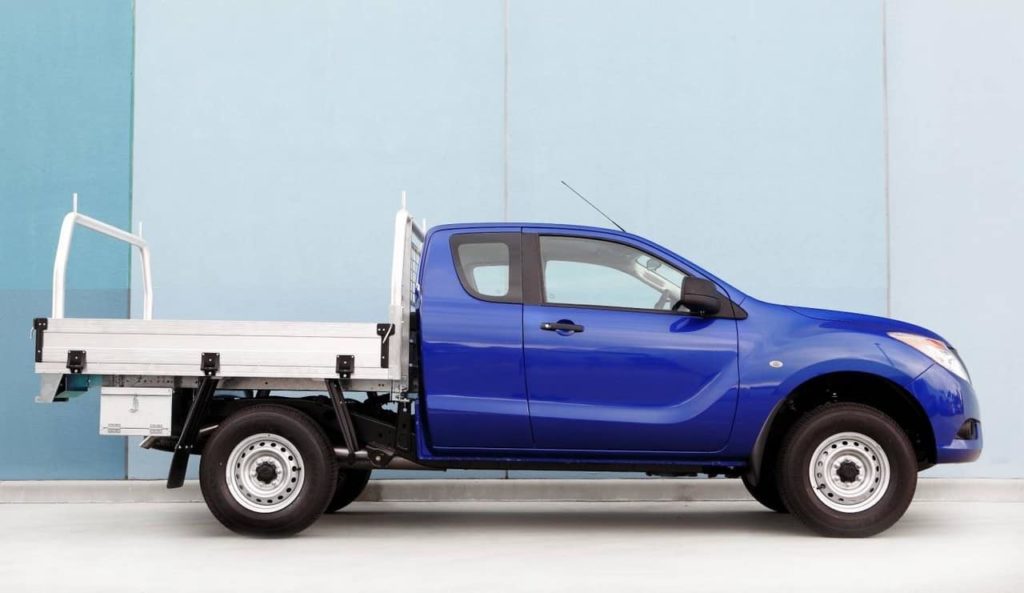 It was only from 2011+ that the Mazda BT-50 got cruise control, so that's the first year which it became a real option for us.
According to Wikipedia, the second-generation BT-50 (the years mentioned, from 2011 to 2019) is actually a rebadge of a Ford Ranger. Externally, they're a bit different, but fundamentally they're the same car — and they even share a few exterior panels. That's a good thing, because it means it's supported by a wide dealer network in Australia. So, even more places to get parts, and more mechanics who're comfortable with working on it.
I'd recommend buying a 2011-2015 model BT-50. In 2016 they got a facelift and some interior modifications which made them more expensive. If you buy a 2011 model you get all the engine features of the later models, which means it's easy to find parts and get it serviced.
Similar to the Triton, for a used 2011+ BT-50 with around 100,000 km you'll spend around $18-20,000.
Isuzu D-Max 2009+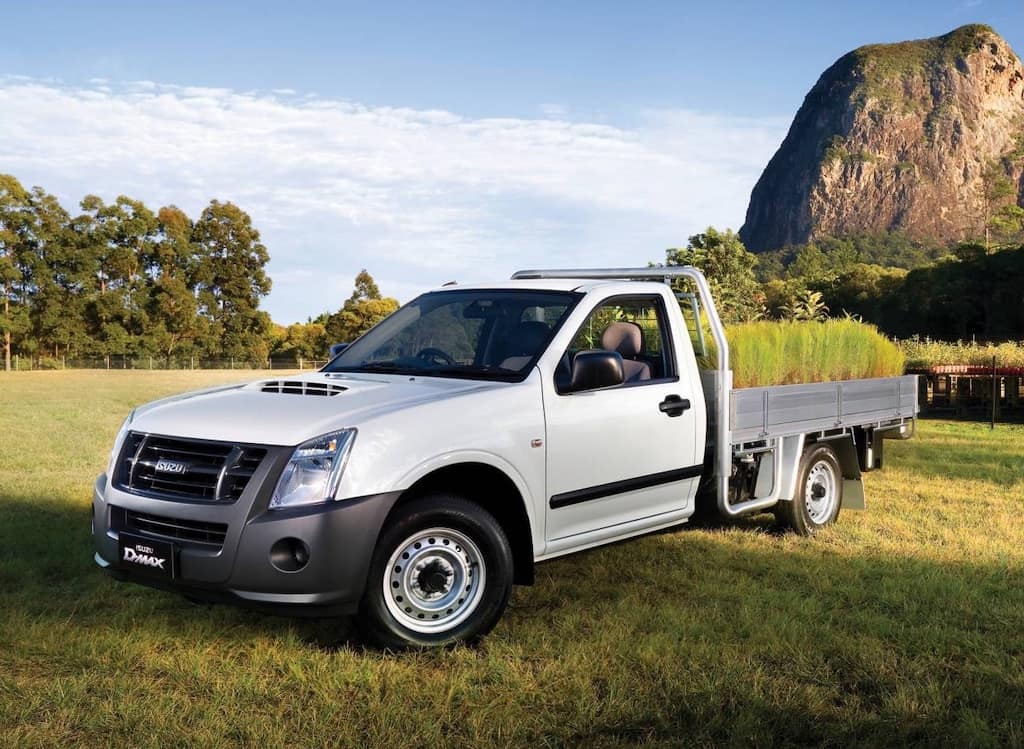 The fourth and final option for a 4×4 ute suitable for going off-road is the Isuzu D-Max. I'm partial to this one because secretly, I want you to call me D-Max (this is just a check to see if my friends are reading this…)
You need 2009+ to get cruise control, although it's rare to find a model that old with few kilometres, in good condition, and with a manual transmission.
What models should you avoid?
Aside from the models mentioned to buy above, there are a few that you should avoid.
Don't buy a Nissan Navara 4×4
Nissan Navaras tend to be cheaper than the other Japanese 4×4 utes. But as one mechanic told me — "you get what you pay for".
This isn't to say they're lemons. They'd be great work utes. But if you're planning on being in the middle of nowhere for a while and buying used and buying one with 100,000+ kms on it and you're not a mechanic then it may not be a safe bet. (Again your mileage may vary — this is just what I've been told.)
Don't buy a Great Wall V200 or a Foton Tunland.
It might be tempting because they're very cheap. But there are many stories on various pages about regular failures of common components and it taking weeks to repair them.
I have no problem buying Chinese products, and you might choose to take this gamble if dollars are your ultimate priority. But it comes with risks.
The Great Wall V200 had a bunch of recalls that really reduce confidence
"More than 9000 diesel-powered Great Wall V200 utilities have been recalled due to a fault that could cause the wiring harness to melt." CarAdvice
"But back to the original question regarding a second-hand Great Wall as a family toy: The short answer is no, don't do it. Build quality seems to be the biggest problem and plenty of Great Walls have rattled themselves to death over the years. They're simply not built well at all…" Drive.com.au
"You can say the same thing about much of the interior, really. It's fine, functional; and it is what it says on the box… with a small tinge of overall cheapness… That feeling of cheapness doesn't go away when you start crawling around underneath the steed, either. The air intake is in the engine bay and mounted very low; as is the alternator. The torsion-bar front suspension looks solid enough, despite offering next to no up-travel before hitting the bump stop. The leaf-sprung rear end looks OK, but the rear spring hanger on the chassis looks decidedly weak. In comparison to what else you can spend $30,000 on for a dual-cab ute, it's quite hard to recommend the Great Wall Steed. It's not a bad ute, but it's also not that good."
That last scathing review came despite the author acknowledging "a majority of Australians greet a Chinese-made vehicle with a bit of xenophobic flair…" so I'd presume his review was not based on xenophobia.
Don't get a "Sport Utility".
There's a kind of ute in Australia called a "sport utility". These are basically a 4-door sedan with the rear cut off and a tray fitted. They're almost all powered by 6-8 cylinder petrol engines and 2WD only.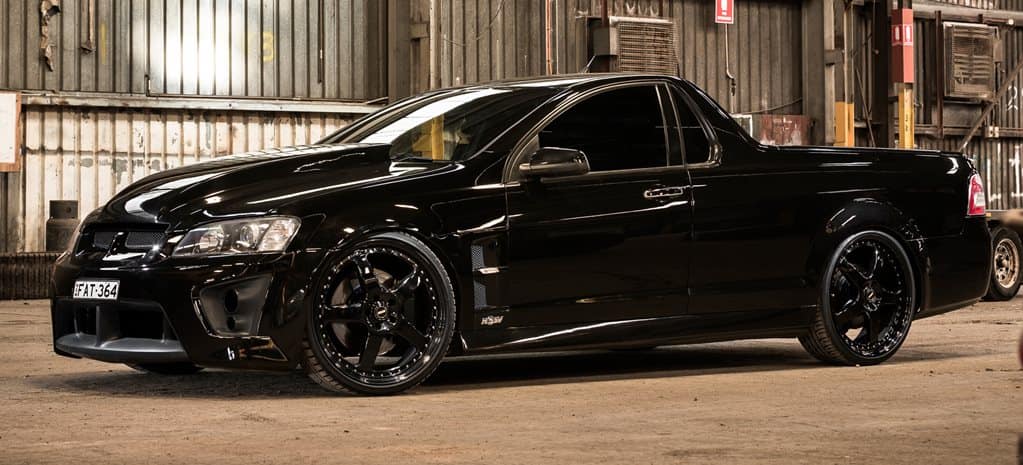 This kind of "ute" is the Australian equivalent of a "truck" in the US when owned by someone who doesn't intend to do things like go off-road or use it for work. The same kind of person who'd own a Ford F150 Raptor would likely own a Holden SS Ute.
You don't want a sport utility; you want a work ute.
Sport utilities are decent for towing things (or going fast, looking cool, or doing everyday tradesman work while still being a good car to do family errands), but they don't have the towing capacity of a work ute (or 4×4).