Fleeing the Pandemic in Colombia for Australia
As I wrote in our last letter, "Love in the Time of Corona", we're incredibly lucky to have had the resources to flee the pandemic in Colombia and to be able to make it back to a place as glorious as Australia.
Many others around the world are in worse situations. Unable to leave a country due to restrictions, without the resources to get a ticket, or with nowhere to go. Maybe all three.
We were happy in Colombia. We considered staying until we realise the trajectory of restrictions on movement was getting exponentially steeper — first becoming restricted to certain nationals, then to people who had been in a region, then to all non-nationals, and possibly eventually to anyone not already within a country.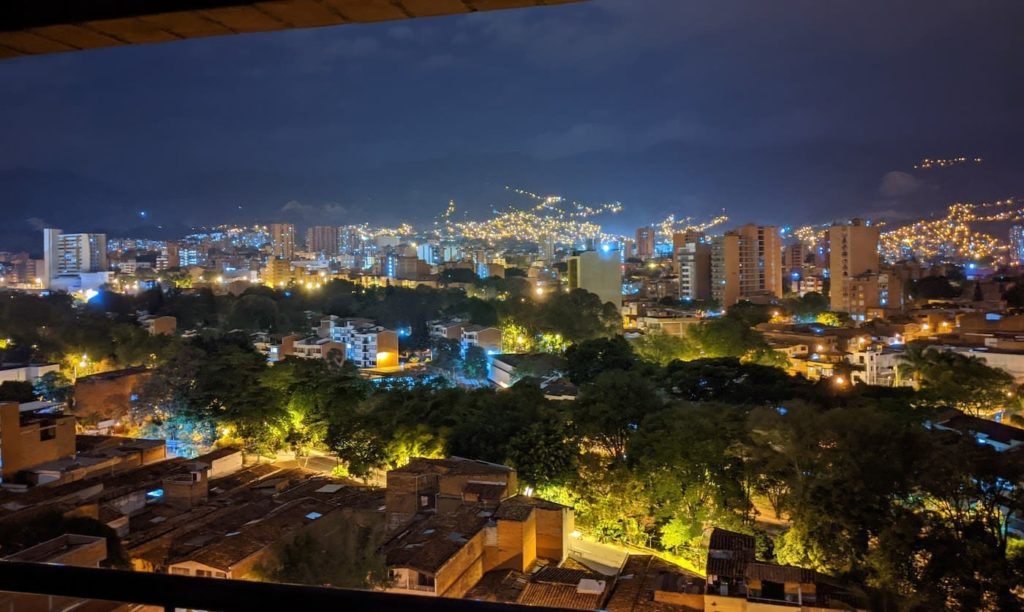 We're now holed up in a studio apartment AirBnB for two weeks as we observe Australia's mandatory self-quarantine guidelines. Nobody is policing us/bringing us freebies as they do in Taiwan and Korea (see this video of volunteers taking generous food care packages to Koreans in isolation), but we're very, very comfortable with air conditioning, internet, and a fridge full of food thanks to our family.
But the way we made it here was quite dramatic, and because a few people asked, I'll put down the story.
Our initial flight to Korea
Earlier this year, we practised one of our principles of forward- planning (one of the things we do to avoid relationship conflict, knowing we're both last-minute kind of people) and bought onward tickets from Colombia to Korea.
Our plan to go to Korea was to learn Korean, part of our 2020 plan of "going home" — learning the languages and cultures of our own people. We were also looking forward to eating jjajangmyeon (짜장면, a Korean spin on the same-named Chinese dish 炸酱面) after seeing people eat it in seemingly every Korean drama on Netflix.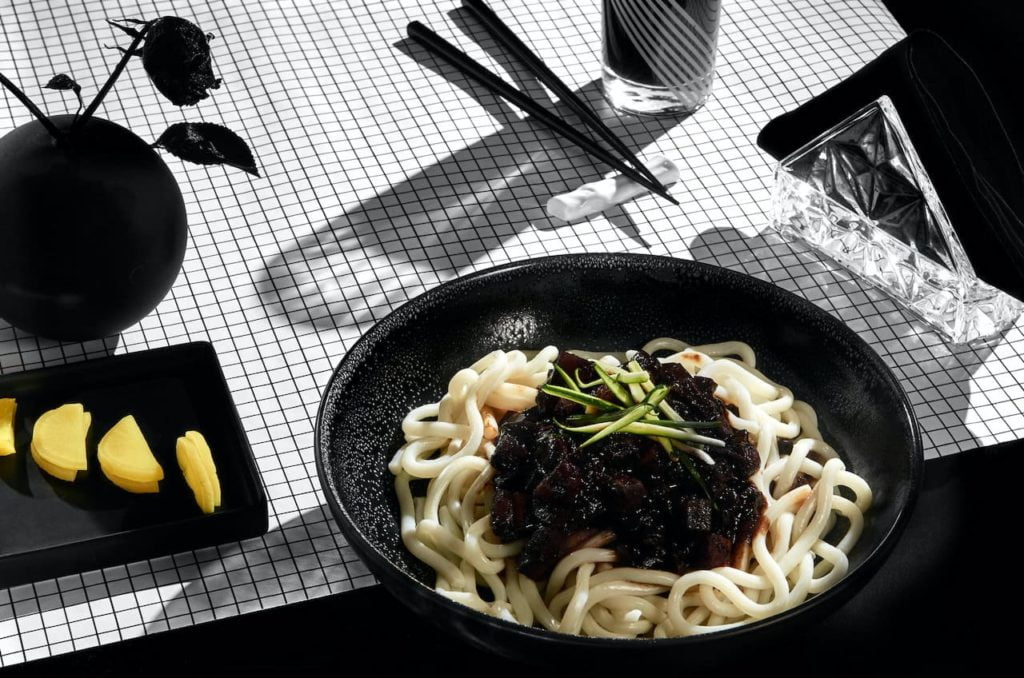 Our flight out was booked for 26 March — today, at time of writing. But then, the pandemic happened.
"We have a zero percent success rate at predicting pandemics or their impact on the world."
We tried to cancel our flight early in late February when the then-epidemic started spreading in Korea. With thousands of cases in Korea, we thought Expedia might cover it in their cancellation policies.
Back then in late February, Expedia said that they'd offer a refund if there was something obstructing us from going — e.g. a travel ban issued by the government. Things have happened so quickly in recent weeks that you may not realise that even just in late February, less than a month ago, there was freedom of movement with Korea.
The situation evolved very quickly. Many countries imposed a mandatory quarantine on people coming from Korea. When our ticket schedule was changed for other reasons we were offered a refund through a technicality — which we accepted.
Expedia never actually processed the refund because they became quickly overwhelmed with support calls. This is the part many of you are not seeing regarding people trying to leave countries and go back home — it's an administrative nightmare that's far more complicated than the normal process of booking flights. Routes change every day, flights are regularly cancelled, and where people can move to (and via) is constantly in flux.
We tried to call the travel agent to confirm the refund and it went something like this (dates are rough)
6 March: Could call Expedia, but with wait times of 2 hours or more.
10-14 March: A period of several days where the Expedia hotline said their phone systems were totally down due to "technical difficulties"
15 March: Automated responders saying they wouldn't take our call unless it was about a flight within 7 days
18 March: Responders saying they wouldn't take our call unless about flights within 48 hours
20 March: Expexia announced they're no longer performing 1:1 customer service by phone.
We don't like using the phone. We'd do things via the internet if we could. But at the same time, websites like Expedia's were so overwhelmed that many basic features like changes and cancellations wouldn't work, and would redirect us to the call centre.
The Decision to Exit Colombia
In some ways, Colombia seems like a great place to be during a health emergency.
Doctors in Colombia are high quality and cheap. The health system is the 22nd best in the world according to rankings. The country is cheap to live in, with generous, healthy meals costing around US$2-3. And we were settled and comfortable and able to work from Colombia for very little. We speak Spanish and knew how to exist there.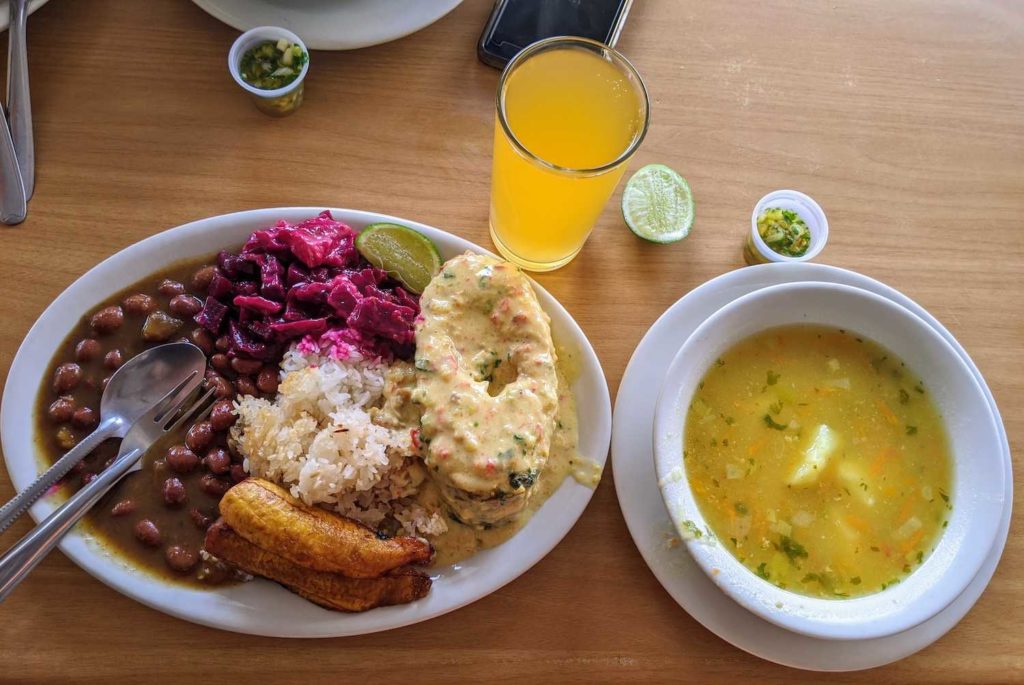 But at the same time, Colombia is always on the verge of a crisis. It has been experiencing a crisis of Venezuelan refugees for the past few years, with an estimated ~2M (equivalent to about 5% of the population) of the country now being Venezuelans who have equal entitlement to the health system. This puts hospitals under massive strain.
Colombia is also a place that has had riots and uprisings over its turbulent recent 20 years. They have been for many reasons, all stemming from basic things like regional sporadic poverty, corruption, and lack of security.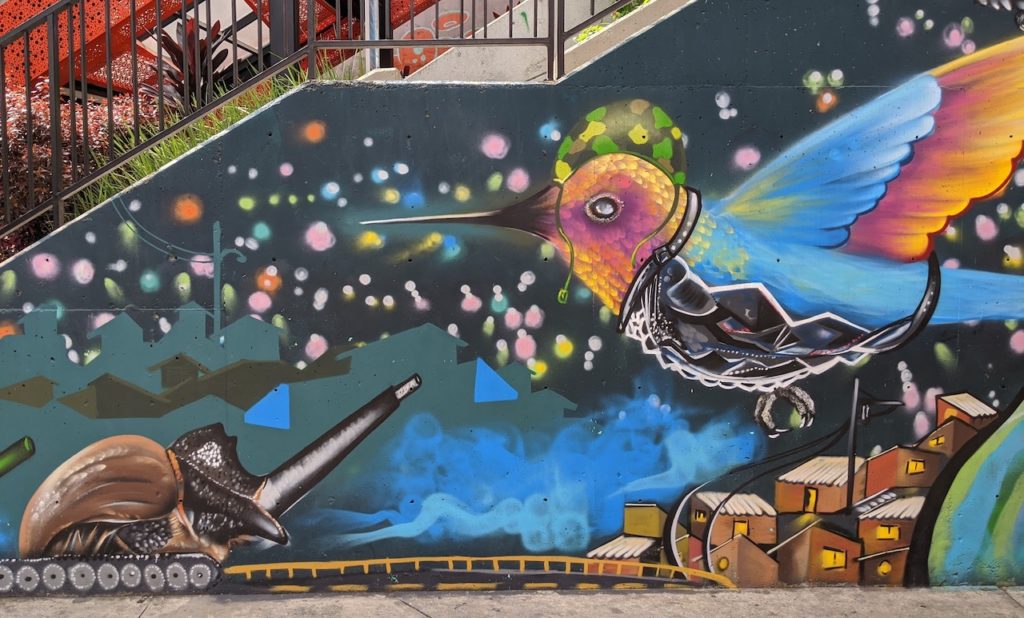 But the fact that riots exist to me signifies that they'll happen again. It has already begun — the day after we left Colombia, 23 prison inmates died in a riot over the handling of the pandemic in jails. We're seeing the tip of a potential massive iceberg here with the pandemic in Colombia, because it will bring with it:
Food shortages as prices go up due to affected supply chains and subsequent hoarding
Poverty as people in affected sectors (tourism, retail) are laid off
System instability as electricity, water, and supply chain networks are strained with a redirection of demand towards homes rather than urban centres
All of this means… uncertainty. So we started to envisage that within a few months there could be riots and a rise in crime. We don't know, but one thing we learned from the virus' rapid spread was that we have a 0% success rate at predicting pandemics or their impact on the world.
On top of that, Colombia rapidly became very hostile towards foreigners.
Earlier in the epidemic/pandemic, xenophobia started rising towards anyone who looked Asian. There were lots of stories in the media about racist attitudes emerging about anyone suspected to be Chinese, with sporadic stories about beatings.
But that attitude quickly became to one about foreigners. And I sympathise with the attitude, once the pandemic became real.
Colombia is already a resource-constrained country. Its doctors and hospitals work at capacity to deal with a population that can't all afford their services. If foreigners are there taking advantage of the "cheap" prices, then they take up beds and appointments that might have gone for less to other locals already living there.
If we had a better option available that would free up resources for people unable to take any other option, then we should take it both for our own good as well as that of others. And we did have a better option — Australia (not the US, which with weapons stockpiling looks set to become a war zone) — and so we decided to take it.
The Scramble for Tickets (and permission for an American to land)
We first booked one of the few flights out of Colombia from Cartagena departing on the 25th of March. We did this from the comfort of our private room in a jungle hostel in the tiny hippie town of Minca in the coffee zone.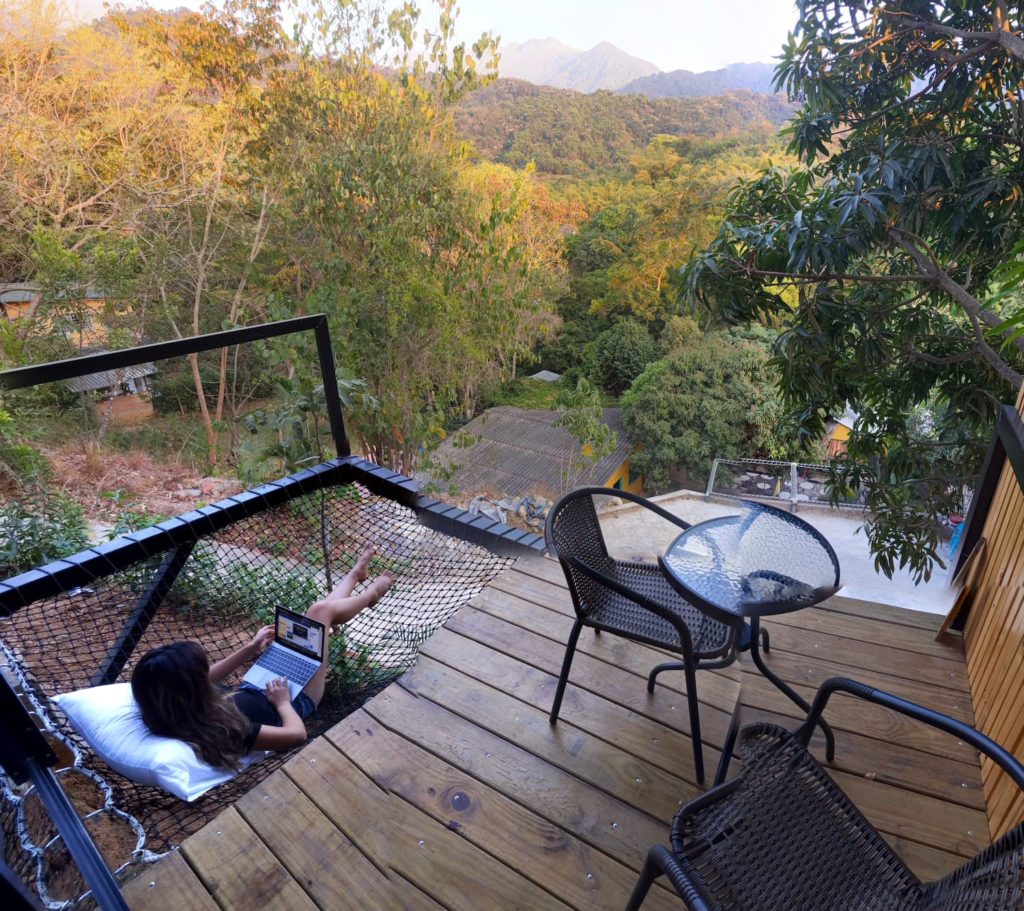 After we booked our flight out of the country and secured our 5-night AirBnB, we started receiving a steady stream of worsening news.
First, we learned that Cartagena had imposed a 14 day quarantine for new visitors. No problem, we thought… maybe this would be the perfect time to enjoy what can be a loud, touristy city. The bars won't play music late at night and the streets will be empty of Europeans in sandals.
Second, we learned that Cartagena was closing down its airports to inbound flights. Fine, we thought. We're outbound!
Third, on the 18th of March, we learned that Australia was restricting entry to anyone who wasn't an Australian citizen or their immediate family. This was a problem, as Jo and I are not married. We cancelled our flight while we figured out the next step: Whether Jo would be let into the country.
The alternative, of course, was for Jo to go back to the US (and me with her, of course). The problem with that was that… the US doesn't seem to have effective leadership in this time, with California and the New York states organising shut-downs, but the majority of other states remaining relatively open.
"I don't take responsibility at all." United States President Donald Trump, blaming the slow ramp-up of testing in the USA on the Obama administration, which had ended four years ealier in 2016.

Source: Fox News
In general, the US is more focused on keeping the economy alive than preventing death. Total cases in the US are set to exceed those of China by 24 March, even with much more limited testing.
Back to us. To get Jo into the country, we had to figure out how to convince the Australian Government that we're in a real relationship.
Note: Knowing others might be interested in this (in this brief period when there are still flights) I put a guide up on my personal blog about how to bring a partner into Australia under the current travel ban.
We called the Immigration Department in Australia and by some miracle (I think the time zone and time of day) we got through. The person told us:
"I'm sorry. The PM made an announcement that non-Australians can't enter the country other than immediate family, but so far we have zero information about how to implement it."
Thinking quickly, I realised a similar rule had been applied for Koreans and Chinese about a month earlier, and asked how that was applied. The answer was that we had to get express permission from our nearest consulate for Jo to enter the country, based on evidence that we are in a real committed relationship.
First, we tried contacting our nearest consulate — in Santiago, Chile. The phone lines didn't answer and there was no email address for consular issues.
There WAS a link online on an Australian immigration website for requesting waivers for immediate family members from restricted countries. But the web page hadn't been updated yet, and so you could only use it to contact embassies in countries like Korea, China, Italy etc. — not any embassy, as we'd need under the new ban.
Never mind, we thought the website would be updated soon. So we spent a morning assembling a 44-page document to prove that we are, in fact, in a committed relationship. It was full of fun details, itineraries of travel, and a lot of cute pictures.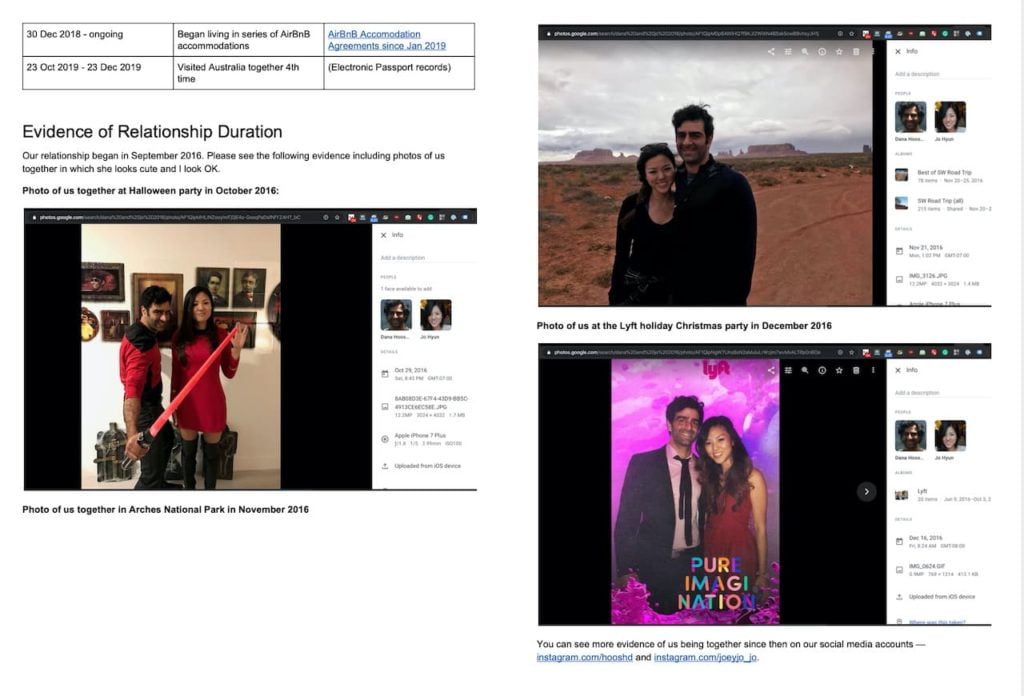 By the time we finished it, the website hadn't been submitted yet. So, on a guess, we submitted it to the Australian Embassy in Korea, thinking "those guys probably are less busy, as they'd have dealt with the bulk of these cases a month ago.
We expected it to take at least a few days for them to process our documents, and up to a couple of months. It took them less than 24 hours to write us a letter granting us permission to enter the country. In a trip full of minor disasters, this was a welcome miracle.
We booked another flight, this one leaving on the 23rd of March.
"No Service for Foreigners"
We made it to Cartagena on the 20th of March.
The trip to Cartagena itself was somewhat dramatic. Very few shuttles left Minca for Santa Marta, a regional hub. Normally the shuttles only leave when they're packed with tourists; ours left with only four passengers. We tipped the driver, hoping that little bit would help him get through the weekend (and also hoping that our money wasn't covered in foreign viruses).
In Santa Marta we had hoped to take a bus with a company called Berlinastur. But I wasn't sure they'd have services running given the reduced demand, so I called them and asked about their schedule.
"Yes, we have buses running," they told me, in Spanish. "It goes via Baranquilla to Cartagena. But…" she asked gently, detecting my accent as I tried to mask it. "Are you a foreigner?"
"Yes," I admitted sheepishly, still speaking Spanish. "I'm a foreigner. Why?"
"I'm sorry, sir. In this moment we're not offering services to foreigners, for reasons of security."
"OK." I said, and hung up. I didn't feel like fighting this one.
Our next port of call was the Santa Marta terminal. Would they have services? Would they offer them to foreigners? We had to go to find out.
Once we were there, we were escorted out of the car by a security officer and taken immediately to a secure area where they checked our documentation and asked us questions about how long we had been in Colombia, whether we had any COVID symptoms, and so on. Satisfied that we weren't an obvious risk, they gave us a special ticket, sold us tickets to a bus leaving in 30 minutes and… we were on our way to Cartagena!
Which had just implemented a three-day lockdown.
Cartagena under Lockdown
On our way to Cartagena I got a call from our AirBnB host.
"We have a problem," he told me. "I was registering you at the front desk of the building and it seems like they have a rule where they're not permitting foreigners."
I was surprised. I had heard that it was tough to get accommodation in Cartagena as a foreigner as people were afraid of viruses, but I thought that since we had a booking, our building would be OK. I was wrong.
"OK, can you tell them we've been in Colombia for two months?" And we didn't just get off a cruise ship from Europe, I wanted to add. But I also knew that strict rules were in place for a reason — people fully expect other people to lie to get what they want (something we've heard that people do, sadly, even in this time of crisis — anything get to where they're trying to go).
It was no help — the building wouldn't let us in. But it's ok, the landlord told us. He had another apartment that was a little further out of town but which was bigger and which as probably OK.
It turned out that second apartment WAS OK, thankfully — so we had accommodation and an internet connection.
But then we realised… the whole city of Cartagena had shut down at 6pm on Friday 20 March for a 3-day temporary curfew (which was later extended to a 3-week curfew).
Similar to in other parts of the world, the Cartagena curfew meant that shops could be open, but residents could only go shopping one person at a time. People could only go outside for medical emergencies or to catch a flight (with evidence of a ticket that day).
In reality, shops were not open the entire evening and even all the restaurants were closed. There were no delivery services. We called maybe five, and couldn't get anyone to deliver a pizza.
Desperate to feed Jo, I snuck out of the building at night, darting from cover to cover, hiding (or acting cool) every time a car drove past. I spotted some police officers, conveniently wearing high-visibility green clothing, and waited for them to go around a corner. My goal: to get to a nearby 24/7 liquor store that our doorman assured me "never closes, ever".
The 24/7 liquor store was closed, too.
We didn't go entirely hungry — I had some chia/linseed fibre supplement and 1/5 of a bottle of honey that I hadn't thrown away. In another part of the world, the hipster gruel I put together could have been dressed up with blueberries and banana slices and been sold for US$12.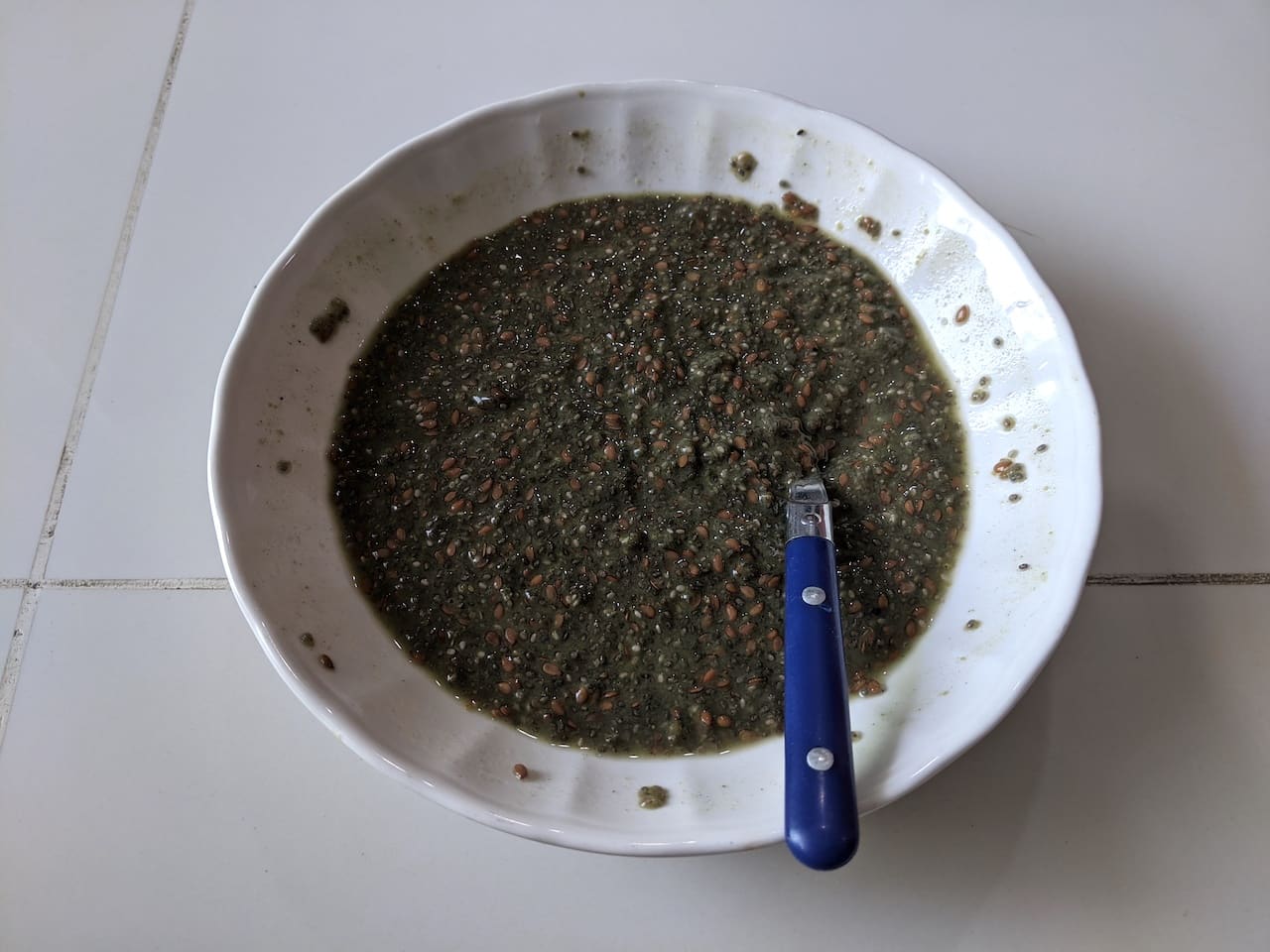 This can't go on, we thought. Every day the restrictions became more stringent. We kept hearing and reading more news: flights out of Colombia being cancelled, flights to Australia being cancelled, and so on.
So on the morning of the 21st we cancelled our ticket again and booked one out for the same day. It had massive layovers in the US but at this point, we didn't care.
And on the 21st we left; destined to arrive in Australia three days later.
It was just as well that we brought our flights back from the 25th to the 23rd and then to the 21st. Because every other similar route out of Colombia after we took was cancelled.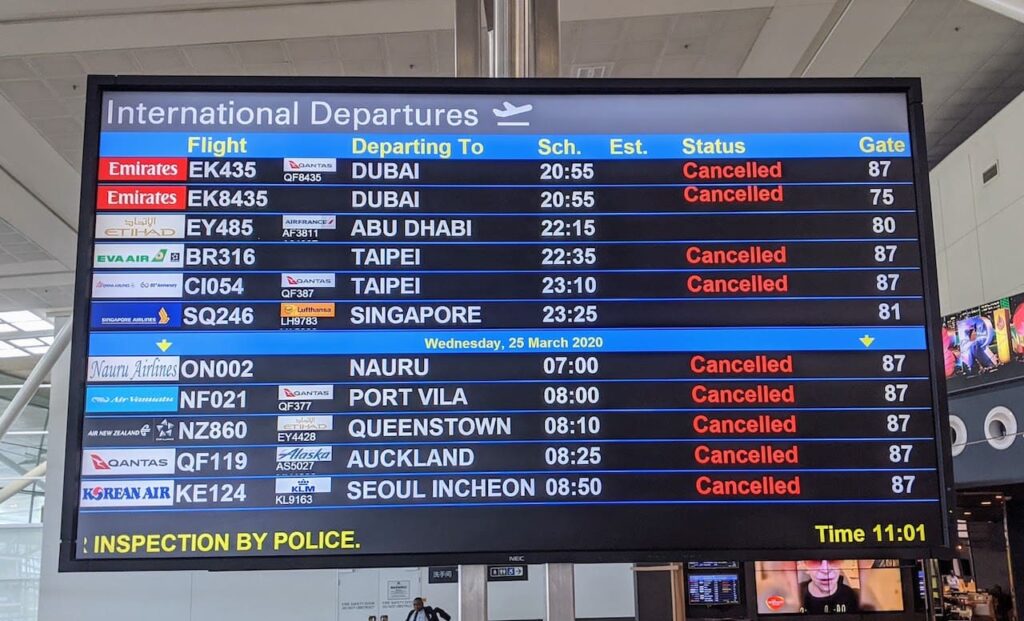 Empty Airports
The trip wasn't quite over — we knew that the hardest part was the final one, being allowed to board our flight from LA to Brisbane. That was assuming the legs in between weren't cancelled.
On the way, we tried to relax as much as we could. It had been a while since I slept in an airport, but we did just that in Atlanta during an overnight layover. We figured it safer to sleep in the airport than to exit immigration and then try to come back in. Who knows what could change in 12 hours? Maybe Americans wouldn't be allowed to leave. Maybe there'd be pandemonium at check-in. Maybe the security staff would have gone on strike and nobody could enter. It was a series of additional risks we didn't want to take.
Besides, airports are empty right now. The Atlanta international airport was so quiet that we actually got a full night's sleep.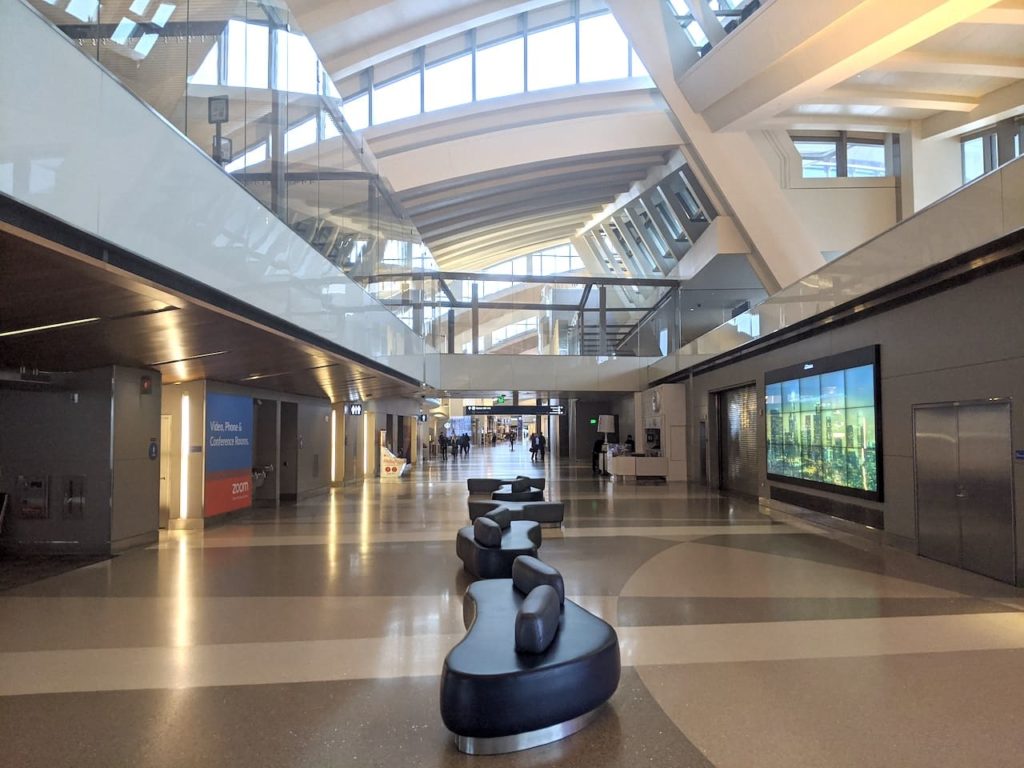 In LAX, once we finally found our terminal and gate (nobody seemed to know… pandemic or not, LAX airport is always a dog's breakfast), we checked in to our flight as soon as we could.
The Virgin Australia attendant asked Jo for the letter of permission and said "just wait a minute. I need to call the consulate to verify this."
The airline rep then called the Australian consulate in the US and stayed on hold for an agonising twenty minutes — until he got verbal confirmation that Jo could enter Australia. We got our boarding passes. We were in!
Mandatory Quarantine in Queensland
Having escaped the pandemic in Colombia, we were now in the midst of the pandemic in Australia. New rules apply meaning that all new arrivals must submit themselves to mandatory 14-day quarantine at home.
The rules for the quarantine in Australia are quite strict. Basically the same as California, New York, or many other parts of the world like Cartagena, Jordan, and Italy/Spain, we can't leave the house. We're encouraged not to touch anything outside the house and to move through common areas quickly.
We're lucky in that we work mostly online. We study languages, write on blogs, and do online business. Not much has changed for us — except that given Australia's higher prices, we're in a smaller place than we usually are.
But at least we have the support of family that brings us food and smiles from the outside world.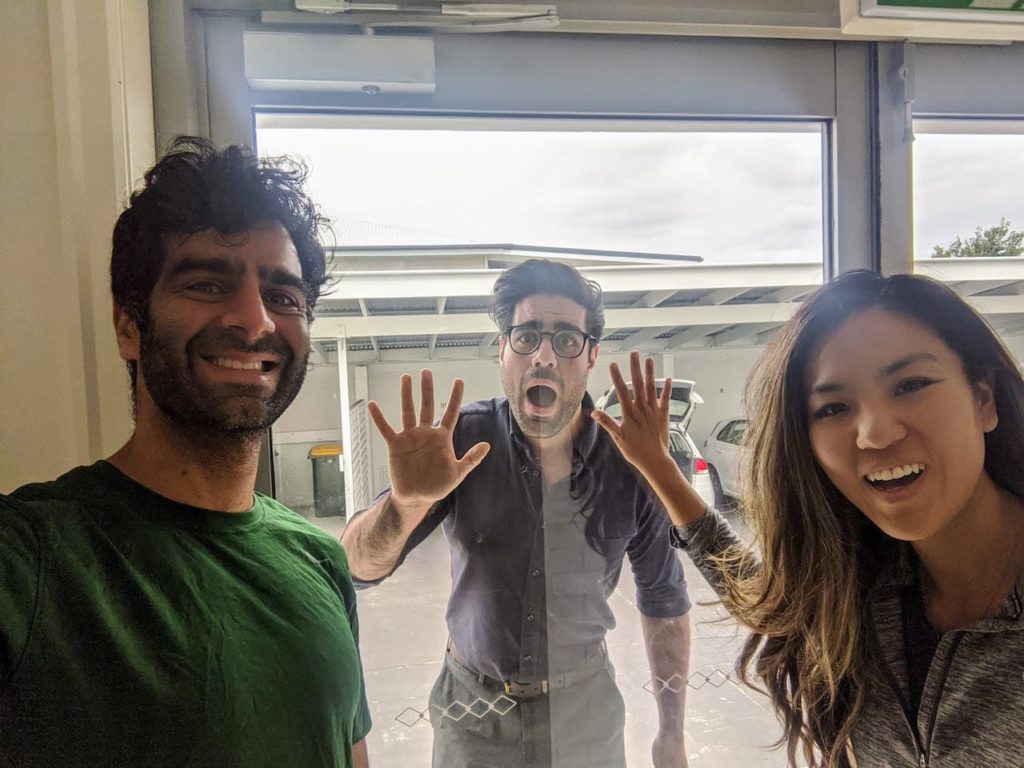 ---
How're we spending our time in quarantine? Well, I'm still learning Korean. Jo is learning Persian again. More on how that's going soon.