Taroko National Park — The Ultimate Hiking Guide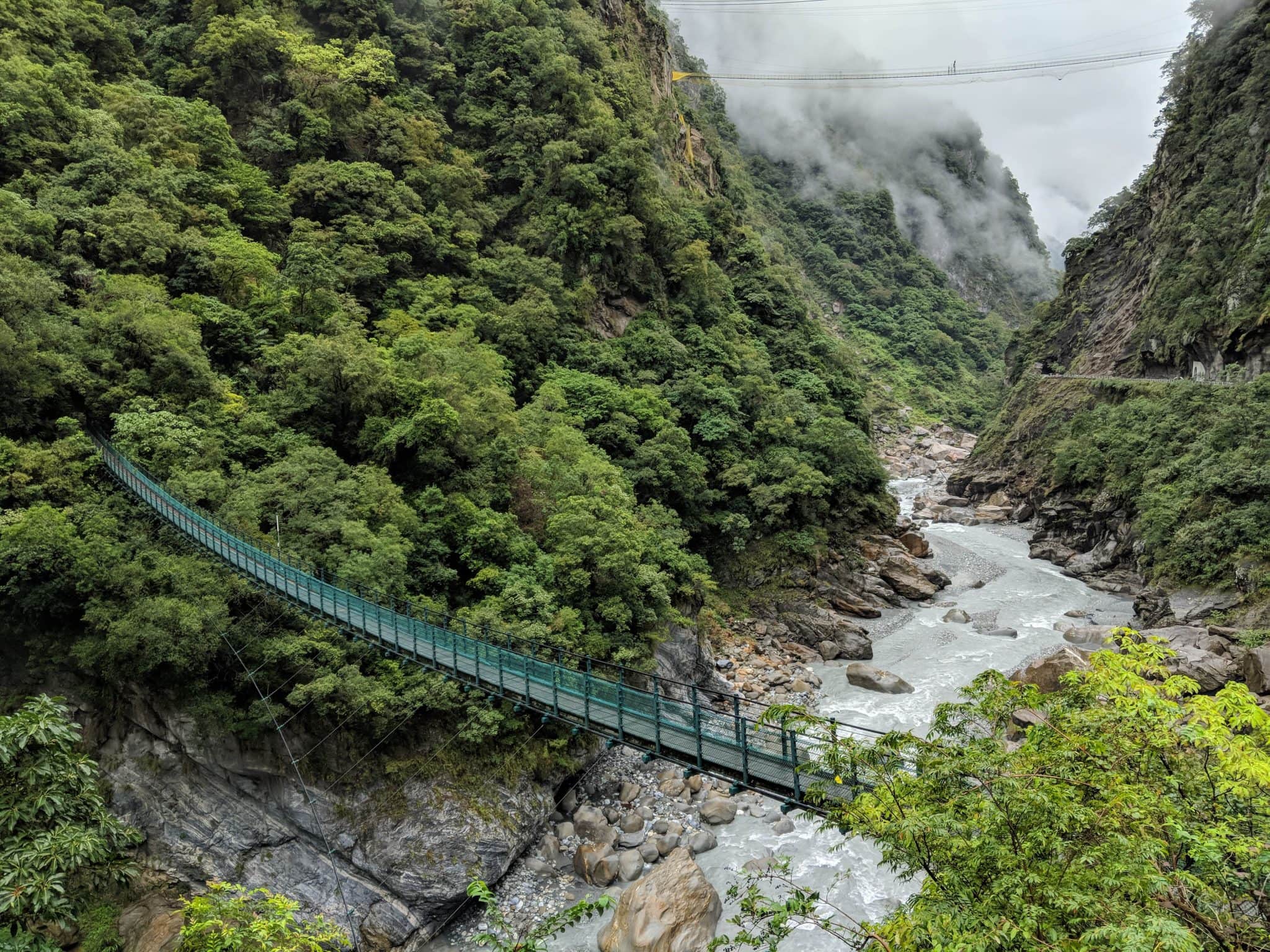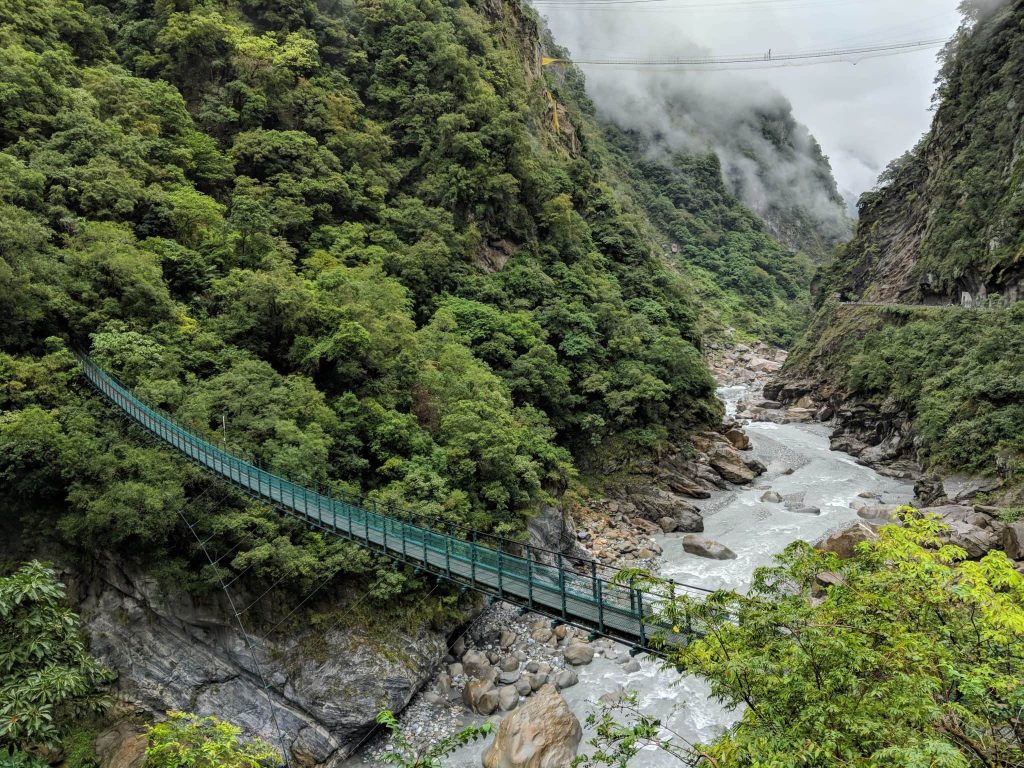 Taroko National Park, located just a 3 hour drive from Taipei is one of Taiwan's greatest gems. If you're lucky enough to venture out here, you'll understand why. As much as I loved Taipei, it was refreshing to escape the city for a few days and enjoy the pristine conditions of Taroko National Park.
Hiking and being in nature is what I live for, so Taroko was one of my favorite experiences in Taiwan. There are a few things to know to make sure you get the more out of your visit. We'll cover them all here.
The Best Hiking Trails in Taroko National Park
1. Zhuilu Old Trail
Hike Length: 5 km round trip (3-5 hours)
If you were only able to do one thing in Taroko Gorge, I'd prioritize Zhuilu Old Trail. This trail is less touristy than others and this bad boy has a little bit of everything.
From this part of the park, you're in store for some spectacular sights, including Swallow Grotto. Zhuilu old trail also has historical significance as it the only trail that connected two mountain ranges during Japanese rule over a hundred years ago.
Along the way, you walk through lush forests and suspension bridges that give you a peek at some of the amazing views ahead. Because the end of the trail has steep and narrow cliffs, permits are required.
A few things to know about hiking Zhuilu Old Trail:
There are two types of permits required for this trail – one from Taroko National Park and one from the Police Bureau.
Make sure to reserve permits in advance. Permits are limited and because the trail is getting more popular, there is always a chance they will run out.
While there is no fee to enter the park, the entrance into this trail is NT$200. All other trails are free.
Why we chose to go with a guide (Meet My Guide)
We had tried to apply for both permits in advance, but I wasn't positive I signed up for the first permit correctly and the Police Bureau's site was in Chinese and even with Dana's reading level, we weren't totally sure if we were signing up for the correct permits.
Side note — you can get a permit from the Police Bureau the day before, but we didn't want to risk it. In addition, there were a few other logistical items we didn't want to worry about.
Our guide, Cloud (雲) picked us up and dropped us off from our hotel in Hualien (~1 hour drive each way), took care of all of our permits, gave us great background on the trail, and really enhanced the experience (also taught Dana a bit of Taiwanese).
Also, we learned that Taiwan has a very distinct dialect to Mandarin! The tours are small (max 8) to ensure the best experience.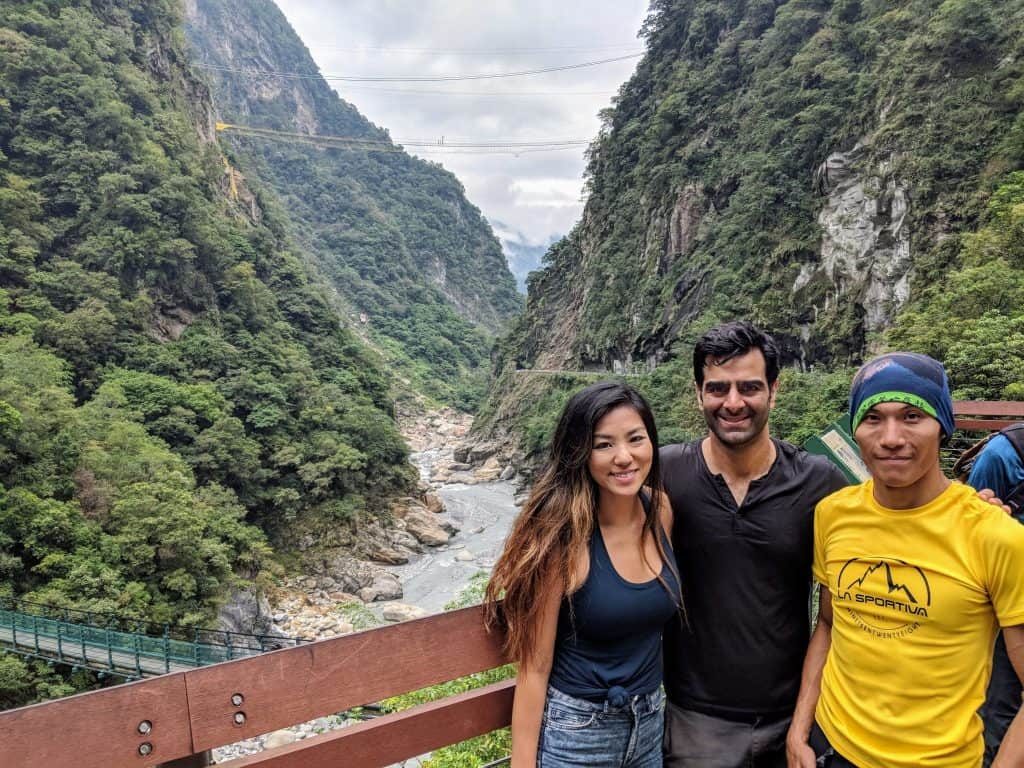 They also provide kayaking, river tracing, rock climbing excursions, and multiday treks in Taroko, Hualien, and Taipei. Their other well-known excursion is a rock climbing day trip near Taipei. 
2. Eternal Spring Shrine and The Bell Tower
Hike Length: 20 mins to Changchun Shrine, 1.5km to Bell Tower 1 hour
A visit to Taroko isn't complete without seeing the Changchun Shrine (Eternal Spring Shrine). The shrine was built in 1956 to commemorate 226 military veteran workers who died while building the Central Cross-Island Highway. The bell tower is not as frequently visited, but shouldn't be missed.
The walk to the Shrine is a short leisurely 20-minute walk. There is an extended 2.2 km hike up past the Shrine up to the Taroko Tower and the Bell Tower. However, the stairs had been damaged and the trail was closed when we visited (Nov 2018).
Fortunately, you can still do the reverse hike to access the bell tower. To get there, you will need to go through the Sinasia Tunnel and start the uphill hike at the Temple Entrance Gate. You'll reach the Changcuang temple where you can take a look around. Cross the hanging bridge just next to the temple and follow the stairs to the bell tower. The bell tower is very high up, so you will need to go quite a few stairs. It's worth it though!
At the Bell Tower, you can see some incredible views of the gorge. You can also ring the bell three times and make a wish.
3. Shakadang Trail
Hike Length: 8.8km, 3-4 hours RT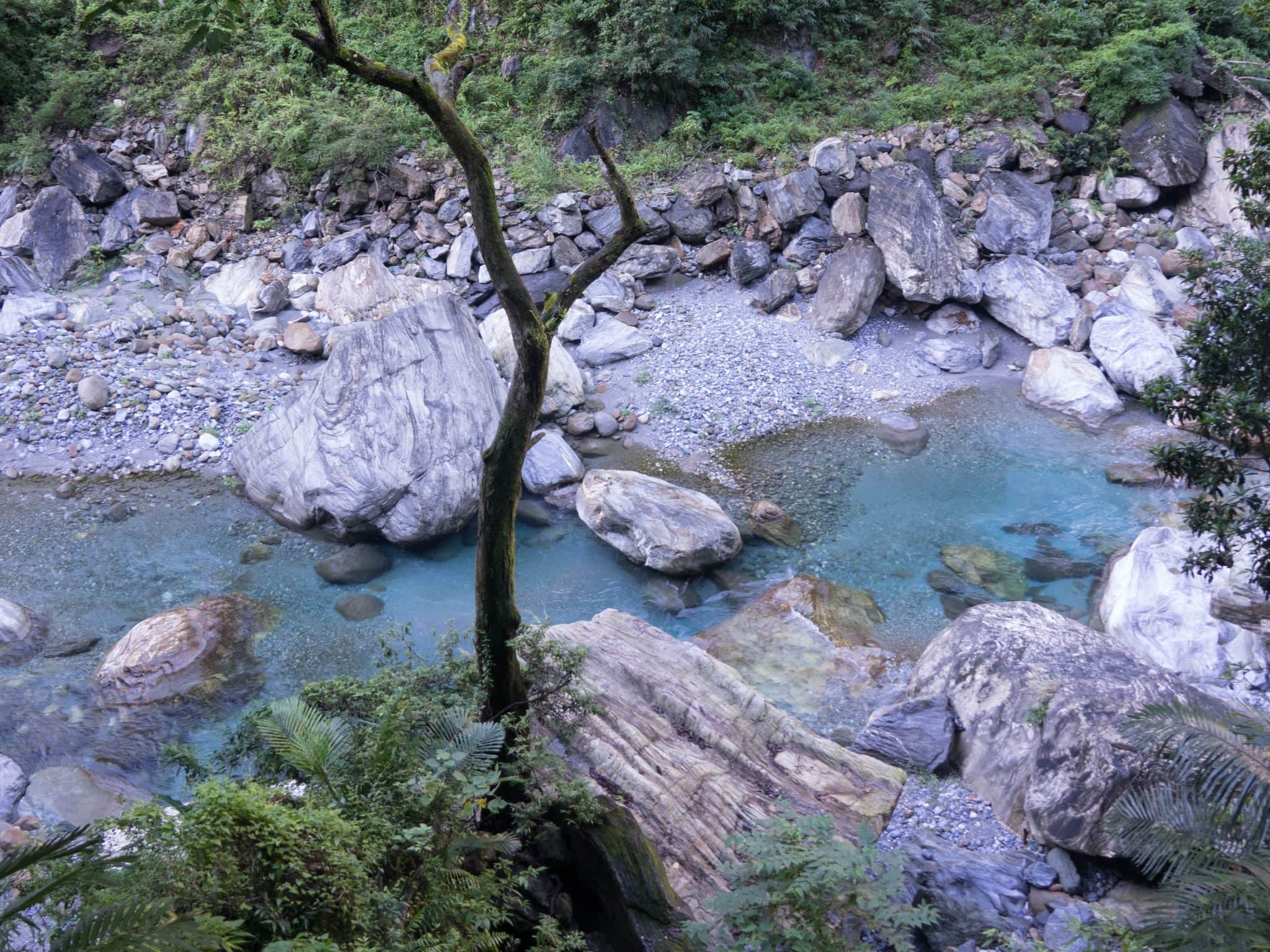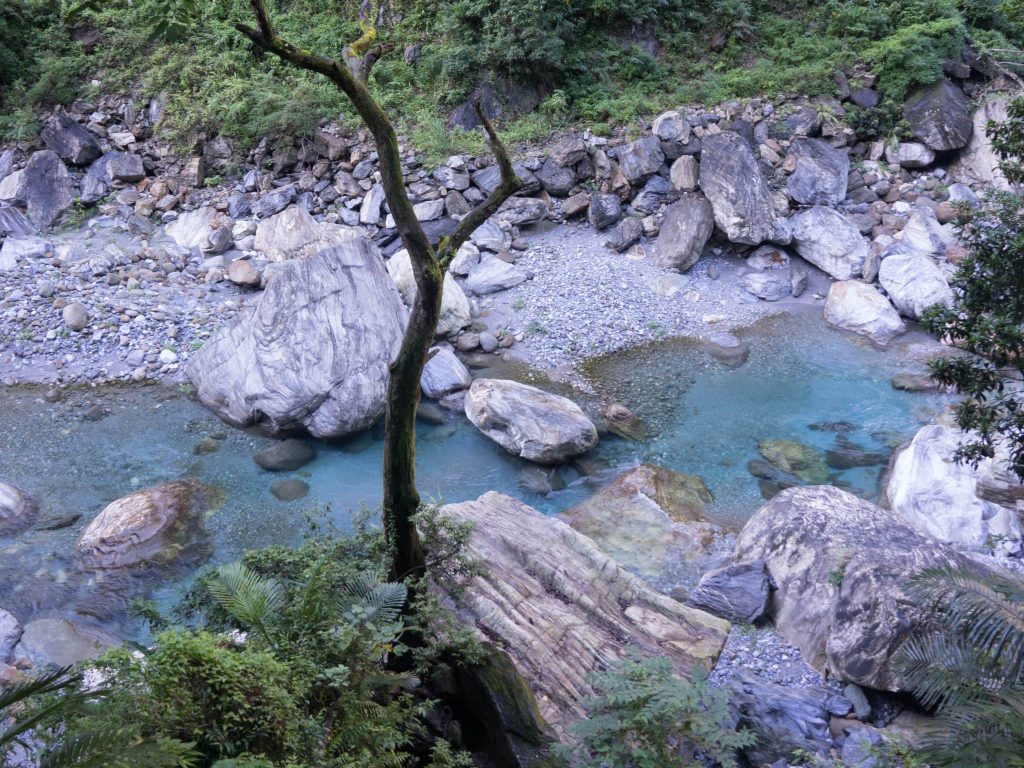 Shakadang Trail is known for its clear turquoise blue rivers. It's a very easy and relaxing stroll with little elevation change. Because it's so accessible, this trail is highly trafficked. You should plan on getting here early to avoid large crowds. We arrived early (8am) and we encountered very few hikers when starting out, however when we were leaving, we started seeing large crowds of people. If the blue waters and canyon views weren't enough, there are also aboriginal food stands along the route. Try some bamboo rice or an aboriginal sausage!
4. Tunnel of Nine Turns Trail
Hike Length: 1.4km, 30 mins RT
After being closed for six years, the Tunnel of Nine Turns Trail has recently opened! The tall cliffs will feel similar to the Swallow Grotto, but the tunnels are much narrower and the hike is a bit longer.
Walk just below Taroko National Park's highest cliff and get some great views of the Liwu river below. Hard hats are recommended to avoid injury for potential rock falls.
Best Times to Visit Taroko National Park
The park is open all year round. The best times to visit are in the spring (April – June) and Autumn (September-November).
In summer, the temperature tends to be hot and humid. It is also typhoon season, so make sure to check the weather forecast before booking your trip.
How to Get to Taroko National Park
Getting to Hualien
Taiwan has a great reliable train system. The best way to get to Taroko from anywhere in Taiwan is by train.
Be aware that there is sometimes a big range in journey duration lengths and prices. For example. we were going from Kaohsiung –> Hualien and had the options of 4.5-hour ride at NT$700 (US$20) or an 11h ride at NT$990 (USD$30). So make sure to pay attention to these options when booking your ticket.
Tickets can be booked through the Taiwan Railway Administration site. The closest station to Taroko is the Hualien Railway Station.
Transportation options from Hualien to Taroko
Taroko Tourist Shuttle Bus – This is the most popular option as it is very convenient and economical. A day pass is NT$250 (US$8). The bus stops at several big attractions in Taroko. The downsides as usual for public transport — it takes much longer and you're constrained to a schedule. So it may not be a good option for you if you are limited on time.
Rent a Scooter – This will give you much more flexibility and is still budget-friendly. However, downsides are that it can be dangerous because of the winding and sometimes narrow roads, the inclement weather leading to slippery services, and the many large tour buses. Also. keep in mind that some companies may only accept international drivers licenses.
Rent a Car – This option is much more expensive but safer and more comfortable. Downsides are that parking may be limited in some popular trails
Hire a taxi – This will be more expensive than hiring a car, but you won't have to worry about parking, or navigating to the correct location. Your driver might also be able to serve as an informal tour guide.
Where to Stay in Taroko
Since Taroko is one of the biggest attractions in Taiwan, you'll have many options for accommodation. The two areas I'd recommend staying is either within the park or in the closest big city, Hualien.
Hualien
After looking at the options, we decided to stay in Hualien. The benefits of staying in Hualien is that there are so many accommodation options that are high quality and budget-friendly.
Although Hualien is still a small city, it had almost all of the day-to-day amenities of Taipei or Kaohsiung i.e. a legit night market (Dongdamen Night Market). 
Budget
Hualien Wow Hostel : This is where we decided to stay. The location was perfect. It was very close to the train station, which was also where the Taroko Bus Station leaves.
Hualien Wow Hostel is one of the few hotels that provides breakfast (eggs, toast, a variety of spreads, fruits). The walls were a bit thin, but they offer earplugs at the front desk and the staff is incredibly patient and accommodating.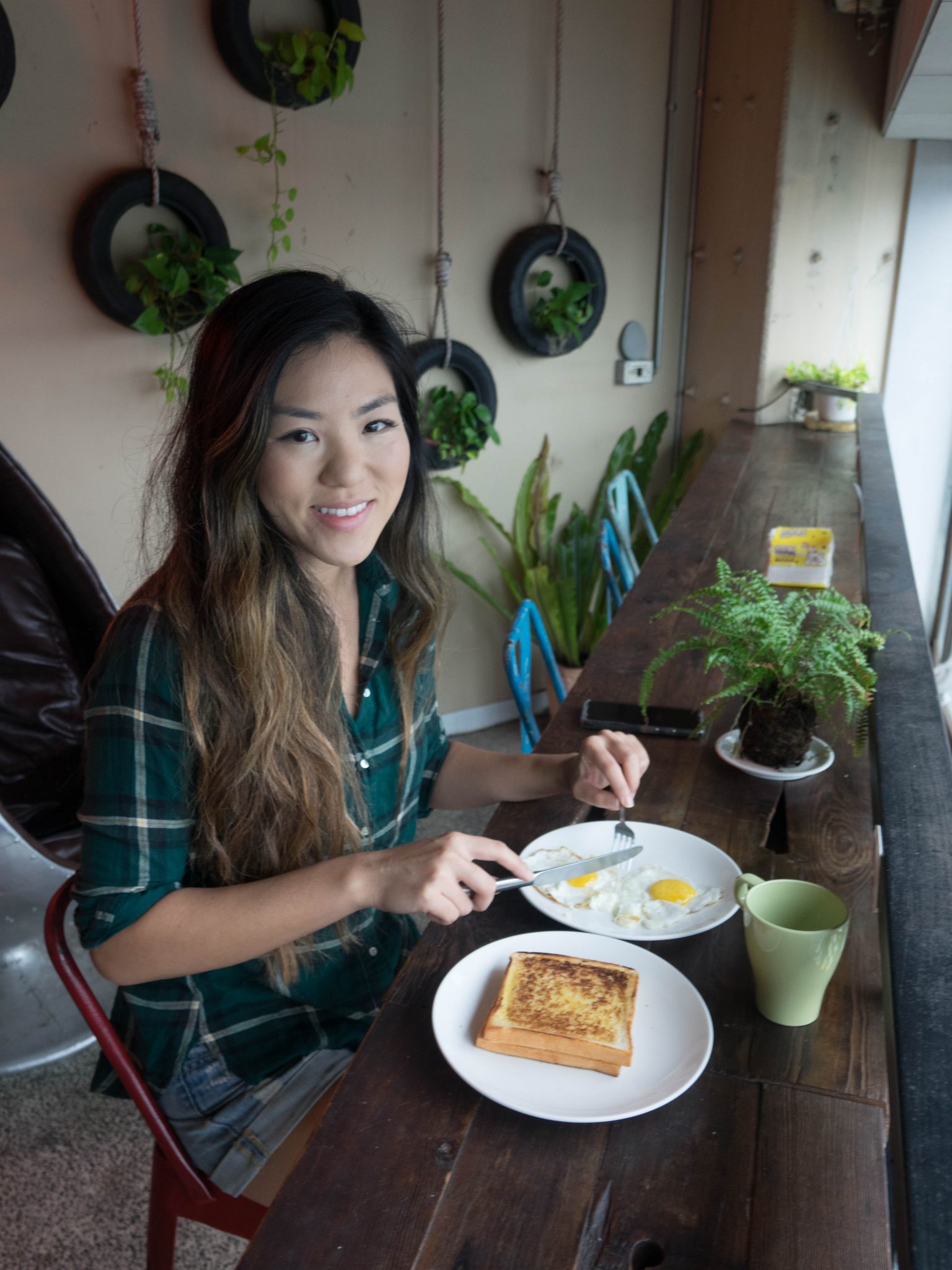 Mid-range
Azure Hotel: Nice breakfast is included in the stay. Very comfortable accommodations and close to restaurants and cafes.
Tianxiang
Tianxiang is the other option we were considering. It is just outside the park and your commute is cut down tremendously. There are not many options, but there are some beautiful properties if you want to be within the park.
Also you should keep in mind that the food options will be limited to what is served at your hotel. 
Mid-range
Taroko Village Hotel: Located walking distance from a popular trail – Swallow Grotto.
Luxury
Silks Place Taroko Hotel: Breathtaking high-end property located in the middle of the beautiful mountain ranges of Taroko National Park. 
There are many more national parks around Taiwan. Taroko should be your #1, but it probably shouldn't be the only one you visit. Plan on getting outdoors!
Have you been to Taroko National Park or Hualien? What was your favourite experience? Let us know in comments, or if you have any more questions, send us a message on Facebook.
Pin it for later