10 Best Places to Visit in Cairo
The very best places to visit on a trip to Cairo, Egypt — with some off-the-beaten-path ideas.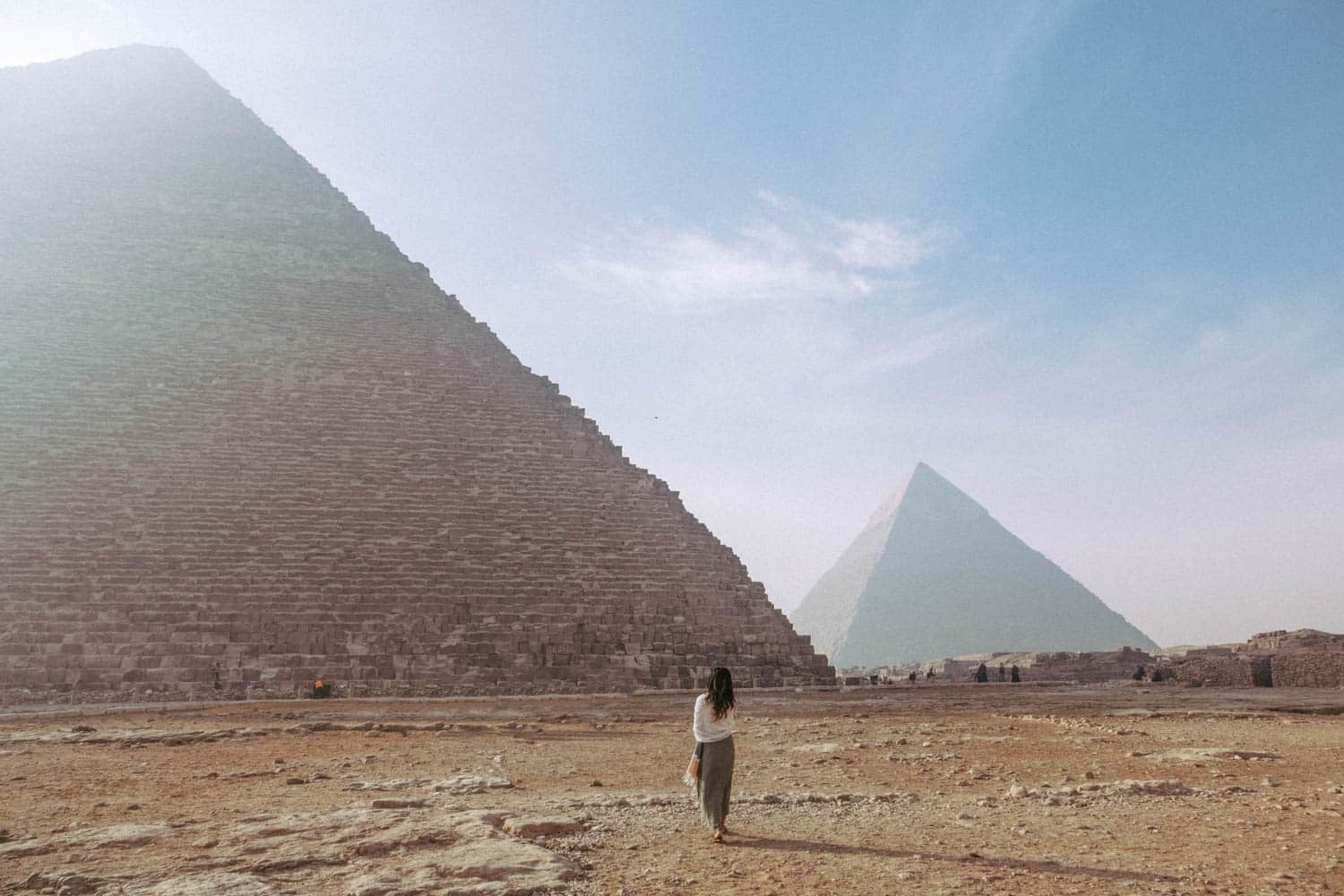 There are so many places to visit in Cairo — the Pyramids of Giza, the Al-Azhar Mosque, the Citadel, Islamic Cairo and the Egyptian Museum to name a few — that it can be overwhelming, particularly if you're just staying for a short period, and are worried about getting around.
If you're a student (or still look like you did when you were a student), bring your ID card. The majority of sites have big discounts for students.
As a note: Entrance prices increase as often as every few months. The prices listed are what we paid as of Jan 2019.
Note on safety: if you're still in the planning stages of your trips, you might be wondering if now is a safe time to visit Cairo. If so, read our safety guides:
This post contains affiliate links.
Become a Discoverer.
Like this off-the-beaten-path guide to Cairo? Join Discover Discomfort to get notified of more!
How to Get Around Cairo
The main ways of getting around Cairo are by metro, taxi or Uber.
Cairo traffic during rush hour is horrendous so we'd advise taking the metro during heavy rush hour. It's extremely efficient and affordable at ~5 LE per ticket, which at 2019 exchange rates is around US$0.30.
Google Maps doesn't offer much guidance on how to use the metro, but luckily, all you need to know is where you are and where you're going. You find a station on the map, get a ticket from the ticket booth (tell them the name of the destination station), take it in the right direction and change lines if necessary. It's not hard, and there is no giant overwhelming station that will confuse you.
The great thing about Cairo is that there are taxis everywhere, all the time. But we prefer taking Uber because it is very affordable and saves us the headache of haggling with taxi drivers. The cost of an Uber is about 25-50 LE (US$1-3) to get to most places in the city. If you need to take a taxi, make sure to agree on a price beforehand. Use the prices on Uber as a benchmark.
If you're feeling especially adventurous, try out some of the alternative transportation methods used by locals. But we'd never advise getting on the back of a motorcycle Uber without a helmet — we've seen accidents happen before our very eyes.
10 Best Places to Visit in Cairo
Here's our list of the best places you must see in Cairo. If you want to talk to taxi drivers and tell them where you're going in Arabic, definitely consult our list of Egyptian archaeological sites in Arabic.
1. Pyramids of Giza and the Sphinx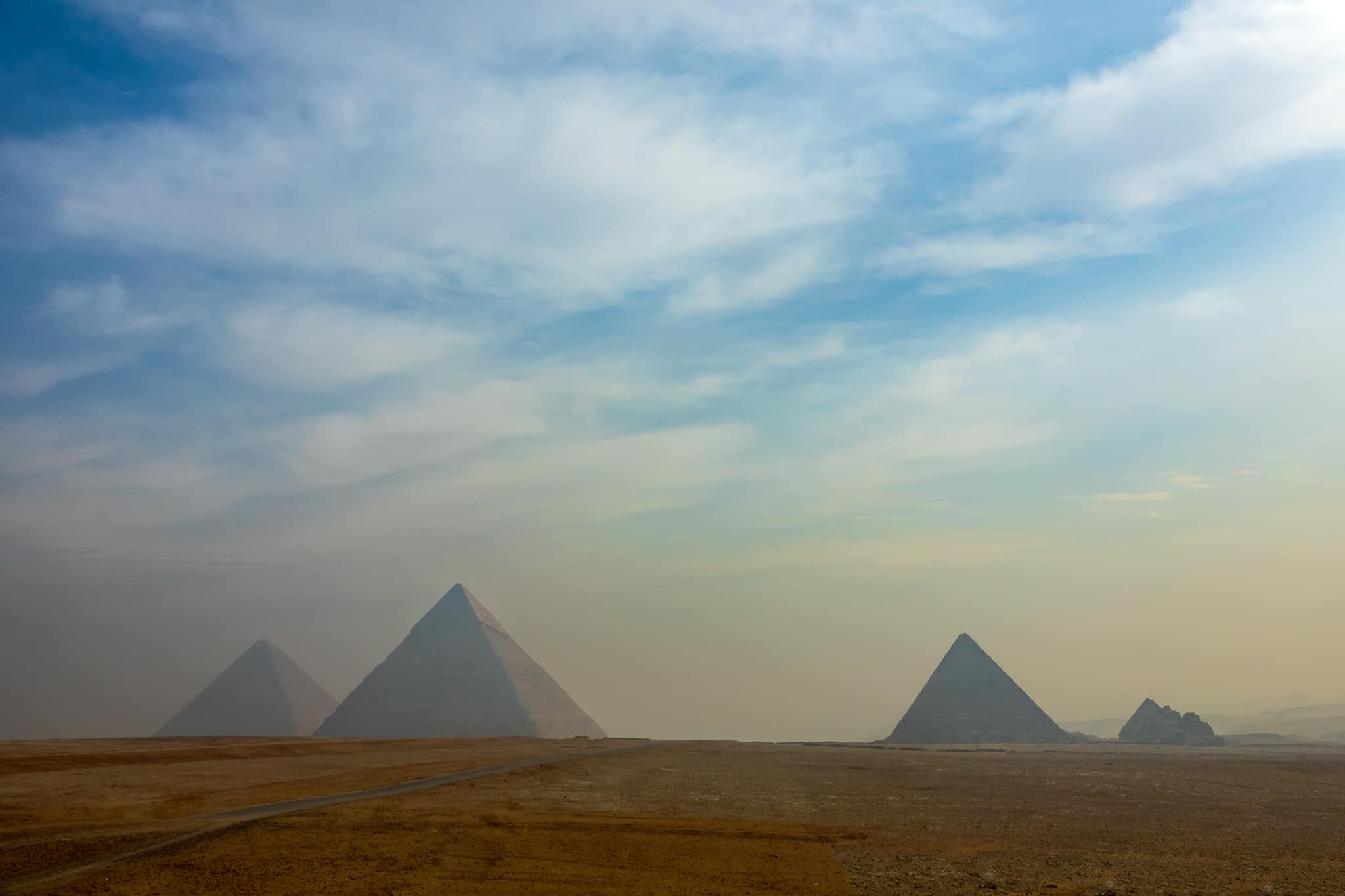 The Pyramids of Giza and the Sphinx are top of the list for one obvious reason: They're what people think about when they think of Egypt. It would be a shame to come to Cairo and not see these incredible landmarks.
We've actually met a few Egyptians who were born and raised in Cairo but have never visited the Pyramids, saying they'll get there someday! We met others who only visited the first time when showing some out-of-town guests around and they all tell us they felt more excited than their guests, constantly walking around saying "Wow, these are amazing! Why did I put it off so long??"
So make no mistake, seeing the Pyramids of Giza and the Sphinx is not to be missed.
How to see the Pyramids: Get a guide
While we generally tend to avoid tours, we got advice from our local Egyptian friends that a guide is good to have when visiting the Pyramids for a number of reasons:
Getting around: The entire Sphinx and Giza Pyramids complex is really large and can take some time to navigate. Having a driver is really helpful.
Being hassled less: There are many vendors selling you things and you're less likely to be hassled with a guide.
Education: Many Egyptian guides have an enormous wealth of information about the Pyramids. There aren't any informative labels at the site locations, so having a guide is helpful to know what you're looking at.
Our favourite guides for Cairo: Get Your Guide. I did a lot of research on the best tours and we were really happy with our tour with Get your Guide. It was a private tour and our guide was really informative. He didn't try to up-sell us on a camel ride or take us to other stores that try to pressure you to buying things (this is quite common with other tours). The tour included a private driver, and a trip to Sakkara to see the Djoser Pyramids.
The guides were also cool. They took us to local eateries, treated us to lunch and taught us some local words in Egyptian Arabic.
Tips for visiting the Pyramids of Giza:
Make sure to check the weather forecast and avoid going on any days that are especially windy or say "sandstorm".

I also wouldn't recommend going inside any of the Pyramids. It's a bit of a tourist trap. It costs an additional 300 LE to go inside and it's completely bare, despite which, photography is not allowed. I especially wouldn't recommend going in if you are claustrophobic as it isn't well ventilated and the entryways are very tight. (This tip came from our Get Your Guide guides, who avoided us being up-sold on something that sounds terrible!)
Giza Plateau entrance fee: 160 LE per person
Get Your Guide tour: $25 USD per person. Budget in a 100LE tip for the guide and a 25LE tip for the driver.
2. Cairo Citadel / Saladin Citadel
Cairo Citadel was built in 1176 by Saladin and was built to show to power and glory of the Ayyubid Dynasty. It's located in Islamic Cairo and was cited by UNESCO as being "the new centre of the Islamic world, reaching its golden age in the 14th century". The Citadel houses multiple mosques, museums, and the Al-Gawhara Palace. It's also located on a hill and you can take in some spectacular views of Cairo. On a clear day, you can also see the Pyramids on the outskirts of the city!
Best times to visit: Avoid Fridays and come in the morning to beat the crowds.
Entrance fee: 150 LE
3. Mosque of Mohamed Ali
This mosque is located within Cairo Citadel. Chances are this spectacular mosque is one of the first landmarks you noticed when arriving in Cairo. Because of its size and placement on the highest point of the Citadel, the Mosque of Mohamed Ali is the most visible mosque in the city. It was designed by Yusuf Bushnak, an architect from Istanbul. You can see the strong Turkish resemblance as it was modelled after the famous Blue Mosque in Istanbul. Take in the views of the city just outside the mosque and don't forget to head inside and see the stunning praying area. The details and lights are just incredible. You don't need to cover your head, but you will need to remove your shoes. Just make sure to take carry your shoes inside with you so you don't have to worry about finding them later.
Best times to visit: As with Cairo Citadel — avoid Fridays and come in the mornings of any other day to beat the crowds.
Entrance fee: The entrance fee of 150LE to get into the Cairo Citadel includes entrance to the Mosque of Mohamed Ali.
4. Muizz Street / Al Moez Ldin Allah Al Fatimi Street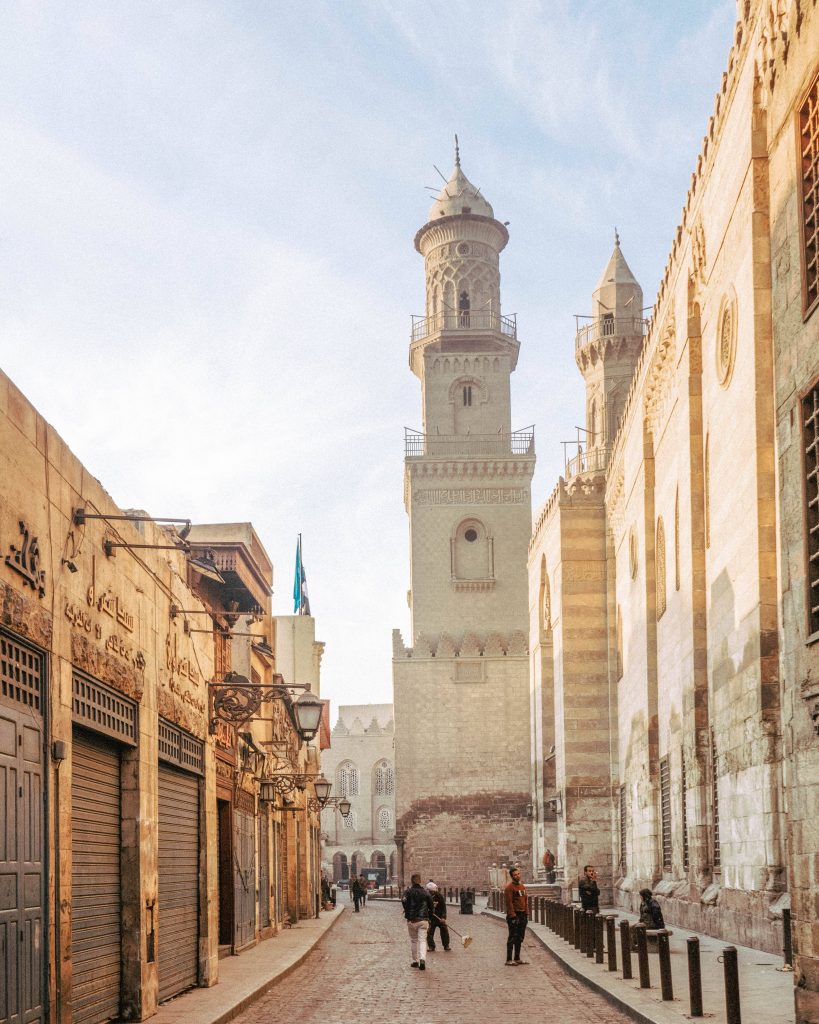 Muizz Street is a pedestrian street located in Islamic Cairo. It's the oldest street in Cairo and is about 1km long. It has some remarkable medieval mosques and palaces along the way. We loved walking along the cobblestone streets and admiring the beautiful intricate details of every building. It's a great street to get lost in and we found some cool quiet alleyways for some nice photos. My favourite buildings on this street are Qalawun Complex and Al-Azhar Mosque. Close by are Khan El Khalili marketplaces and El Fishawi Cafe.
Best times to visit: The street gets extremely busy most times of the day. Come on Friday mornings to have the whole street to yourself!
Entrance fee: Free!
5. Khan El Khalili
Khan El Khalili was a major commercial trading market in the 14th century. The market today still has the spirit of the historical souk and it feels like you have stepped back in time. You can spend a few hours wandering the shops, pick up a few souvenirs and try out your haggling skills. This is a must-do in Egypt and it is part of the culture. Make sure to scope out a few shops to check prices before settling on one. Many of them carry the same items. Take a break and have a drink at the El Fishawi Cafe — one of the oldest cafes in Cairo.
Time to visit: If you don't like crowds, you can go earlier in the morning, but most shops won't be open until around 11am. Khan El Khalili is best experienced in the evening in my opinion. All of the lamps and coloured lanterns light up and the alleyways and stores glow. It's a beautiful sight!
Tips: Expect to be addressed by the many sellers. Remember that this is their livelihood and you're in a market, so they're not hassling you! Also, bargain hard: you can reduce most initial prices by more than half. Just bear in mind that a lot of the goods sold in Khan El Khalili are not terribly high quality (and most are imported); better quality goods can be found in the specialist workshops around town.
Entrance fee: Free!
6. Take a Felucca Ride on the Nile River
Spend a relaxing afternoon sailing on the Nile in a traditional Egyptian sailboat — a Felucca! You can rent a private felucca for an hour for 100 – 150LE. It depends on your haggling skills. We ended up getting it for 150LE but we've heard of others paying only 100LE. The felucca dock is located across the street from the Four Seasons in Garden City. There are two felucca vendors next to each other. One wanted to charge 250 LE and the other charged 150 LE (after a tolerable amount of bargaining). You can also bring food and drinks on board. So get some takeout nearby and enjoy a relaxing time sailing down the Nile.
Best times to visit: The views are amazing at sunset, but it can get a bit cold depending on the time of year, so take a blanket or sweater.
Tips: Remember to tip your felucca operator. 20-50 LE is fine.
Cost: 100 – 150LE for 1 hour
7. Al Azhar Park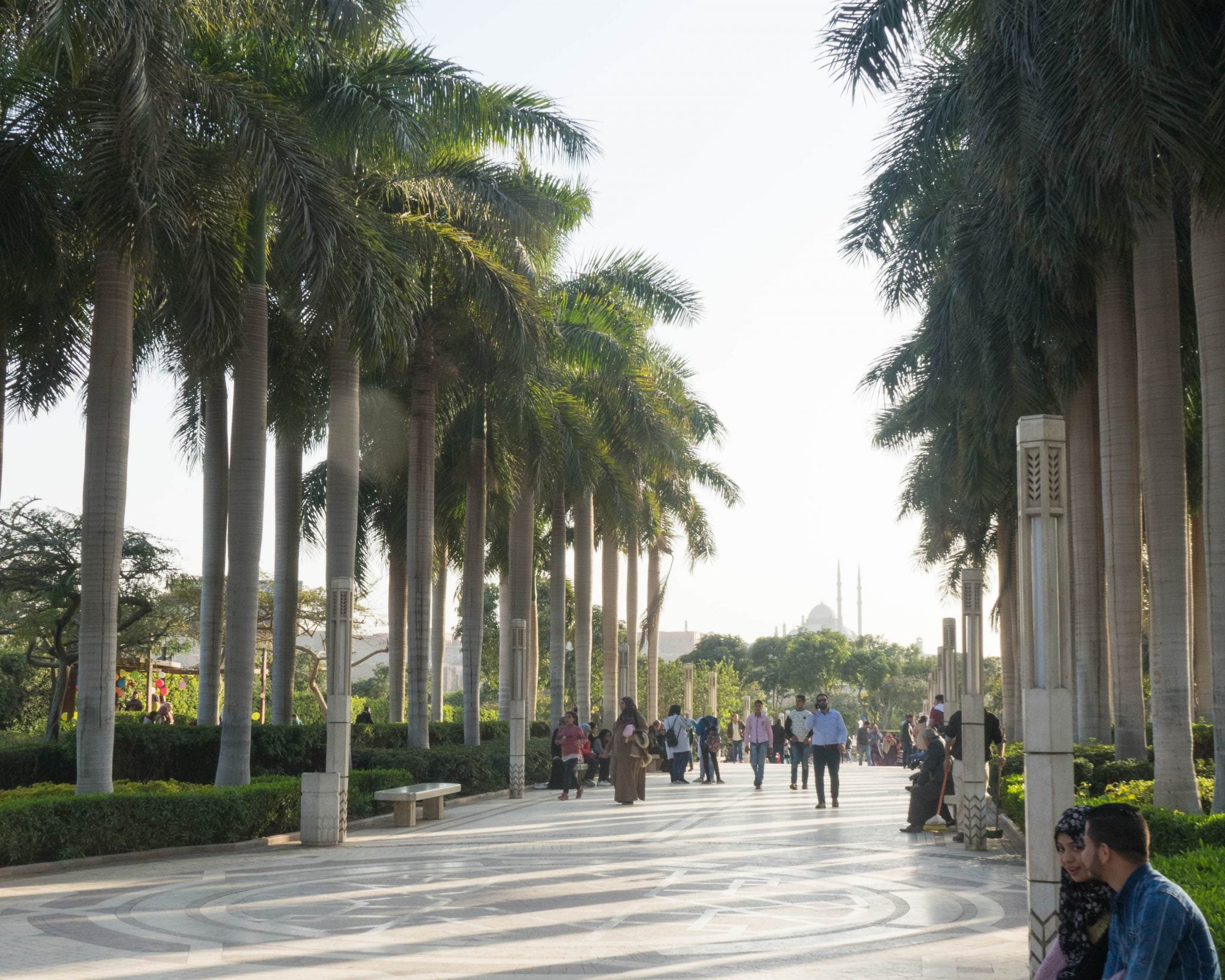 When you visit Al Azhar park, it truly feels like you've escaped the craziness of Cairo. I love the story behind the creation of this little oasis. Before this was a park, it was a pile of rubbish accumulated for over 500 years. Aga Khan, a nobleman, businessman, and philanthropist gave $30 million dollars to have this mountain of rubbish transformed into the beautiful oasis that it is today.
Spend a relaxing day strolling the grounds and grab a bite to eat at the Lake Side Restaurant located next to a peaceful lake or the Citadel Restaurant where you can get a great view of the Citadel. You can also have a picnic on one of the hills in the middle of the park and watch the sunset over the city. This is one of the only places I found where the entrance fee for foreigners is the same as locals (20LE)!
Camera tip: There is an additional cost of 200LE if you want to take professional/commercial photography inside the park. When we were screened going inside, security asked us to pay, but we told them it wasn't for commercial use and they just asked us not to use it inside the park.
Best time to visit: Be sure to avoid Friday or Saturday, which is the weekend for Egyptians. This is a popular local spot and it can get very crowded on these days.
Entrance fee: 20LE per person. Take more cash for lunch, about 100-150 per person.
8. Egyptian Museum
The Egyptian Museum has more than 120,000 ancient Egyptian pieces on display. Housed here are the artefacts found in King Tutankhamun's tomb in 1922, a remarkable discovery because the tomb of the boy king was largely intact, with most others having been looted. They uncovered thousands of priceless artefacts and items that were precious to the King. Most noteworthy is his gold face mask that was believed to be a made in his image. Another highlight of the museum is the royal mummy room. You will be able to see some of the royal mummies "in the flesh". (Note that there is an additional cost to go inside.)
This is also somewhere where having a guide was really helpful. There aren't any labels or explanations for the artefact, so it was helpful to have an Egyptologist explain the significance of the items. They are currently in the process of building a new Egyptian Museum which will be near the Pyramids of Giza. It is expected to launch in 2020 and will be one of the largest museums in the world.
Entrance fee: 120LE
Photo pass: 50LE
Mummy Room: 150LE
9. Kebdet El Prince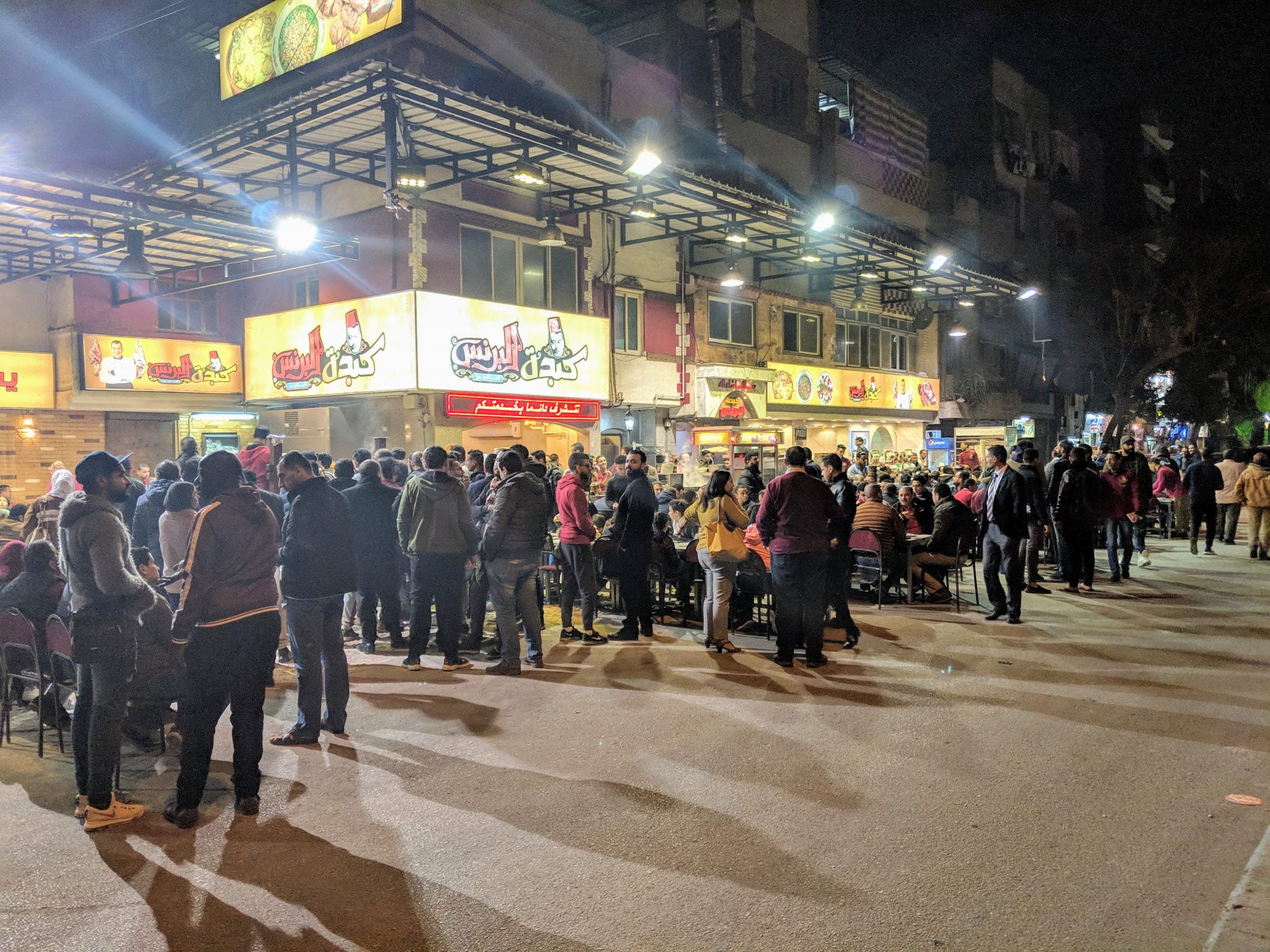 Mention Kebdet El Prince to an Egyptian who's lived in Cairo and their faces will light up. El Prince is a local favorite for a good reason: the food there is solid, extremely local while totally delicious. It remains one of the best meals we had in Egypt. It's best to come here with a local, as it's usually extremely busy and can be a little confusing for a foreigner, with a menu only in Arabic. However, Dana and I came here by ourselves, and we were still able to get everything we wanted.
Here's what you can expect. Once you arrive, grab a number and wait for your number to be called to be seated. There is usually a bit of a wait, but they serve food really quickly and the turnover is fast. If you're really hungry, you can bribe the host to be seated sooner. They are famous for their kibda (beef liver), Molokheya and sugu' (sausage). I'm usually not a fan of liver, but I had to admit they cooked it to perfection. If you want to try kibda anywhere, this is the place!
Tips:
Dress warmly as you'll definitely be waiting outside, and might be eating outside.
All meats are ordered by weight, with quarter kilo being the standard weight. Half a kilo per person is quite filling, i.e. four servings of quarter kilo dishes.
Order: liver (kibda moshakkil), sausage (sugu' bi salsa tamaatim) and grilled meat (wara'a laHama 'ala tarii'a briins). Then a fourth dish, maybe a tagin!
Cost: A very filling meal for two with about three to four meat dishes will set you back 250LE. You may see others sharing the same amount of food between four people…
10. Abou Tarek for Koshary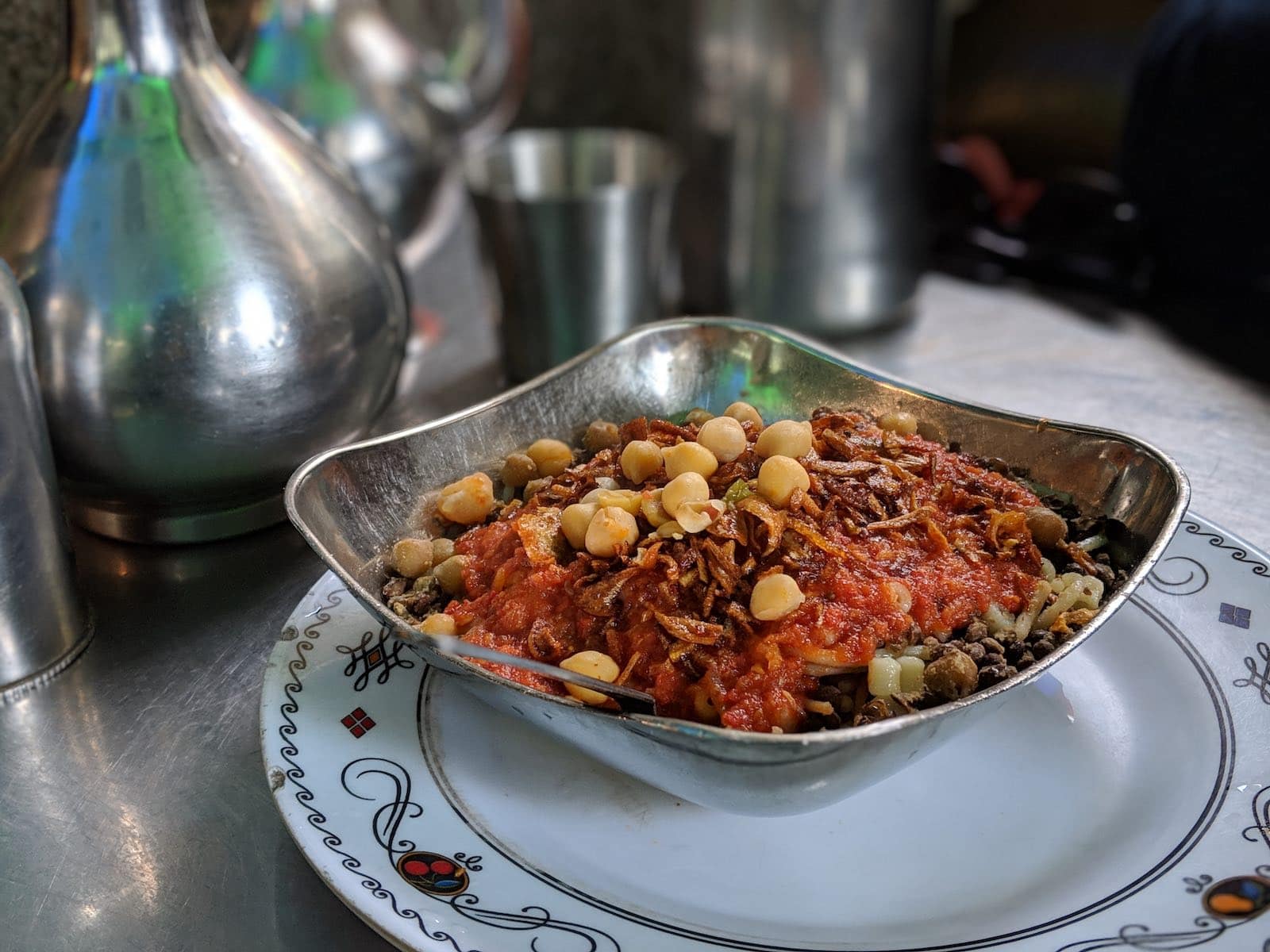 A visit to Egypt isn't complete without trying koshary, a classic Egyptian comfort food and carb-lover's dream consisting of rice, macaroni, lentils and chickpeas, topped with tomato sauce, garlic and fried onions. Abou Tarek was founded in the 1950s and is the most well-known and famous spot to get this classic dish. They're used to visitors and can deal with you in English. Because the restaurant is so busy, the food is always hot and fresh. It's also one of the cheapest Egyptian dishes.
Tips: Go earlier in the day (say noon) and it'll be less busy. Also, for the first time, ask for less rice and more lentils, which more suits western palates. Or don't ask for any changes if you want it to be local!
Cost: 7LE per person