Last Updated: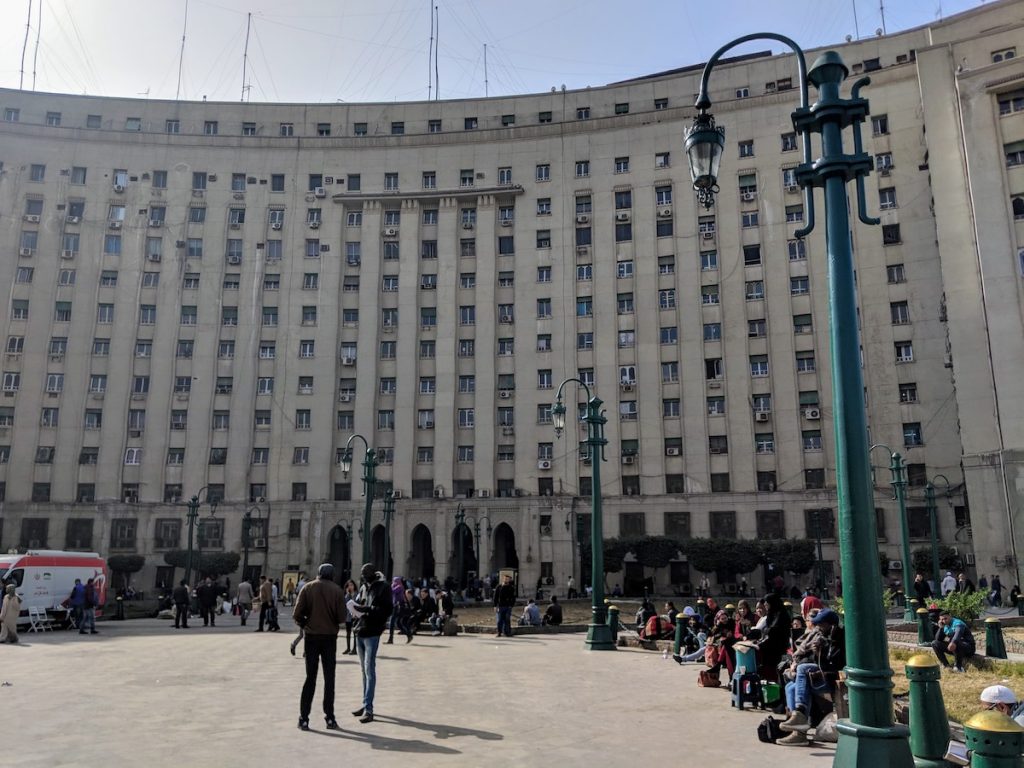 If you're planning on staying in Egypt for more than a month, you have to renew your Egypt tourist visa in person at the Mogamma3 building. We only found some outdated/unmaintained guides on the internet and decided to keep this one here for you, updated and complete (last updated in February 2019)!
This guide includes
New steps added late 2018 (like photography and fingerprinting)
The latest costs (it's much more expensive!) plus fines
Shortcuts for women
Like many things in Egypt (the transport being a significant one), the process is kind of hectic. Hopefully the guide below will help you make sense of it.
Comment or drop us a line if something needs updating. Happy to give credit where it's due!
Summary of how to update your Egypt tourist Visa
How long visa renewal takes: Renewing your visa will take you a few hours on two days, in the morning.
Period of Egypt visa renewal: The period of renewal for your Egypt tourist visa is 3 months standard. There are no other options.
Cost of Egypt visa renewal: It costs around 1,250 LE to renew your Egypt visa.
Where to renew your Egypt tourist visa: You have to go to the administration building in Tahrir Square (مجمع التحرير, mogamma3 at-taHrir). You can't renew it online.
Services for Egypt visa renewal: You don't need to pay someone to do it — they're probably using this guide!
Do you need to speak Arabic: You don't need to speak Arabic (but it helps, talking to security guards etc.)
Are there food and bathrooms: No foods, but there are bathrooms.
Can I do this: Yes, you can do it 🙂
Also, if something changes… make a note of it, and send us an email at [email protected] so we can help other travellers.
What to Take to Renew your Egypt Tourist Visa
Required
Go in the morning, early in the week (Monday/Tuesday). Plan to arrive at 8am.
Your Passport. If you have more than one, the one with the visa in it.
Copy of your e-Visa if you got one (lost it? Take the file on a USB stick to print there)
Cash of 1250 LE per person (see Egypt Tourist Visa costs below) OR a debit card to use with the ATM
Pen
Patience
An empty bladder
Optional
Food & water — there are some long breaks 🙂
Debit card — in case you need more cash
If you can ahead of time — passport photos and photocopies of your passport main page and all Egypt visa pages. There are copy shops around the city that can do it (cheaply), and hotels can too (more expensive)
Do not take
Camera — you'd have to leave it at security
Any valuables you're worried you'll have to leave at security. (Phone, wallet and passport are OK.)
Day One of Egypt Visa Renewal: Application Paperwork
Time taken: 2 hours round trip
Cost: 1250 per person (nearly all of it)
Main events: filling out paperwork
Get ready to leave at 7:30am, to arrive at 8. (You can also arrive at 9 or even 10 and it won't be abysmally crazy, don't worry. This isn't the DMV!)
Get a taxi to the mogamma3 building. Tell the driver "mogamma3 at-taHrir". If you're staying downtown, you can probably walk there. It looks like the photo above. (Note: There are multiple mogamma3 buildings around Cairo. For example, there's one in Giza.)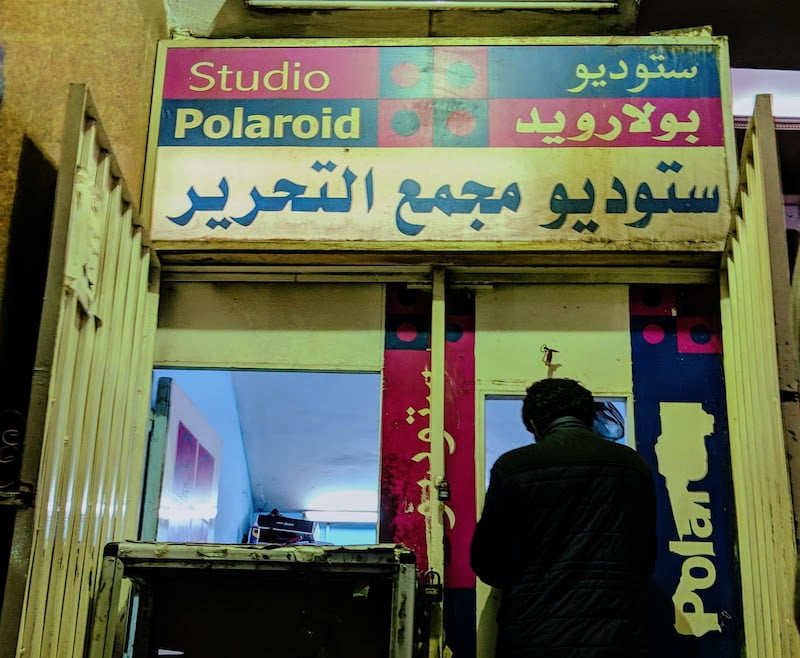 (To get photocopies if you don't have them) Once you enter the building, look for the photocopy booth on the same ground floor. Go there and get photocopies of your passport. You can just hand them your passport and they'll know what to do, but to be sure, show them the page (or pages) with visa stickers on them.

If you need a re-entry visa: Get an extra copy of passport pages if you plan on getting a re-entry visa.

(To get passport photos if you don't have them) On the same ground floor, go around the wall at the back, turning to the right. You'll see a small door and a short line. Go inside, get your passports taken, and pay the fee (30 pp). If you need a document on USB printed, they can do it here (10 per page)
Go back to the main hall, and go up the stairs — one floor. The wall sign doesn't say "Visa" but you're in the right place.
Go through security on the right (you may receive a pat down). Turn immediately right, walk down the long hall. You'll go past a lot of people sitting down and waiting. Maybe eating! These are people waiting for their passports on Day 2. You'll get to a second chamber where it's getting busier.
Go through the second set of doors and go halfway down the hall to a station in the middle, near a T-intersection. It's a police desk (it doesn't have an english sign but says "شرطه" in Arabic). Get a form, a large A3 sized form, you'll have to fill out.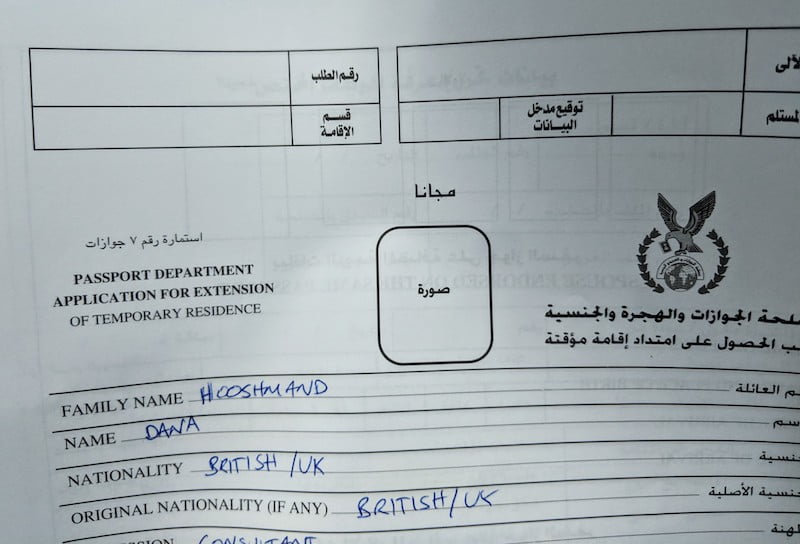 Fill out the form with the pen you remembered to bring (right?). Tips

For an address, put a hotel in Cairo. If you're staying in Giza, still put some hotel in Cairo. (Why? We were told by one functionary that our friend's address in Giza might cause a problem and necessitate us going somewhere else. We left it, and it was no problem, but don't leave things up to chance.)
You don't need to put your phone number if you don't have one.
For 'Religion', put down something you think won't cause trouble.

Get your form signed by the police officer where you got the form. You'll have to line up. It is usually about 10 minutes, but could take up to an hour.

Pro tip for women: Queue up on the left. The queue on the left of the table is women-only, and usually much shorter!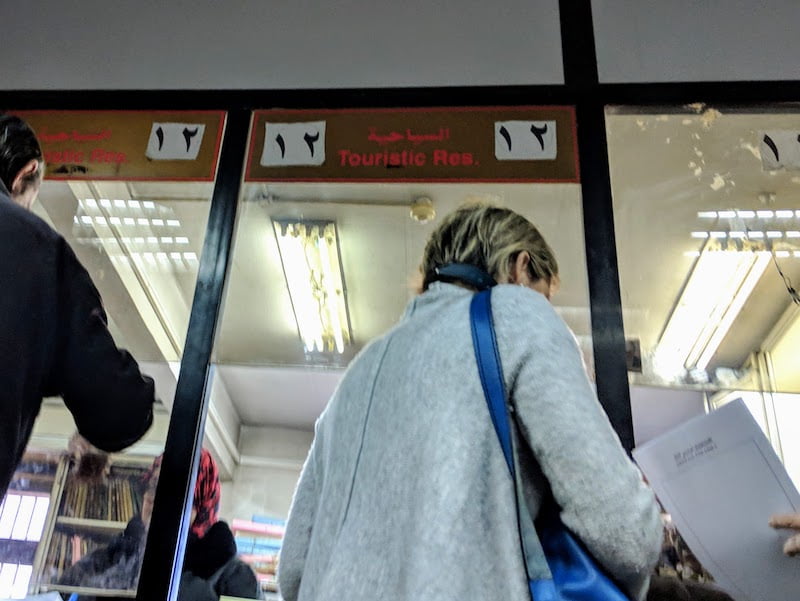 Go to Counter 12 right at the end. In Arabic, 12 is "١٢". Give them the form, a photos, your passport and photocopies of documents. The person will spend a minute or two checking the forms, but I never saw anything confusing happen. You'll get a piece of paper from that guy, to take to the bank counter.
Go to the bank counter. You have to go halfway back down to the hall, to where the police is, and turn left. Go down this hall and you'll get to another area where there are booths. One of them says "Banque Misr" on it. That's the one!
Pay the fee at the counter and get a receipt.
Go back to Counter 12 where you were and hand them the receipt. The person behind the counter will tell you to come back the next day at 9am. You can also come back another day, before the visa expires.
You're done. You should be out of there by 10-11 am. Go get yourself a delicious Egyptian lunch! We recommend a shawerma at nearby Felfela, which is a popular spot that still knocks out delicious sandwiches for 10-30 LE (depending on size).
Day Two of Egypt Visa Renewal: Paperwork and photography
Time taken: 4 hour round trip
Cost: Take 50 per person (or more for fancier food). Just taxi fares, and coffee/food while you wait.
Main events: More paperwork and photography
Get ready to leave at 8:30am. You can sleep in for another hour compared to the previous day!
Go to window 38. They'll give you a new form to fill out, which you take back to window 38.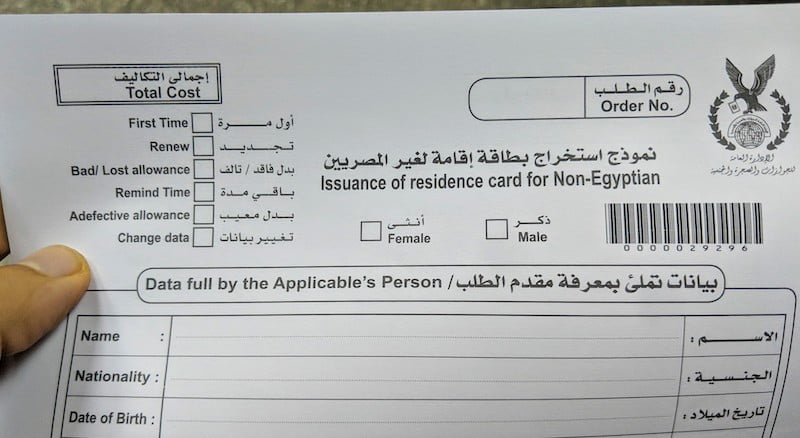 Take this form back to window 38. The person will take the paperwork, and ask you to go to window 35 nearby.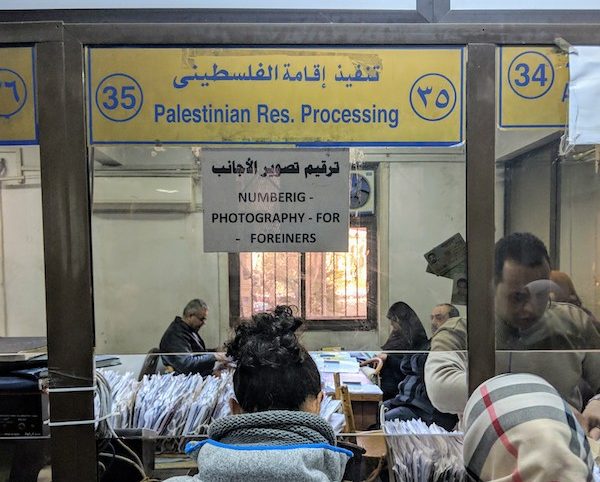 Go to window 35, which is "Numberig and Photography for Foreiners" (sic). Never mind the sign, you're in the right place. They'll give you a numbered ticket and say you have to come back in 1-2 hours for photography. (This was a new step added late in 2018)
You can now leave. On the way out, notice the number signs, and watch them: the numbers don't go in order. You're grouped somehow. But still, you can leave the building and go get a coffee or smoke some deadly morning shesha.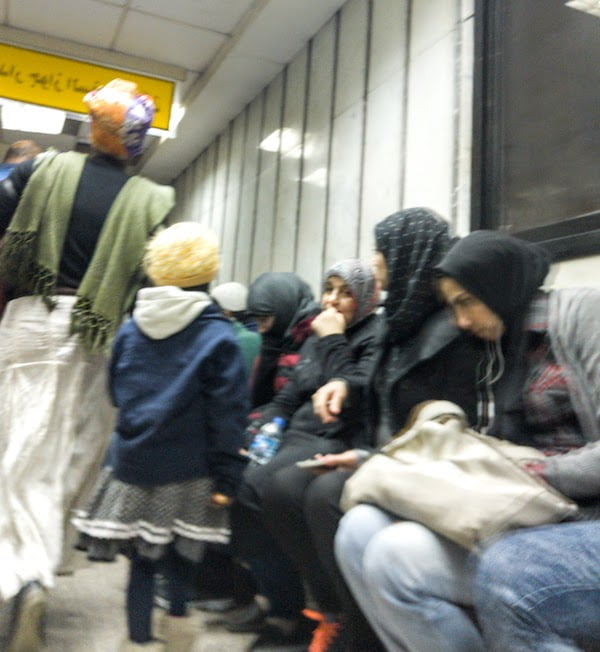 Come back after an hour or whatever, go up to the security guard and give him your number. He'll either wave you through, or tell you to go wait outside (if you don't speak Arabic it'll be clear from his hand signals).
Get your photo taken, do your fingerprinting. Then, surprisingly, after it's taken, they'll say it's all done and your visa is ready. Yay! You're out of there by about 11am this time.
I don't know when they snuck that visa in. I wonder if it's possible to do it without the photography… I would definitely not risk it 🙂
Optional Day 2-3 for Re-entry visa
Time taken: Another 30 minutes on day 2, plus 20 minutes on day 3 (with an awkward 4 hour gap)
Costs: 435 LE plus taxis
If you plan to leave Egypt and come back, like to visit a nearby country, you need a re-entry visa. The procedure for this is easy, but means you'll ahve to come back on day 3. It might be easier for you to just pay for new visas at the airport coming back, but it's up to you.
After you pick up your passport, go back to the counter for re-entry visas, right opposite counter 12 you were at before.
Get the form for re-entry and fill it out.
Get more copies of your passport info page if you don't have them (you ignored the advice above!). Go back up to the first floor.
Get your form signed by the police officer again, same place, around the middle of the hall
Go back to the re-entry counter and get an invoice
Take your invoice to the bank (same place as earlier) to pay. The price as at 2019 is 435 LE
Return to the re-entry counter and hand it in. You'll have to come back on Day 3 at 9 am again.
Day 3: come back for your visa with re-entry stamp
Come back to counter 37 and drop off your passport. You're told to come back at 1pm.
Come back at 1pm and pick up your passport!
Costs for Egypt Tourist Visa Renewal
It was very hard to find the costs for Egypt renewed visas on the Internet, and we only found out in person. We rely on people on the ground telling us for updates.
The three month renewed Egypt visa costs 1210 LE (~$70) per person (valid as of February 2019)
(Optional) The re-entry visa cost is 435 (valid as at February 2019)
Photocopying and photography costs about 60 LE per person (about $4)
Taxis will cost you about 20 LE (about $1)
Total cost for Egypt visa renewal: around 1200 LE (about $70) per person.
This might sound expensive, but the cost for a renewed visa is still cheaper than three consecutive one-month visas.
Here's a price list for services at the Egypt passport and visa office (Feb 2019)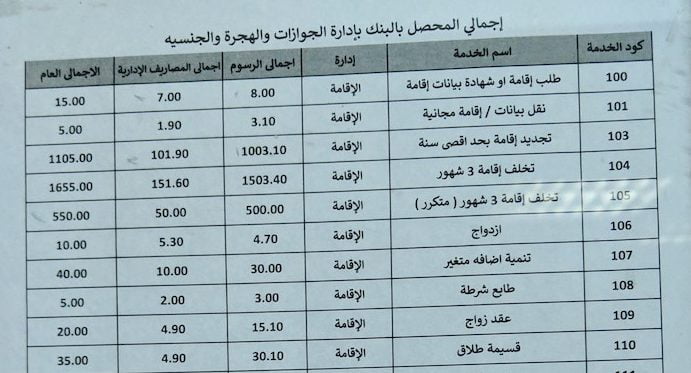 The most important prices here are
Renewal of stay, maximum one year: 1105. You pay this plus presumably some stamping fee. If you want a 6-12 month renewal, you need proof of address which includes a lease with your name on it (AirBnB doesn't work).
Marriage: 10 (so cheap!)
Divorce: 35 (this is presumably a disincentive)
FAQs about renewing your visa in Egypt
Can I renew my Egypt Tourist Visa online?
No you can't renew your Egypt Tourist Visa online. Despite the fact that you can get your initial visa online (using the official visa portal — fun fact, avoid egyptvisa.com as it's is a scam, see those TripAdvisor reviews), you have to go to the mogamma3 to renew your visa
Is it easier just to leave Egypt and come back to get a new visa?
It's very easy to get a visa on arrival in Egypt. You line up for a few minutes, pay $25 (cash only, USD) and get a visa. If you have some travel to do to a nearby country — like anywhere in the mediterranean — that's an option.
Note the Egypt visa you get when you return will also be only one month.
Can I just overstay my visa? What's the fine for overstaying my visa in Egypt?
Unfortunately there are no "official prices" for overstaying your visa. Anecdotally we've heard the following but we do not recommend relying on it as enforcement of these is random.
If you overstay your visa in Egypt for a few days, they're likely to not care
If you overstay your visa in Egypt for up to a month to a few months, it will cost you 1505 EGP. But it will only take you two minutes to pay the fine.
If you overstay more… we don't know. But people have done it.