Glossika vs Speechling — Two Awesome Language Apps Compared Exhaustively
Learning languages via learning whole sentences is awesome.
People rarely singularly enjoy memorising lists of words, studying grammar books, or doing exercises. The idea of just listening and repeating to absorb a language is very appealing (but of course, there's no panacea, or easy way out in language learning).
Learning via sentences is the fundamental goal of sentence-bank language apps like Speechling and Glossika: just listen and repeat (actively). And over time, they say, you'll absorb a language, infer grammar rules, and learn to speak naturally.
It's not quite as simple, of course. Sometimes you have to look something up. And it would be impractical to have a sentence like "Please give me a…" with every possible item you would ever request, so at some point you'll have to go memorise some nouns.
But sentence banks do help. We've tried them! I got a lot better at Hebrew, for example, learning ten sentences a day. We're still using both these apps for a few languages we're studying.
We recently started using Speechling, after speaking to the founder, and love it. But as an app that's targeted on teaching a language via teaching you sentences (rather than words), the first comparison that came to mind was Glossika.
Every time I mentioned Speechling to someonee either they'd say or I'd think "Hey, but what about Glossika? How would that compare?"
In the effort to provide a comprehensive review, I decided to tabulate everything I know about both apps.
So here it is: Glossika vs Speechling. Fight!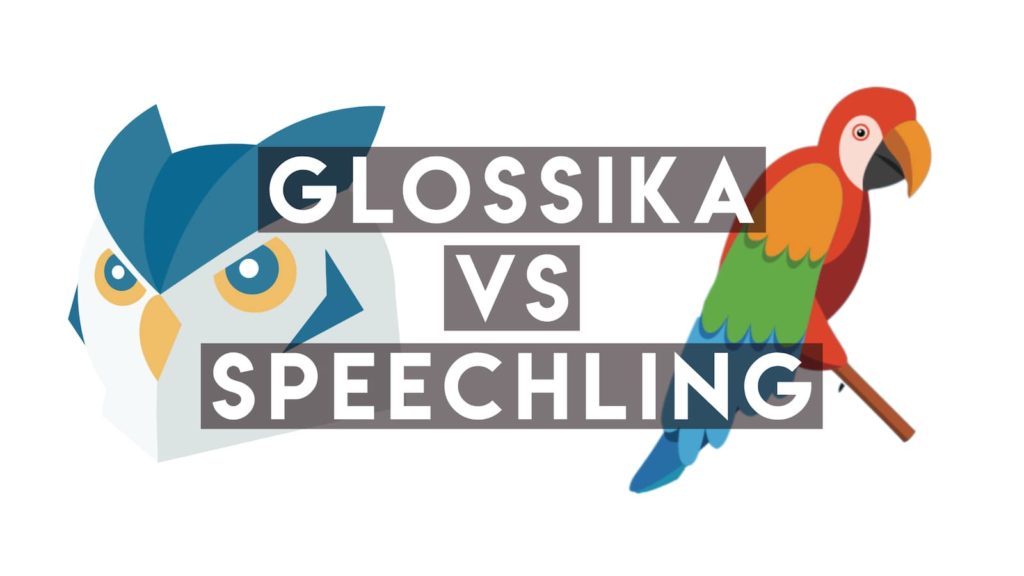 Note — our site earns money if you sign up to one of the apps. We'd be grateful, if you found this helpful — this took a lonnnng time to write and takes effort to keep current.
Glossika vs Speechling — Summary of similarities and differences in a table
Here are all the major similarities and differences between Speechling and Glossika.
Where there's some ability to compare them, I've highlighted whether Speechling or Glossika is better.
Click on the links for a more detailed analysis. I've boldfaced the ones where one app is a clear leader.
Summary of Glossika vs Speechling differences
Try Speechling – It's Free (for one language)
Sign up to Speechling with the link below. Get access to all sentences for one language, review from a real tutor, and their apps — for free. The paid version lets you get unlimited access and offline mode.
Try Glossika for a Week for Free
Try Glossika's method of teaching language through thousands of sample sentences. Learn languages by sentences spoken by native speakers in over 60 languages.
Languages Supported by Glossika vs Speechling (Winner: Glossika)
Glossika's major advantage over Speechling is the huge catalogue of languages that Glossika supports.
Glossika has been around for a lot longer, of course (about a decade). They used to be just a box of CDs! It's only in more recent times that they put up a website and changed to a subscription business model.
As of today, Glossika supports over 60 languages. What's impressive about this collection is that it includes
Variants of major languages — like different accents and character sets of Chinese (e.g. Cantonese and Taiwanese Hokkien, and Moroccan and Egyptian Arabic)
Right-to-left languages like Arabic, Hebrew, and Persian
Endangered/minority languages like Gaelic, Hakka, and Catalan, which Glossika provides for free
All of that is pretty cool. It makes me think that if I were locked in a room with nothing to do, all I'd do for years would be go through the entire catalogue of Glossika. I'd nerd out for ages.
Speechling has far fewer languages — currently it only has 11.
It's impressive considering Speechling is a non-profit that only started in 2017. The languages it currently supports are huge ones, after all, including Mandarin Chinese, Russian, Spanish, and French.
Speechling also is beginning to include variants of languages, like European vs Latin American Spanish, and British vs American English.
However, given the short list of languages Speechling supports, if you're after a language not included (like Arabic), you can't use Speechling at all — yet.
Endangered languages (Winner: Glossika)
In addition to the many languages that Glossika has, it also has endangered/threatened languages like
Catalan
Gaelic
Taiwanese Hakka (plus a couple of other varieties of Hakka)
Wenzhounese
Welsh
Manx
Kurdish (Sorani)
And a few others. Glossika gives away its full product for free to support these smaller languages that have limited learning resources. Pretty cool!
In a couple of those languages, like Manx and Kurdish (Sorani), Glossika is one of the very few language resources out there. It's a very unique resource in that way.
Speechling has no endangered languages in its relatively small language list.
Web interface quality (Tie)
Comparing the web interface quality on Glossika vs Speechling, I'd say they're both good, without being perfect — and roughly on par with each other.
The only reason I don't say either is "perfect" is that both Glossika and Speechling each have so many functions and places to click around that it can be intimidating for the first-time user.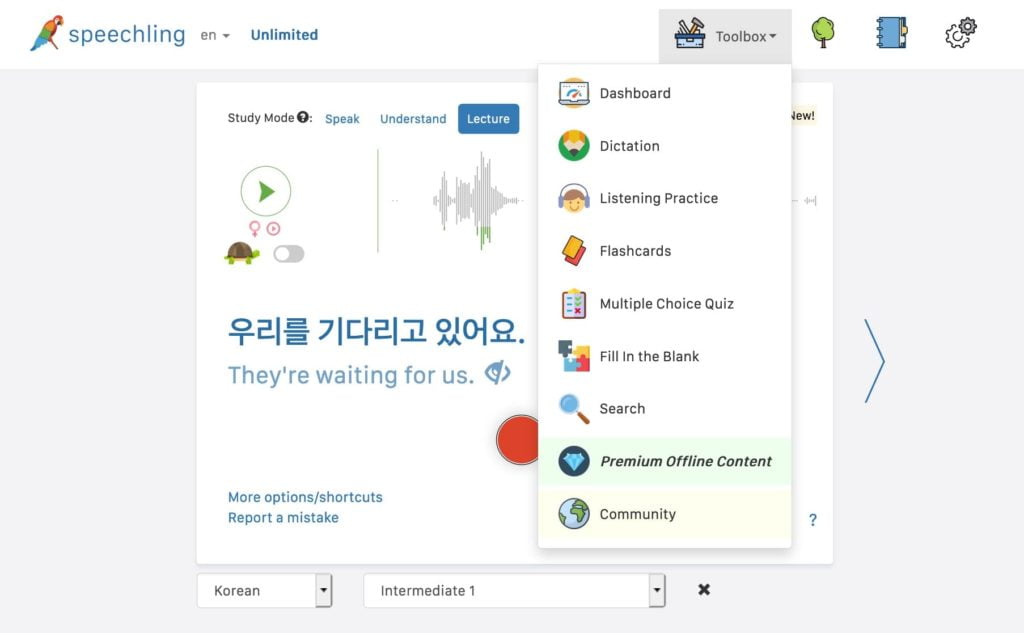 Both Glossika and Speechling offer a degree customisability of the review screen. You can choose whether you see translated text or original language text, and whether you see the phonetic transliteration.
Speechling doesn't currently offer phonetic transliteration in every language, though it does offer it in Mandarin Chinese (Pinyin).
Mobile apps of Glossika vs Speechling (Winner: Speechling)
Speechling has mobile apps that work great in iOS and Android. They're great!
Glossika previously didn't have mobile apps at all, just a clunky web interface. In early 2022 they released an iOS app, but there's still no Android app.
So Android users have to use the web interface. What's worse is that the mobile web interface for Glossika is buggy. I find that the first time I use it I don't hear any audio, and I have to restart my browser every time.
When my phone goes on standby while using Glossika, it stops playing. So I have to keep touching the screen to keep it alive, or use another setting to keep the screen awake while using the browser (and not forget to turn that setting off).
Offline mode in Glossika vs Speechling (Winner: Speechling)
Firstly, Glossika has no offline mode.
This, coupled with the fact that the mobile web interface doesn't work too reliably, makes Glossica difficult to recommend for mobile users unless you have an iPhone (the minority, by numbers).
Speechling's app doesn't have an offline mode, but you can download an entire category as an audio file to listen to it later.
You can also download Anki flashcards. Killer! I use these a lot.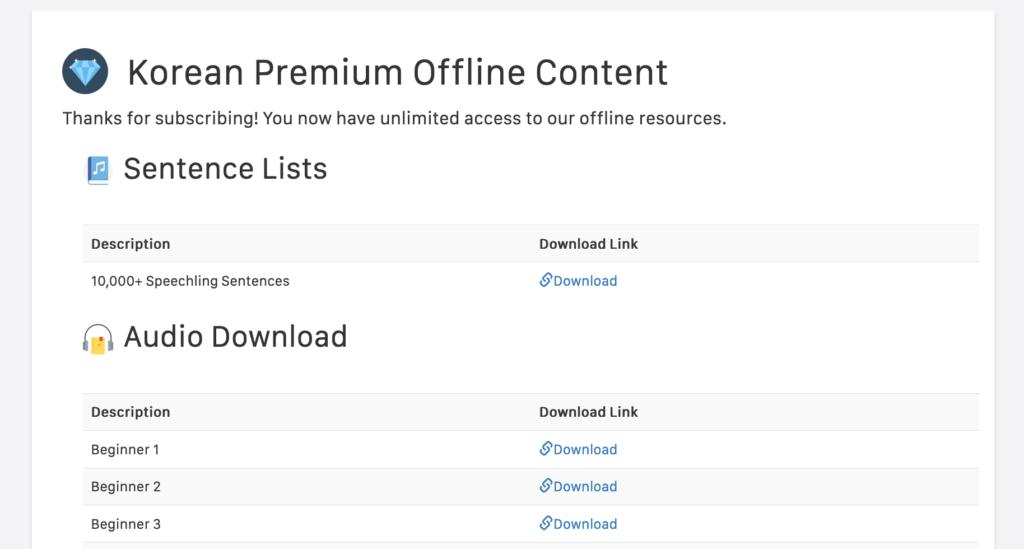 For example, if you're studying Korean and are at Intermediate 1, you can download the entire sentence set to listen to offline. It'd be an hour of audio for 300 sentences.
It seems there's no way to configure the downloadable, e.g. to make it say "put English first, then Korean". It's just the two languages you're studying, with the target language first. So the focus of offline audio content is on understanding.
A really cool function of Speechling is that they let you download entire Anki decks of their content. This is a huge unlock. You can download Anki decks for every level, both going from your base language to the target language, and vice versa.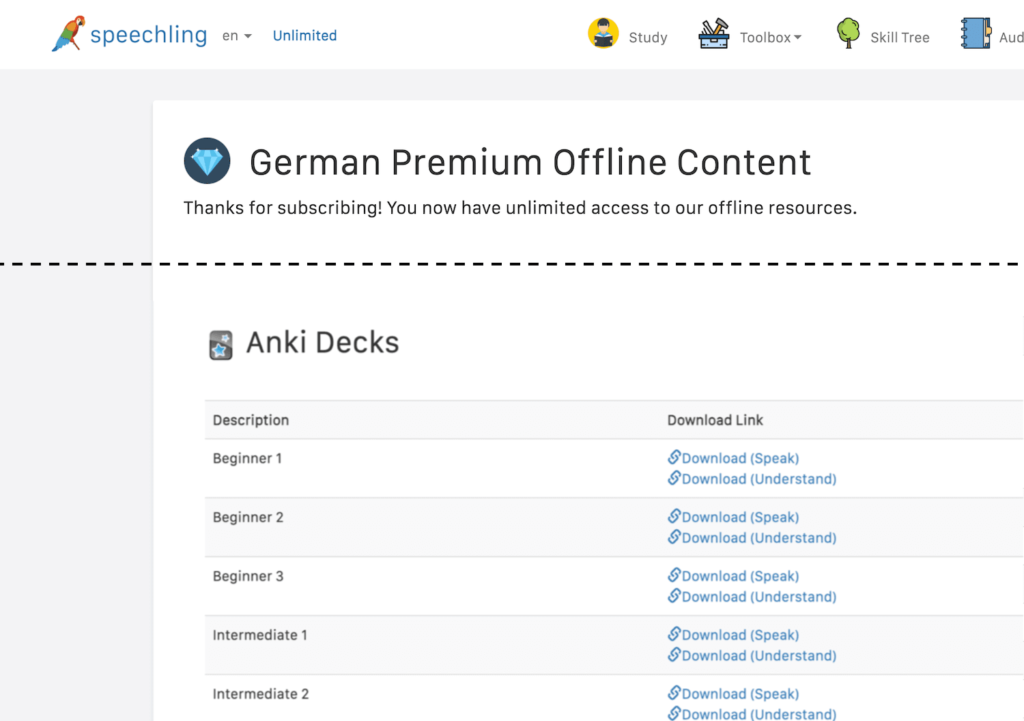 Tutor feedback — Getting help with pronunciation/grammar (Winner: Speechling)
One thing that really makes Speechling stand out is the fact that you can get feedback from a real, human tutor on your pronunciation (and even your grammar if you make up your own sentences).
It's really pretty amazing. In learning mode, you have the option of sending every sentence you record back to the tutor for review. You can do this on desktop or using any of their mobile apps.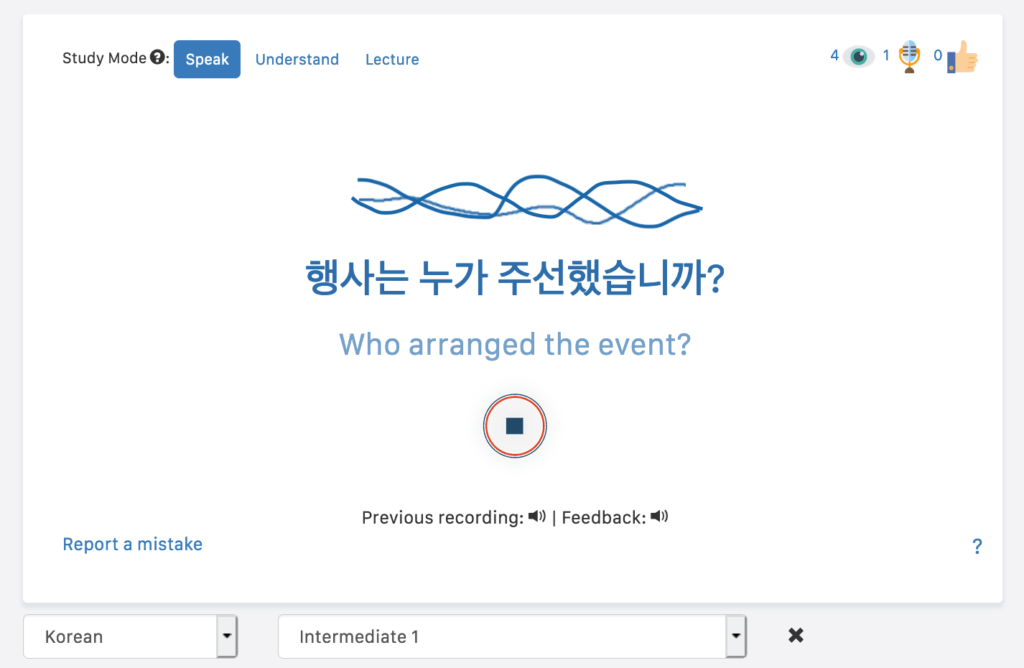 The tutor then responds within a few hours (depending on time zone) with feedback on how well you pronounced it. If you said a word wrong, they'll tell you.
I think this is particularly useful when you're making up your own sentences in Freestyle mode.
Glossika lets you record sentences, but only for you to listen to again. (And you can't record on iOS.)
Unique learning modes (Winner: Speechling)
Glossika offers just a couple of learning modes: either
Add more sentences, or
Review existing sentences
In review mode, you can choose to record your answer (it doesn't go anywhere — it's just for you to listen to), type in your answer, or just listen and repeat to yourself.
That's a good start. But Speechling offers everything Glossika does, and a LOT more.
There are three main study modes in Speechling: Lecture (which adds more sentences), Listen (which lets you practise listening comprehension), and Speak (… the obvious).
Those three learning modes in Speechling already offer more granularity than Glossika offers.
But on TOP of that, Speechling has these unique learning modes:
Listening practise — where you are systematically taken through everything you've learned (or even the whole deck) without it affecting your review, and without needing input. Great for long drives — this is basically old-school Pimsleur, you can just play it and absorb it.
Multiple choice quiz — an opportunity to test yourself on what you know by choosing options
Fill in the blank — like cloze-style flashcards. It deletes a word (or character) at random and you have to enter the correct answer
Conversation mode — quite hard. You're asked difficult questions (like about the meaning of life!), and encouraged to just speak your mind.
On top of that, there is one mode I find pointless ("flashcard" mode, which seems to be only a slight re-representation of the other content).
The only downside to all these learning modes in Speechling is that it can be daunting for the new user. Even I, someone who has made own apps, studied languages for 20 years, and know my way around language software, found it a little confusing to know where to start. I didn't want to click around, I wanted to get on with it.
But that's a small quibble and they could fix it by just holding your hand a little more, or sending you an email and saying "hey, start here."
Selecting level and topics to learn (Winner: Glossika)
In Speechling, you can choose the general area you want to learn.
There are a number of topics, like
Asking for help
Restaurant
Transport
Bad situations (emergencies)
Personal questions (I checked out of curiosity… stuff like "are you married?" and "how old are you?")
(and many others)
The topics work a bit like a phrasebook. They're quite useful.
This is on top of the range of levels you can choose, from "beginner" through to "expert."
In Speechling, these topics span a range of complexity. So you might find some simple phrases and some difficult ones. Usually, they're not too complicated.
In Speechling, as well, you self-select the level you want to study. You decide yourself if you're anywhere from "beginner" to "expert".
In Glossika, you can't choose your level. It assigns you a level based on your test scores. I don't think you can start at any higher than B2; I did the test in Spanish (in which I'm fluent) and even though I got 100%, that was where the testing stopped.
What's unique about Glossika, though, is that you can get very granular with the topics you like and want to learn.
Within each topic of interest, you can get very granular with subtopics. It's quite amazing!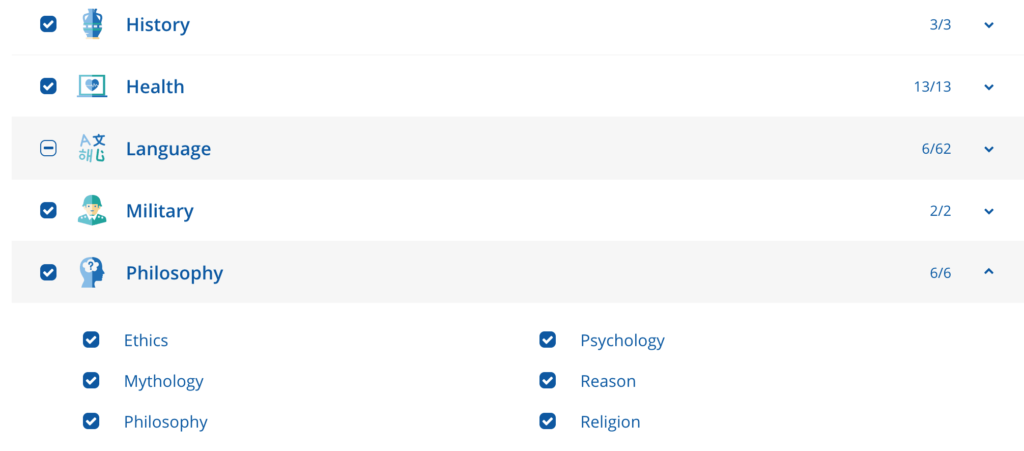 I noticed some language- and culture-specific topics in there, too, like topics specifically about many of the languages/cultures offered in Glossika. This is heartening — it means that Glossika has some culturally specific content. Not sure what it is (I haven't seen it), but I'm not sure if Speechling does.
Freestyle mode — Making up your own sentences (Winner: Speechling)
One of my favourite things about Speechling is that you can make up your own sentences and get them reviewed by a tutor.
Sometimes I just want to learn one very specific sentence. Traditionally the way to do this has been to post on forums or to get a tutor to tell me.
Speechling makes this very convenient. And you can do it 35 times a month for free (or unlimited if you get the paid version). I'm a big advocate of learning sentences as a vehicle for learning a language so I love this.
Glossika has no comparable option.
Glossika vs Speechling Pricing (Winner: Speechling)
All content for one language (of 11 languages)


35 sentences reviewed monthly by a tutor for grammar/pronunciation


7-day trial for one language (total 60+)


Unlimited access to minority languages (e.g. Taiwanese Hakka, Catalán, Gaelic, Kurdish)


What you get for paid version


All content for all languages (can switch)


Unlimited reviews by a tutor


Offline content - downloadable audio + flashcards


All content for all languages (can switch)


$29.95/mo
($24.95/mo annually)

Speechling, as a non-profit company, provides most of its content for free.
This means you get
Access to all the sentence banks
Near-total functionality in the apps and website
Review of 35 sentences a month by a tutor for pronunciation (or grammar, if you use Freestyle Mode)
If you pay a paltry $20 a month, you get
Unlimited access to the tutors (this is bonkers!), including the ability to make longer recordings
You can download the offline content
A couple of other small things (check out their pricing page for more details)
Glossika vs Speechling — Free trials (Winner: Speechling)
Just a quick note to say
Speechling provides a lot of content for free; you pay extra for more tutor reviews, more languages, and offline support.
Glossika provides a 1-week free trial. It's unavailable after your trial is over.
Would be nice if Glossika offered at least a limited mode (e.g. a limit on the number of reviews) for free.
Oh, and pro tip for Glossika's free trial: if you run out of time (or forget to use it altogether), then email them and say "hey I forgot to use it!" and they are sometimes flexible and will extend your trial.
Audio Quality and Gender Choice (Winner: Speechling)
On audio quality, both apps are very good. But Glossika has a slight edge. On Speechling, some recordings were a bit echo-y. (In the Advanced 1 series in Chinese, if anybody from Speechling is reading this.)
Being able to choose the gender in which you hear spoken language is important for a few reasons:
You may want to hear something spoken as you would speak it
Conjugation changes sometimes when a different gender speaks (or is spoken about)
Some other personal preference…
Either way, Glossika doesn't really offer any choice here. Some sentences are spoken by women, and some by men.
Speechling lets you choose the language of the person speaking for every single sentence.
The one place that both fall short (or are the same) is that you can't change the gender of the people spoken about.
For example if you're saying "he/she" or about "you" (referring to a single woman or group of women), it's instructive to know how a sentence would change with gender (and it changes in a lot of languages).
Searching for sentences (Winner: Speechling)
One of my favourite things about Speechling is that you can search for any sentence in its database, even if it's out of your league or you haven't studied it yet.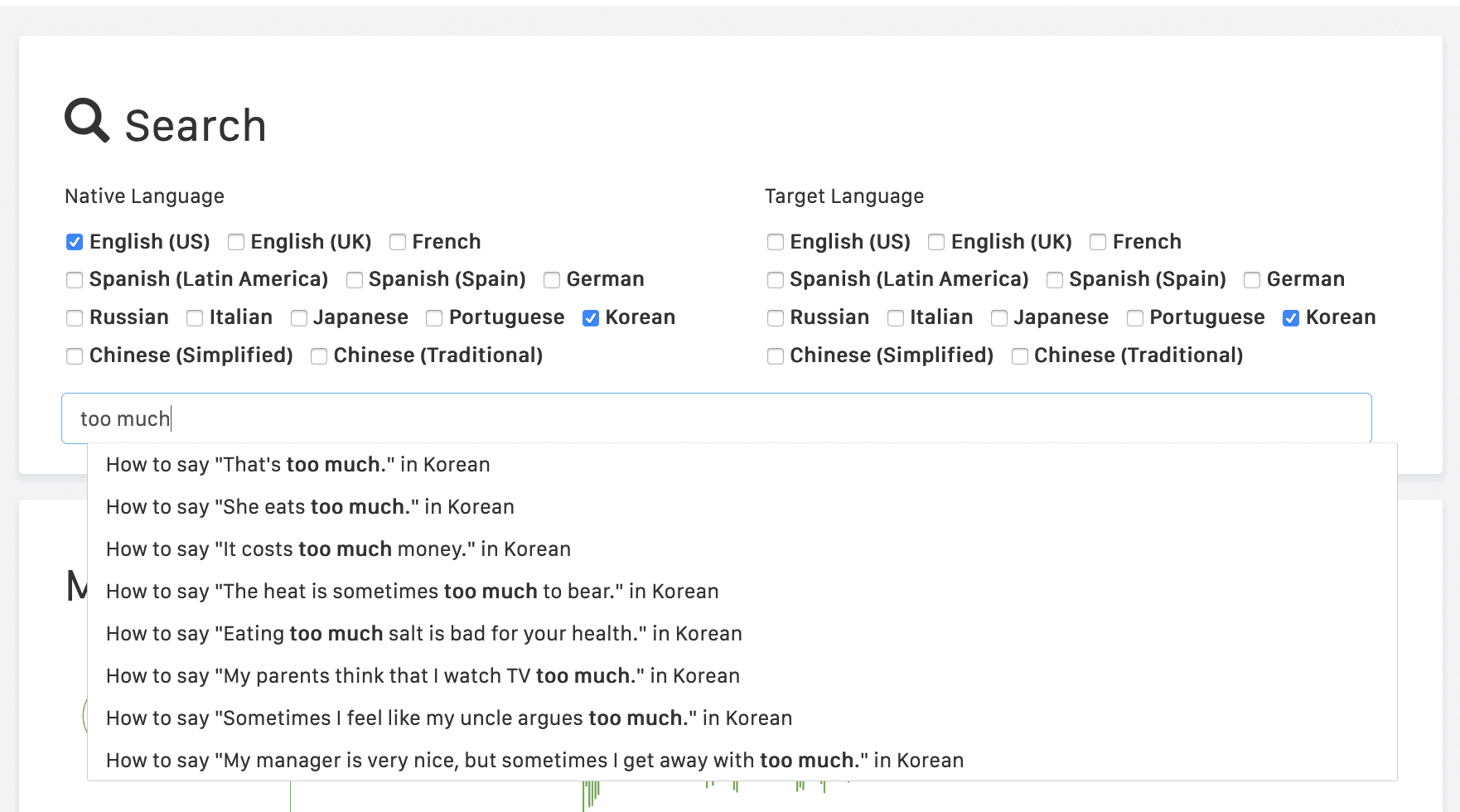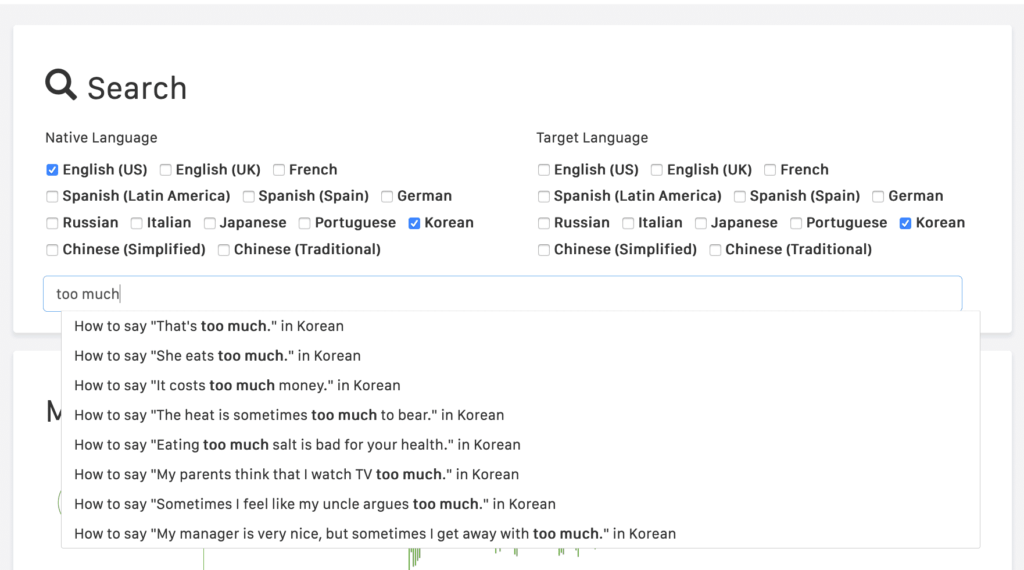 This is super useful for checking out how to express things, either in your target language or in the language you speak.
About Speechling and Glossika — The Companies
A final note — I think it's important to understand a bit about the businesses themselves.
Glossika was founded in 2012 by Michael Campbell in Taiwan. It's based in Taiwan and employs most of its people there. It's a for-profit company. The business model has evolved since it was founded from selling pricey one-language packs to creating an online platform that bundles all the languages together. Glossika aims to be a complete language-teaching platform, and uses words like "artificial intelligence" to say they increase or decrease exposure to a sentence based on feedback. (I'd call that an "algorithm".)
Speechling is an educational non-profit that was founded in 2017 in San Francisco, California by Hongyu Chen. It's much younger. Even though it's a non-profit and mostly free, it was profitable (as a company) within six months of being founded. The model has always been to give away as much as possible for free. Speechling's goal is to make language tuition affordable and accessible for everyone. It's a beautiful mission, and one I support.
On a subjective note, out of the two companies, I really like Speechling's vibe more. I'm grateful that Glossika exists, however.
Overall — Glossika vs Speechling, which one should YOU pick?
After having done thousands of reviews with both, here's what I'd suggest.
Pick Glossika if…
You want to learn a less common language since Glossika has over 60 — and some of the least common languages are free
You want to use a less common language as your base (i.e. learn FROM that language, e.g. if you're most familiar with Arabic or Persian, and want to learn Spanish)
You want to dabble in multiple languages (some of them less common)
You don't mind paying for the resource, as there's no free version.
You don't need feedback on pronunciation and grammar.
Pick Speechling if…
You want to get feedback from a tutor on your pronunciation and grammar, including on your own sentences
You want to study one of the common languages they currently have
You want to spend nothing since Glossika gives away a lot for free! (but only for one language)
Overall, they both have pros and cons. If I were a student on a budget studying a common world language, I'd pick Speechling. But if I were a language nerd who wanted to explore the world, I'd pick Glossika.
Try Speechling – It's Free (for one language)
Sign up to Speechling with the link below. Get access to all sentences for one language, review from a real tutor, and their apps — for free. The paid version lets you get unlimited access and offline mode.
Try Glossika for a Week for Free
Try Glossika's method of teaching language through thousands of sample sentences. Learn languages by sentences spoken by native speakers in over 60 languages.