Our Favourite Apps to Learn Languages Quickly
We generally prefer using books and teachers. But language learning apps are good sometimes. Here are our favourites.
We've studied a lot of languages, and have been doing so for decades.
We've used every method available — textbooks, classroom instruction, paper and electronic flashcards, writing exercises, reading drills, giving speeches, and of course, apps — and have a strong point of view on what works and what doesn't.
In a nutshell, we recommend apps only for the early stages of language learning. Beyond that, you may fall into a trap where you're playing it like a game, and not learning as efficiently as you can. That's why we still recommend old-fashioned language learning techniques for really getting fluent.
That said, apps can be an excellent way of:
Getting started with alphabet and sounds
Drilling specific things you find it hard to learn
Making use of five-minute breaks in your day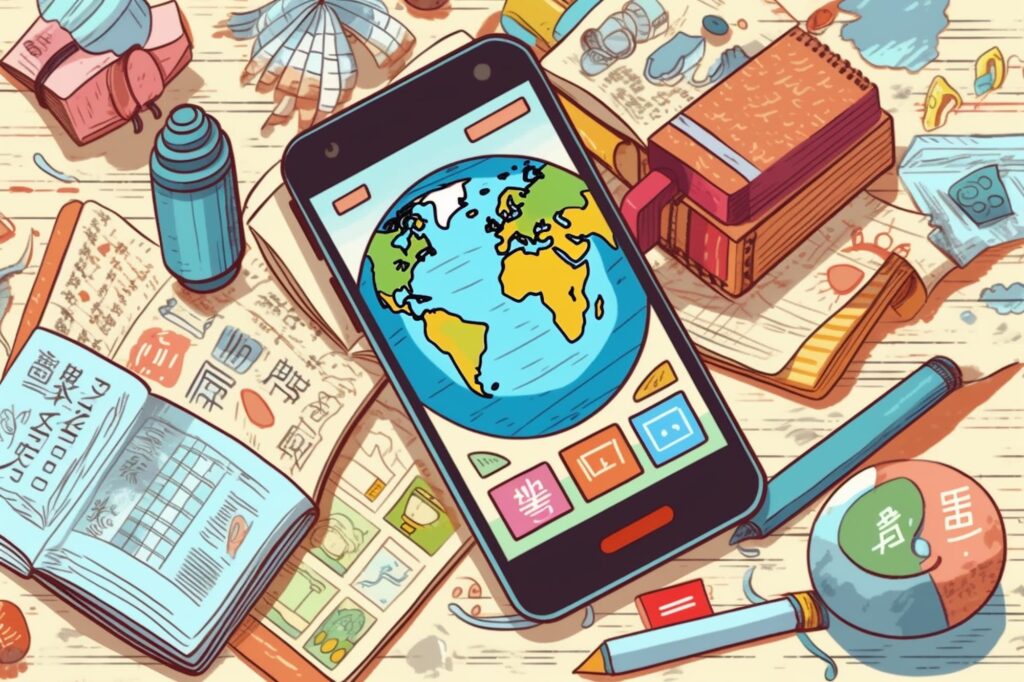 This post may contain affiliate links. Please see our disclosure policy for details.
Our Favorite Language Learning Apps in a nutshell
The below table is a summary of all the language-learning apps we discuss in more detail later in this post.
Overview: Which Language Learning Apps Do We Use?
We've used the apps below to learn a number of languages, including Egyptian Arabic (see our videos of us speaking it) and Swahili.
Here's our list of what we use.
Mandatory: italki. We use this for every language. We're total converts. It's so much better than trying to find random local tutors. Read our full review for more info.
Mandatory: Anki. Anki is an indispensable tool for learning words effectively. You can use it for studying anything, but it's awesome for languages. Here's our guide to getting started with Anki for language learning.
Highly recommended: Speechling, or Glossika. Learning sentences is much more effective than learning words. It's good to start using it after a week or two of using textbooks. We much prefer Speechling (it's better and it's mostly free), but get Glossika if your language isn't available.
Not necessary, but useful for specific basics like elementary vocab and alphabet: Duolingo and others like it. You can use these, but if you don't, you will not be at any disadvantage.
Read on for our more detailed thoughts of what each app/website is useful for.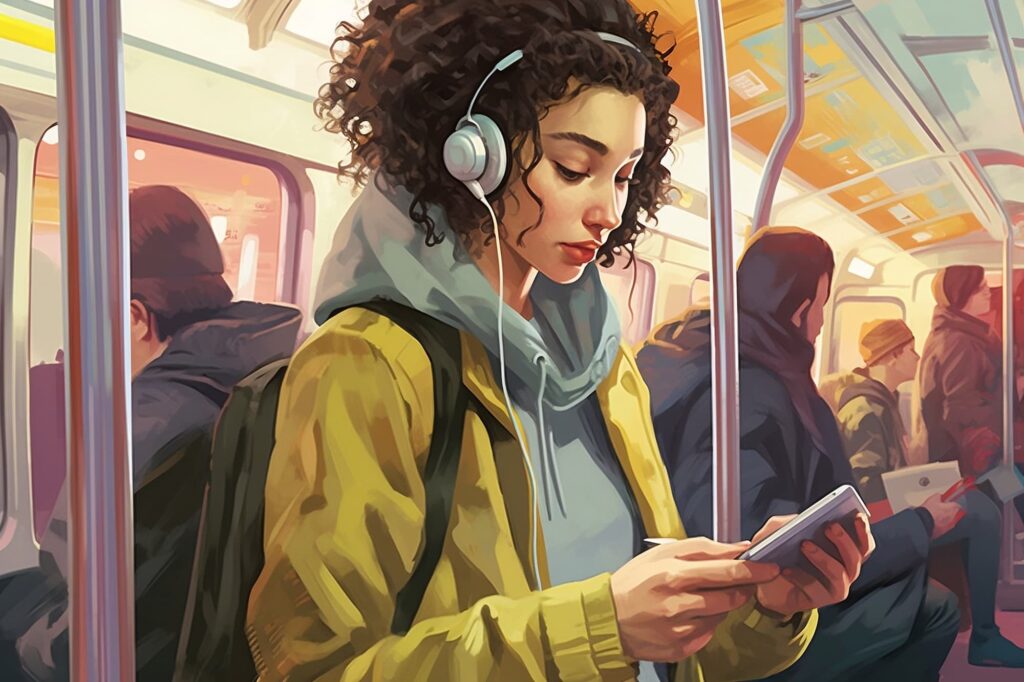 Speechling (mostly free) or Glossika (paid only) — Listen and Repeat to Complete Sentences
I'm putting these apps together because they're mostly similar — they're "sentence banks".
We like Speechling more, because you can get Speechling mostly for free, but in fewer languages — most of the major ones, but no Arabic.
Glossika has more languages, but it's not free — though you can get a free week's trial here. If you need an extra week or two, you can ask (and say we suggested it) — they usually oblige!
Try Glossika for a Week for Free
Try Glossika's method of teaching language through thousands of sample sentences. Learn languages by sentences spoken by native speakers in over 60 languages.
Try Speechling – It's Free (for one language)
Sign up to Speechling with the link below. Get access to all sentences for one language, review from a real tutor, and their apps — for free. The paid version lets you get unlimited access and offline mode.
There's an emerging school of thought that you should learn sentences or phrases, not words.
For example, the word "example". It's most commonly used in phrases like "I'll give you an example", "Could you give me an example?", "This is just an example", or, of course, "for example". If you learn those phrases fluently, you'll be fine — and you don't need to learn many others for a while.
Speechling is one of our new language learning apps, and our favourite app for sentence banks. It's so incredible — and it's free. Read my full overview here of what I love about it and how to use it.
The main limitation of Speechling is that being a newer company, it has fewer languages. It still lacks a few major ones like variants of Arabic.
Still, it's a good app. Plus, the pricing is shockingly good. You get all the content for free, and you can even have a teacher review 35 sentences you say out loud a month. Still for free!
If your language isn't on Speechling's short list, then check out Glossika, which has over 60 languages. Glossika is one of the most expensive apps on the list… and one of our favourites!
Both Glossika and Speechling have apps you can install on your phone. But you can also use them from a browser.
Theory of Sentence Banks
Sentence banks like Speechling or Glossika work on one premise: listening and repeating to whole sentences. They believe that we don't speak in words, but in whole sentences, and that it's much more practical to learn whole sentences than words in isolation that you then have to conjugate.
From an email from Glossika:
There's no memorization involved in language acquisition. If anybody is selling you flashcard methods these days, then you need to ask for your money back. It's ridiculous.
Both apps also use spaced repetition. You see sentences more often when you learn them, and then gradually they show it to you less and less — unless you tell the apps you would like to see it more.
Finally, neither Speechling nor Glossika teaches you any grammar or vocabulary. This is a conscious decision: they want you to learn it by inference, believing that the human mind is suited to learning like this, just as a child's mind is. (I disagree — I think that learning rules is one of the advantages that adults have in learning a language.)
One of the most impressive things about Glossika is the catalogue of languages. There are over sixty languages, with multiple variants of some languages including Arabic, Chinese and English.
In Glossika, you can go from any language to any language. So if your native language is Spanish or Chinese, you can use that as a basis for learning Russian, Arabic or Swahili.
And some of the languages in Glossika (e.g. minority ones) are free, too.
Reality Check — Do Sentence Banks like Speechling or Glossika work?
Yes, sentence banks absolutely work!
In Glossika, I went about 20,000 reps into Egyptian Arabic and learned things that my teachers and textbooks didn't teach me.
In Speechling, I've got really high retention of the Korean sentences I've done.
We definitely love both apps. We learn pronunciation well through it. We learn useful phrases that almost never come up in conversation with a teacher online using italki, like "Can I borrow your umbrella?" and "You stepped on my foot!" (Both real examples that I love).
The pronunciation in both apps is natural and native in every language each one has, which helps us develop an ear for native pronunciation, as well as giving us an excellent model to copy.
The repetition system is fantastic. I really have memorised hundreds of sentences and many more words and find myself pulling them up on demand occasionally. I might be unsure the first time I use it, but I've never been told "that's unnatural" or "we don't use that word". On the contrary; I hear that things I've learned from books are sometimes "unnatural".
Downsides of Sentence Banks
The hardest thing about sentence banks like Speechling or Glossika is that it would be too hard to use as the first introduction to a language. We still would suggest you use textbooks as the entry point to learning a language.
While your brain is excellent at learning things by inference, it doesn't have to. As an adult, you're adept at understanding patterns and rules when they're explained to you clearly, and it can really accelerate the pace at which you learn.
Children are effective learners through inference but they also learn very slowly, with no rush or pressure to learn the one language they're studying. We think Glossika is a good supplement after about a month of self-study, but not a great starting point.
Thirdly, sometimes the sentence fragments (in any language, using either Speechling or Glossika) are incomplete translations. For example, the English sentence might be "No, I don't think so." Then the Arabic sentence might be "I don't think she's coming". The difference would be between the fact there is no clean translation for the word concept "so" in Arabic, but that fragment was part of a larger dialogue. It's easy to see what's going on though and doesn't really hurt learning.
See our reviews of Speechling or Glossika for more discussion of how they could be improved.
Despite those flaws, I still use sentence banks every day and will continue to for many languages.
Speechling and Glossika pricing
Speechling is a non-profit company and provides all its content for free. This includes thousands of sentences (10,000, according to the founder when I spoke with him), and up to 35 reviews by a teacher per month. You can even review sentences you've written yourself!
Glossika is somewhat expensive for an online service at $30 a month (or $25 if you commit for a year). However, given its effectiveness and that there is no real competition, we still wholeheartedly recommend it. Read our full review for tips on how to get the most out of Glossika, and sign up using our special offer there.
italki – The Easiest Way to Study a Language Online
Italki is where we get all our language tutors. Even if we're in the same country!
We definitely recommend italki, and wrote a detailed review of italki here. We've spent probably a thousand US dollars on tutors so far and love every minute of it!
Conversation skills are indispensable to learning. One of the hardest parts is finding people to speak to and who can teach you a language at a reasonable price, in a convenient way. italki's mission is to make sure we don't lose the human element in language learning. From the website:
We built italki to make human connections between language learners and language teachers. On our platform, you can find a teacher from the US to tutor you in English, or a person in China to practice Chinese with you.

(from italki's about page)
Theory of italki
There isn't much to the theory, except that it provides a convenient marketplace for you to find teachers and schedule them. Nothing beats speaking to a person. No fancy app, no technology, no method of machine learning. You'll always learn faster if you speak to a person who is a good teacher.
iTalki provides a convenient way of finding teachers for any language, plus providing everything you need to know to test them and make a booking
Pricing for each teacher, plus their intro 'trial' price
Schedule/availability, and a request/response system
Ratings
Reviews
Stats on number of lessons given
I found the process of using it a little clunky, as there are a number of steps (it's far from one-click purchasing like Amazon). That said, it all worked and I was never lost, just a bit annoyed. But nowhere near as annoyed as I'd be setting up an appointment in real life!
Practise — Does italki work?
Yes, italki does work, and that's why we recommend it! But finding a good tutor requires some careful consideration.
As I've said in other parts on this site, there is a science to finding a good language teacher. It's not just someone who'll send textbook chapters. You have to try maybe half a dozen before you find a good one.
In many less popular languages, you have to make do with "community tutors" rather than "professional teachers". We found this to be the case for Egyptian Arabic. In that case, see our guide to making the most of community tutors. (Number one tip: Line up a number of lessons in one or two days with 6-8 teachers. Compare them all and build your portfolio of 2-4 teachers you'll use ongoing.)
Regardless, you absolutely have to speak to people to learn a language. Speaking exposes your weaknesses and reinforces your strengths by encouraging you to repeat them. We learn multiples faster with teachers because of the pressure to express ourselves. At $5-10 an hour, the price is a tiny fraction of schools (or colleges) and worth every penny.
Downsides to italki
Italki has a bit of a clunky system. It has a decent matching algorithm and a complex review system, but I can never be sure if my teacher is great ahead of time.
I think that's my biggest gripe with teachers in general… you have to grade teachers on long-term effectiveness, and there's no general standard you can refer to for what makes a great teacher.
Major downsides are
It's hard to form a bond with a teacher over video chat. I find this much easier in person.
The teacher pricing isn't actually that low. It starts at around $8 per hour, and goes up to around $15 (maybe more, but fewer people are at that point). Now, this isn't much money, but it's more than I'd expect to pay for an online tutor.
The materials each teacher uses are arbitrary and random. It's hard to know if the materials being used are good ones.
I also find the website for italki annoying to use. I find myself having to enter my password and captcha authentications too often. In our review on italki we point out some of the interface changes that need to happen.
italki Pricing
Free to sign up, then pay per hour for lessons. You can also find language partners on there, but then you'll have to swap between languages (and the instruction might not be as good). Click here to try it now and we both get $10 credit, but read our review first if you haven't, to make sure to you get the most out of it.
Lingvist — AI and ML-driven word study
Lingvist is a language learning app we came across primarily because we were in the region where its founders are based, in Tallinn, Estonia. At its core, it's an app that uses Machine Learning and AI to accelerate the language learning process, making sure you don't waste your time doing redundant study.
We wrote a long review on Lingvist in the past. In summary, we like it, but because it only uses one teaching method and only supports a few languages, we don't think it's the only way you should learn a language.
Theory of Lingvist
It was founded by Mait Müntel, a Swiss who grew up in the German side but who had been living in the French-speaking part for years, at the Higgs-Boson laboratory. After failing to learn using traditional methods, he built a prototype for Lingvist, and after 200 hours of study, passed some high school french exams (with flying colours). Nearly $10M in funding later, Lingvist now teaches French, Russian, German, Spanish and something else.
They have a highly analytical approach to language learning. The "About us" page is interesting, but I liked this quote and chart from one of their first blog posts most.
Using our data, we tried to figure out an average time estimate and found that over the last year, it has taken most people 17 hours to reach 2000 words.

From Lingvist, second post
That's badass! Is it true? I'm pretty keen to find out.
Practise — Does Lingvist work?
The languages they currently offer for English speakers are French, Spanish, German and Russian. While Russian and German are on my bucket list, they're not a priority language now, so I can't study it.
However, there IS a facility to my first 100 Estonian words. Ahead of an interview with them, I've decided to get after it.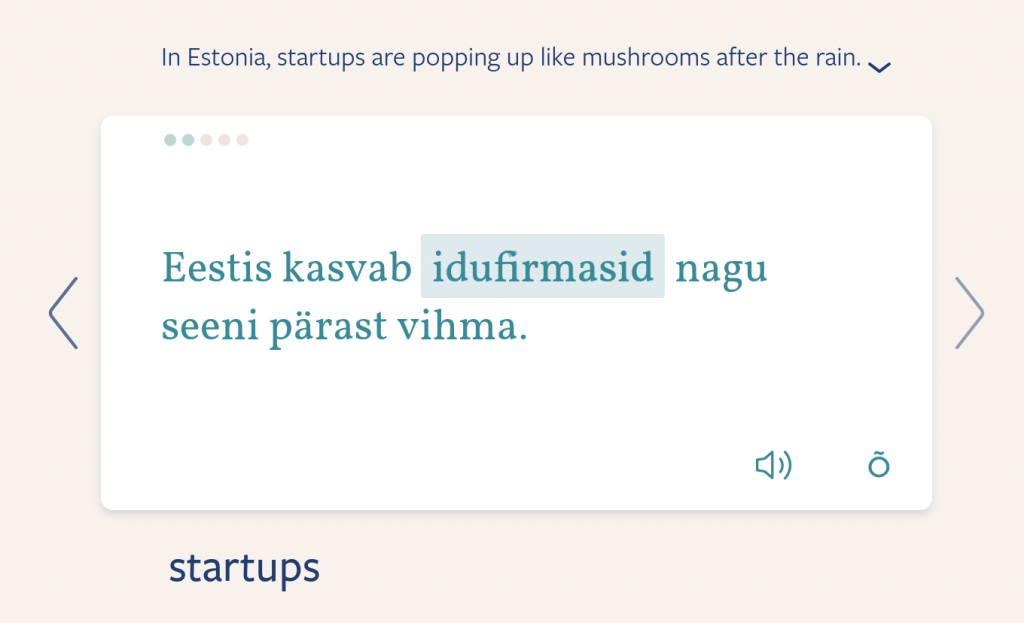 After two days of study, I find myself pleased with the layout, and indeed some of the words are stuck in my head. I can conjure them up.
Cheers: Terviseks!
Mushrooming: Seenele
Three: Kolm
Fairly random words. I also realised Estonian is much more beautiful than I thought. It's almost Elvish-sounding. If they flesh it out, maybe I'll spend more time here.
I also spent two months learning German phrases with it, getting to 1000 words. It was a lot of fun. The phrases in the German course were much more polished, though I noticed the sound quality was lower than Estonian. I'll do a full review soon.
Downsides to Lingvist
Lingvist is structured entirely around single words. There's no effort to explain grammar, context, or sentences. Also, the only way of prompting recall is getting me to type or speak them into sentences (that are usually the same). There's no verbal prompt or any images or context.
It also doesn't force us to learn whole sentences; just the word. The sentences are often useful, so this is a shame!
Lingvist Pricing
Lingvist has revised its pricing a few times – check out their website for the latest.
Memrise — Memorising Words and Vocabulary with 'Mems'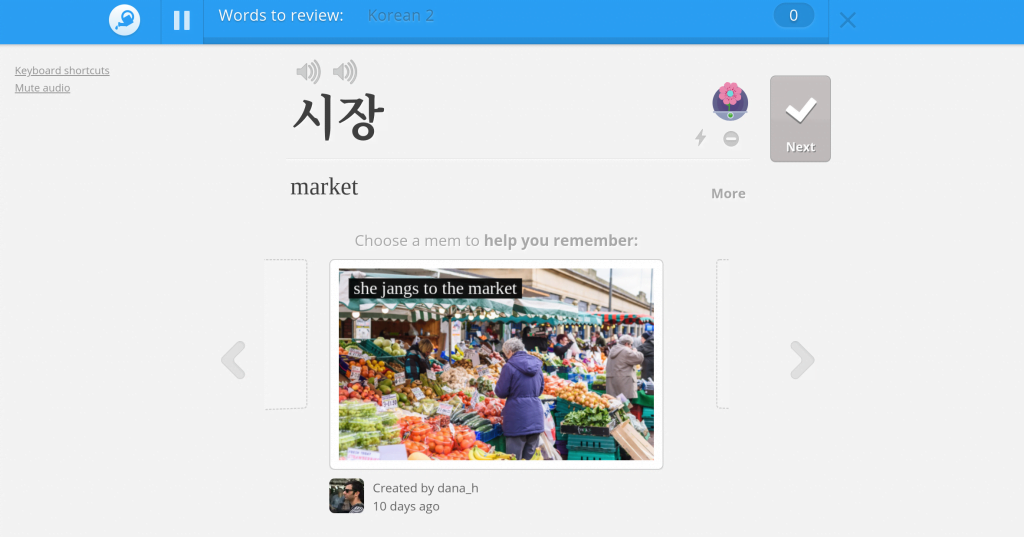 Memrise has been around for years. It was on the scene in much more basic form in 2012 when I was learning Chinese. It has grown up a lot, and it has become a platform we really like for basic alphabet, pronunciation and vocab.
Theory of Memrise
Memrise's philosophy is based on the concept of mems, which are associations you build in your head to remember things.
In order to learn anything, you first have to connect it to what you already know. Memories aren't stored nowhere, you know, they're always made by creating connections to existing memories.

Memrise 'About' page
For a simple explanation, if I tell you (presumably an English speaker) that the word for 'one' in Korean is (transliterated) hana, then you might remember it with something like:
"There's only one Hannah."
The next two or three times you hear hana or the word 'one' you might find it difficult to immediately think of the translation… but you might remember the sentence.
I really like this method, and find it to work quite well for the early stages, the 0-100 words phase.
Practise — does Memrise work?
Memrise works both as an app and as a website. We like them both, and use them interchangeably. We've never noticed any sync problems.
The offline mode on the app works well, as long as you remember to download the course before you go on your trip or your flight!
I already knew maybe 50 words in Korean before I started, and already knew how to use Hangul. This was mildly annoying at first, but I could bypass things I already knew by marking 'ignore' on them, indicating I already know them. As you go on, Memrise will understand words it doesn't need to hammer you on, and I've never had to manually tell it I've learned something that I've learned
After using Memrise for a while for Korean and Arabic, we found that the pace was slower, although we really learned a lot of the content. It's not painfully repetitive, because we have the ability to tell it to disregard things once we've learned them (or don't care). We stopped using it each time after around the first month.
Weaknesses of Memrise
Not enough speaking: I don't feel like I'm often speaking with Memrise. There are very few instances where it asks me to say something and for it to check my pronunciation. Forcing yourself to speak is the best trigger for retaining words.
Not much dialogue: Similarly, I don't engage in much dialogue. It's fragments, like "Please give me a glass of orange juice".
Memrise doesn't teach levels of formality: Most languages have formal and informal voices. Sometimes multiple levels, like Korean. It's important to learn what voice you're speaking in and to know which one you should be learning. Memrise does not make it clear what level of formality you're speaking in.
Memrise's content is not colloquial: Similarly, some languages like Arabic have mixtures of colloquial everyday language and formal standard language. Getting the balance right is important if you want to seem normal on the streets (this is why we think it's important to learn Egyptian Arabic, for example, rather than Modern Standard Arabic).
Memrise Pricing
It's $59.95 per year, but $29.95 for the first year. Not too expensive, but also, not too useful. We'd definitely recommend trying it for a month. If you come across a sale and haven't tried it yet, don't worry — there'll be more sales!
Duolingo — Streaks, Crowns, Lingots and Gamified Learning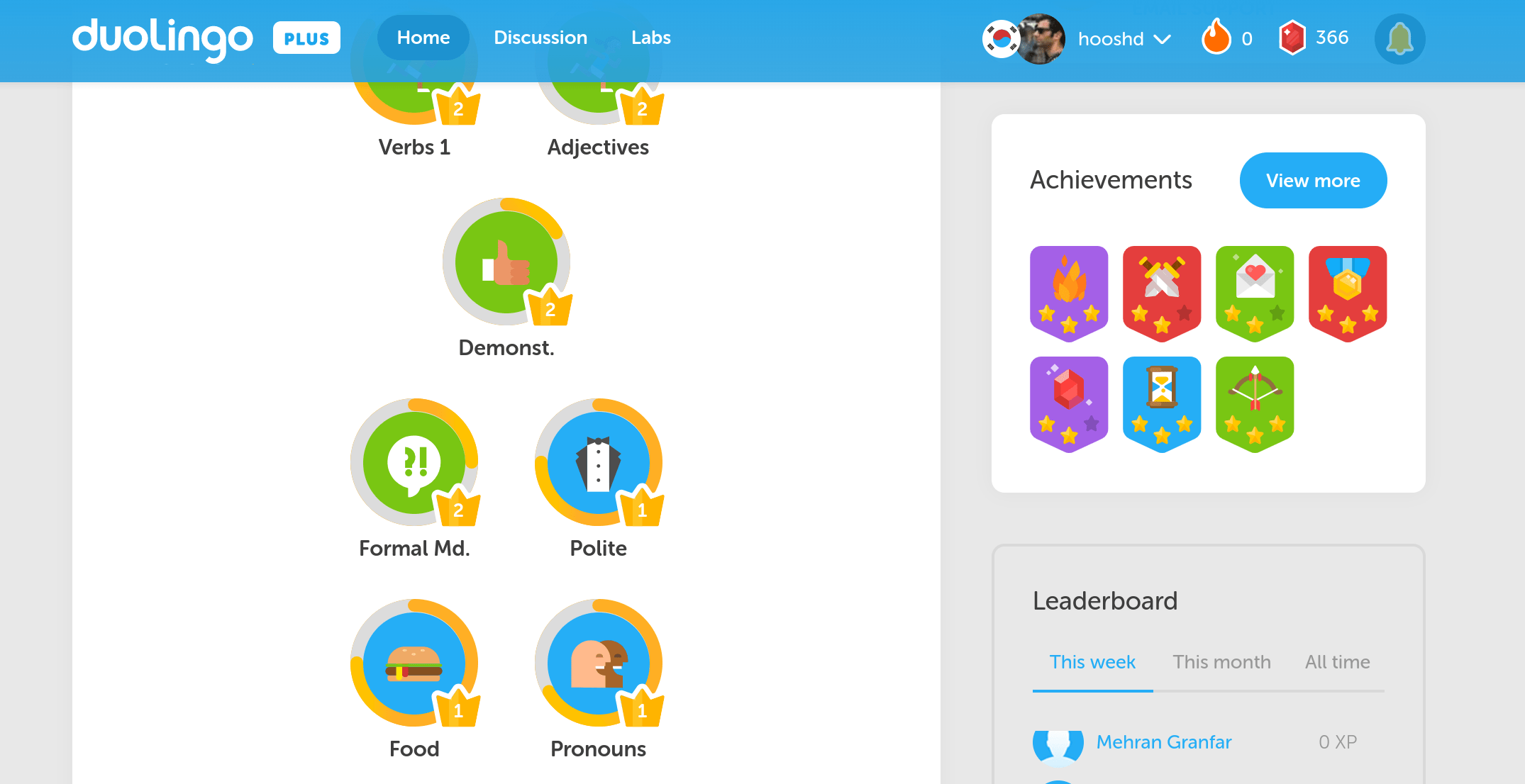 The grand-daddy of language learning apps that make it fun to learn. Duolingo's goal is to give everyone access to a private tutor experience through technology. They aim to make learning fun, so using the app to learn a new skill is more fun than picking up a new game.
Theory of Duolingo
A huge business with hundreds of millions of VC investment, Duolingo is a heavy hitter in language learning theory. I like this blog post from a few years back.
Duolingo has millions of students who generate billions of statistics about language learning every day. So it didn't take long for us to come up with the idea of combining modern machine learning and data science techniques with the psycholinguistic theory of forgetting curves!

Through our research, we invented a new statistical model we call half-life regression (HLR), inspired by other methods used in "big data" like logistic regression, but using an exponential probability function… (read more in our full paper if it looks exciting)! All this means is that we can learn to predict the half-life for each word in your long-term memory, by analyzing the error patterns of millions of language learners just like you.

From their blog. My emphasis (and editing to delete the theoretical part)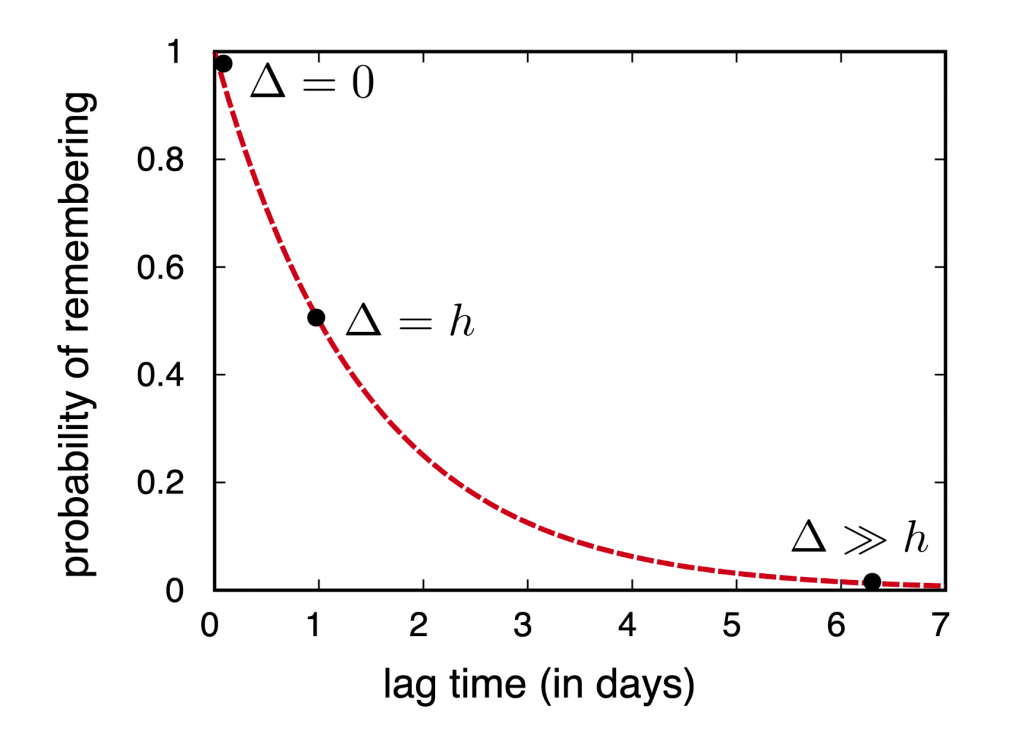 Makes sense. Don't show me stuff I know; show me stuff I need to learn.
One more excerpt, from their paper:
[Half Life Regression]… combines a psycholinguistic model of human memory with modern machine learning techniques, and generalizes two popular algorithms used in language learning technology: Leitner and Pimsleur. We can do this by incorporating arbitrarily rich features and fitting their weights to data. This approach is significantly more accurate at predicting student recall rates than either of the previous methods, and is also better than a conventional machine learning approach like logistic regression. Source: Science
Practise — does Duolingo work?
Duolingo is definitely fun. But do we learn?
Firstly, let's set a standard. Of course, you can learn something with Duolingo. But if you're seeking a one-stop-shop for language learning that will take you all the way to fluency, the standard is higher.
According to them: Yes, Duolingo works. According to an effectiveness study they published in partnership with New York University:
…for a completely novice user of Spanish it would take on average 26-49 hours of study with Duolingo to cover the material for the first college semester of Spanish.
This is interesting, but why compare with college? People don't learn that much in college. Also, that's a lot of time!
According to many others: No. For example, see this reddit thread. Our own experience is that Duolingo is like candy. Some words we absorb, some phrases we learn, but by and large as we get into the lower intermediate levels, it becomes very, very hard to keep up and keep learning.
Like most apps, Duolingo is best used in conjunction with other apps.
Downsides to Duolingo
Duolingo is great, especially as you have the option of using it for free. The major downsides are
You can't mark off things you've learned. I can't use the general training feature because it still wants to teach me the alphabet!
Unless you're doing one of the established courses, materials can sometimes be a bit bare (e.g. for Arabic or Chinese) in comparison.
It won't teach you everything you need to function in the language, like writing or speaking
Because of its addictive nature, it can exhaust you mentally and not leave room for other productive things you should be doing, like consuming media or speaking to a teacher
The hardest thing for me about Duolingo is that it's brutal. Once you're in the cycle, the penalty for leaving and coming back is high… there's no easy re-introduction course.
Duolingo Pricing
Duolingo has a free, ad-supported tier, that isn't reduced in functionality. It's fine. The fully paid option is not expensive at $9.99 a month or $99 a year.
What's next?
Apart from language learning apps, there are a few great online courses for many languages we're going to go over, like the '101' series, Rocket Languages and a couple of others.