The Perfect Dead Sea 3-Day Itinerary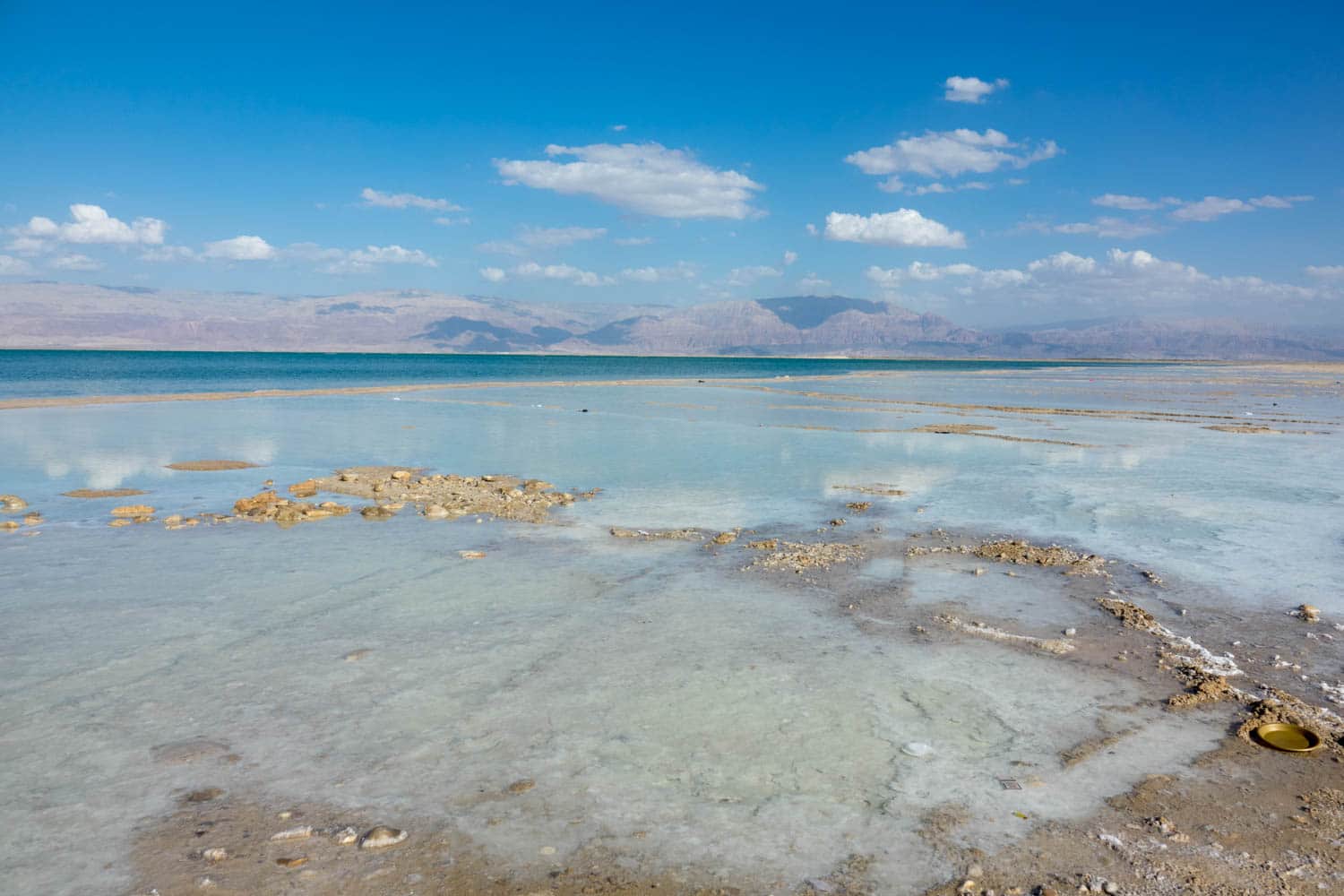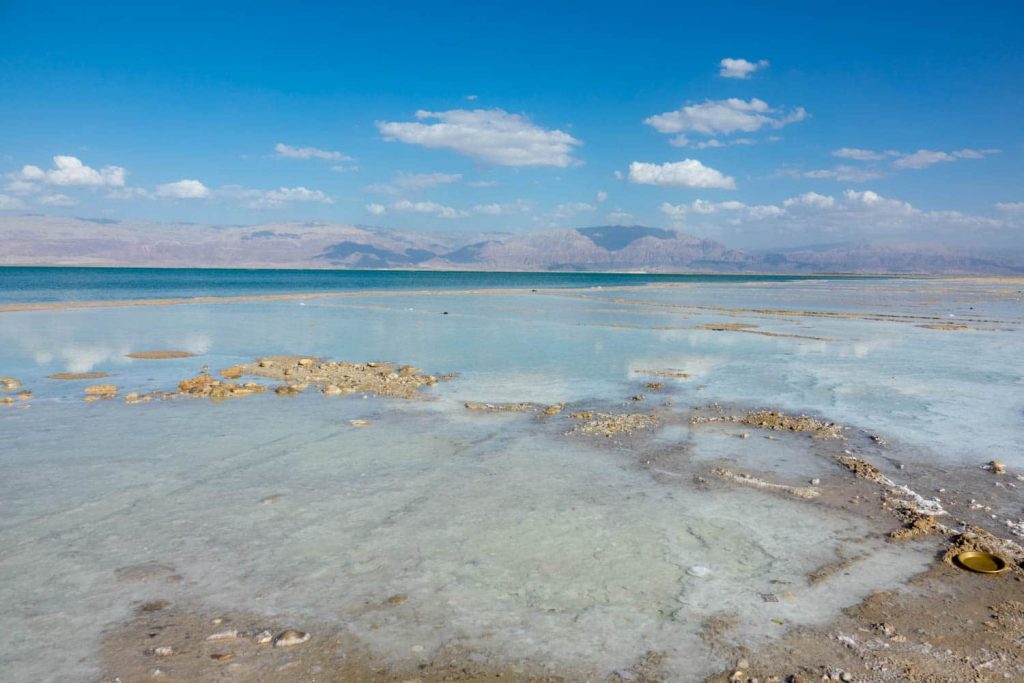 The Dead Sea is one of the biggest attractions in Israel and the West Bank and the place I was most looking forward to when we decided to add Israel / Palestine to our travel plans. During our time here, I discovered that this area is so much more than floating on the Dead Sea and mud baths. There are some other amazing things to do and beautiful nature to take in. We were debating whether we should make the Dead Sea a day trip, and we're so glad we decided to spend 3 days here instead. Here's our 3-day itinerary to discover the best of the Dead Sea.
What to see and do in the Dead Sea
Ein Gedi Oasis
We heard about the beauty of Ein Gedi from many locals, but I was still taken a back by the serenity and beauty. Ein Gedi has a little bit of everything — swimming holes, waterfalls, caves, and rich history. One of the unique properties of this oasis is that has streams flowing all year around. Because of this, it's home to species of many rare plants and animals. This is a must do if you're a nature lover.
Ein Gedi Entrance Fee: 28 nis
The Best Trails in Ein Gedi
There are numerous trails around this park and you can spend the entire day just exploring. We started our hike at the David River – Entrance, but you can also start hikes at the Ein Gedi Field School, especially if you want to hike to the Dry Canyon. Here are our favorite trails and stops at Ein Gedi.
David's Waterfall
David's Waterfall is the major attraction as the hike is short and isn't very challenging. Along the way, you'll see small streams, waterfalls, and interesting cliff formations. It's about 1 hour round trip from the trail head.
Dodim's Cave
Continue the hike up to Dodim's Cave. The way is almost entirely uphill and you're rewarded with some beautiful views of Ein Gedi and the Dead sea. The trail is well marked, and there are signs to help as well. Along the way to the cave, there are two lovely pools and a waterfall. Take a dip, enjoy the view and continue to the cave. You'll need to climb down to get to the cave, but there are sturdy built-in handles.
The Dry Canyon
The hike to the Dry Canyon is more challenging and requires more climbing. I've also seen this referred to as David's Window and Window Waterfall. Unfortunately because of the different names, I wasn't able to figure out where it was during our hike so we never made it there. However after coming, back I figured out the Dry Canyon = David's Window and Window Waterfall. That being said – here's what I'd recommend if you want to hike Dry Canyon. You should allot yourself about 6 hours for this route. Essentially it's backwards from the trails we took.
Park at the Field School. Take the black trail (Yishay Ascent), then the red trail (Tsaffit Trail) to the Dry Canyon. Continue hitting up the other landmarks by taking the Tsaffit Trail (green) down to the Chalcolithic temple, then to Dodim Cave. After Dodim cave, take the trail down to David's Waterfall and then to the Park Entrance. There isn't a fee for entering through the Field School, but pay the fee when you exit, to help support the park. Finally walk back up to your car at En Gedi Field School. I was really disappointed that we didn't get to make it here, but hope you can enjoy it by following these steps.
Tips for visiting Ein Gedi
Bring plenty of water and sunscreen, especially during the summer months.
Start the day early to beat the crowds. Just as we were leaving, we saw large crowds coming into the park. The parking lot was also completely full when we left.
Bring a swim suit to cool off at the many waterfalls and pools.
Bring snacks and lunch since you'll be hiking all day.
Dead Sea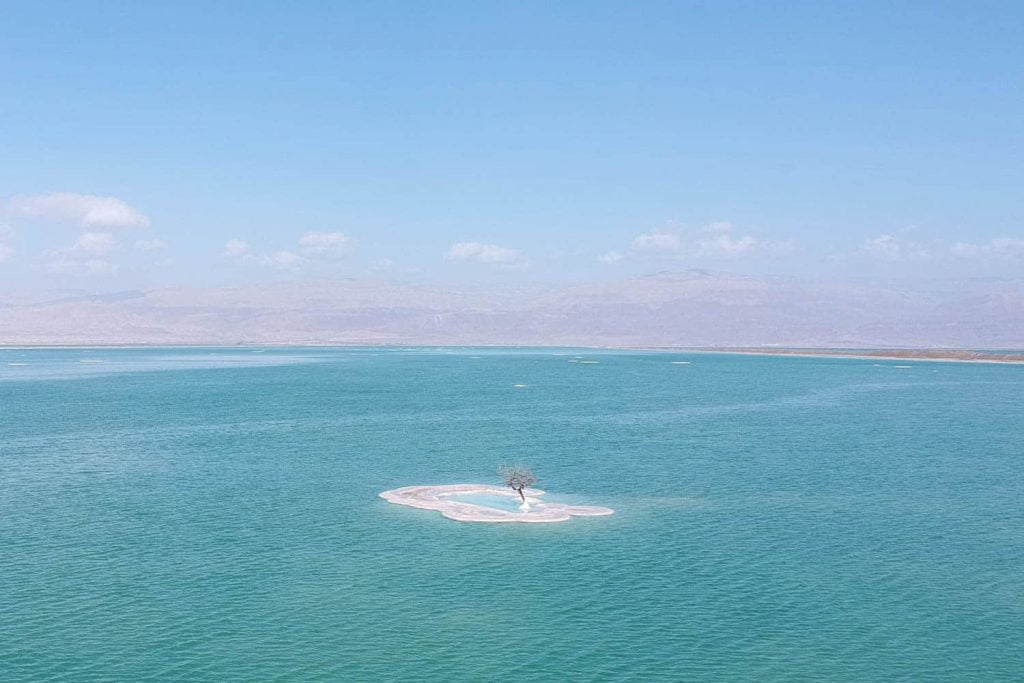 The Dead Sea is the lowest place on Earth. It's 1,400 feet below sea level and 33% salt compared to 3% for normal sea water. Because of the high levels of salinity there is no life in the Dead Sea (thus the name), which was a bit of a relief for me, as I'm always a little paranoid something may swim up below the surface.
Something I didn't realize is that there are two types of Dead Sea Beaches. The first type has beautiful (and sharp) salt formations and pastel blue waters. The other beach has smooth mud and murky waters. Dead Sea mud is infused with minerals and is great for your skin. I use Dead Sea mud masks frequently, so it was a cool experience to get it straight from the source. We went to both and liked both of them for different reasons. The two beaches are quite far away – about an hour drive so I would either pick one or split them up on two different days.
Ein Bokek Beach (Salt Formations)
Ein Bokek Beach is on the southern side of the Dead Sea. Most of the hotels and resorts are in this area. This area is aesthetically more beautiful than the north side because of the salt formations and the water is clear with gorgeous shades of blue. However there is no natural mud here. If you want the full mud experience, you'll need to go north. Alternatively you can purchase dead sea mud before heading to the beach as many stalls and stores will sell them.
This is a public beach, so entry is free and you only need to pay for parking. The beach has restrooms, showers and changing rooms. You'll need to bring your own towel. If you're in an area with a lot of salt formations, it's good to wear water shoes so you don't cut your feet or slip.
Ein Bokek Beach Entrance Fee: Free
Kalia Beach (Natural Dead Sea Mud)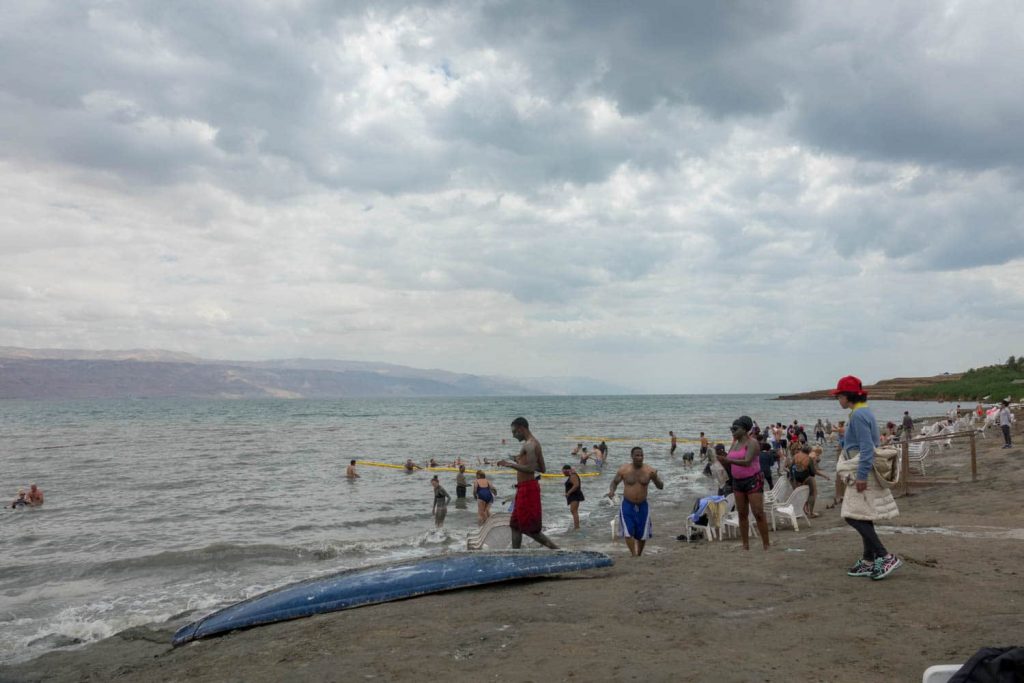 There are several beaches on the North side of the Dead Sea. Unfortunately these beaches aren't public and there is an entrance fee. We went to Kalia Beach, which is the most well known beach in the area. At the time we visited, the entrance fee was 59 NIS. There are showers and changing rooms. Towels can be rented for a small fee. There is also a restaurant and a bar that's the lowest bar in the world.
Though the entrance fee was a bit pricey, we had a blast here. I felt like a kid again, grabbing mud and slathering it on everywhere. It was oddly satisfying. Having silky smooth skin afterwards was a great bonus.
Initially we were really confused about how to apply the mud, and which mud to use. Do you just grab any from the shore? After watching and asking people and some trial and error, we learned that the best mud is not on the shore. It's in the sea. The mud on the shore has small rocks which is harsh on your skin. You'll need to feel around for smooth spots in the water and grab a chunk. The darker it is, the better.
Kalia Beach Entrance Fee: 59 NIS
Masada National Park
Masada National Park is located on a giant plateau in the Judean Desert overlooking the Dead Sea. 2000 years ago, it was a fortress containing the beautiful palace of King Herod. It was inhabited by the last remaining rebels from Jerusalem, who were fleeing the Romans. Unfortunately the Romans were gaining ground on the mountain and when defeat seemed inevitable, the rebels made the dramatic decision to end their own lives in an act of mass suicide rather than be taken as prisoners and enslaved.
Masada Sunrise Hike
The sunrise at Masada is one of the best places to see the sunrise in the Dead Sea. The other advantage of hiking up before dawn is that it gets extremely hot in the summer months which can make the hike much more difficult. There are a few ways to get up to Masada.
Snake Path Trail
The Snake Path Trail is the main trail and the most popular way to get to the top. The trail takes about an hour to get to the top. It's well paved, but I'd rate it as easy to moderate difficulty since it is quite steep. The park opens an hour before sunrise. The fee is 31 NIS per person.
Tips for hiking Snake Path Trail at Sunrise
Arrive a bit earlier than they open to avoid the lines. If you're a slower hiker, I'd recommend coming a bit earlier than when they open. We arrived right at sunrise and there was a bit of a queue. We ended up having to wait and started the hike later, leaving us with only 30 mins to hike up the mountain. Fortunately, we made it but it was really tiring! Many people who came around the same time as us missed the sunset all together.
Try to save this hike for a clear day. If you have any flexibility do this hike on a clear day. Unfortunately we didn't realize how much the clouds and haziness would affect this.
Bring cash and exact change for the entrance fee. Unlike many places in Israel, they do not accept credit card. Luckily we had a lot of spare change, but the park ranger stated they do not give change. However I will say that the ranger was probably one of the grumpiest people I ever met. He yelled at nearly everyone because it seems that no one realized this either. It's possible that other rangers are more flexible.
Length: 2.7 km
Entrance Fee: 31 NIS
Roman Trail
The Roman Trail is the fastest way to get to the top. This is the route that the Romans made when taking the fortress. Cons of this route is that the entrance is on the other side of the park. The drive to this entrance takes longer. The drive to Snake Path Trail is more direct.
Length: 0.7 km
Cable Car
There is also a cable car you can take to get up. However this opens at 8:00 AM so this isn't a good option if you want to see the sunrise. We did opt to take the cable car back down, which was a life saver.
Cable Car Cost: 28 NIS one way, 48NIS round trip
Best Time to Visit the Dead Sea
Because the Dead sea is the lowest place on Earth, it can get insanely hot. You should avoid Summer if at all possible. The temperature in Spring and Autumn is a nice sweet spot without much rain. Winter is a bit chilly and tends to rain a bit more, but it can still be a good time to travel. We were there in February / March, and it felt perfect.
Where to Stay
Budget Accommodations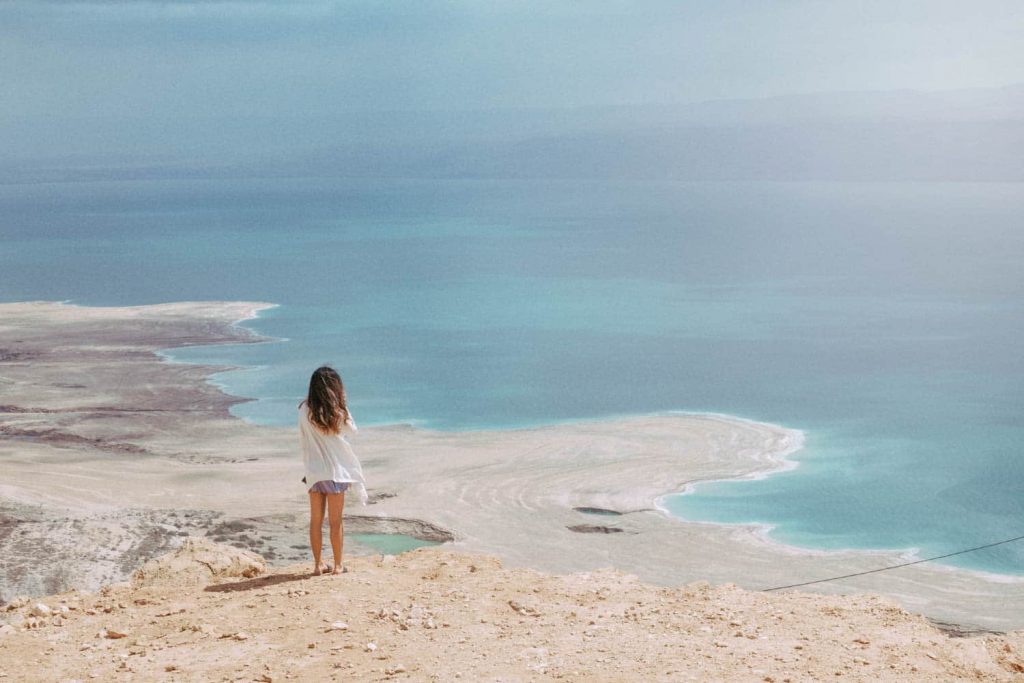 Metzoke Dragot: Well known for being a backpacker hostel, but they also have other types of accommodations, such as apartments, which are great for families, bedouin tents, and there are even sites to pitch a tent if you want to sleep among the stars. We loved the remote location. It was located up in the mountains so you have an amazing view of the Dead Sea. It's located in between all of the popular attractions, such as Ein Gedi, Masada, and Ein Bokek. They also include an an extremely hearty and healthy buffet breakfast which I'm am always really excited by. They also have a cute bar with ocean views where you can grab a drink and mingle with other travelers.
Midrange Accommodations
Isrotel Ganim Hotel Dead Sea: Hotel located in Ein Bokek. Close to the shops and also has a private beach. The hotel includes pool and spa, free parking and breakfast.
Luxury Accommodations
Herods Dead Sea: Herods Dead Sea is a 5 star hotel in Ein Bokek. They also have a private beach. The spa has an indoor pool and sulfur pool, as well as a Turkish bath and hot tub.
How to Get to the Dead Sea from Tel Aviv
Rent a car
We decided to rent a car because it gave us a lot of flexibility. Many places around the Dead Sea require a lot of driving and at odd hours (Masada Hike at Sunrise), so I was glad we went with this option. The roads are will paved and driving is safe, so driving here felt very comfortable. We went with the cheapest option so the car rental cost was $25 per day. The car was small, but it got the job done.
Take the Bus
The other more cost effective option is taking the bus. There is a daily bus that leaves from Tel Aviv to Ein Gedi. The cost is 42.5 NIS. You can find the bus timetables here. Cons with this approach is that you're limited to the places you can go.
Take a Tour
If you don't want to worry about the logistics and want to get a bit more history with a guide, you might want to consider going on a tour. Tours tend to be more expensive and you have less flexibility, but it's a good option if you're short on time and you don't want to worry about planning and transportation. This tour is just one day and hits many of the activities mentioned in this post: Masada and Dead Sea Full Day Tour.