Black Friday Language Learning Deals 2021
Black Friday deals are over for 2021 as of early December 2021. But you can expect similar deals for next year. Sign up to our email list and we'll let you know.
Every year, our favourite language-learning resources put out killer deals for Black Friday.
Black Friday/Cyber Monday deals for 2021 are coming soon and some are already live. Get ready!
As the deals go live we'll update the list. But we highly recommend you use free trials (see below) where possible to figure out whether you like the product or not before signing up.
If you follow this blog, you'll see we've got material in over ten languages of various levels… with more to come! So we've tried a LOT of software and courses, and are sharing some of the best, with notes on using them.
Note: We may receive affiliate commissions on some of the items in this list, but it doesn't affect our recommendations.
Black Friday Language-Learning Deals — Master List
Here is the master list of all the Black Friday deals for 2021.
Even though these deals have already ended, what we suggest is that you do a free trial or even an extended paid trial for a month or two… and if you want to get the deal next year, come back next year.
2021 Online language learning Black Friday deals
More details about the Black Friday deals (and a quick overview of each bit of software) below.
Glossika Black Friday 2021 — 50% off (Code 2021BK50) Learning Sentences, not Words
Glossika is one of our favourite language-learning tools. Glossika is a pre-built sentence bank of around 6,000 sentences in many languages — over 60 languages.
Glossika's Black Friday deal for 2021 is 50% off subscriptions.
Try Glossika for a Week for Free
Try Glossika's method of teaching language through thousands of sample sentences. Learn languages by sentences spoken by native speakers in over 60 languages.


If you're learning anything other than one of the most common languages — e.g. if you're learning Indonesian, Icelandic, Persian, Bulgarian, Azerbaijani, Turkish, or Ukrainian, just to name a few — then Glossika is one of your best bets.
When you use Glossika, you learn sentences one-by-one, repeating them until you learn them. In that way you don't learn words in isolation — you learn whole sentences.
So instead of memorising words like "eggs" and "to have", you learn things like "we're out of eggs again!" and "Do you have any eggs?"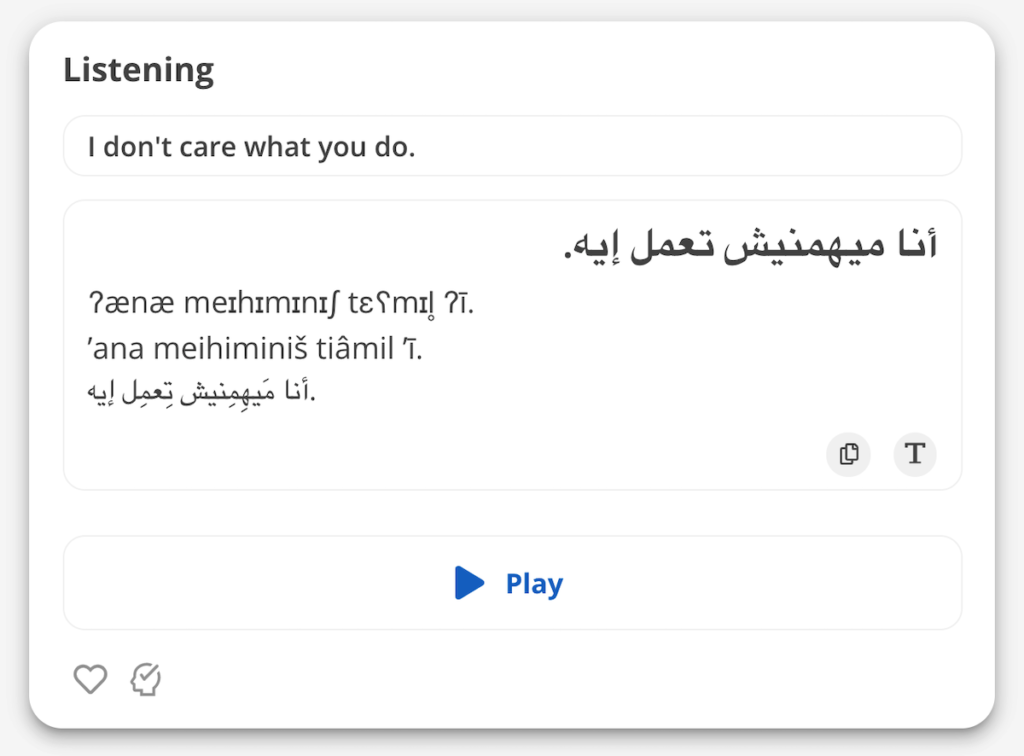 We've written about Glossika a lot, but the best guide is our review and guide to getting the most out of Glossika.
Pimsleur Black Friday 2021 — 50% off (Code BESTDEAL)
Pimsleur is a conversational spaced repetition audio conversation program using very commonly used scenarios, and engaging with you interactively — this isn't some passive course you just listen to casually.
Pimsleur audio courses have been around for ages. Back in the day, when you bought a Pimsleur audio course, you'd get a big packet of audio cassette tapes.
Times have changed. There was first a CD period, and now of course it's an online subscription, just like most apps.
Pimsleur audio courses were some of the first I ever used. As early as the year 2000, I used them to learn the basics of a number of languages, getting all the way through the Eastern Arabic program, through half of the Mandarin Chinese program, and partway through the Brazilian Portuguese one (just for fun). Among others. So I've had a lot of experience with it. (I generally got bored of it around the 20-30 hour mark and moved on to other methods.)
And while Pimsleur's not perfect, it still works and you get lifetime access to their courses. They're having a Black Friday and Cyber Monday deal going on right now.
Try Pimsleur for Free
Try Pimsleur's 7-day free trial — audio courses in dozens of languages.
To get the most out of Pimsleur, don't use Pimsleur while driving or doing chores. Either do it sitting and studying, or going for a focused walk somewhere quiet, where you can speak out loud.
I find Pimsleur really useful for
Getting pronunciation down, without worrying about spelling (or learning how to read a new language)
Remembering core words and phrases — greetings, questions, numbers, directions, and so on
Focusing on conversation — you interact in a real conversation.
Having a whole stack of languages — all the common ones, with a few with fewer resources including Levantine Arabic, Cantonese, Persian (and even Dari Persian, as spoken in Afghanistan!), Pashto, and Twi (Ghana).
There are some downsides to Pimsleur. The conversation is quite rigid, and centers around a businessperson with a family travelling and doing conventional things like staying in a hotel. But within that framework, you can learn a lot as a beginner, and adapt it as you go.
Rocket Languages Black Friday 2021 — 60% off Comprehensive Language Courses
Rocket Languages is a suite of language courses that we've used for Egyptian Arabic and Korean. And they have a killer 60% off deal this year.
Rocket Languages — Comprehensive Language Courses
Try Rocket Languages' comprehensive language courses for a wide variety of languages. High-quality instruction, examples, and audio.
Rocket has quite extensive courses in around a dozen languages, with some of the more unusual ones (for good language courses) being Hindi, Korean, and Egyptian Arabic.
Normally we don't use resources from online language course companies like these. But we liked Rocket because it a) had really clear explanations of concepts for Arabic and Korean and b) it had very clear, easy-to-understand audio.
Rocket is suitable for beginners/intermediate only. Once you hit the upper intermediate levels, we'd suggest other apps and resources (or just getting an italki tutor or going to Egypt, when that's possible).
Skritter Black Friday 2021 — Learn to Read/Write Hanzi or Kanji
Skritter is my favourite way of getting better at Chinese characters (hanzi). It's also very popular for studying Japanese kanji.
Basically, Skritter is an advanced flashcard app that's specifically designed to teach you how to write and read characters. I used it myself — you can read how I learned nearly 3,000 characters when I was using it intensely many years ago.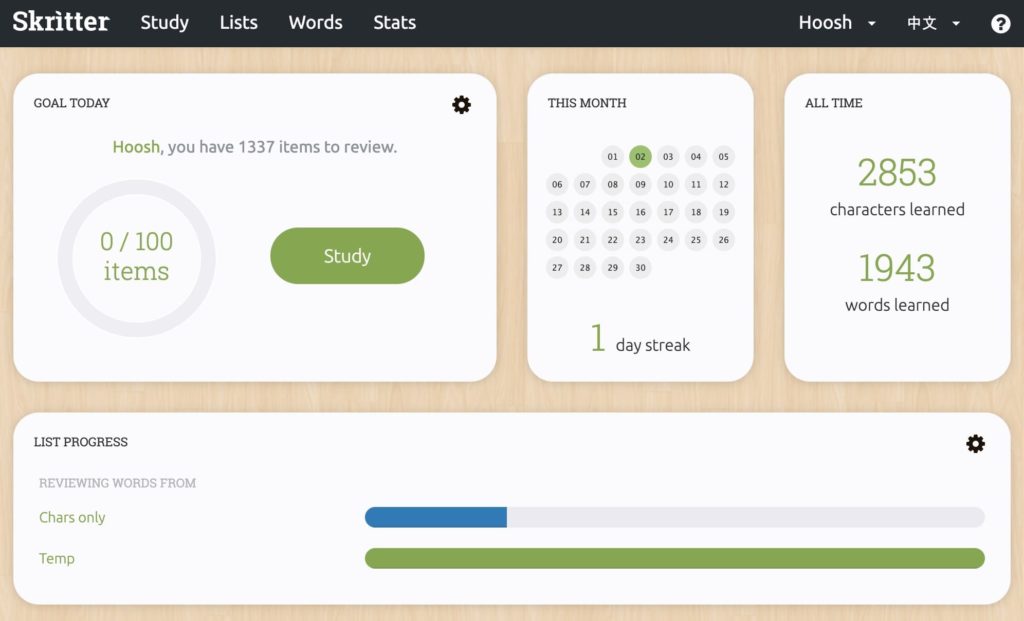 Skritter was ahead of its time many years ago — they were getting people to draw characters at a time when people didn't even have touch screen phones! (I bought a tablet pen input device just to use it.)
But Skritter has stayed relevant. The app is amazing, and the wonderful side effect is that it really improves your Chinese handwriting — my teachers complimented me a lot.
Rosetta Stone Black Friday 2021 — Learn Languages Immersively (online)
Rosetta Stone has a 3-day trial. Sign up and check it out before using the deal coupon code (coming soon)
Get a three-day free trial of Rosetta Stone!
Try out Rosetta Stone's full feature suite for three days and decide if you think it's worth it.
Rosetta Stone is a language-learning app and concept that has been around for decades. It hasn't changed much in style — because it really works for what it does.
Rosetta Stone has a great web app and mobile phone apps. It also covers a variety of languages, including a few less-frequently taught languages like Persian (Farsi), Hebrew, Vietnamese, Turkish, Filipino (Tagalog), and even Latin. The Arabic variant is MSA.
You use Rosetta Stone for chunks of around 15-30 minutes a day in which you'll click on buttons (making associations between words, pictures, and sounds). Ideally, you'll also repeat words back into the microphone, so the app can test your pronunciation. I don't know what it's analysing — I pass every time, but maybe my pronunciation is good.
Yabla Black Friday 2021 — 25% off Learning Language via Videos
Yabla is a website that has literally thousands of videos in the languages it covers.
You watch the videos, and see the transcript of both the original language (e.g. French or Spanish or whatever you're learning) and the translated subtitles below it. This lets you compare the languages phrase by phrase.
If you don't understand a word, you can click on it to get the translation.
The videos are organised by difficulty level and categorised as well, so you can find exactly what you want.
I'm a huge fan of learning via watching fun videos. It's something I do anyway. It's very rewarding!
Best of all, you can try Yabla for free for 15 days.
Try Yabla — Learn Languages via Videos
Learn Chinese, French, Spanish, German, or Italian by watching videos with Yabla.
Babbel Black Friday 2021 — 50% off The Professional Duolingo
Babbel is an affordable language learning app for beginners. Basically it feels like a more professional and comprehensive alternative to Duolingo, but with fewer languages.
Babbel doesn't have a Black Friday special yet — but you can still try it below, waiting for the app to be released.
Babbel has tons of ads — you may have even seen some on this site (not on this page, as it has no ads).
Think of Babbel as being like Duolingo, but whereas Duolingo feels like a game app that has crowd-sourced content, and sometimes awkward translations, Babbel is created by professional linguists and educators and is a dedicated learning app.
Whereas Duolingo has a "free" tier, it comes at a price of quality and also of your data being sold. Babbel has no free tier, and it's higher quality and more private. Basically, Babbel is a better language-learning app than Duolingo.
Try Babbel — A Professional Language-learning App
Try Babbel's professional language instruction via an app. The first lesson is always free for you to try.
Babbel covers 14 languages, mostly European/Eastern European, but also with Turkish and Indonesian.
italki Black Friday 2021 — The Best Online Tutor Marketplace
After learning in any way for a few weeks it's time to start using teachers.
And our favourite way of finding language teachers is through italki, an online platform that's kind of like an AirBnB for teachers.
italki isn't yet offering a specific Black Friday deal. But you can still sign up and give it a try with $5 in credits.
Get $5 in italki credits — enough for a trial class!
Get a tutor online for as little as $4/lesson from italki with $5 in credits after your first purchase of $20 of credits.
iTalki is a huge platform with tutors in many languages.

We've said it many times before (here's our italki review), but we prefer italki because
It's easy to find good teachers (just find the ones with good reviews)
You can learn from home — no traffic, no even putting on pants (I mean, we do anyway, relax)
It's much cheaper than most tutors in real life
We like italki so much we even use it when we're in the country that speaks the language. It seems weird to them but it makes sense when you look at Cairo's insane traffic.