Black Friday Language Learning Deals 2020 (Archive)
Every year, our favourite language-learning resources put out killer deals for Black Friday in the US.
Black Friday and Cyber Monday language-learning deals have already ended for 2020. Most deals ended early in the first week of December.
By the way, if you follow this blog, you'll see we've got material in ten languages of various levels… with more to come! So we've tried a LOT of software and courses, and are sharing some of the best, with notes on using them where we have any.
If you want to stay in the loop about language-learning software and resources, join our mailing list.
Note: Everything mentioned here is a resource we actually use and recommend. We get affiliate commissions on some of them, although it doesn't affect our recommendation, or even what we pay for them — we pay the same!
Black Friday Language-Learning Deals — Master List
Here is the master list of all the Black Friday deals for 2020.
Even though these deals have already ended, what we suggest is that you do a free trial or even an extended paid trial for a month or two… and if you want to get the deal next year, come back next year.
2020 Online language learning Black Friday deals
More details about the Black Friday deals (and a quick overview of each bit of software) below.
Glossika Black Friday 2020
Glossika's Black Friday deal is live over! Buy six months and get six months free with the code 2020buy6get6.
Try Glossika for a Week for Free
Sign up with the link below and get a week for free before committing. Make sure you have half an hour every day to use it and really try it.
Glossika is one of our favourite language-learning tools. We've written about it a lot, but the best guide is our review and guide to getting the most out of Glossika.
Here's a brief summary: Glossika is a pre-built sentence bank of around 6,000 sentences in many languages — over 60.


That's Glossika's real strength, its breadth. If you're learning anything other than one of the most common languages — e.g. if you're learning Indonesian, Icelandic, Persian, Bulgarian, Azerbaijani, Turkish, or Ukrainian, just to name a few — then Glossika is one of your best bets.
When you use Glossika, you learn sentences one-by-one, repeating them until you learn them. In that way you don't learn words in isolation — you learn whole sentences.
So instead of memorising words like "eggs" and "to have", you learn things like "we're out of eggs again!" and "Do you have any eggs?"
Glossika typically puts out deals where you can get an annual subscription for over 20-30% off the normal price — so get started with your free trial now and seal the deal when it comes around.
Skritter Black Friday 2020 — 50% Off First Purchases
Skritter is my favourite way of getting better at Chinese characters (hanzi). It's also very popular for studying Japanese kanji.
Basically, Skritter is an advanced flashcard app that's specifically designed to teach you how to write and read characters. I used it myself — you can read how I learned nearly 3,000 characters when I was using it intensely many years ago.
Skritter is offering 50% off first purchases with the affiliate code "blackfriday" (lowercase)
Save 50% on First Purchases with Skritter's Black Friday Deal
Sign up to Skritter with the code "blackfriday" (using the link below) and save 50% on first purchases.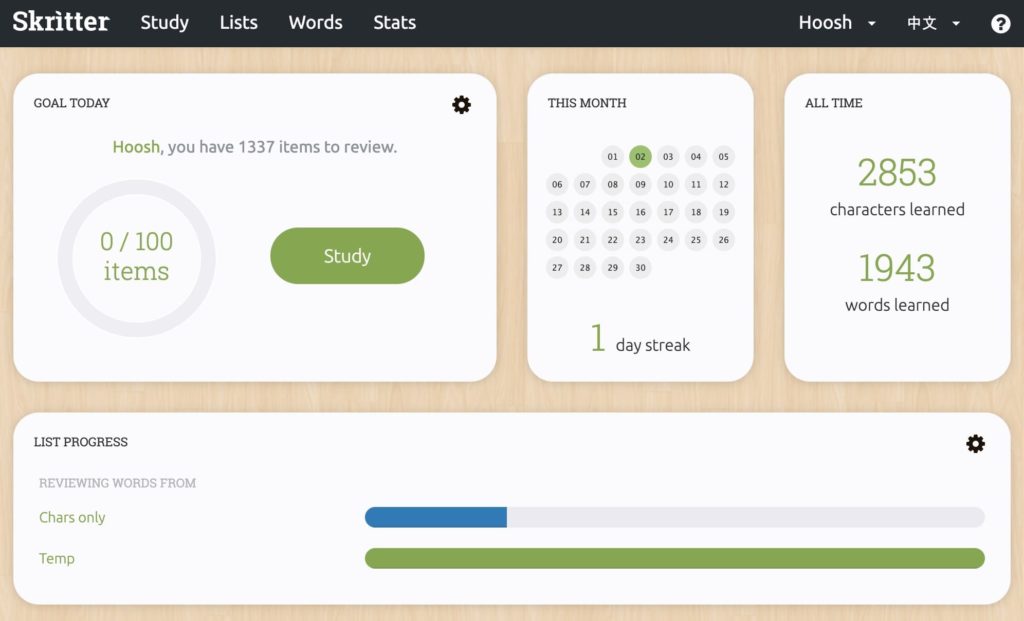 Skritter was ahead of its time — they were getting people to draw characters at a time when we didn't even have touch screens! I bought a tablet pen input device just to use it.
But Skritter has stayed relevant. The app is amazing, and the wonderful side effect is that it really improves your Chinese handwriting.
Speechling Black Friday 2020 — Get 30% off Memberships
Speechling is a new competitor to Glossika. It's also a "sentence bank"
They're smaller, but we like the company a lot more for offering a lot for free, through a really nice product, and doing so with a non-profit model that's really pro-education.
Speechling's Black Friday deal is 30% off their membership prices (normally $19.95/month).
Try Speechling – It's Free
Sign up to Speechling with the link below. Get access to all sentences for one language, review from a real tutor, and their apps — for free. (The paid version lets you get unlimited access.)
Like Glossika, Speechling teaches you sentences one by one, so you can learn words in action.
(If you want to compare it to Glossika, see Glossika vs Speechling. In a nutshell, Speechling is gives a lot for free for one language, and has tutors to correct you; Glossika has many more languages but you have to pay, and doesn't have tutors.)
The only downside to Speechling is that they offer comparatively fewer languages. It's good if you want to study Spanish, French, Italian, German, Korean, Chinese, Russian, or English. But otherwise, you're outta luck.
italki Black Friday 2020
After learning in any way for a few weeks it's time to start using teachers.
And our favourite way of finding language teachers is through italki, an online platform that's kind of like an AirBnB for teachers.

We've said it many times before (here's our italki review), but we prefer italki because
It's easy to find good teachers (just find the ones with good reviews)
You can learn from home — no traffic, no even putting on pants (I mean, we do anyway, relax)
It's much cheaper than most tutors in real life
We like italki so much we even use it when we're in the country that speaks the language. It seems weird to them but it makes sense when you look at Cairo's insane traffic.
italki isn't yet offering a Black Friday deal. But you can still sign up and give it a try.
Get $10 in italki credits — enough for two classes!
Get a tutor online for as little as $4/hour from the best out there — italki. (Use this link for $10 credit after your first purchase of credits.)
Rocket Languages Black Friday 2020 — Up to 60% Off
Rocket Languages is a suite of language courses that we've used for Egyptian Arabic and Korean. The Black Friday deal is stunning!
Get the Rocket Languages Black Friday Deals
Save up to 60% on Rocket Languages' Black Friday courses. Use the code blackfriday at the top of the screen.
Rocket has quiet extensive courses in around a dozen languages, with some of the more unusual ones (for language courses) being Hindi, Korean, and Egyptian Arabic.
Normally we don't recommend online language course companies like these. But we liked Rocket because it a) had really clear explanations of concepts for Arabic and Korean and b) it had very clear, easy-to-understand audio.
Rocket is suitable for beginners/intermediate only. Once you hit the upper intermediate levels, we'd suggest other apps and resources (or just getting a tutor or going to Egypt, when that's possible).
LingQ Black Friday 2020 — Learning through Content you Love
LingQ is a language-learning platform and community by Steve Kaufmann, a big figure in the language-learning community. Before you ask, it's pronounced "link". And the Black Friday discount is 40% off the annual plan.
Get 40% LingQ's Annual Plan!
Sign up through the link below and save 40% on an annual membership to LingQ.
Steve speaks 20 languages, most of which he learned over the age of 50. So he's already inspiring in that he proves it's never to late to learn a language. He mostly learns using his own platform, LingQ.
I really like Steve's approach to language learning. He has a gentle, diplomatic style, which reflects his former career as a diplomat (which I personally read as spy).
Steve doesn't claim you can learn a language "in three months" or while sleeping or any ridiculous thing. He knows learning languages is hard work.
But that's why he thinks it should be fun and it should be via content that you enjoy. That's the basic premise of LingQ — a content-first (listening and reading) approach, based on things you like — articles, videos, or whatever. You can import content from YouTube, Netflix, text-based websites of course, and many other sources — they're constantly adding them.
Once you add your content, you start studying the vocabulary. It imports it into a spaced repetition-style application, and you get to learning.
Clozemaster (Contextual language learning tool)
Clozemaster is a tool to help you learn vocabulary in context, using the "cloze" flashcard system.
Basically "cloze" is a flashcard memory-building _______ where you are asked to _____ in the missing word in the sentence. The meaning of the word is meant to be ______ from the context.
If you like the sound of that, give it a try! Clozemaster has a free account, but isn't offering a Black Friday deal in 2020.
Sign up to Clozemaster
Starting using Clozemaster for free. Get access to pro features for $8 a month or $60 a year.
Here's what it looks like in practice to use Clozemaster (in this case, learning an article on Wikipedia):
When you use Clozemaster, you go through thousands of sentences, either typing in the right word (which is how most people recommend using it) or choosing a word from a drop-down.
After going through that much content, you develop a natural feel for the right word. You learn actively, but through a lot of absorption.
Clozemaster can get a bit repetitive, but on the plus side, it's good if you want to go through content some place where you have a lot of downtime (like in a monotonous job).
One note is that even Clozemaster says you shouldn't start with it. Use Clozemaster once you've already got a working understanding of basic sentences, and want to start reading more and more.
Pimsleur Black Friday 2020
Pimsleur is another old, established name in language learning. When I started using them in the mid 2000s they were just audio tapes. I found them a very effective way of learning a lot of useful phrases and to nail the pronunciation from listening to the sentences over, and over, and over.
Pimsleur's advantages are that
They cover over 50 languages, including a few not covered by most others (they're one of the only resources online for Eastern Arabic, Dari Persian, and Twi, a West African language)
Their apps and online interface are great
Try Pimsleur For Free for a week
Sign up to Pimsleur and try up their innovative and immersive system for a week for free.
Yabla – Learn Language Via Videos
Yabla is a website that has literally thousands of videos in the languages it covers.
You watch the videos, and see the transcript of both the original language (e.g. French or Spanish or whatever you're learning) and the translated subtitles below it. This lets you compare the languages phrase by phrase.
If you don't understand a word, you can click on it to get the translation.
The videos are organised by difficulty level and categorised as well, so you can find exactly what you want.
I'm a huge fan of learning via watching fun videos. It's something I do anyway. It's very rewarding!
Best of all, you can try Yabla for free for 15 days.
Try Yabla for 15 Days
Learn Chinese, French, Spanish, German, or Italian with Yabla for free for 15 days.
Innovative Language Learning — Black Friday 2020 Discount
Innovative Language Learning was the original "learn a language by podcast" company.
They have a huge range of languages in their arsenal — over 30. We've dabbled in them for Arabic, Korean, Cantonese, and a few others.
What I love about their podcast series is that they are very engaging, light and easy to listen to. You don't learn a ton because they spend a lot of time speaking English. But what you learn, you learn with a lot of context and detail.
The best part of the Innovative Language Learning podcast membership is getting the transcriptions of all the dialogues. There are other features (like their flashcard tools), but there's nothing better than the transcriptions.
In 2020 you can save 51% off their annual memberships. Use the coupon code: BLACKFRIDAY2020.