Persian Walnut Cookies Recipe (Naan-e Gerdui) — Simple Recipe
Here's a recipe that I semi-devised, semi-obtained from the internet for Persian walnut cookies, a.k.a. Naan-e Gerdui (نان گردویی, or noon-e gerdui pronounced colloquially).
I had these Persian walnut cookies from a store in Brisbane, Australia for the first time. (It's called Persian Star and you should definitely go there and try his treats.) So I didn't grow up eating them. But apparently, a lot of other Persians did!
Unfortunately, these cookies are often sold out and have to be ordered a few days in advance. Doubly unfortunately, I don't even live nearby. So I decided to figure out a recipe.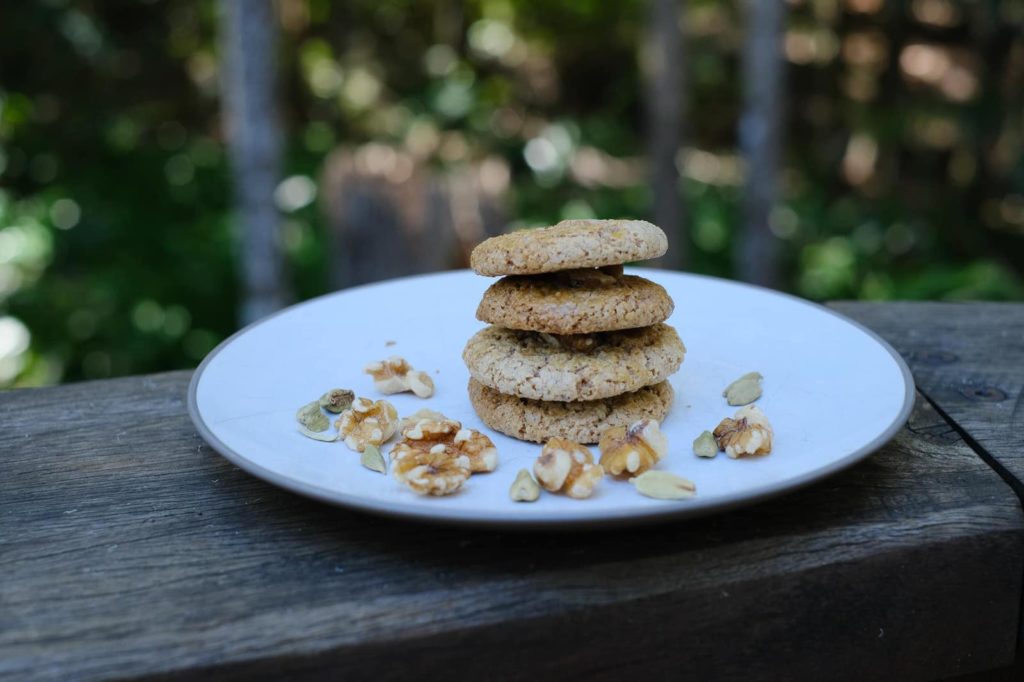 I think they came out pretty well!
If you like this, maybe try my recipe for Cake-e Yazdi!
About Persian Walnut Cookies
These are a chewy, lightly sweet cookie that's actually totally flourless (in other words it's gluten-free). However, they have walnut meal as a base
Ingredients
To make Persian walnut cookies you'll need:
130g (about a cup) walnut meal (or walnuts ground to a find meal in a food processor) + 1/4 cup walnut pieces as a garnish
3 medium eggs (two for the cookies; one for basting); if they're large eggs then just 2, and reserve about a teaspoon of egg yolk for basting
75g white sugar (or caster sugar)
1 teaspoon ground cardamom
1 teaspoon Persian rose water (this one from Sadaf is what I usually use)
1/2 teaspoon baking soda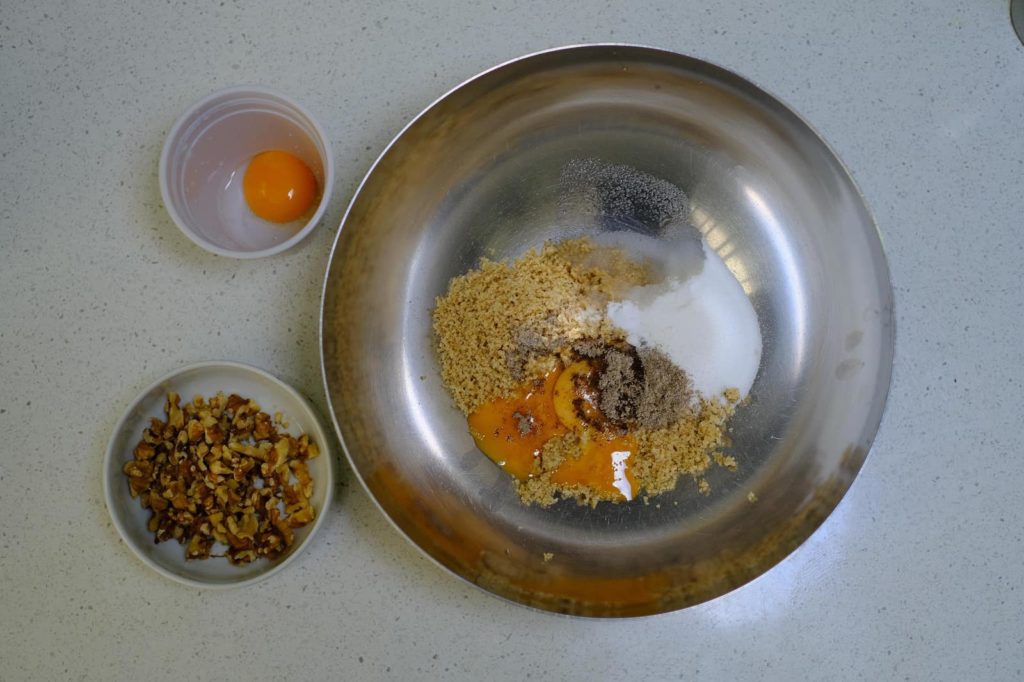 Some tools you might need if you don't have them that'll make your life a lot easier
Egg separator (I don't use one… I just use the eggshells. But occasionally, that costs me!)
Kitchen scales — I prefer to use weights because a cup of something can vary by as much as 50%!
Metric measuring spoons — a teaspoon isn't just a random teaspoon you have in the kitchen…
Baking brush to brush on the egg yolk
Instructions
Preheat your oven to 180 degrees C or 350 degrees F
If you didn't find walnut meal, use a food processor to make 120g walnut meal from about a cup of walnuts. Remember to keep 1/4 cup of walnuts for garnish later
In a large bowl, put the 120g walnut meal, 50g white sugar, 1 teaspoon ground cardamom, 1 teaspoon rose water, and 1/2 teaspoon baking soda into it.
Separate the egg yolks and whites, storing the egg whites into a container to use later (maybe for some macarons). You can do this using the shells if you're dextrous, or use an egg separator.
Put 2 egg yolks (keeping one egg yolk for later) into the walnut meal mixture and combine it with a spoon until it has evenly combined. It'll be like a textured paste, not really like a dough or batter!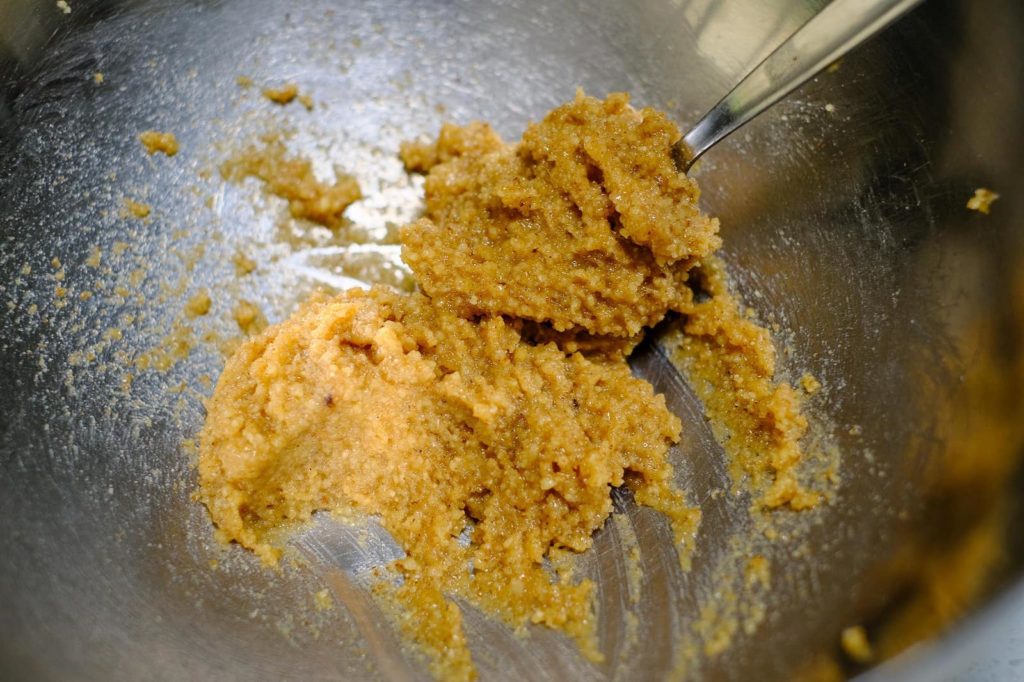 Prepare two oven trays, lining them with baking paper.
Take a teaspoon of the mixture at a time, rolling it into a ball with your (clean) hands, and place it on the baking paper. Keep about 2 inches/5 cm between them — they'll soften and spread out!
In a cup or small bowl, combine the last egg yolk and a teaspoon of water with a fork.
Roughly chop up the remaining 1/4 cup of walnuts — say each piece into quarters.
Use a brush to brush on the egg yolk/water mixture lightly onto each ball
Take a piece of walnut and press it into each one
Bake for 12-15 minutes. Less time errs on the side of chewier.
When they're done, you'll notice that they'll be extremely soft. These aren't a cookie you can eat right away! You can serve them warm, but wait at least ten minutes!
After 10-15 minutes, they'll be warm, chewy on the inside, and slightly crisp on the outside. Delicious!
If you leave these Persian walnut cookies overnight, they'll become a bit chewier and lose the outside crunchy contrast. But they'll still be great.