Eating Vegan in Tel Aviv and Israel
Tel Aviv is one of the best places in the world to be vegan. There are so many vegans, vegan options, and fully vegan restaurants that it makes it truly easy to try it out. So, since we go there regularly for work, we decided to go vegan for a month. Here's everything we're going to eat, and why!
There are many reasons we want to try eating vegan — because we believe in animal welfare, because most meat in less-developed countries is very low quality, because of climate change, food security, health, and many others that we're still learning about.
And there are a few good reasons why Tel Aviv is the best place in the world to try going vegan. The high population of vegans (5% country-wide, and more in the city) means it's a very acceptable way to live, and every restaurant has vegan options — not to mention the many high-quality vegan restaurants!
Besides which, it's just something we want to try, see how it feels, and see what we learn along the way.
In this guide…
A bunch of awesome dishes to try in Tel Aviv/Israel if you try vegan
Why try going vegan – a list of reasons (important to us)
Why try going vegan in Tel Aviv in particular!
Why so many Israelis are vegan — a few people's opinions
---
Map of great Tel Aviv vegan food
Never mind the bollocks, here's a map! A list of what's in the map will follow.
Great Vegan Foods to try in Tel Aviv: The List
There's much more to vegan food in Tel Aviv than just falafel, hummus and pita! But that's a great start.
Here's what's really worth trying.
Hummus at Abu Hassan
Cheap, vegan by default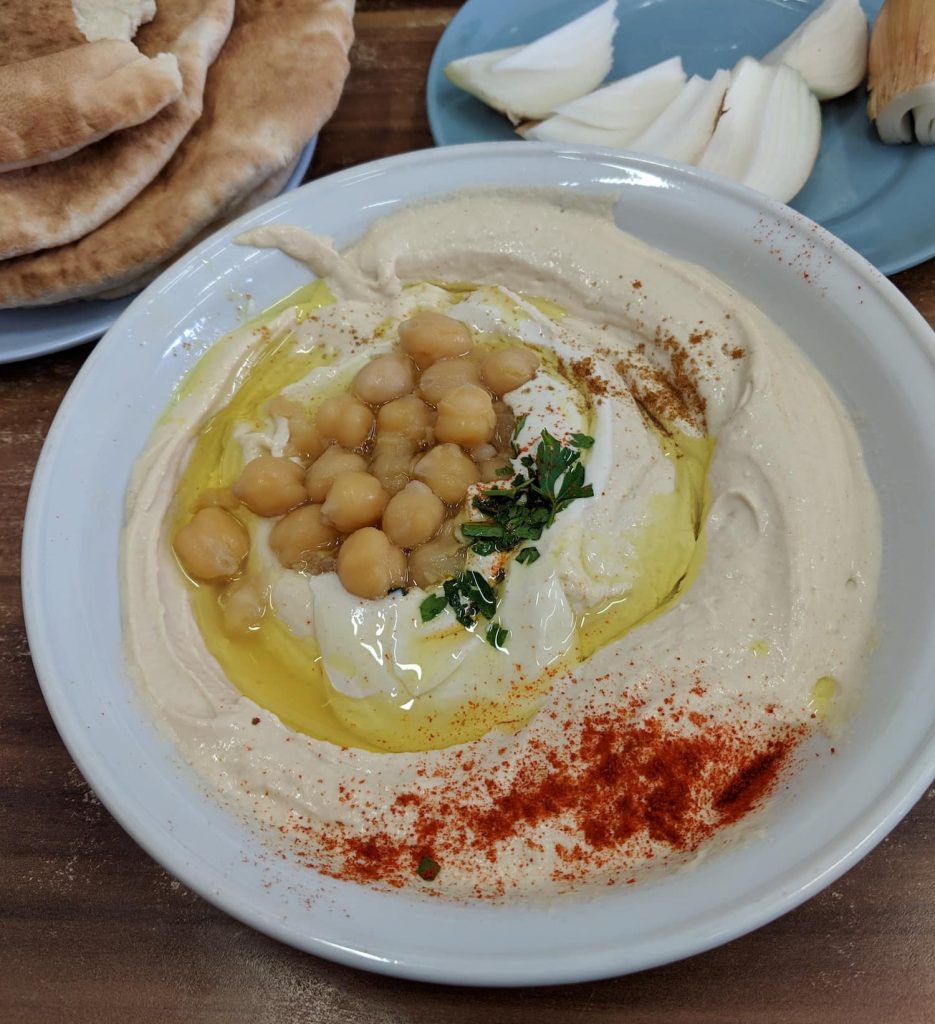 Yes, we have to mention hummus anyway — it's vegan by default!
Hummus is a vegan food – there's no animal products in it. It's just chick peas, tahina, olive oil, salt, and bread. Plus whatever spices!
Abu Hassan is often cited as "the best hummus in Tel Aviv" though — honestly — lots of places are great. Still, worth going once. I suggest trying the masabacha (warm hummus) for something different. Despite being popular, it didn't feel touristy at all. They'll speak Hebrew to you if that's what you speak.
Sabich at Sabich Frishman
Vegetarian/Vegan
One of the most famous Sabich sandwiches in Israel.
Sabich is a traditional Iraqi pita sandwich. It came via the Jewish Iraqi immigrants, and is now a staple of Israeli cuisine.
A sabich is made from of freshly baked pita bread, filled with fried eggplant, tons of Israeli salad (a mixture of cucumbers, tomatoes and onions), potato, chopped parsley, tahini sauce and amba (a tangy mango pickle condiment popular in Indian and Middle Eastern cuisine).
It usually comes with an egg; ask for it without (they'll usually confirm you want one). Top it with pickles and hot sauce.
Like hummus, there's loads of good sabich in Israel; honestly you can order one anywhere and it'll be pretty good!
Hummus with Vegan Shawerma at Humusim Tel Aviv (חומוסים תל אביב)
Vegan-friendly
Yes, you can go to Abu Hassan to get Hummus (and you should), but try this instead if you only want to go to one place.
Hummus is often eaten with other meats and vegetables. Try a vegan shawerma topping at Humusim.
Vegan Ice Cream from Anita's (Vegan-Friendly)
Vegan-friendly
Anita's has some of the best ice cream I have had in the world. So it's not really surprising that their vegan options are decent.
Word has it that Anita's has the best vegan ice cream you can get in all of Israel. And there are Anita's locations in beautiful neighbourhoods, too! My personal haunt was in Neve Tzedek.
Domino's Vegan Pizza (read why!)
Vegan-friendly
Sure, Domino's is kind of "basic" to some people, but sometimes you just need a basic pizza. This is not the fanciest pizza in Tel Aviv, but it's super cool that Domino's only serves vegan pizzas in one city in the world — Tel Aviv!
Taste test consensus is you should get the ones without vegan cheese though, as the vegan cheese they use has a rubbery texture and doesn't smell too good.
Konafeh from Zakaim
Fancy, totally vegan
Zakaim is a vegan boutique restaurant where everything is delicious.
It's also, to my knowledge, the only place where you can get vegan konafeh in Israel. Konafeh is one of my favourite Arabic sweets, and the Palestinian variety you can get in Israel/Palestine is unique.
Konafeh is loaded with cheese though, so to have a vegan option from a place dedicated to good food is awesome.
Vegan Pide from Onza
Fancy, vegan-friendly
Onza is a fancy Mediterranean restaurant with a strong Turkish/Greek influence. It's very fancy.
A lot of things from the meze part of Onza's menu are vegan or can be made so, but the pide in particular is worth trying. Good place to go if you want to go with non-vegan friends.
Pizza (or anything) from Meshek Barzilay
Fancy, vegetarian/vegan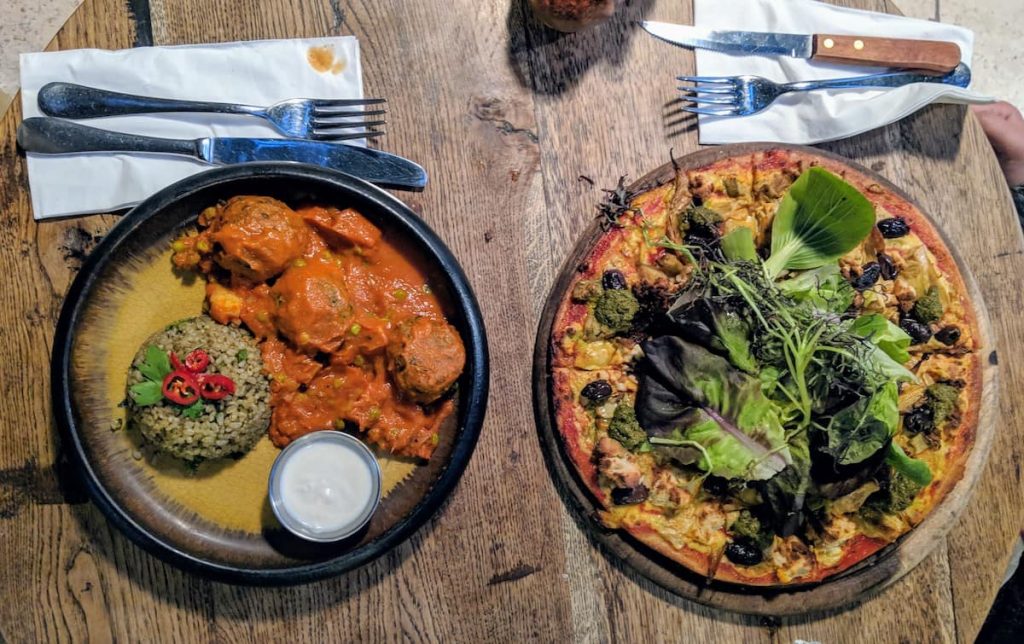 Meshek Barzilay is really fancy — enough for a date for two (in fact, that's exactly what took us there).
The atmosphere is wonderful, with nice furniture, great lighting, and a lot of plants and natural colours. Even though it's very near central Tel Aviv, it's on a very quiet street, and the atmosphere is often just as quiet.
Plus, the food is fantastic, with a great menu that includes a lot of delicious dessert options!
They also have a deli next door which stocks great vegan cheeses.
Tenat — Vegan Ethiopian
Casual, vegetarian/vegan
Tenat is an all-vegetarian/vegan Ethiopian restaurant. I didn't know this the first time that went in.
Even though most of my experience with Ethiopian food involves meat, I really enjoyed that Tenat was vegan.
Ethiopian food can be quite heavy (strongly spiced fatty meats), which is why it's served with injera bread. But the non-meat version of Ethiopian food is lighter, which means you will never leave the restaurant feeling bloated (unless you really try…)
Anastasia
Fancy, vegan
Anastasia is a high-end cafe where vegans and non-vegans will feel at home.
Anastasia has a lot of natural light, a beautiful setting, and a huge abundance of food that spans every demographic (including vegan, raw, and gluten-free), and is all nutritious and healthy. Health is the focus, in fact.
Things to try at Anastasia:
Sweet potato quiche with spelt crust, filled walnut cheese, lima beans and Jerusalem artichokes
The salads – all packed with fresh vegetables and add-ons
The Kit-Kat Bar, a raw dessert made from chocolate, dates, and amaranth crispies (delicious but not too sweet)
The smoothies, where you can get fancy ingredients like spirulina, goji berries, acai berries, maca
Take-home treats: vegan chocolates, cheeses and cookies
The Green Cat (החתול הירוק, hachatul ha-yarok)
Tel Aviv's first (and only?) vegan-only pizzeria… and they do a really good job of it.
Carmel Markets (שוק הכרמל, shuk hakarmel) Date juice, dried fruits, anything
Casual, vegan-friendly. It's a market
Lastly, get some delicious foods from the markets in Tel Aviv. I like fresh food markets anywhere, but they're particularly appetising when you're on a vegan diet.
At the markets you can get fresh juices, pastries, breads, halva, and of course fresh produce galore.
Georgian-food from Nanuchka
(closed)
Fancy, vegan… and closed
Nanuchka was a star of the vegan scene until it closed recently. I'm leaving it up as inspiration for others, and in the hope that someone will bring it back!
The owner, Nana Shrier, ran a very meaty restaurant for over a decade before one day, becoming vegan, and suddenly flipping the menu overnight to vegan.
People said the restaurant was doomed, but it thrived right until the end.
This was probably the best place in the world to get vegan Georgian food until it closed. RIP!
Why try eating vegan?
We've both tried being vegetarian at different times, and felt good. We incorporate vegan and vegetarian foods non-exclusively into our diets for one primary reason: we believe in paying more for high-quality, humanely treated meat, which makes it more expensive, and thus more of a delicacy.
There are many other benefits to eating less meat, like a positive environmental impact (the UN Food and Agriculture Organisation estimated that raising cattle contributes to 15% of all human carbon emissions), better food safety (I'd rather an off carrot than rancid meat), and because it encourages us to eat more vegetables, which are good for you.
Not all cows have it as good as these ones grazing in Zanzibar. Wow, such views.
Why Tel Aviv/Israel is a great place to try going vegan
There are lots of reasons why Israel is so vegan friendly! It goes far beyond vegan foods you can get in Israel.
Actually, there are relatively few foods that are commonly available and are definitely vegan (unlike in Egypt, where a lot of street food was just accidentally vegan). Yes, you can eat hummus and falafel, but that gets old.
The main reason why Israel is vegan friendly: there is a high percentage of vegetarians and vegans in the country. Roughly 8% of Israel's population is vegetarian, and another 5% of Israel's population overall is vegan.
And Tel Aviv is even better than the rest of Israel for veganism. Given people actively declaring themselves vegan is a big city trend, I estimate that ~10% of the population of Tel Aviv is vegan.
A second reason why Tel Aviv is so good for vegans is that so many restaurants have vegan offerings. This is a natural consequence of the high vegan population. Nearly every cafe has a non-dairy milk substitute for coffee. Domino's in Israel offers a vegan pizza. There's a vegan section on many menus, and saying "I am vegan" is completely normal and something restaurants cater to.
Thirdly, there are many vegan-only restaurants in Tel Aviv. And these are some of the best restaurants, managed by renowned chefs. They're not restaurants run people who were vegan diehards, and restauranteurs second, nor do they have a religious agenda. I mean places like Meshek Barzilay,
Why are so many Israelis vegan?
Something like 5%, compared to less than 2% in other western countries.
It's also a recent trend; the vegan population has more than doubled since 2010, with another 13% of the population considering it.
People have various theories about the rise of veganism in Tel Aviv. But random conversations with people show it's a combination of the usual (animal welfare and health), coupled with the tendency for things to go "viral" easily in Israel considering it's such a small community.
One thing that went viral is a speech is a lecture on YouTube by American animal rights activist Gary Yourofsky that had about 1.5 million views in Israel alone.
How to say "I'm a vegan" in Hebrew
Here's a few key phrases to say you're a vegetarian or vegan in Hebrew.
| English | Hebrew | Transliterated |
| --- | --- | --- |
| I'm vegan | אני טבעוני | ani tiv'oni |
| We're vegan | אנחנו טבעוניים | anachnu tiv'onim |
| What vegan foods do you recommend? | איזה מאכלים טבעוניים אתה ממליץ | eyze mi'ochlim tiv'oni'im ata mamlitz? |
| Can you make this vegan? | אתה יכול לעשות את זה לטבעוני? | ata yachol la'asot et ze le'tiv'oni? |
| My hovercraft is full of vegans! | !הרחפת שלי מלאה בטבעונים | harachefet cheli mele'a be'tivonim! |
Hebrew phrases for Vegans