21 Gorgeous Cabins and Airbnbs in Yosemite (2021)
Anyone traveling to the Yosemite area will enjoy a tranquil surrounding of pine trees, refreshing mountain views, and magnificent starlit skies. Why not make your Yosemite stay top-notch by booking the best Airbnb in Yosemite? Below, we've compiled our top picks for Yosemite Airbnbs for all travelers, from solo vacationers to large families with little ones. Enjoy hiking, hot tubs, marvelous mountain sunsets, and more; whether you're in Yosemite for a day or a month, we're sure you'll find the perfect stay down below.
Without further ado, brace yourself for some gorgeous Airbnbs and cabins – here's our list of the best Airbnbs in Yosemite.
As an Airbnb Associate, I earn when you book through links in this post at no cost to you.
Best Airbnbs in Yosemite at a Glance
Planning a California road trip? Don't miss our roundups of beautiful places to stay in California
Best Airbnbs in Yosemite – Best Of
The Most Romantic: The Winnie A-Frame
This cozy, undeniably romantic A-frame, sits atop a peaceful hill with a cozy view. End a busy day exploring by lounging on the sofa at dusk and watch the sunset through the window, perhaps while enjoying a glass of prosecco. Located just 15 minutes from Bass Lake and Yosemite National Park, this is the a great base for couples to connect with the outdoors and spend quality time with eachother.
Best for Families: Aerial Ascent Yosemite
Searching for a Yosemite stay with breathtaking views and enough space for the family? This home may be perfect for you. The key feature of this Airbnb is its massive windows, which face outward over Yosemite's mountains. There is plenty to do if the group is opting for a night in. The cabin also has a pool table, board games, and even has three arcade machines. A large home with room for ten, this stay is ideal for large families or groups.
Best for Groups: Acorn Falls A-Frame
The main highlight of this dreamy A-frame is its tall windows in the living room, looking out upon a peaceful woodland view. You'll be able to walk to many hiking trails from the cabin, and you'll also be within a short distance of the gorgeous Angel Falls. This house fits eight people, so it may work well for families.
Best Value Airbnb: Boho Bungalow
This cabin's fanciful, chic decor may have you feeling trendy and fabulous during your stay. It's one of the best value Airbnbs in Yosemite, accommodating a whopping 8 individuals while being under $200/night. .The quaint property has a cozy farm area and cute outdoor spaces such as the chair hammock and patio that you can enjoy on a beautiful day. This home is a bit further from the National Park compared to others on this list, but it can easily be done as a day trip. If it's value and quality you're after, this Airbnb is our top recommendation.
Best Airbnbs in Yosemite National Park
Modern Yosemite Cabin
Region: Yosemite National Park
Vacationers looking to do lots of hiking may adore this artfully decorated woodland stay. You'll enjoy peace and tranquility in the forest, yet at the same time, you'll be close to town and its amenities. Families with small children will likely feel at home in this stay; the cabin may also suit small groups traveling together.
Sweetwater
Region: Yosemite National Park
If you're traveling with a group, and you'd like to stay inside Yosemite itself, you may love the Sweetwater cabin! This cabin is one of the most conveniently located Airbnbs in Yosemite. You may also enjoy this stay's garage game room! Sleeping eight guests, this Airbnb will work well for families or groups.
Tioga Logs Inside Yosemite
Region: Yosemite National Park
This log cabin almost looks like it comes out of a picture book; if you're looking for that cozy woody feeling, secluded among the trees, this stay may be perfect for you. The home features a barbecue pit, grill, a large wrap-around outdoor deck, and a pool table. This large cabin sleeps sixteen people, so it's perfect for multiple families traveling together.
Alpenglow
Region: Yosemite National Park
Searching for a restful, romantic retreat in Yosemite? You may want to check out the Alpenglow 3, a homey-feeling log-cabin-style rental nestled deep in Yosemite's pine forests. Here, you might enjoy sipping a glass of pinot noir by a crackling fireplace, while chatting with your family about tomorrow's exciting hike. With two bedrooms, this cabin is perfect for small families or groups.
Modern Mountain Retreat Cabin
Region: Yosemite National Park
A newly remodeled stay, you might find that this cabin contains beautifully refined modern decor. You'll have easy access to Yosemite national park while staying here. This home is especially well suited for families with kids thanks to the large family room and plentiful bedrooms.
Region: Yosemite National Park
The Starfall is another stay that may work for those who want a peaceful, yet easy-to-access vacation rental. You might fall in love with this home's tastefully modern interior, along with the quiet, restful surroundings. With room for eight guests, this rental may work best for large families or groups.
Airbnbs in Wawona
El Capitan Loft
Region: Wawona
This cabin welcomes you with more of a modern feel; in addition, it's situated among other cabins, so it may be best for vacationers who would like to meet other travelers along the way. Since this location is less secluded, access to the property is very simple. The home features an open floor plan with its high-vaulted ceilings. This is a spacious stay, best suited for large families or groups.
Adventure Lodge
Region: Wawona
Perhaps the most interesting-looking stay on our Airbnb Yosemite list, the Adventure Lodge offers a multi-story, bright, and modern-looking vibe, sitting right inside a peaceful Yosemite forest. You may love how gorgeously styled this home is, as well as its close proximity to fabulous hiking trails. This home sleeps eight people, so it'll work well for large families.
Airbnbs in Mariposa
The Yosemite Forest Retreat House
Region: Mariposa
At the Forest Retreat House, you may feel as if you're in your own little forest haven– the exterior of this home is surrounded by peaceful pines, while the interior is lusciously decorated with gold-finished decor. This house may be a perfect place to escape from the world and get some solitude. It sleeps four, so it may work best for couples or small groups.
The Great Yosemite Retreat
Region: Mariposa
Yet another home with an astounding view, this Airbnb has it all in terms of location and amenities. While you're there, you may enjoy the hot tub, ping pong table, and pool table– in fact, you may never have to leave the house! Sleeping six guests, this stay may be well suited for families.
Hilltop Yosemite Retreat
Region: Mariposa
If you want an Airbnb Yosemite with not only a hot tub, but also a pool and an outdoor fire pit, you may love this hilltop retreat! This home has some of the best views of the Sierra Nevadas. Ideally perched on a hill, you will be able. to enjoy spectacular views from every room in the house. You'll have room for eight people here, so families or small groups would be well-suited for this stay.
Zen Yosemite
Region: Mariposa
For a panoramic, tranquil view of the mountains, you may want to check out the Zen Yosemite Airbnb. Enjoy your dinner on the patio while you watch the sun sink below the horizon in the evening, or perhaps even bask under the stars in the outdoor hot tub. With three bedrooms and room for six guests, this home will suit families and groups best.
Sky House Retreat
Region: Mariposa
This cabin mixes modern decor with an old-timey log-cabin feeling. Set on 10.5 acres, the cabin is perfect for people who want to get away from it all. This Airbnb is the peaceful getaway you've been waiting for. This cabin has two bedrooms, with room for eight guests. It'll work best for groups or families on vacation.
Little Red House
Region: Mariposa
This Airbnb Yosemite might remind one of a quaint little house on the farm; as such, you may love its charming surroundings, such as a little bubbling creek outback. Enjoy soaking in the hot tub after a long day hiking in Yosemite National Park and take in the view of the night sky in the evening. This is a small, cozy home, so it's ideal for couples or small families.
Copper Lodge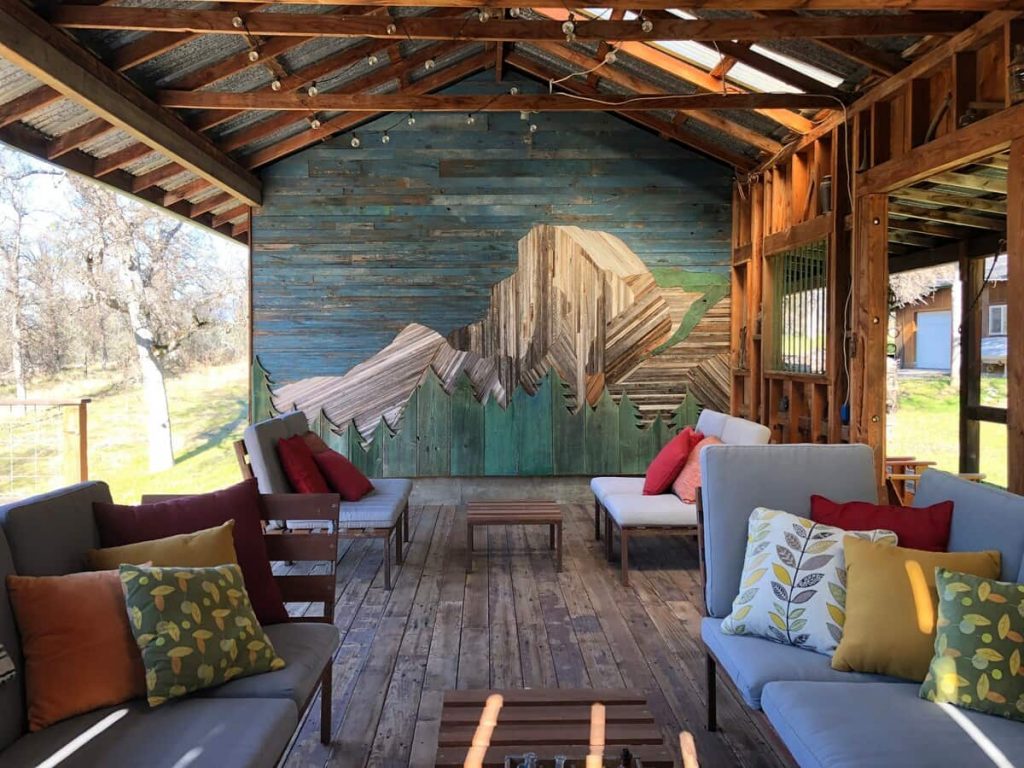 Region: Mariposa
The whimsical decorations at the Copper Lodge will make you feel as if you're staying at your very own private retreat. In addition, you'll love the fact that you can walk right down to the river from here! This little cabin sleeps four, so it'll work best for couples, small families, or small groups.
Clouds Rest Studio
Region: Mariposa
Travelers searching for an Airbnb that's less secluded and closer to town may like the Clouds Rest Studio. Restaurants, shops, and coffee joints sit close by; at the same time, you'll only be an hour away from Yosemite, if you want to do some hiking. This studio cabin will work perfectly for couples or solo travelers.
Airbnbs Near Yosemite (Surrounds)
Yosemite Tiny Cabin
Those who love tiny home living might adore this cozy cabin in a serene Yosemite forest. The cabin is ideally located just 7 miles from Bass Lake and 20 miles from Yosemite's South Gate, making it the perfect place to set yourself up while exploring the Sierras. In addition, this is a highly efficient cabin, which makes it perfect for eco-conscious travelers. This cabin contains two bedrooms, so it'll suit couples or small groups or families.